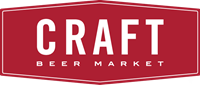 CRAFT Beer Market
Profile information for "CRAFT Beer Market" could not be found.
Vendors Similar to CRAFT Beer Market
Loraine Robinson
April 2019
We recently bought out Craft Beer Market for a large corporate dinner and were very happy with the venue and service. The extensive drink list was perfect for our European themed night and we worked closely with Stefanie to come up with some unique food stations as well as a beer tasting station. We received many positive comments. The night was fun and lively and a huge success. It didn't take me long to realize this was also a perfect venue for another of our events. I contacted Stefanie and booked the mezzanine for our smaller group with a plated dinner. Again the night was a huge success with many comments on the food and drinks. We will definitely be back with our groups in the future.

I recently organized a networking event for over 100 guests at CRAFT Beer Market and the event was a huge success! We had a great experience planning the event with the help of the team at CRAFT, led by Stefanie who was amazing and always so helpful. She responded to all of our e-mails very quickly and worked through all the details with us giving us advice on everything from floor plan to menu selection. On the night of the event the service and food were both great. We received numerous compliments from guests about the space, ambiance of the venue and the food. I would highly recommend CRAFT for events with large groups. We hope to be back again soon!
My company hosted a corporate social in the main floor lounge area for ~40 guests. The event coordinator, Stefanie was fantastic to work with, and very accommodating - even with last minute date and time changes on our end. The event received rave reviews from our team, particularly the great food and extensive drinks list - definitely surpassed our expectations! Overall, the event went very smoothly, and made it easy for us to simply show up and have everything taken care of. We will definitely be looking for reasons to host another event with CRAFT!
My company recently held a corporate event in the mezzanine space upstairs for 200 people. We received very good feedback from everyone who attended and the event went as smoothly as we could have hoped. The staff was friendly, the food was excellent and the overall event coordination by Stephanie, Nav and team was very well executed.
If you are using the mic, remember to speak loudly as the downstairs level can be noisy.
We will not hesitate to book another event with CRAFT in the future.

We recently held a 30th work anniversary lunch at Craft. Service, and food were amazing. Only comment is the restaurant is very loud, so if you have speeches you will not hear anything lol.
CRAFT Beer Market has been mentioned inside these other vendor profiles: