Reviews
This was my first experience with Eminent Valet Service. It was outstanding.
They arrived early and ensure everything was ready to go before the start of the event. Mubashar and his team was friendly, professional dressed and was on point for all my high end clients. I highly recommend this company!
Mubashar & his team are top shelf! Thank you for making my arrival and departure seamless! I HIGHLY recommend this great valet service for any special event. Thanks for the positive experience :-)
My first experience in sourcing and hiring a Valet service and after dealing with another service only to be told my event was not a priority, I was glad to make contact with Mubashar and Eminent Valet Service. He made the whole process easy and professional and pulled off the event without any problem. Staff were friendly, courteous and well groomed! I would strongly recommend their services and will be calling again. Well done!
Excellent and pristine valet service provided by the eminent staff. Great customer service and presentable for any event. The next time I want to valet my car its definitely got to be with the pristine Eminent Valet.
August In Bloom
March 2019
We had used Eminent Valet for a corporate event and we were very impressed with the level of professionalism and customer service provided by their team. Would highly recommend them for any wedding and private or corporate event!
Eminent Valet has been mentioned inside these other vendor profiles:
Company Overview
Company Overview
Deals & Packages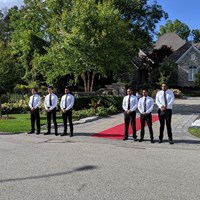 Advanced booking discount!
Book your 2020 event with prior to Dec 31st 2019 and receive up to 15% off!
Savings: $250 Savings
Expiration: 12/31/2019