Reviews
The atmosphere here is just wow! When you walk in all the way to your seat you can feel the atmosphere and the Lighting is just the perfect compliment! The server we had was on top of things. Food turn around was decent. I would recommend this place for meetings as they do have a private meeting space as well as date night option or even just a night out with friends. This restaurant just works! In the past we have celebrated many birthdays and special occasions. Keep up the great service and team work!
I recently held my bridal shower (>150 women!) in Harpers Landing and it was incredible. Before the event, our amazing events manager took care of everything and really brought our vision to life. She got us in contact with their amazing chef and we were able to customize our own menu (everything tasted incredible!). On the day of, staff were so organized and made the day go by so smoothly. So thankful for this amazing team!
Sergio David Spadavecchia
January 2020
Wonderful ambiance and fine food with a perfect staff ready to make your dining experience a must-try. Don't confuse this pearl for a common "pub", this is a refined restaurant for your business meetings without the overly stuffy atmosphere. Where having a chat with friends becomes an even more pleasant experience, and, why not, have a lovely dinner with a beautiful date.The food will make your mouth water never to disappoint, and if that won't convince you...what else can?
Leona Deakin
January 2020
Myself and a few friends had my birthday celebration at Harpers Landing on Saturday Jan. 4. I had the most amazing time! The service was perfect...the greeting at the door was warm and inviting. Our waitress Jennifer was engaging and informative. She made us feel like we were the only people in the restaurant, we had 100% of her attention when she was with us. As a past waitress myself, I appreciate this skill in a service provider. She is a credit to Harpers Landing! On our way in I noticed your beautiful wine display, on our way out I stopped to look again. That is when your passionately enthusiastic GM Justin introduced himself to us. He asked if we would like to see the inside of the wine cellar, as well as gave a little tutorial about the wines you carried. We loved his well educated description of the wines, and how he and his wife traveled to some of their favorite vineyards wine-tasting. He was the perfect host, showing us a great time and leaving us wanting more. One last thing...the food was amazing too!
Dalene Michaels
January 2020
Thanks to Harpers Landing for the awesome service provided for our staff Christmas party, a group of 27. Aleasha, the events manager provided excellent service from start to finish. We had a great night, dinner was delicious. The service was amazing, thanks to all the staff, chefs and a special thanks to Chloe, and Miranda our server. Chloe, thanks for the special drink! Was a great surprise to end off the night. Great job guys!
Harpers Landing Bar Grill Hub has been mentioned inside these other vendor profiles:
Company Overview
Company Overview
Deals & Packages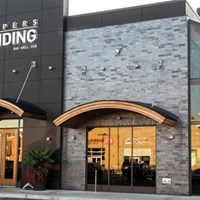 3 course dinner
Price $40 /person
---
---
What services are included with this Package:
Starter, entree, dessert, coffee and tea
---
Here's the Fine Print:
Tax and gratuity (18%) are in addition to all food and beverages
This package is exclusive to EventSource.ca visitors. To redeem, you must mention you found this package on EventSource.ca.
Map
481 Cornwall Rd,, Oakville, ON L6J 7S8