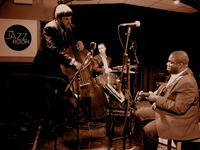 Jonathan Blaak Music is your one stop shop for live music entertainment. We perform a diverse range of music, providing just the right ambiance for your private event. Every event is different, and we pride ourselves in knowing how to tailor our performance to your needs. Whether the event calls for us to be background ambiance or the centre of attention, our volume and presence will be appropriate for the situation. We have a versatility perfect for any size venue or budget. Our set list is flexible, and we can cater to any special song requests.
Weddings
A variety of packages for all sizes and budgets. All day packages available including ceremony (classical and contemporary soloists-trios) cocktail hour & dinner (DJ, instrumental trios) and dancing (4-6 piece band)
Corporate & Private Events
Jazz: Jazz trio or quartet providing a beautiful and contemporary background ambience for mingling and dining. Enjoy a diverse repertoire from the 30's to today including swing, blues, ballads, and bossa nova.
Dance: 4 piece band performing a selection of high energy dance music for all ages - top 40, motown, pop, r&b, soul, reggae, and more
Henry Joldersma
October 2019
Jeff Heuving
September 2019
We were very happy with Jonathan Blaak's jazz trio. They were the perfect addition to our backyard engagement party. Just the right volume, and a cool breezy vibe. What a wonderful surprise for my wife. We'll be seeing you again.
Cassandra Wilson
September 2019
When we were planning our wedding, my husband and I knew that we wanted to focus on two things: good food and great music. For the food we chose Queen's Landing in Niagara-on-the-lake. For great music we turned to Jonathan Blaak and his band. Being an afternoon luncheon wedding, we wanted something a little "low key", elegant to fit the venue, but also fun and lively when appropriate. Jonathan and the band exceeded all of our expectations. Many of our guests commented throughout the afternoon on how much they were enjoying the music (many of whom didn't even consider themselves to be jazz fans). I threw a last minute curveball at the band, asking if they would accompany me while I sang a song to my husband. No problem! They were happy to accommodate. Again, a fabulous day, and a fabulous band. I would highly recommend them.
Jonathan Blaak was incredibly professional and responsive from the initial email. We hired them to play at our wedding and they were completely self sufficient, arriving early, doing all the set up and starting their set without me having to worry about it. They are all talented musicians and provided the perfect classic jazz feel we wanted throughout dinner.
Additionally, they were incredibly accommodating, agreeing to stay and play for an extra hour after things ran long and we got behind schedule. Highly recommend this group for any function - huge thanks guys !!
Karen Finlay
October 2017
What a fabulous night! We hired Jonathan and his musicians for our wedding event. This included a guitarist for the ceremony, jazz trio for cocktail hour and Southbound Soul for the dance. They were professional, outstanding musicians and are capable of playing whatever you want, from poignant classical to jazz to contemporary top 40. Our guests raved about the music. Jonathan was a pleasure to work with, and collaborated with us designing our entire music package. We would highly recommend using Jonathan for your event - you won't be disappointed!Do you remember the(23rd) night of September?Love was changing the minds of pretendersWhile chasing the clouds awayOur hearts were ringingIn the key that our souls were singing.As we danced in the night,Remember how the stars stole the night awayBa de ya - say do you rememberBa de ya - dancing in SeptemberBa de ya - never was a cloudy daySeptember, Earth Wind & Fire
Jonathan Blaak Music has been mentioned inside these other vendor profiles:
Company Overview
Company Overview
What music arrangements can you offer?
Instrumental Solo, Instrumental Duo, Instrumental Trio
What is the starting price for your wedding ceremony/reception services?
$600
What is the price of your most popular package?
$2,000
Deals & Packages
What services are included with this Package:
3 hours of jazz trio (includes 3 50-60 minute sets)
---