Reviews
There are not enough words to describe how truly wonderful Doris is. She is an incredible calligraphy artist, true professional and just an absolute pleasure. Doris did the calligraphy art for several pieces for our wedding from the seating table to various pieces for our signature cocktails, wedding favors and decor accents throughout our wedding. Her vision and art are a true dream and I have received so many compliments on her artistry. I can never thank Doris enough for all that she did to make our winter wedding so magical.
Doris is extremely talented and her work is absolutely beautiful! She helped create our wedding seating chart and acrylics signages. She's quick to respond to emails which made the whole process seamless. I would definitely recommend her work!
Jessica Pimentel
October 2018
First off let me start by saying Doris is not only sweet and kind but truly amazing at what she does!

She created a lovely mirrored seating chart and mirrored welcome sign (something I asked for last minute -because I forgot and she graciously did it for us).

Doris helped lay out the seating chart in a way that made sense with the number of guests we had, sent us a proof, she allowed us to review the final product before she finalized it, gave suggestions on how to fit everyone on the mirror and even wrapped it up for us for smooth transportation.

After dealing with a handful of crazy vendors, it was a breath of fresh air to deal with someone who was just so sweet and down to earth.

I would recommend any bride and groom looking for a calligraphy artist to book Doris ASAP!
I could not have chosen a more talented and kind calligraphy artist to design pieces for the welcome area of my wedding venue. Doris created a seating chart, a welcome sign, a Polaroid guest book instructional sign and the most gorgeous Love Story for our June 9th wedding.
She was professional and quick to respond to my email inquiries from the get-go, had my pieces ready for pickup on time and was simply delightful to work with. Even though I never had the opportunity to meet Doris myself (since I dropped off my mirrors with her husband and my husband picked them up before the wedding), our interaction through text and email made me feel as though were longtime friends.

I cannot compliment Doris from Love Lettering enough… I think the artistry speaks for itself. Her work is creative, beautiful and meticulous. She is capable of putting together anything your heart desires with any kind of canvas you present her with. I purchased and provided my own mirrors for her to work on, and everything turned out better than I ever could have imagined. Doris incorporated elements of my wedding invites/stationary in the pieces she created which achieved a very cohesive theme at my welcome table. As a super detail oriented person myself, I appreciated the care she put into asking to see a copy of my invites in order to attain this.

I would highly recommend Doris to anyone looking for beautiful, creative lettering. I feel she is the best in the industry and she truly will bring your vision to life.
My husband and I contacted Doris to have our seating chart done for our wedding this past summer. We emailed a few calligraphers before deciding on Doris, but she was by far the most reasonably priced and of course she is such a sweet person, we knew we just had to work with her! Doris made it a point to respond to our emails, even when she was on vacation. When we dropped off our mirrors the week of the wedding, Doris was so welcoming and ensured us everything would be perfect. We did a quick read through of the seating chart (all 292 names) and we were on our way. When my husband went to pick up the mirrors two days later, Doris was kind enough to Calligraphy the bottom of his shoes on the spot! It was such a special touch to our wedding and a complete surprise for me. We can't wait to work with Doris again, on a special piece for our home.
Love Lettering has been mentioned inside these other vendor profiles:


Company Overview
Company Overview
Name: Doris Wai
Title:Creative Director/Owner
Email:Send an Email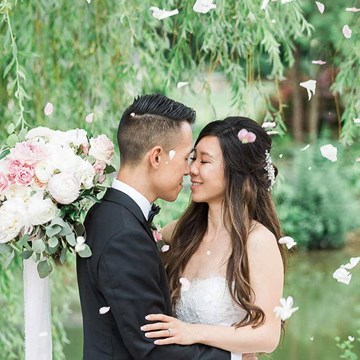 Natalie and Jacky's Dream Wedding at Casa Loma and The Doctor's House
1/03/2019
Read more