Gallery
This content requires HTML5/CSS3, WebGL, or Adobe Flash Player Version 9 or higher.
Reviews
We play up stairs our Ukelele club called Hogtown. We have a great time every time and it's private! being upstairs, and very friendly service and the food is great to, thank you. I had a Caesars salad with chicken and bread yummy!
Top notch staff for a wee pub. Open mic on Wednesdays just getting started, so lots of stage time for fledging artists. And try the pizza! It's great!
Lara Martinez Kandt
June 2019
My friend and I hosted our joint 40th birthday party in the upstairs area, and had a wonderful time. Nada and her staff were very accommodating and made sure everything was as planned and the service was excellent. We were able to bring a band, own decor and cake. Many guests mentioned how great the space was! The food was very good too, although the platters were a bit smaller than we had expected the overall pricing and experience was just great. Thanks so much Nada and team for helping us throw a super enjoyable and memorable event!
I had an absolutely fantastic experience here! This poppin' pub by features a varied menu with pub fare favourites as well as some more interesting choices, such as their deep fried burrito, which is as good as it sounds. Their great grub was accentuated by their spectacular service. Our server (Davis, I think it was?) was both friendly and attentive throughout our meal. They also have decor throughout the restaurant that adds a touch of personality, consisting of beer signs and sassy posters. I'd definitely recommend a visit!They also host Paint Nite fairly frequently on the second floor and, unlike many other venues, offer frequent and friendly service throughout the night. Only thing I'd caution you about is the top step of the stairs -- it's a bit higher than the rest and I took a mild tumble when I tripped on it. Still 5 in my books though!
This bar is very warm and has great staff! Food is decently priced and they seem to have allot of fun things on through the week. In one night they hosted a 'paint night' then after they had Open Mic! One of the pints they serve is only 5$ great deal!!!
Originals Ale House has been mentioned inside these other vendor profiles:
Company Overview
Company Overview
Deals & Packages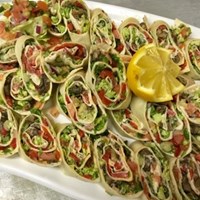 Platter package
Price $23.95
---
---
What services are included with this Package:
Platters start at $23.95 please see menu for full details.
Gratuities not included. Tax not included
---
Here's the Fine Print:
Platter price starting at $23.95 + Tax
This package is exclusive to EventSource.ca visitors. To redeem, you must mention you found this package on EventSource.ca.
Map
1658/1660 Bayview Ave, Toronto, ON M4G 3C2