Reviews
Cannot say enough good things - Renee helped me out immensely provided last minute staffing at a very reasonable rate! My bartenders were the definition of professional, and went above and beyond, leaving my guests at ease and having great attention to detail!
I've worked with Renee on staffing needs for many years. She always delivers even when it's last minute. The people she sends are well prepared, knowledgeable and able to meet the needs of the positions we need to fill. She's knowledgeable, friendly and most importantly, she listens to what we are looking for and provides a high level of service. I have no hesitations in recommending R&R to fulfill your staffing needs.

Gave us a quote good until Aug 3, went to use that quote on Aug 2 and she says the quote is no longer good and they are booked.

Waste of time and caused us to scramble to look for another vendor close to the date.
Excellent! The staff that was sent to the party was very professional, amazing and great personality and smile. I would definitely request their services again.

"Teresa Spence, who worked the pre-registration counters, mentioned that your staff was the best she has ever worked with. She was very pleased with them and stated how friendly and helpful they were. We would be happy to provide a reference."
Renee and the staff at RnR Staffing have been very accomodating to work with. The staff member that we have had here on contract has been very dedicated and professional and I would recommend RnR Staffing to anyone with staffing needs.




Renee is extremely efficient, organized and hard working. She is a dedicated problem-solver and has extensive experience in event staffing. She will always invest her utmost effort into ensuring the success of your event.

RnR Staffing & Consulting has been mentioned inside these other vendor profiles:
Deals & Packages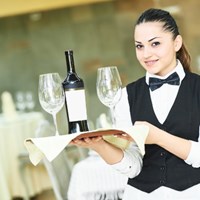 Save big on your 2019 event
RnR & rbeauty is offering 10% off their hospitality staff and beauty services for all 2019 events, this includes servers, bartenders, coat check staff, hair and makeup artists, coordinators and more. Book now and save big on 2019! contact RnR staffing for more detail!
Savings: 13% off
Expiration: 12/31/2019