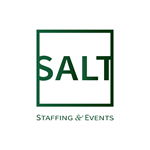 SALT Staffing & Events
Profile information for "SALT Staffing & Events" could not be found.
Vendors Similar to SALT Staffing & Events
We recently planned a corporate event and had SALT staffing as part of it. They were absolutely WONDERFUL. They were a pleasure to work with and always had customer service as top of mind. They interacted with the guests and always did so with a smile on their face. They were also mixing drinks and had so many knowledge about drinks and the mixology behind it. They were dressed very well and exuded luxury. We will definitely use them for future events and we would highly recommend them to anyone looking for staffing and bartending services.

I've had the pleasure of working an event staffed by SALT Staffing, and I was very impressed. Their themed servers have great interaction with the guests, and really help bring the event's menu to life.
The staff uniforms (or costumes) are fun and sexy without being overtly sexual or revealing. Something I really liked was that they aren't gender-specific - men and women wear essentially the same thing, and it isn't your standard black-and-white outfit. I love their Canadiana look! Imagine a woman in jeans and red-and-white plaid, stuffing sliders with ketchup chips, and bantering with the guests in a thick Newfoundland accent - it was fun and hilarious, and so unexpected from a server at an event.
If you're looking to inject a fun vibe into your event and give your guests something different from the norm, I would highly recommend SALT Staffing.

SALT Staffing & Events has been mentioned inside these other vendor profiles: