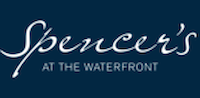 Spencer's at the Waterfront
Profile information for "Spencer's at the Waterfront" could not be found.
Vendors Similar to Spencer's at the Waterfront
This vendor does not yet have any EventSource reviews. Be the first to leave one!
yasser Elbarkoki
October 2019
The view on the lake and the location is outstanding for any occasion any season any time of the day. The service is very good and the food quality is good not fantastic but good. The place is a little bit run down but location and service will probably overshadow most issues. We went to their thanksgiving buffet and all went well and had a great time. The best part is the walk by the lake after a good meal.
Spencers has one of the best views youll ever get at any restaurant around. This place was my wife and Id first date and has never been our last! We love going here. The food has changed over time (which for me is a little sad) but it goes to show that theyre always trying out new things. The quality of each food for us has always been really good. Its a great date night or special occasion spot!
Jessica Wong
October 2019
We went for Sunday Brunch. Great spot for a date or family outing. They have friendly, polite staff that are well trained. Food was good for all you can eat and all you can drink! The downfall is that there is no free parking and the lot next to it is very tiny.
John Boroniec
September 2019
Great food. Had really good service. Waiter was prompt and attentive in a non obtrusive manner. Would definitely go back. Excellent shareable crab dip. What I enjoyed most about the dip was that it was not too salty like most other dips.
Just came back from a very expensive and mediocre dining experience at Spencer's. Food order was taken promptly - yet delivered 1.5 hours later. Two small children in our party were served over cooked chicken fingers and fries, 1 full hour ahead of the adult dinners. Waiters acknowledged the lengthy wait, and as a way to mitigate the situation, brought our party complimentary appetizers. Nice gesture, however, we were already full with the appetizers we initially ordered, which in turn dulled the appetite for the actual entrees. Service was very disorganized. The pasta entree was comparable to what one could find at East Side Mario's for half the price. Steak - under seasoned. Fish entree - plated well, small portion. Overall, a very disappointing experience.
Spencer's at the Waterfront has been mentioned inside these other vendor profiles:
Julie Broadbent Photography