Reviews
Rasha Hjeily
February 2020
My first time coming here, the first thing I noticed is the atmosphere. I like the vibe it has and the deco, very nice. The staff is really friendly, very attentive, and fun to talk to - they talk to you as people and not as strictly customers. The food is amazing! So delicious and nice presentation for a chain like this. Fair pricing! Had a good time and will come back!
Great service, cool atmosphere, awesome food! We have hosted our corporate party here for the past three years and each year everything is flawless. Would definitely recommend!
Went for a Saturday brunch. Our sever was very friendly and we were very happy with his service. The breakfast was yummy and the endless mimosa was a treat. We also ordered the famous landing cure, which is a gigantic ceaser with extravagant toppings. It did not disappoint, the toppings were delicious and you almost don't need to order anything else after, as it's very filling. Will definitely go back.
Lundon Clark
December 2019
First time visit recently for a private holiday party. Nice atmosphere, comparable to the Moxie's, Earl's, Joeys and Milestones of the world. Food was also pretty good. But again, I would put them in the same category as the places I mentioned. Wouldn't quite put them up their with Cactus but still a more worthy option over a Jack Astor's, Moxie's or Montana's any day.
Excellent location in the shops at Don Mills, very warm and welcoming feel as you walk in. Semi open seating areas. The food is great, the staff are friendly. Our company hosted out Xmas event there and they served our group of 150 fantastically. Nice dining experience
Taylors Landing has been mentioned inside these other vendor profiles:
Company Overview
Company Overview
Deals & Packages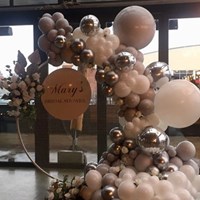 3 course dinner
Price $40 /person
---
---
What services are included with this Package:
Starter, entree, dessert, coffee and tea
---
Here's the Fine Print:
Tax and 18% auto-gratuity are in addition to all food and beverages
This package is exclusive to EventSource.ca visitors. To redeem, you must mention you found this package on EventSource.ca.
Map
10 O'Neill Rd, Toronto, ON M3C 0H1