Gallery
This content requires HTML5/CSS3, WebGL, or Adobe Flash Player Version 9 or higher.
Reviews
Bueno Market
November 2019
After looking through an endless amount of venues, we found the Guild Inn and fell in love. The floor to ceiling windows are like nowhere else and they make the room feel elegant and spacious. Our point of contact was Francesca who was professional, timely, and responsive. We had a delightful food experience with The Host and would highly recommend them. The Guild is upfront with their pricing and really makes sure your event goes well the day of. Thank you Guild!
The Guild Inn has become an extremely popular wedding venue in the past 1-2 years and there is a reason for that. It didn't take us long to decide to have our wedding here and we know that we made the right decision! First of all, it is an amazing location right by the Bluffs. The Guildwood Park is also undeniably one of the most gorgeous places for wedding photos in the GTA. We also loved the fact that we could do everything at just one location - wedding photos, ceremony and reception. They even included an officiant and musician in their ceremony package, which was brilliant! Both my husband and I come from Chinese families, so our parents demanded a Chinese banquet and the Guild Inn partners with the best Chinese caterer in the GTA. Francesca was our main point of contact and had been wonderful to work with. We booked the Guild Inn over a year before our wedding date and every time we reached out to her by email, she had been very prompt and helpful with her responses. When we finally met her in person, she was just as great and professional. We really appreciated the accommodation for some of our guests' special meal requests. Priyanka was our banquet manager for the reception. Although we did not have much time to interact with her, we thank her and the team for doing an overall fantastic job. The only thing that could have improved was the cocktail hour. Due to the rain, we had to relocate from the outdoor terrace to the indoor lobby area. Since this was an unexpected change, our guests had to wait outside the reception entrance for a short period without food. When the hors d'oeuvres were served though, they were really delicious! We also had a signature cocktail made by the bartender and our guests loved it! We also want to commend the team for their excellent coordination with our other vendors. Overall, we are very satisfied with having our wedding here. We actually would love to come back perhaps for a friend's wedding so that we could relive the great memories we've made at the Guild Inn. Thank you so much!
Beauty of Makeup
November 2019
When my (now) wife and I were browsing for venues, every single venue we had visited prior to The Guild Inn seemed bland, outplayed, nothing-special. I came across the venue through Google and made an appointment to visit. My fiance at the time felt butterflies in her stomach and had tears in her eyes when we finished the tour. Last September, we had both our wedding ceremony and reception at The Guild Inn. Our wedding guests were so impressed with both the grounds, the staff and their meals. Thank you to every one at the Guild Inn on making our special day one we will never forget. All the best!
The Guild Inn is a beautiful venue to have a ceremony and reception at. The indoor and outdoor premises are super photogenic and very spacious. The venue staff are friendly and very accommodating with all requests. We worked with Francesca as our coordinator with the venue, who was absolutely amazing throughout the entire process. Francesca responds quickly to all emails and phone calls, offers helpful planning suggestions, and takes every effort to make the wedding a success. I would highly recommend the Guild Inn as a wedding venue, and honestly can't wait to be invited to someone else's wedding at this venue. Without a doubt, 5/5 quality in all categories!
The venue somehow inputted our cheque in twice and because of that they thought we made two payments, and then when we asked them to let us know the remaining balance owed they gave us the WRONG amount for the remaining balance and then decided to tell us over a month later, after returning from our honeymoon that we STILL OWE $10,000.00.We were so turned off because we asked them many times how much we owe and they told us the wrong amount, only for us to have fork our all this money out of no where! Completely messed up our honeymoon phase, never ever ever recommending this shit venue, that not to mention messed up our food tasting and still charged our twice for the tastings, when it was a mistake on their end.The floor plan for the wedding wasn't even correct until we were about to walk into the venue and make our entrance, like how ?? Do they not follow basic instructions? The door we were supposed to enter from was wrong, and they had to rearrange all the tables just seconds before our entrance.THE FOOD WAS NOT WHAT WE ASKED FOR. We were told that the food would taste the same as our food tasting when in fact it DID NOT. SOOOO TURNED OFF!!! Our family members from overseas were so disgusted and turned off. Not to mention I DID NOT even eat my meal the entire night because it was not what we asked for. We were told it would taste a specific way even if a few changes were made and that was false! We told her that the chicken did not taste like the chicken we had at the second tasting at all. The moment the food came out we knew something was off, the chicken looked much rather different than when we tried it at the tasting the second time. It was lighter in coulour and the gravy consistency was different as well, it was much more liquidy and not as thick as the initial dish. Once we bit into the chicken my mother and I made eye contact and knew this wasn't what we asked for. After we spoke to the lady, I am so sorry I cannot remember her name right now, Richie and I explain to her that the colour, the gravy, the taste and everything was different. It also appeared that the chicken was overcooked as well, you know that feeling when you bit into overcooked chicken, that tacky and rubbery feeling? We told the lady that this did not taste like mushroom ragou, it tasted though like the other chicken we had for the tasting, just the regular "seasoned chicken". I remember very well what the two tasted like. I do remember however explaining to you that we want the chicken to look and taste the same as the mushroom ragou because we liked that one, as long as there were no visible signs of mushrooms. We double-checked a good amount of times with you on this so I am not sure where things went wrong. I remember asking you, and I have it written down, when we were confirming the meals, that the chicken would taste the exact same, there would not be any large mushrooms on the top. The lady brought out two sauces for us to try at the wedding, the one with the big mushrooms and the one strain without the big mushrooms. There was a huge difference in the taste but we were told it would taste the same. Very upsetting, I cried and my parents were so upset. I regretted everything, because the meal was the highlight of the evening. Everything about this venue was so sad, the president was so rude every time we spoke on the phone, and we spoke to so many different people just to help us. Its been chaos ever since we sign with this venue, I hope they learn from this experience.

f-king nightmare.
We shoot more than 10 weddings from the estate grand open from 2017. The venue is so convenient for everything especially photo shooting session. We are very proudly to be their premium photography and cinema studio.
The Guild Inn Estate has been mentioned inside these other vendor profiles:
Destinations Chauffeur Services
by Francesca, xo Weddings & Events
Company Overview
Company Overview
Deals & Packages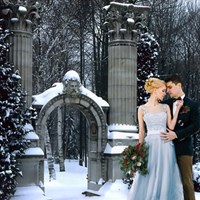 $69.95/ person winter wedding promo (up to 36% off)
Price $69.95 /person
---
---
What services are included with this Package:
+ 3-course regal menu
+ regal Bar package
+ complimentary hors d'oeuvres
+ complimentary late night station
+ complimentary bride & groom chairs
+ complimentary Pin spot lighting
---
Here's the Fine Print:
- event date must fall between November 2018 and March 2019.
- applicable to new bookings only.
- some restrictions May apply.
This package is exclusive to EventSource.ca visitors. To redeem, you must mention you found this package on EventSource.ca.
Map
201 Guildwood Pkwy, Scarborough, ON M1E 1P5