Gallery
This content requires HTML5/CSS3, WebGL, or Adobe Flash Player Version 9 or higher.
Reviews
Shannon Serkies
March 2020
We just had our wedding at The Guild Inn and everything was amazing! From our very first visit up until the wedding day the staff was super attentive, informative and quick to respond, especially our coordinator Francesca. The venue itself is beautiful with high windows, and string lights on the patio..not to mention the gorgeous grounds for photos. The food is also delicious and the recommended officiant and DJ were excellent as well! Highly recommend this venue (especially if you take advantage of their off-season savings), they made the whole process so stress free!
Janice McGlynn
February 2020
Attending a wedding reception here. The facilities are amazing and the grounds are just gorgeous. Staff was attentive and friendly. The food at the reception was outstanding. Definitely a great evening!
Devin Brown
February 2020
Attended a friend's wedding at The Guild Inn Estate. Very nice venue and staff were very helpful. It was very organized and bar staff were quick to get drinks. Food was very good and steak was cooked perfectly. As a guest, I would recommend The Guild Inn Estate as a good wedding venue.
Lapsy Kevreki
January 2020
It's a nice small park that has Guild Inn . The idea of installing old architechture is neat. These pieces of architecture were saved during the transition to modern design which is simple and affordable.
After looking through an endless amount of venues, we found the Guild Inn and fell in love. The floor to ceiling windows are like nowhere else and they make the room feel elegant and spacious. Our point of contact was Francesca who was professional, timely, and responsive. We had a delightful food experience with The Host and would highly recommend them. The Guild is upfront with their pricing and really makes sure your event goes well the day of. Thank you Guild!
The Guild Inn Estate is an absolutely beautiful venue to host any event, from corporate to weddings. We have worked with them multiple times and its always been great with food and services. Looking forward to working with you again.
We shoot more than 10 weddings from the estate grand open from 2017. The venue is so convenient for everything especially photo shooting session. We are very proudly to be their premium photography and cinema studio.
The Guild Inn Estate has been mentioned inside these other vendor profiles:
Destinations Chauffeur Services
by Francesca, xo Weddings & Events
Company Overview
Company Overview
Deals & Packages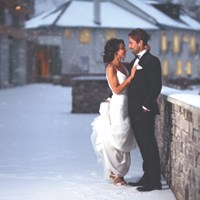 $69.95/person winter wedding (up to 36% off)
Situated in an enchanted pristine park filled with unique historical monuments, The Guild Inn Estate offers unparalleled surroundings to host events of all kinds. As the snow falls and cascades overtop of the trees, distinct statues and columns, this magical setting is transformed into a beautiful winter wonderland creating a breathtaking backdrop like no other. Receive the following package for $69.95 (up to 36% off our standard booking rate) on prime dates taking place from November - March 2020 and 2021. Package includes: + 3-course regal menu + regal Bar package | plus complimentary... + hors d'oeuvres + late night station + bride & groom chairs + Pin spot lighting | event date must fall on a Friday or Sunday between December - March in 2020/21 (Saturday dates are slightly higher). Applicable to new bookings only with a minimum 150 adult guarantee. Other restrictions May apply.
Savings: 36% off
Expiration: 3/4/2021
$69.95/ person winter wedding promo (up to 36% off)
Price $69.95 /person
---
---
What services are included with this Package:
+ 3-course regal menu
+ regal Bar package
+ complimentary hors d'oeuvres
+ complimentary late night station
+ complimentary bride & groom chairs
+ complimentary Pin spot lighting
---
Here's the Fine Print:
- event date must fall between December - March in 2020/21.
- applicable to new bookings only.
- Friday & Sunday dates only (Saturday May be slightly higher in price).
- minimum 150 adult guarantee.
- other restrictions May apply.
This package is exclusive to EventSource.ca visitors. To redeem, you must mention you found this package on EventSource.ca.
Map
201 Guildwood Pkwy, Scarborough, ON M1E 1P5