Gallery
This content requires HTML5/CSS3, WebGL, or Adobe Flash Player Version 9 or higher.
Reviews
The school is focused mainly on traditional western classical music that's old and irrelevant, and like some have said, students aren't trained to play without a score. Come here if you just want to get exam certs and work laboriously on perfecting your classical music performance. Otherwise, if you want to learn about music creation or production, don't even think about it. Their website isn't informative, just wanted to see what teacher exams are available, they don't even have a list, found a list in the "exam fees" page though! Can't even find what's in those teacher's exams, could only see their online pedagogy course promotion which is about watching few minutes of videos from great teachers, but the rest is your job to submit assignments and respond to posts. Wasn't helpful at all, at least in my experience. And courses offered online don't even have a wide variety.
Carolina Rivillas
June 2019
We are really sad and disappointed with the treatment that the Royal Conservatory is giving us. They removed our 4-year-old daughter from the Start Smart program because it was supposedly a system error to enroll her. We do not know yet if it is a matter of racism or if they really believe that they have the right to treat children and their families in this way.
Was spellbound the amazing performance of Anoushka Shankar at this venue.The hall is very well built, rich with premium acoustics and techs, The seating at the venue was amazing, as you can see the pic I was seated at the side balcony. The view was amazing, and the sound quality was phenomenal too, even though I was seated in side balcony the acoustics were balanced and there wasn't any drop or lag.Would love visiting this venue for more concerts.
No parking for visitors. No information regarding parking. If you ask the staff they will tell you nothing.
"so much light!"I got to help set up for a wedding here as I am entering the event management field. This venue was beautiful for a wedding.It was on the third floor (the ceremony) and then moved down to the main floor for the reception. There is LOTS of bright light coming through and it is a really classy place. Love it!The only thing is that if you wanted a dance floor you may not have much space. But it was great for the wedding of around 100 people. Wasn't too big!
The Royal Conservatory has been mentioned inside these other vendor profiles:

Michael Coombs Entertainment


Alisa Lyons Makeup & Hair

Sarah Bunnett-Gibson Wedding Officiant

Company Overview
Company Overview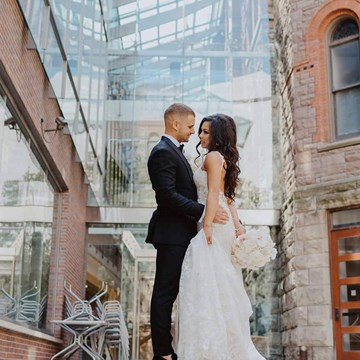 Jenny and Alex's Elegant Nuptials at the Royal Conservatory of Music
5/23/2019
Read more
Map
273 Bloor Street W, Toronto, ON M5S 1W2