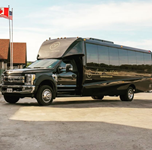 TLS Limo Worldwide
Profile information for "TLS Limo Worldwide" could not be found.
Vendors Similar to TLS Limo Worldwide
we needed a limo service for our wedding that we could trust. There are many horror stories out there about limo companies that we heard however after the initial conversation and searching further we decided to go with TLS limo and we could have made a better choice for our wedding. we had a party of 10 we had to take downtown then uptown. the drivers were professional and limos provided were very clean for our day and nigh return. we couldn't have asked for better service. We highly recommend them and Michael and their prices are very competitive compare to other places.
Cristina Di Matteo
May 2018
We had a great experience with TLS limo Michael was great with co-ordinating everything. We was always quick to answer all my questions. The limo driver Mary was great and very friendly. I'm glad I picked TLS limo for our bacherlette evening I'm looking forward to using them for future limo needs! Thank you TLS Limo!
This company is amazing! From top down, what a great experience and a joy to deal with! The owner was very professional, prompt, attentive, courteous and very clean. I will most definitely recommend and use this company again! Thank you Michael!
I'll be honest In saying that I was a little hesitant in using this company because of their low rating however TLS was referred to me by a colleague who has used them for a corporate event. I must say that from our very first initial conversation to the final drop off at the end of the night, they were extremely professional and very accommodating with all of our last minute changes. Both the two SUV's and the bus we reserved were clean and the drivers were both clean and professional. Most importantly they were very personable. I would definitely recommend.
We had a great time with TLS limo! Michael was great with co-ordinating everything! The limo driver was very nice and was even early! I'm glad I picked Tls Limo! I'm looking forward to using them for future limo needs! Thank you TLS Limo!
TLS Limo Worldwide has been mentioned inside these other vendor profiles: