As the creativity behind weddings has grown, there has been an increase in the popularity of outdoor weddings. The outdoors are also a popular place to take photos between the ceremony and the reception, giving you endless options for romantic backdrops. However, being outside also means that you have to include one more guest on your list… the weather.
When preparing for your wedding, especially if it's going to be outdoors, you always have to take into consideration that the weather might not cooperate on the day and you will need to prepare a backup plan. First and foremost, be realistic about the time of year you're getting married, and the typical weather that happens during that season. Now is not the time to hope for a hot and sunny day in the middle of winter. To help you plan, here are some tips on how to deal with inclement weather on your wedding day if you're planning to be outdoors.
---
Always:
Rent a tent: While you will have to incur this cost even if the weather cooperates, this is a great way to shelter your guests if it's too hot, too cold or is raining. You can always use the tent for cocktail hour if you still have the ceremony in open air.
Prepare an indoor option: Unfortunately, mother nature doesn't always behave and an outdoor wedding might not be an option. Always ask your venue what their rain plan is and make sure this space works for you as well in case you need to use it.
You May Also Be Interested In
If it's hot, you'll need:
Fans: Having fans for your guests will help with the heat. These can be electrical or handheld.
Water: Hydration is key! Nothing puts a damper on a wedding more than some untimely heatstroke.
If it's cold/snowy, you'll need:
Blankets: provide your guests with something to keep them warm – these can also double as your favours!
Fire pit: If your wedding is in the fall or winter and you are planning an outdoor ceremony, have somewhere for your guests to warm up their hands.
Hot Chocolate or Cider: Serve your guests something warm and cozy while you say 'I do'.
Have your guests wear boots and coats to keep warm during the ceremony.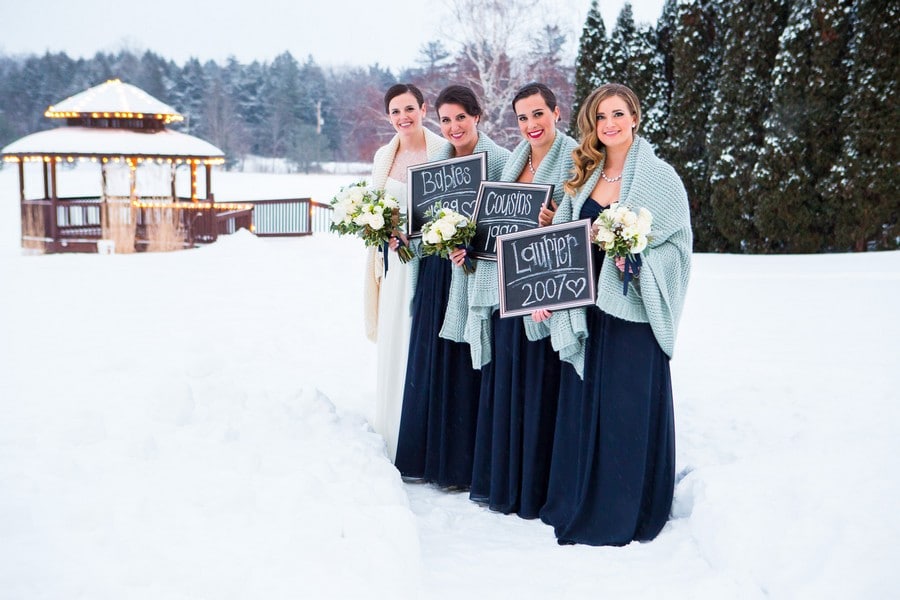 Photo Courtesy of Samantha Ong Photography
If it's windy, you'll need to:
Anchor the tent and any flower arrangements so that they won't blow away.
Use extra hairspray and bobby pins to secure your tresses, and make sure to have a touch up before pictures.
Designate someone to smooth your dress once you are up the aisle to keep you looking your best.
If there's a possibility of rain, you'll need:
Umbrellas: These keep your guests dry and can make for some interesting pictures if you're in the right venue.
Extra shoes: Bring extra shoes so that you can keep your wedding shoes looking nice for later. Also, know where the best pathways are to walk around your venue and avoid mud.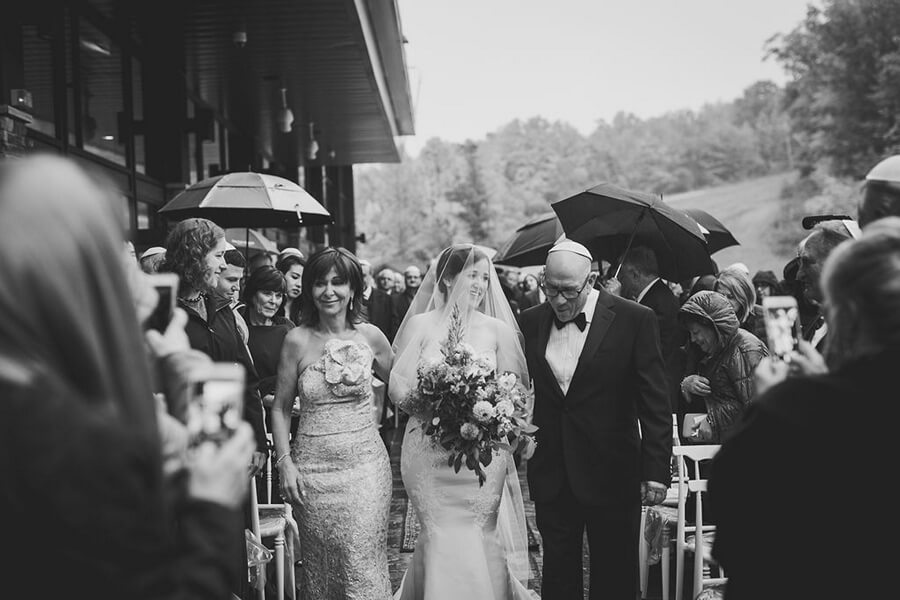 Photo Courtesy of Luminous Weddings
Important notes:
Tell your guests ahead of time if you are planning on going ahead with your outdoor ceremony regardless of weather- this will allow them to prepare the proper footwear and outerwear.
If the time of year you are getting married in has the potential for bad driving, tell guests to arrive a half hour before you actually need them there. This is a built-in buffer for bad traffic and road conditions.
Outdoor weddings are beautiful, and being prepared with the tools to handle inclement weather will help make sure you have a plan in place should you need to use it!