Spring has finally sprung and that means that wedding season is right around the corner! Planning a wedding can be a tough job but the good news is, couples don't have to take on this huge responsibility themselves. Trusting a wedding planner to bring your visions and ideas to life can ease the planning process and make it more enjoyable for the bride and groom. The result? The wedding you've always dreamed of without the stress and drama!
To get you inspired, we reached out to some of Toronto's top wedding planners to share their favourite weddings from last season. With so many talented local vendors to choose from, we decided to make this a two-part mini series. Enjoy!
---
Rebecca Chan Weddings & Events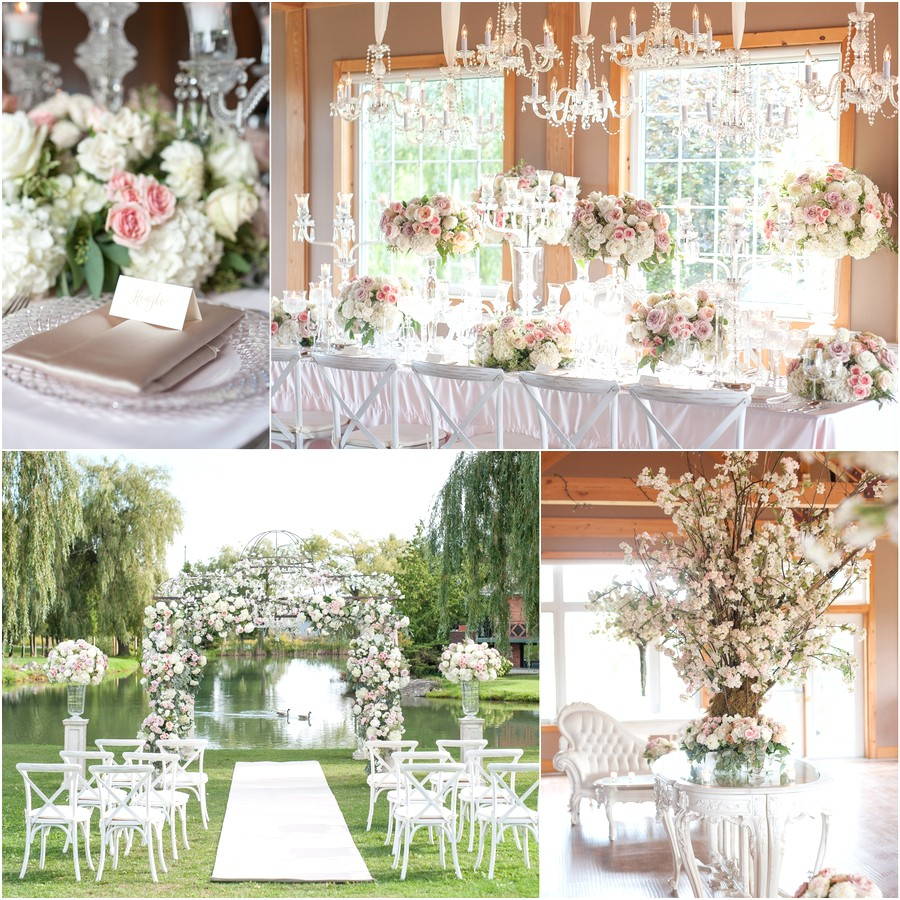 Photos Courtesy of Carly Mills Photography
"Every wedding is memorable but one stands out as both beautiful and magical. This intimate wedding for ten guests paid homeage to the bride's favourite hues of soft pink and whites. We collaborated with Rachel A. Clingen Wedding & Event Design and some of Toronto's best to make this happen in just under 3 weeks! We accented the outdoor ceremony with a lush floral arch and matching white chairs. Indoors, we created a beautiful lounge area for their guests with Victorian vintage inspired furniture. Guests dined under crystal chandeliers at a table set with beautiful floral in shades of pink. This wedding just goes to show that wedding magic happens when you trust great vendors to do what they do best!"
– Rebecca Chan, Rebecca Chan Weddings & Events
Vendors Featured in this Article
---
Lustre Events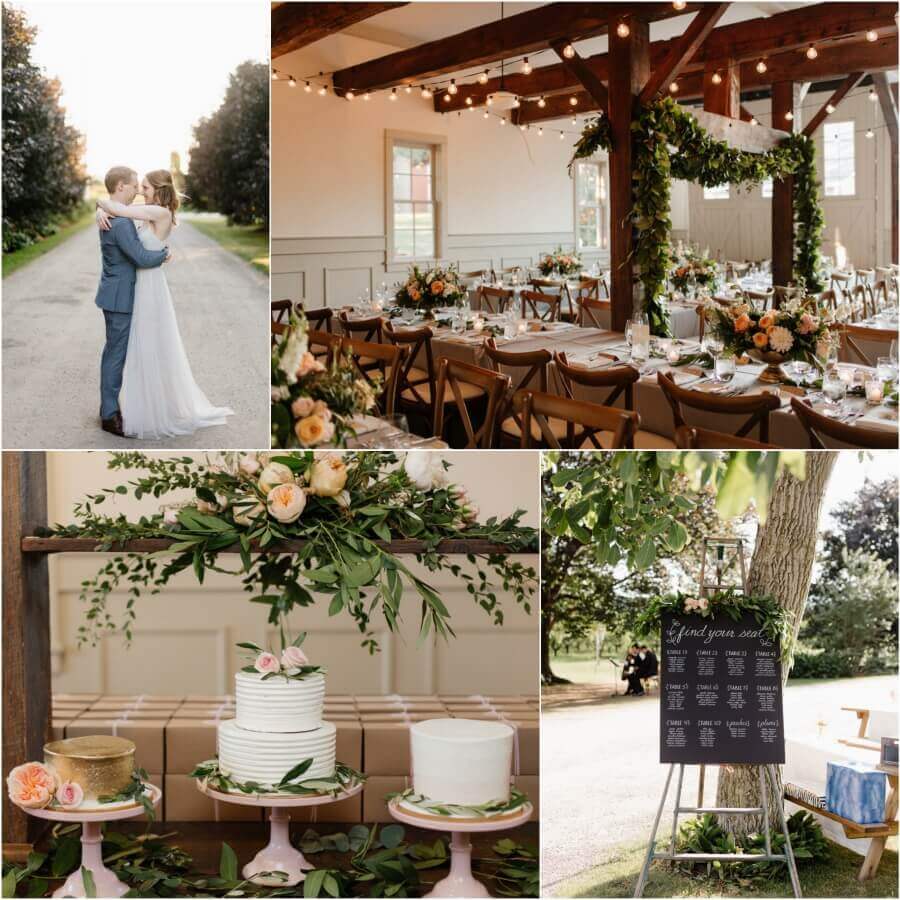 Photos Courtesy of Mango Studios
"If one magical wedding day ever encapsulated the perfect blend of love, beauty, community, and celebration, it was this one. The whole day had "that" feeling – the one where you know in that moment memories that will last forever are being made. Cherry Avenue Farms was the perfect backdrop to achieve this unforgettable setting. The subtle and romantic palette of blush, peach, champagne, and grey made for a really elegant and natural feel. Bloom & Co. created perfection with all the timeless, foliage rich, and lush florals. The gorgeous hand lettered details, like the seating chart and place cards, were all lovingly created by the bride's talented mother. Daniel et Daniel Catering & Events highlighted the evening with a delicious farm fresh family style feast with choices including biscuits and cornbread muffins, bbq beef brisket, whipped sweet potatoes, and grilled corn on the cob to name a few. Pie from a local bakery topped off the evening and guests were sent off with a bottle of ice wine to toast with at home!"
– Melissa Lukan, Lustre Events
---
Art of Celebrations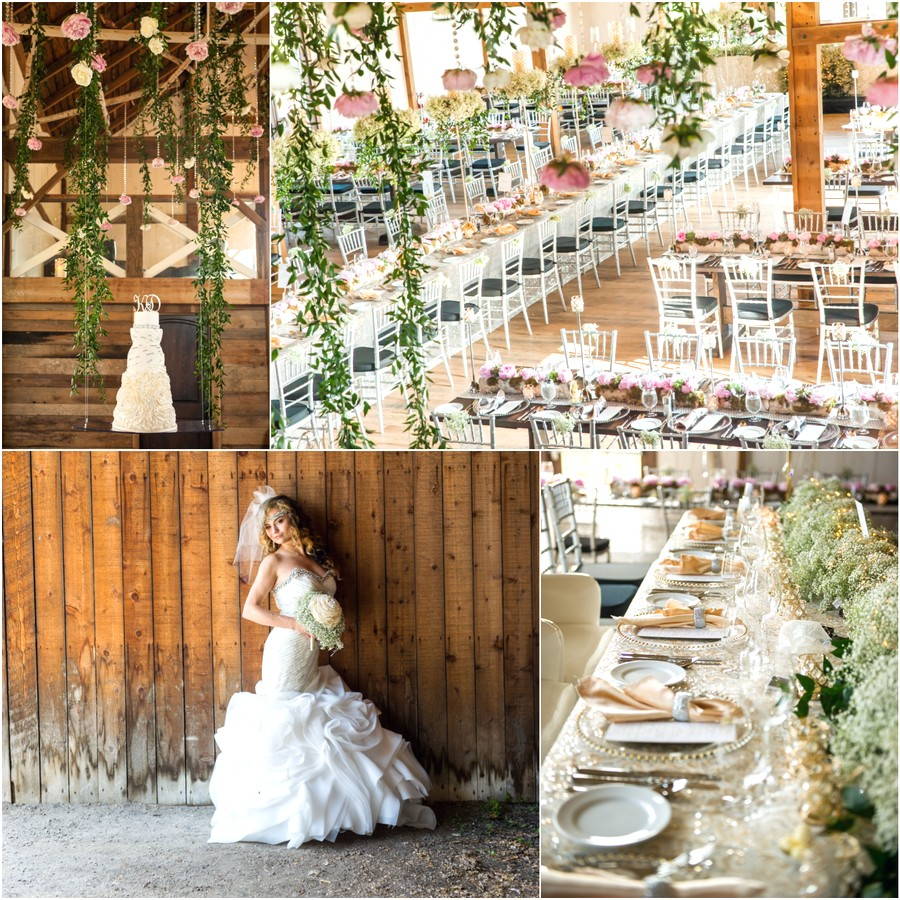 Photos Courtesy of One Squared Photography
"Our favourite wedding from last summer took place on a beautiful, sunny Saturday in June. This wasn't an ordinary old farm/barn wedding. The grounds of Earth to Table: The Farm were beautifully manicured and had state of the art AV equipment, gorgeous wooden beams, harvest tables and stunning iron chandeliers. To everyone's surprise, we decorated the barn top to bottom with beautiful soft florals, sparkly crystals, and twinkle lights. It was so magical and whimsical, it felt as if you walked into a fairy tale. The décor was very much unlike any other in this type of setting. It seemed like the perfect marriage of rustic, natural elements with glitz and glam. Mixing styles and textures is something I absolutely love to do, but it takes a rather bold bride to want to go through with such an unlikely pairing. When the client is so creative and is willing to trust the professionals, the end result is pure magic. It was truly a lot of fun planning and designing this event and we couldn't be happier with the end result!"
– Roxy Zapala, Art of Celebrations
---
As You Wish Weddings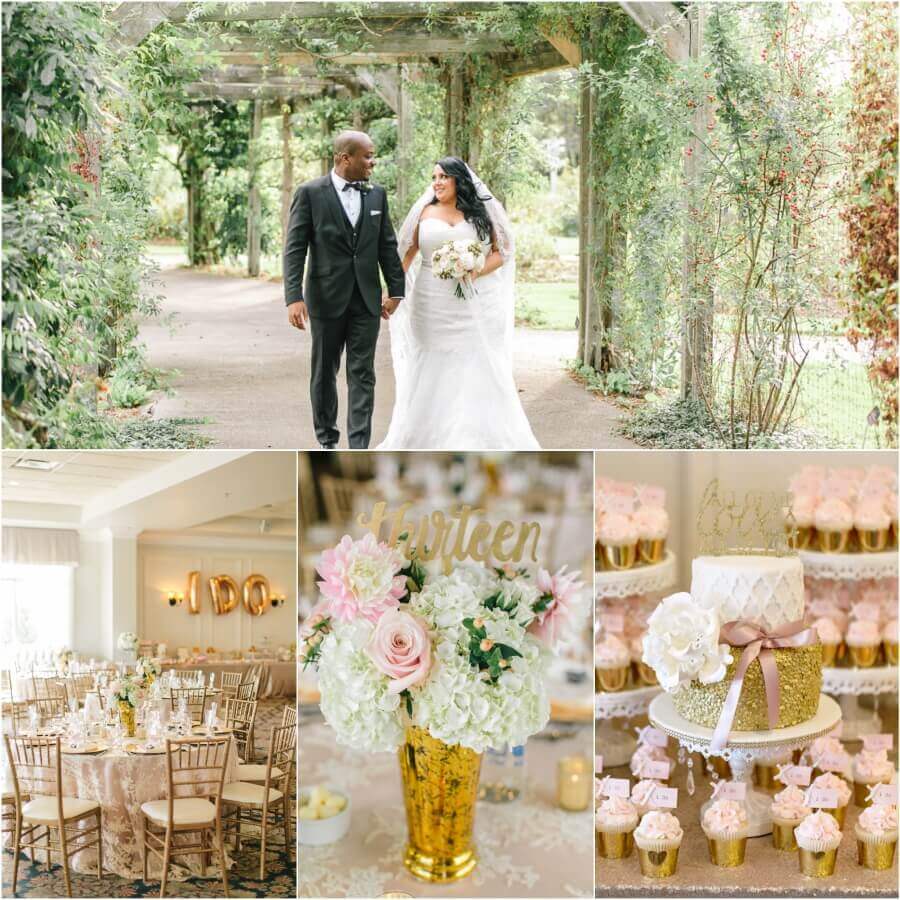 Photos Courtesy of Tamara Lockwood
"Amanda and Tommy's wedding last October at Oakville Conference Centre was a dream. The bride went above and beyond making sure the details of the day were extra special for guests as well as meaningful to herself and the groom. From the stunning head table backdrop, to a custom his and hers martini bar, and a sweet table complete with glitter donuts, this bride had a fantastic vision that we were so excited to bring to life. Paying tribute to the groom's Nigerian heritage, the entire wedding party changed into traditional Nigerian attire after dinner while Caribbean dancers entertained guests and got the party started. It was a beautiful and memorable day to be a part of!"
– Caryn Leith, As You Wish Weddings
---
Distinct Occasions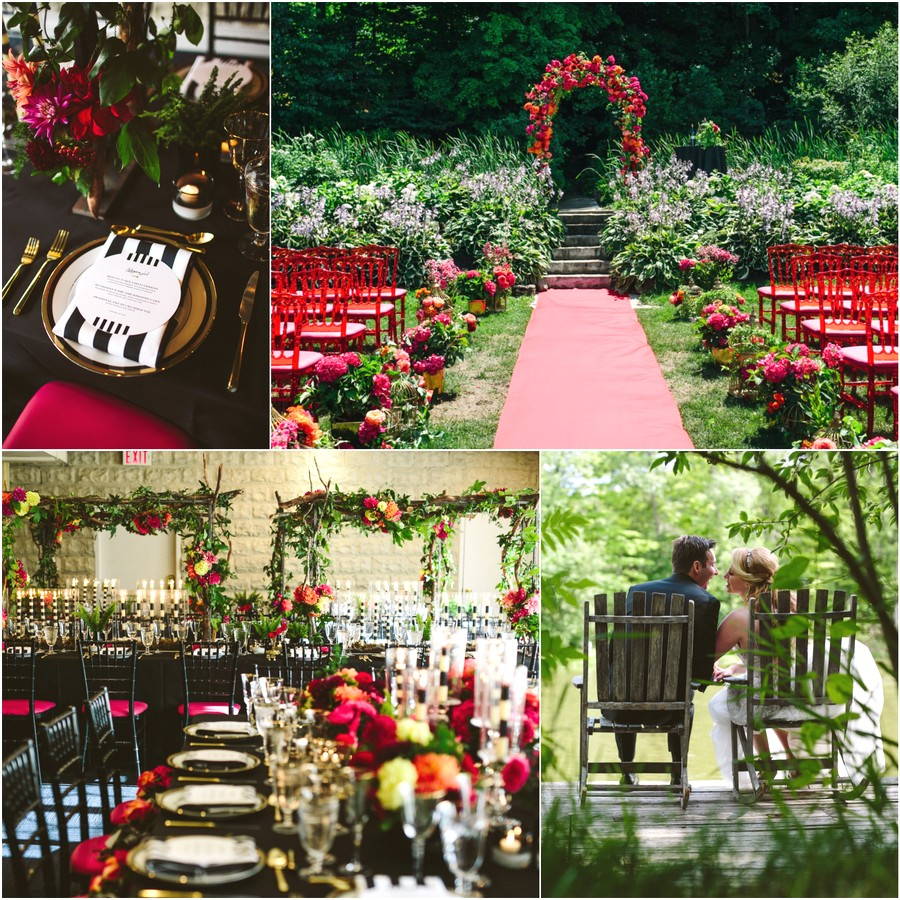 Photos Courtesy of A Brit & A Blonde
"Miranda & Jonathan's wedding was all about drama and breaking the mold of a traditional wedding. I loved it specifically because of the creative challenges and drama it added to their big day. Bold red chairs in the vineyard, striped candles and dance floor, a sweet tree instead of table. Every element was handpicked luxury and definitely set the room and day abuzz with excitement and joy for the happy couple."
– Crystal Adair-Benning, Distinct Occasions
---
Ashley Pigott Events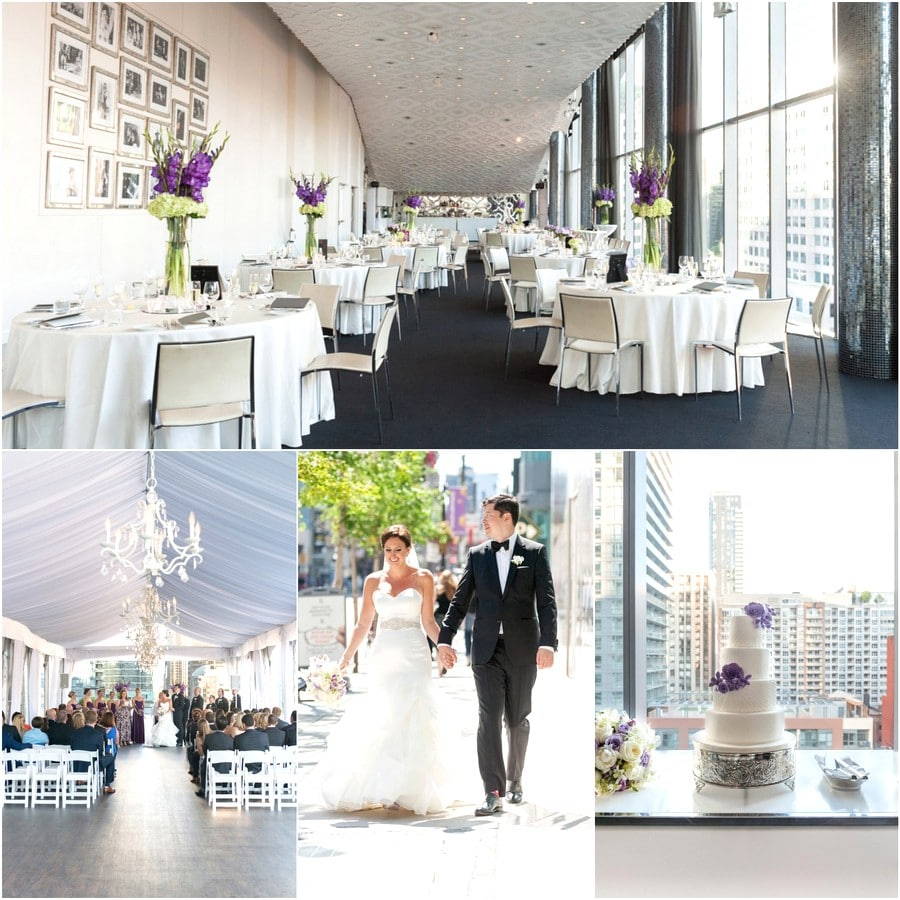 Photos Courtesy of Pepper and Light
"Melissa and George hosted their Destination wedding in Toronto last summer. The couple live in Washington, D.C. and invited 100 of their closest friends and family to come to Toronto and join in a weekend of celebrations. We worked closely, though far apart geographically, to plan and execute a perfect wedding for this incredibly genuine and loving couple who were looking for a cosmopolitan city vibe for their wedding. We began with their rehearsal dinner at Colette Grand Café and a welcome party at Brassaii. The wedding was held at the Malaparte - Oliver & Bonacini offering city views and a rooftop terrace for the ceremony and reception. Guests indulged in a beautiful meal of tenderloin and halibut by Oliver & Bonacini, then danced the night away! The couple even choreographed their first dance to one of their favourite songs, 'Joy to You Baby' by Josh Ritter."
– Ashley Pigott, Ashley Pigott Events
---
Fab Fête Event Planning Boutique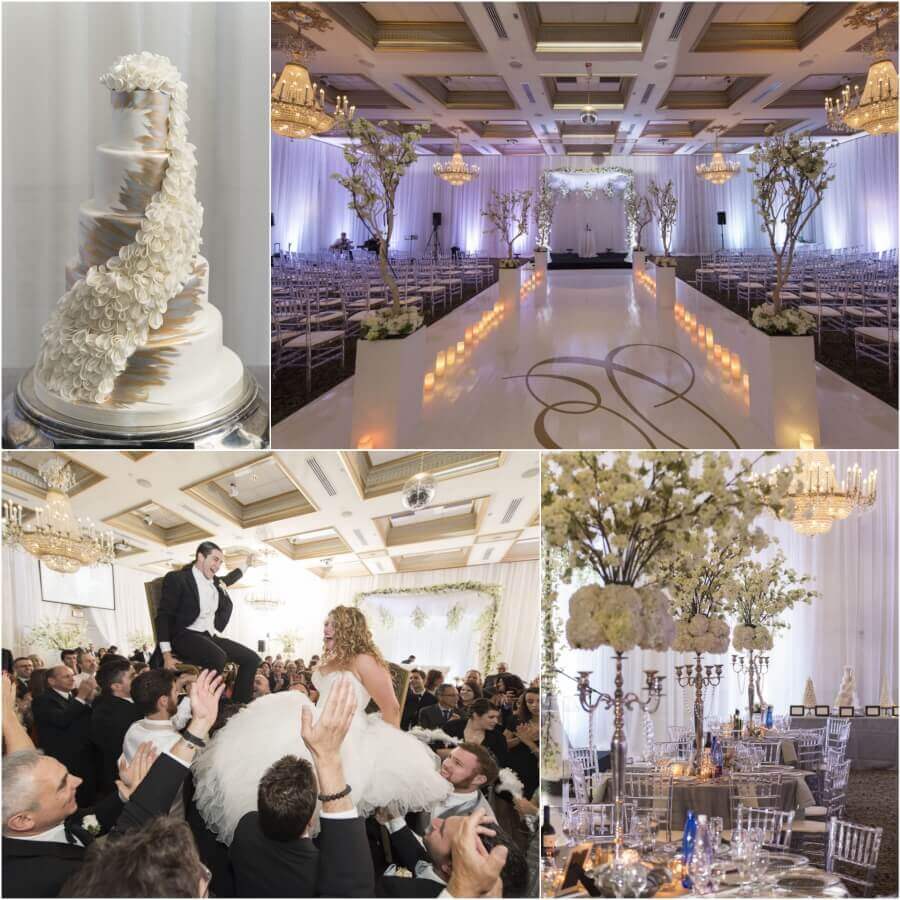 Photos Courtesy of Studio 2000 Photography
"Casey & Vadim were destined to be together. You can clearly see the love they have for each other the second you meet them. They are both artists who love life and found their soulmate in one another. From the moment we began working with Casey & Vadim, we knew that this would be a fun and epic wedding. We started working with them right when they got engaged and were able to help bring there vision to life from conception. What we love most about Casey & Vadim is that they were never scared to do something different. When the decor company (R5 Event Design) suggested doing something "unique" for there chuppah, they didn't blink for one second. They trusted all of the vendors and they allowed us to be creative. The outcome was gorgeous, cherry blossom filled chuppah, adorned with hanging tear drop candles. I also loved the fact that the couple brought there owns artistic elements into the wedding. The small elements really made the wedding "theirs" and I am so happy I got to be a part of the entire process."
– Michelle Garber, Fab Fête Event Planning Boutique
---
Bliss Toronto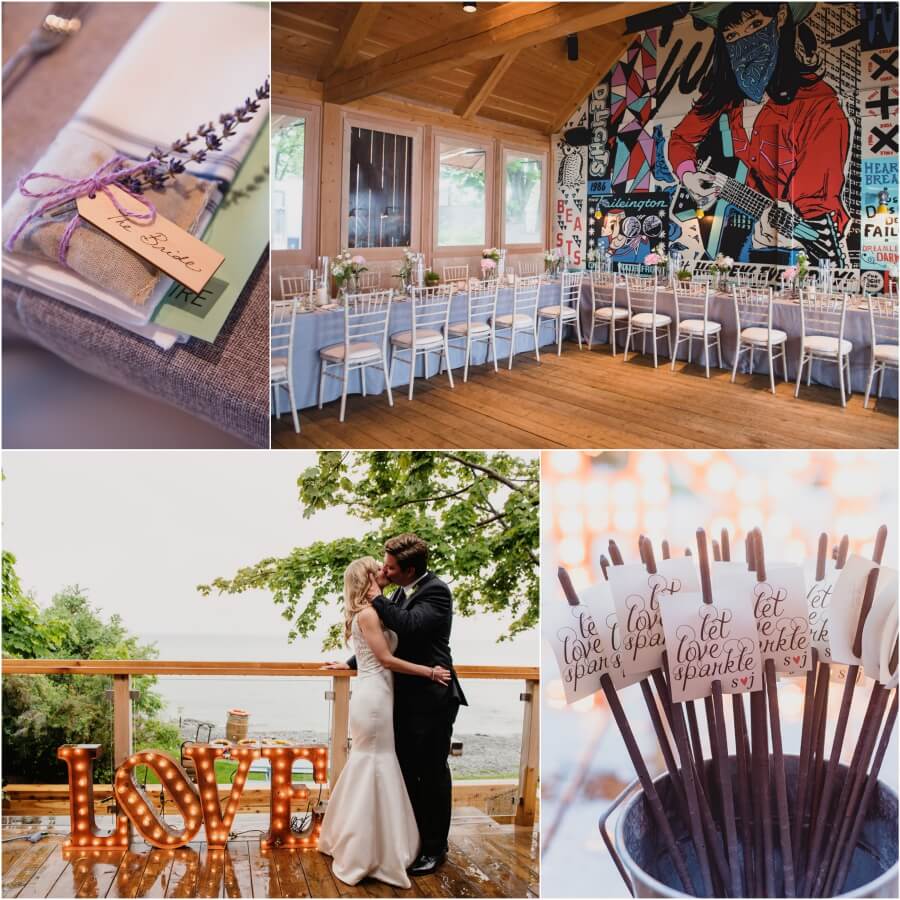 Photos Courtesy of Christine Reid Photography
"I was very excited to work with S&J on their wedding at the uber cool, Drake Devonshire in Prince Edward County – the Inn's first-ever sit down dinner wedding. As with any destination wedding in a rural setting, there are certain challenges that present themselves such as inclement weather plans, floor plans, available event rentals chairs, linens, decor, and entertainment. Never deterred by a challenge, I was eager to achieve the clients polished, urban vision by renting a cube van (a practice I affectionately refer to as a "wedding on wheels") and transporting everything from Toronto to the famed wine region locally referred to as, "The County". The guests were surprised with thoughtful, personal details such as handmade lavender sachets tied with wooden place cards and hand stamped hangover kits, signature cocktails with stripy straws and rose gold tags engraved with the phrase "eat drink and be married!".  The graphic, edgy wall mural was softened by seasonal peonies and warm, romantic candlelight while guests were entertained by sought after entertainer and sexy crooner, Sean Jones and saxophonist, Miles Raine. The result was an intimate, stylish, and sophisticated wedding weekend on the shores of Lake Ontario…all in a day's work!"
– Tara O'Grady, Bliss Toronto
---
Blossom Events Company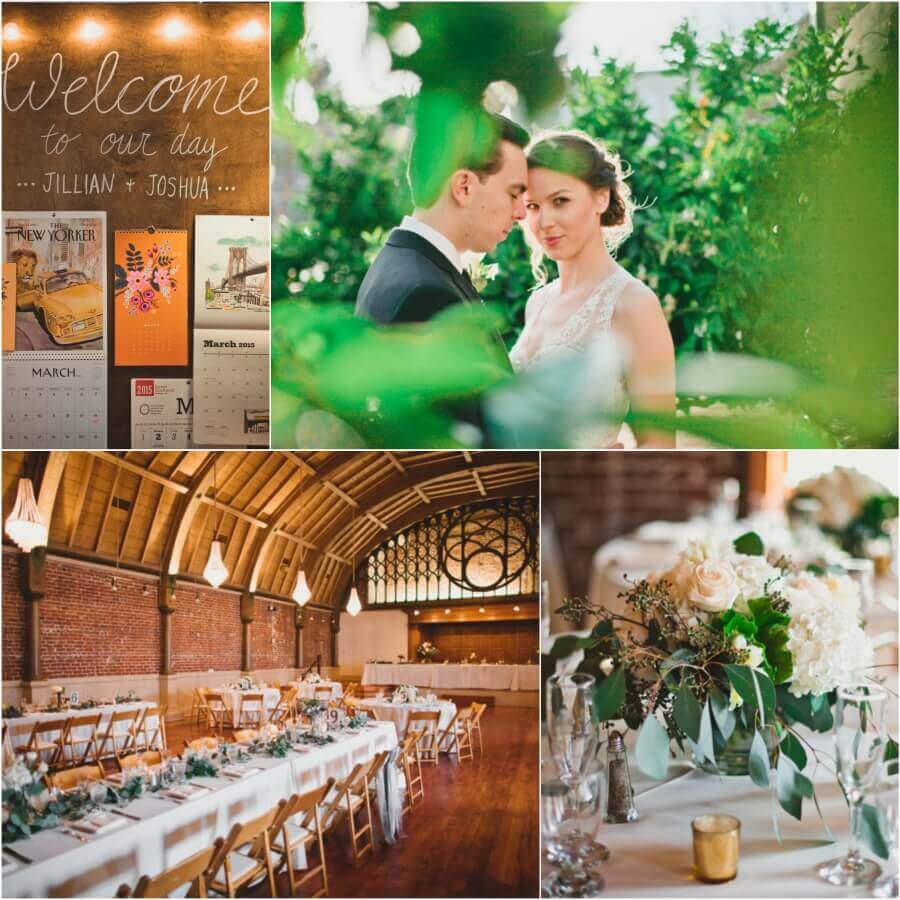 Photos Courtesy of Mark Brooke Photography
"We loved working with Jillian and Josh on their wedding day. Upon meeting Jillian, we immediately fell in love with her easy going personality and all of her ideas for her big day. Jillian was a creative bride who wanted lots of DIY elements in her wedding. We love brides that have a vision and know exactly what they want. A large wooden welcome sign was put together by the bride's dad with marquee lights and collection of calendars showing the wedding date. Table numbers were hand stitched by the bride's mom and everyone received a bookmark handmade by the bride for the wedding favour. The seating chart was displayed on a large kraft paper roll hung from the ceiling handwritten by the bride's sister. Hand cut fabrics were tied on the backs of chairs. We simply love this wedding because everyone played a part in designing and creating it. The bride and groom's personality and style was clearly evident in the decor and setup of their special night."
– Mary Yang, Blossom Events Company
---
Simply Perfect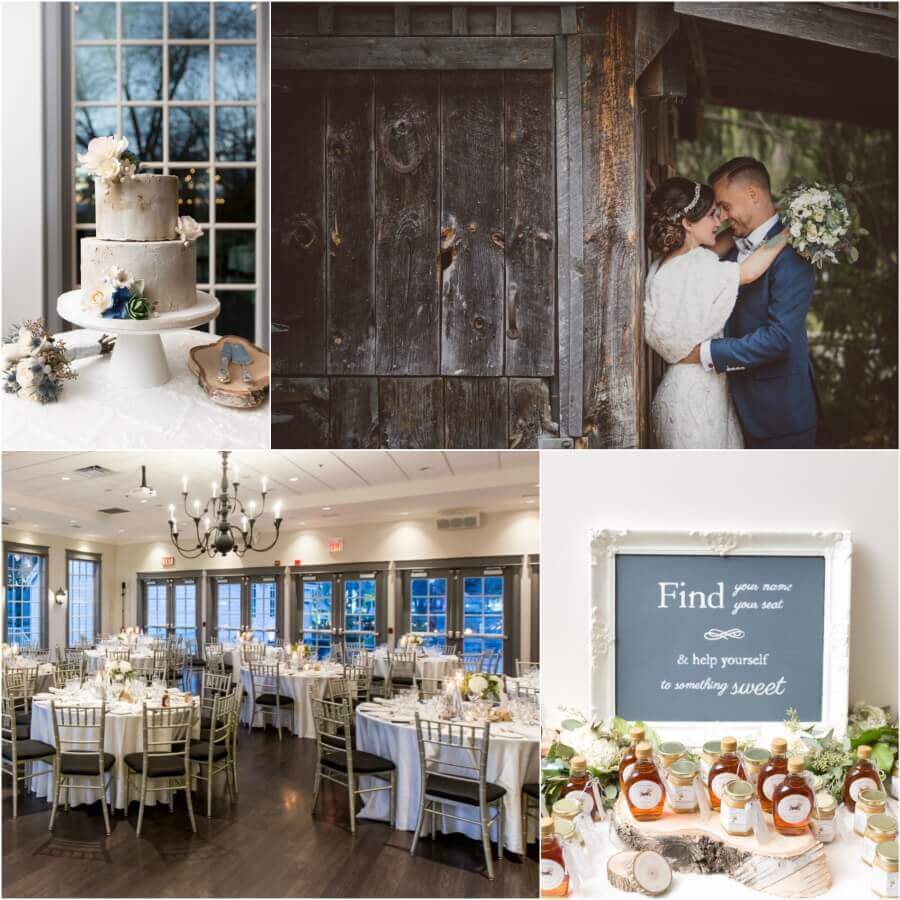 Photos Courtesy of Jamieson Dean Photography
"Weddings are a labour of love. Add DIY elements and that labour of love overflows! Lina and Chris' wedding was a beautiful representation of their love for each other, and their families.
The collaboration between the bride and groom was a true testament of their partnership, and the effort to personalize their wedding through the sweetest of details. From honey and maple syrup favours, to a board pinned with a collection of snapshots of Lina and Chris growing up, to pieces of birch tree that were meticulously cut into correct sizes and shapes added to the outdoor rustic and vintage element of their vision.
Being able to not only share in such a beautiful love story but to be a part of a celebration of gratitude and thankfulness that Lina and Chris had for their guests, and for their team of professionals was an experience we will not soon forget."
– Jodi Gagne, Simply Perfect
---
Blush & Bashful Events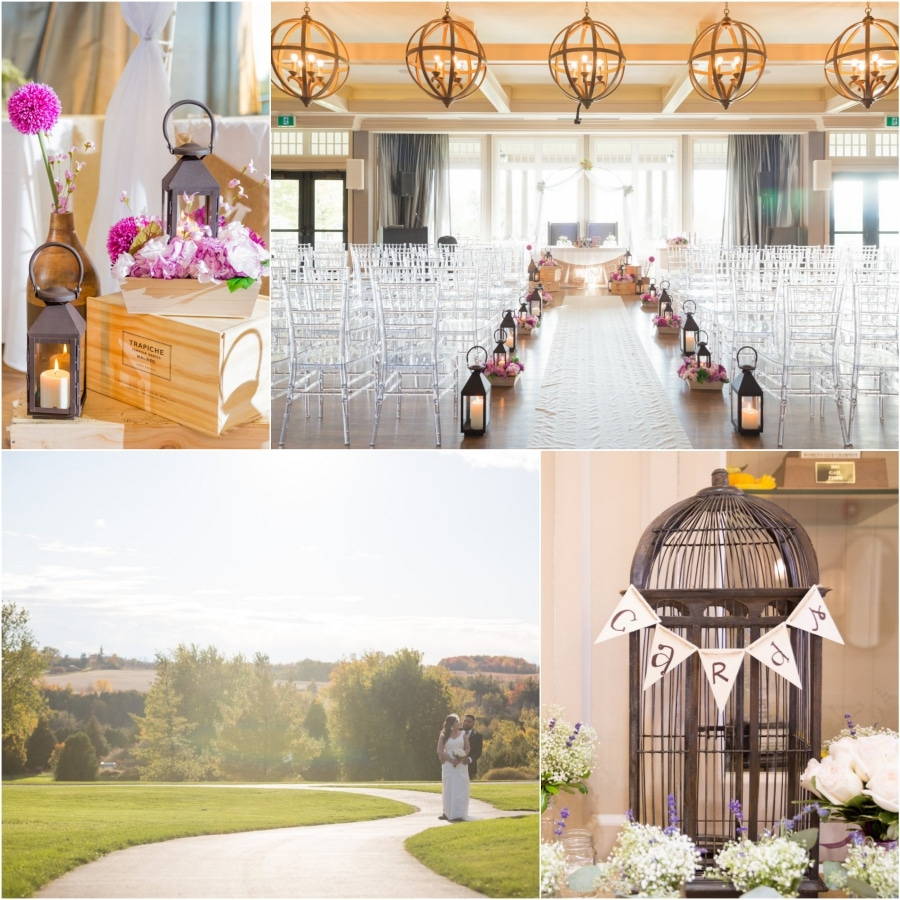 Photos Courtesy of Mark Flores Photography
"An unseasonably weather-whirlwind October day with spells of rain, snow, and even hail could not stop Jeff and Erika from saying their I-dos. Originally planned to take place outdoors on the picturesque rolling hills of the Whitevale Golf Club, the ceremony was moved into the clubhouse at the 11th hour. Indoors, with the gorgeous backdrop of the peaks and knolls of the course, the intimate space filled with hues of purple florals and soft candlelight fell nothing short of a romantic dream.
What I love most about Jeff and Erika's wedding is that it is an example of how a couple could achieve a spectacular wedding with personal touches, but without breaking the bank. It was important to the new parents of a beautiful daughter to treat their support system of 100 loved ones in attendance to a wonderful evening celebrating not only their marriage, but the union of their family and friends."
– Chel Saberon-Springer, Blush and Bashful Events
---
Stay tuned to the blog next week for part two!