Last week, we featured gorgeous weddings shared with us by 11 top Toronto wedding planners – but there's more where those came from! If you enjoyed part one, then you definitely don't want to miss part two! Stay inspired with these stunning weddings brought to you by some of Toronto's best.
---
Lexington and Co.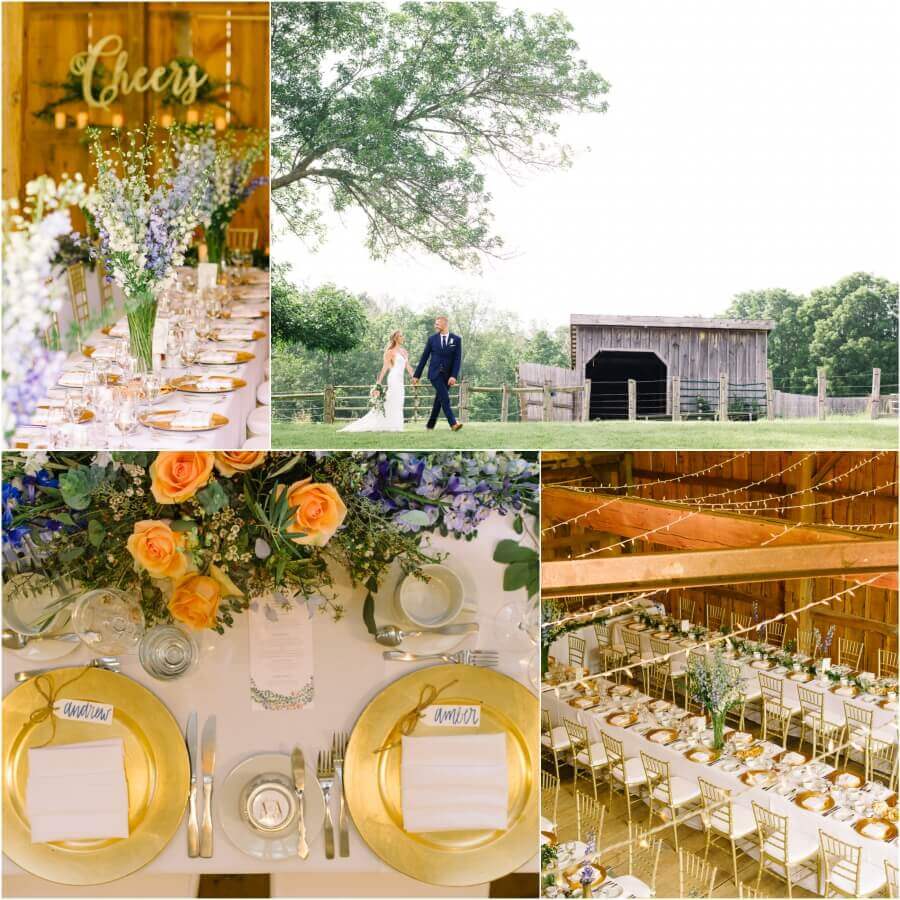 Photos Courtesy of Tara McMullen Photography
"Amber and Andrew's wedding day was very special and unique. It was a day that the couple was very involved in and worked together to curate a beautiful event. Each detail of their wedding was carefully selected, from the rock/indie music, to their ceremony location which was on a gorgeous flat rock beside a water stream.The wedding felt very rock-star L.A., but had the warmth of a Botanical Garden. The centerpieces and bouquets from Botany Floral Studio look breathtaking next to the barn wood. The reason I love this wedding is because it truly represented the couple. Andrew and Amber were adventurous in their selection of wedding decor and took risks when it came to textiles, design, and colour. By selecting the right vendors to help guide them along the way and bring their vision to life – the entire day flowed magically.
From the wedding day setup to tear down, the wedding was a party. As a planner, it is rewarding to see the wedding guests having as much fun as the bride and groom – as you know you have succeeded in providing a successful guest experience. With great food, great music, and great people – the day felt just as good as it looked. Feel good weddings of this nature always stick-out in my mind as favourites."
– Lexi Haslam, Lexington & Co.
Vendors Featured in this Article
---
Blush & Bowties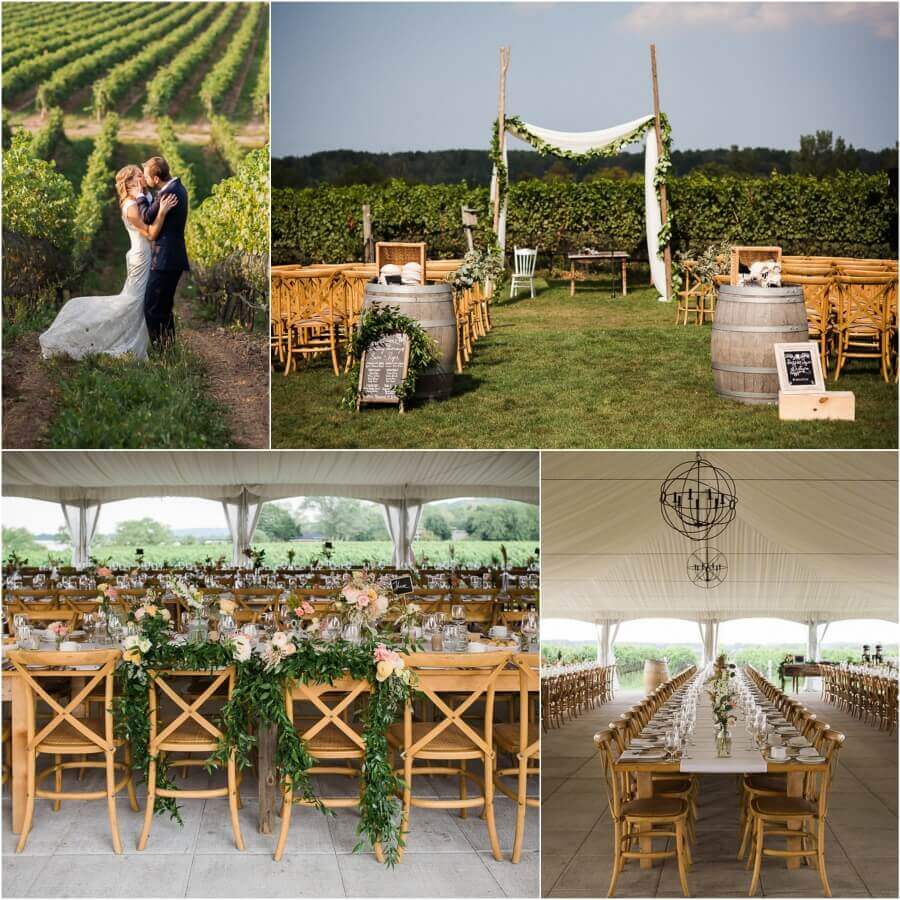 Photos Courtesy of Danijela Weddings
"When I first chatted with Sara and Ryan, I knew their wedding was going to be a beautiful celebration. Not only are they one darn good-looking couple, but their style was totally in line with what we do best: charming and whimsical weddings with a touch of rusticity. I adored planning this wedding because the Niagara region is one of my favourite places to visit in Ontario. The endless vineyards, quaint towns, and picturesque vistas have made it a prime location for weddings.
When dreaming up their vision, we wanted the wedding to have a rustic, chic vibe with a mix of romantic, organic florals, but grounded with earthy masculine elements. One of the most spectacular elements of their wedding was the wooden canopy that was transformed into their chuppah with the help of Simply Beautiful Decor. I also adored the flowers provided by Jen Pogue!
Sara and Ryan's wedding was all about family and joy. It was very special for me to help plan such a love filled occasion in one of the most beautiful spots in Canada with one of the kindest couples I have come across. "
– Alexandra McNamara, Blush & Bowties
---
Love by Lynzie Events + Design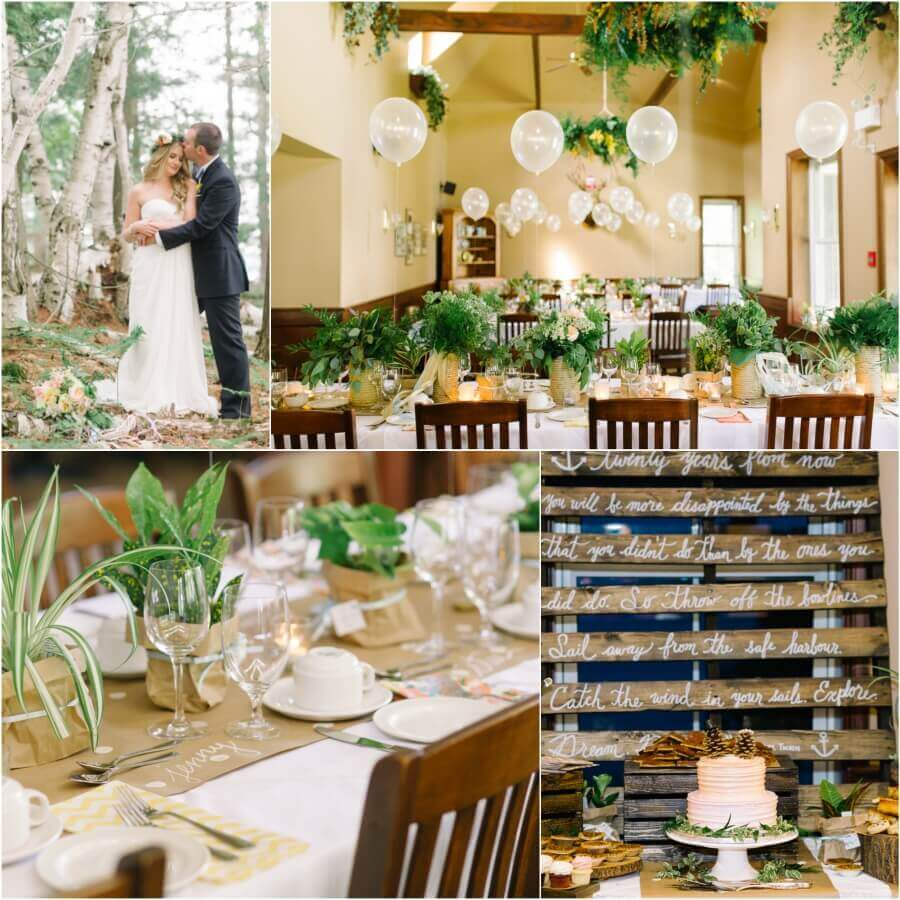 Photos Courtesy of Tara McMullen Photography
"Jackie and Kyle hired us to design and plan their wedding taking place at Port Cunnington Lodge last summer. The couple had some ideas in mind but needed our help to bring everything to life. They wanted the look of their wedding to be rustic as they were getting married at a lodge in the Muskoka area but wanted a modern, unique flare as well. You could not have asked for a more beautiful setting on such a gorgeous day.
Jackie and Kyle were always keen on all of our ideas and really let our imagination run wild. The tablescapes were the best part, with clear balloons floating above each table, as well as everyone's name written in white calligraphy on polka-dot, kraft paper runners. The ceremony was absolutely stunning with extra special details including a home made arch and a pallet featuring the couple's favourite quote at the guest entrance. The rest of the night was full of excitement and ended with a terrific dance party!"
– Carlee Wright, Mad Bash Group
---
Weddings By Design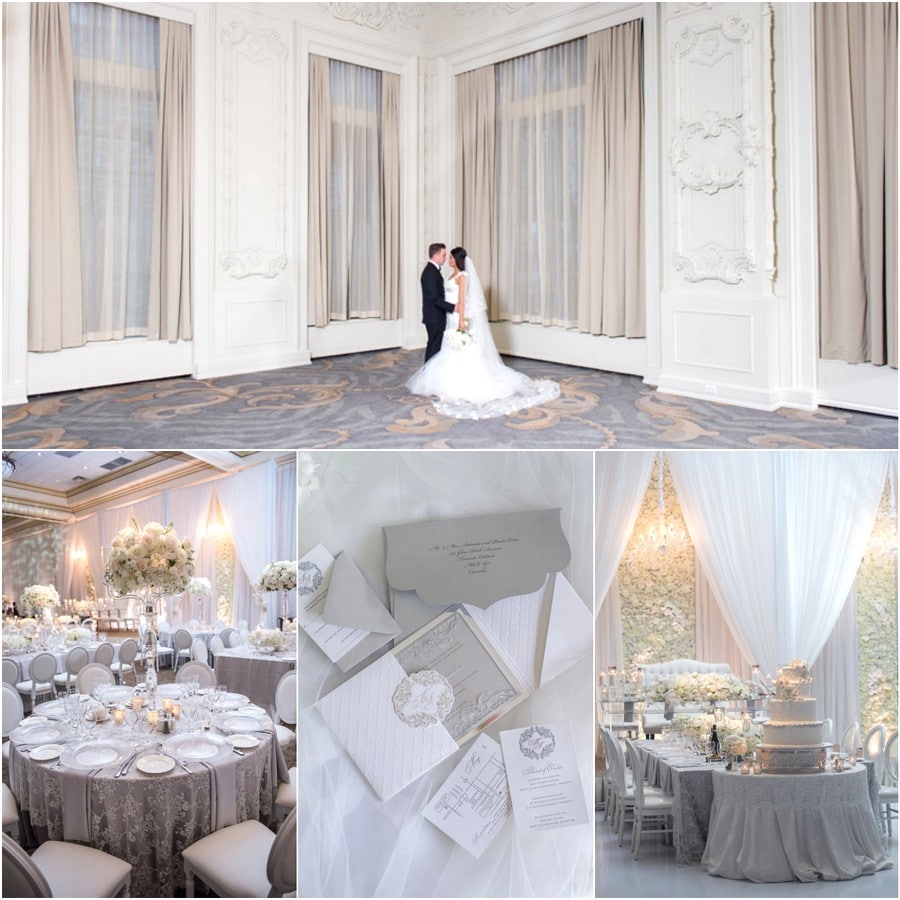 Photos Courtesy of Krista Fox Photography
"One of our favourite weddings of 2015 was Melissa & Alessandro's wedding. During our initial meeting with the client we talked about colour scheme (white & dove grey) and creating a luxurious wedding with all white florals. As we began the creative process, we found a stunning new lace and crystal overlay in the dove grey at Covers Couture. This linen became the inspiration for the entire theme of the wedding.
The monogram and all the stationery were designed around the floral motif of the linen, incorporating plexi and embossed foil treatments. Lush white florals at different heights, in different crystal and silver mercury vases and candle holders, created a luxurious design in the room. The floral wall and crystal chandeliers on the head table backdrop created a stunning focal point on one side of the room, while the plexi bar which featured their engagement photos was a stunning focal point on the opposite side of the room. Melissa & Alessandro's wedding was a labour of love for our team and a dream come true for this wonderful couple."
– Helen Pispidikis, Weddings by Design
---
Fusion Events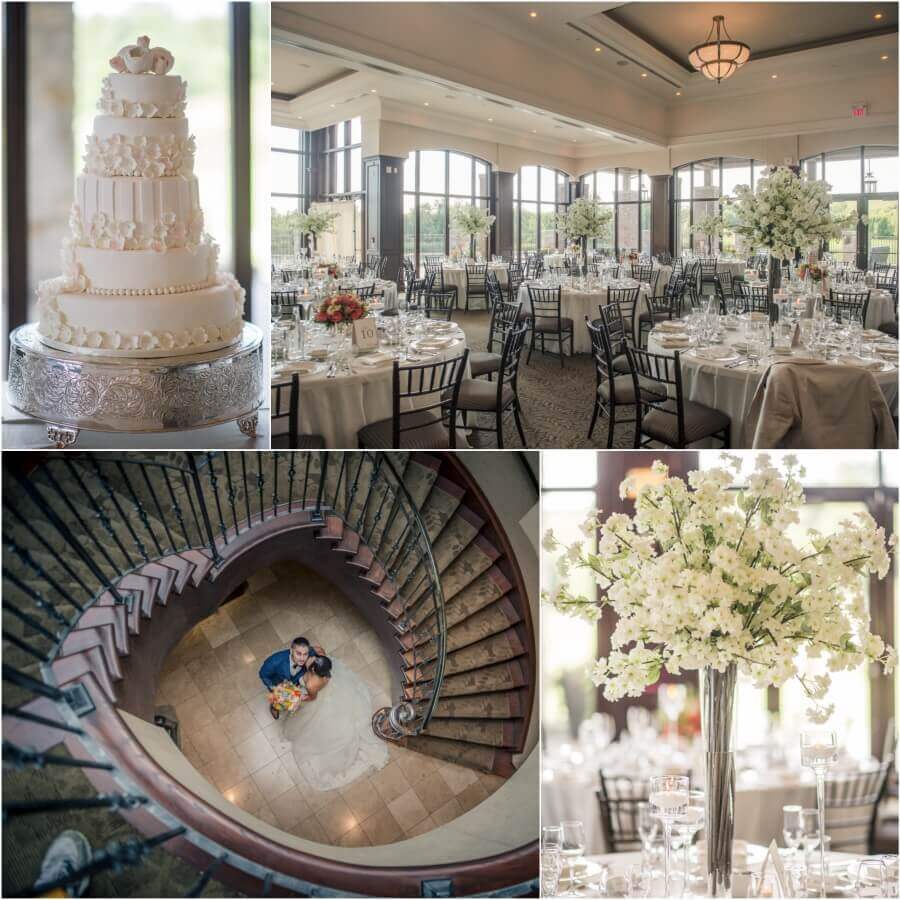 Photos Courtesy of AGI Studio
Milad and Natalie came to us as a referral from previous client. It was evident from our first meeting with them that they were a really fun and exciting couple. Their love for each other was beyond obvious and this really made us giddy to start the planning! The ceremony and reception were held at Eagles Nest Golf Club. Unfortunately ominous clouds rolled in very quickly on the day of the rehearsal dinner, and started to rain heavily right before it was supposed to begin. As the bride and groom pulled up in their car, the clouds opened up and the most incredible rainbow appeared. Everyone there couldn't deny that the rainbow appearing at the same time as the bride and groom was a sign…and it was!
Looking at the pictures it's hard to find one where the bride and groom aren't smiling ear to ear. As a wedding planner that really gives us the "warm fuzzies". Our main objective when planning weddings is to make it stress free! M&N are a young, fashion froward, and quirky couple so the wedding reception truly was a reflection of them. They had beautiful decor from 5th Element Events Group (we loved that they weren't afraid to add colour!). A super fun photo booth installation from the Linton Co., and a custom styled cigar lounge. To cap off the festivities guests were treated to an incredible fireworks display from Fire Master Productions. It was hands down one of our favourite weddings of 2015. It's really hard to choose a favourite, and we have many faves, but this one stands out as one that was a lot of fun to plan and execute."
– Arthur Kerekes, Fusion Events
---
Devoted To You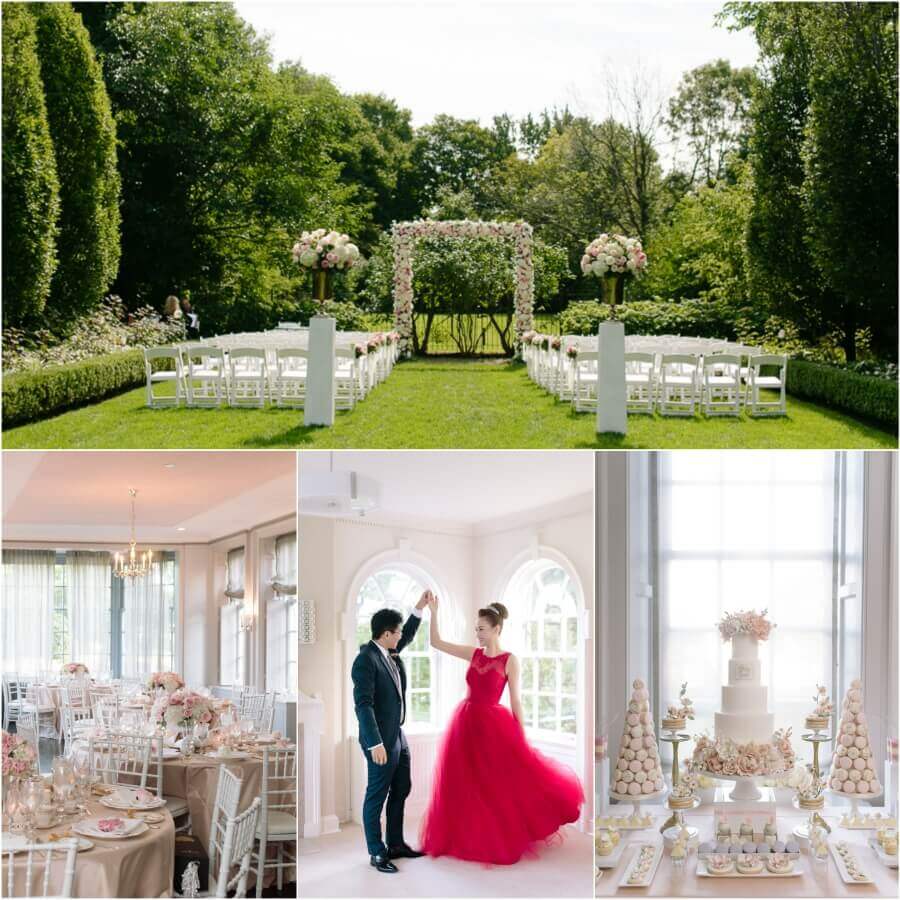 Photos Courtesy of Mango Studios
As wedding planners, it's important to curate the wedding to not only look beautiful, but to also be memorable to the couple by making it personal! A wedding is about two people in love joining their lives together and we want to showcase that by incorporating things that the couple enjoys in their wedding. We did exactly this by including this couple's favorite food, and playing games that involved their guests such as The Running Man (an Asian hit TV show similar in concept to The Amazing Race).
There are so many reasons why this is one of our favorite weddings of the year. Both the wedding ceremony and the reception took place at the most beautiful venues in Toronto. Their first look and wedding ceremony took place at Graydon Hall Manor followed by a wedding reception at Estates of Sunnybrook. With a team of amazing vendors, we brought our couple's vision to life – from all the floral and decor, to the sweet table and unique place setting for each guest in various shades of pink and patterns pairing with gold cutleries. Everything is so picture perfect."
– Carmen Luk, Devoted To You
---
One Fine Day
Photos Courtesy of Ikonica Images
"Our favourite wedding from last season was a two day celebration. The details are what made it so spectacular. The first day was a Moroccan inspired affair, full of color and culture and the second day was inspired by Marie Antoinette. The client wanted to transport guests to those destinations so the details were very specific from the music, to the food and the ambiance created at each event. Although each celebration was grand they were still intimate affairs for the guests to enjoy. "
– Melissa Samborski, 
---
Fabulous Occasions
Photos Courtesy of Melanie Rebane Photography
"One of my favourite weddings from last wedding season was Alicia & Justin's wedding at The Pavilion at the Estates of Sunnybrook. I love that the couple really wanted to just have a laid back, but elegant garden party. We concentrated on the guest experience providing fantastic food from Daniel et Daniel Catering & Events, a great band which rocked the dance floor, a fabulous outdoor cocktail hour with comfy lounge seating for the guests (courtesy of Warehouse 84), and a variety of lawn games to keep the guests entertained. The bride and I worked on a décor design which was reflective of the setting. We used long rows of harvest tables and decorated them with bright flowers, leafy branches, seasonal berries, and herbs all with the help of Sweet Woodruff. It truly felt like summer!"
– Malvina Chevolleau, Fabulous Occasions
---
KJ and Co.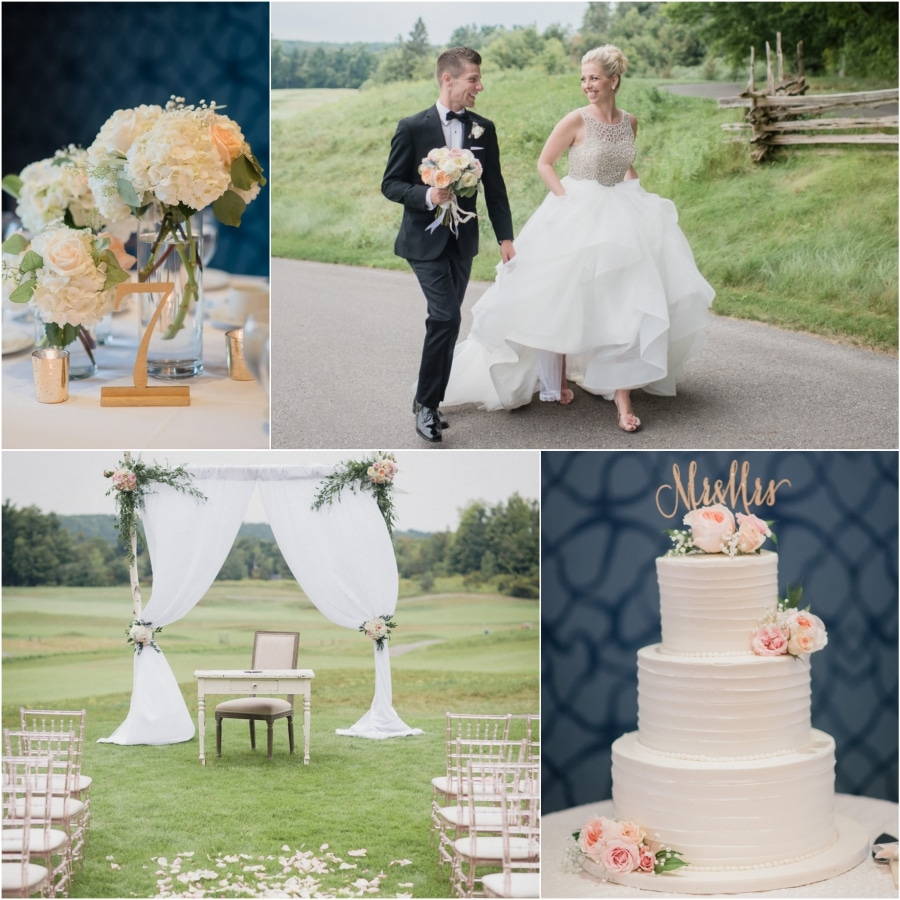 Photos Courtesy of Jenn Kavanagh Photography
"Picking a favourite wedding from last season is a toughy, but I loved planning with Stephanie and Mike. It was so much fun because this pair is so friendly and clearly meant to be together. I think I might have been looking forward to their wedding day more than the bride and groom! Sure enough, on their big day, I could hardly contain myself waiting to see Stephanie in her Hayley Paige gown. Mike's reaction seeing Stephanie for the first time as she walked down the aisle was one of the sweetest I can remember. Their outdoor ceremony at Glencairn Golf Club went perfectly!
Following the ceremony, guests enjoyed cocktail hour. The design for their big day was blush and gold, but simple and sweet enough that I don't think it felt overly feminine (even with fun pink dining chairs). One of the highlights of the evening was the choreographed flash mob that took our dance instructor bride by complete surprise!"
– Krista Jane, KJ & Co.
---
La Chic Soirée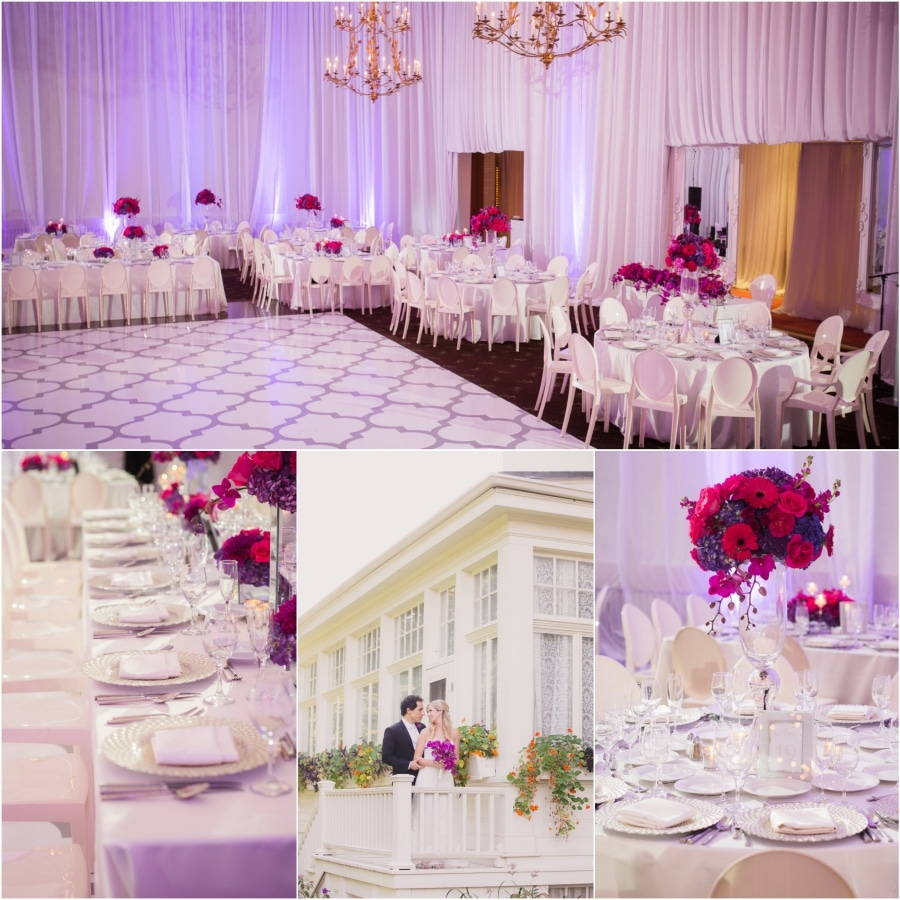 Photos Courtesy of Luminous Weddings
"This wedding took place labour day long weekend in 2015. It was a perfect summer day filled with love and laughter. The couple resides in Calgary so our planning time was limited. We utilized our time wisely when they visited Toronto on several occasions. When the bride first approached me, she really wanted a modern, clean, & elegant look for their wedding. Once we finalized the design, the next few months were filled with anticipation and excitement leading up to the big day.
The synagogue ballroom was transformed into a brand new space! We opted for chic and crisp white decor elements in the chairs and linens, a Moroccan tile pattern dance floor to give the room a bit of texture, and completed the look with bright fuschia and purple florals for a colour pop. My favourite part of being a planner and stylist is to see the bride and groom's reaction when months of planning is in front of their eyes and is better than they had envisioned! This was a very fun wedding to design and plan and I loved the final look! It was modern, chic, clean, and elegant and quite different from other weddings I was working on last summer."
– Anya Bortnik, La Chic Soiree
---
Whim Event Coordination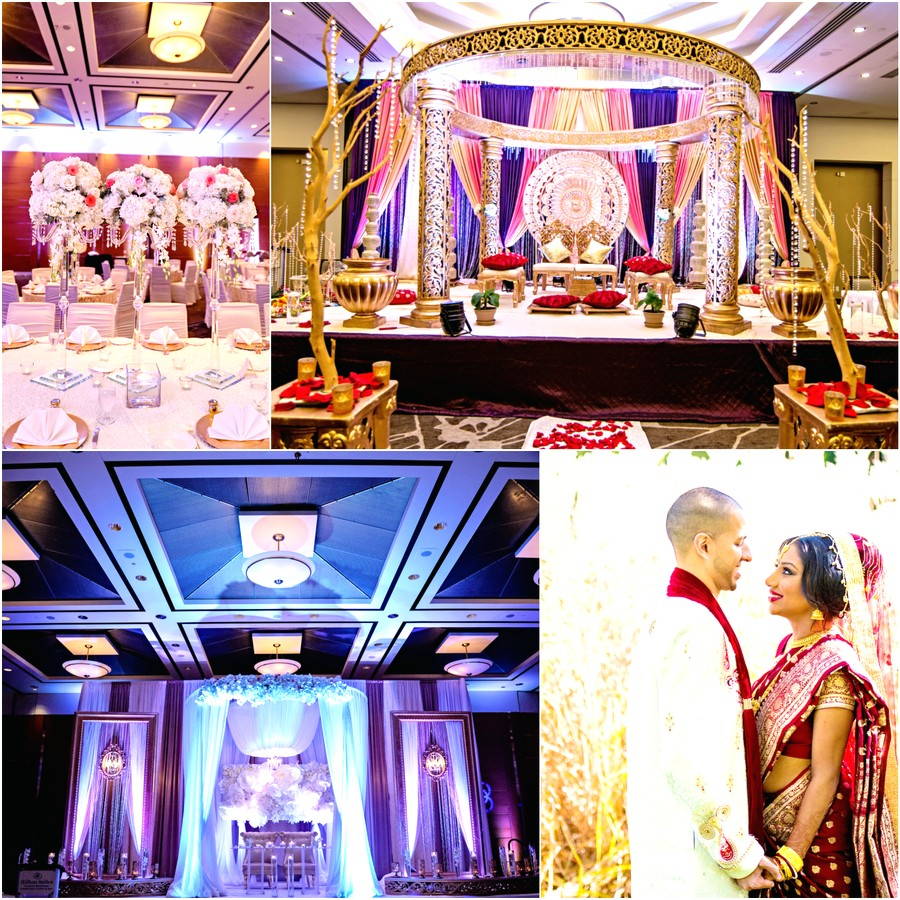 Photos Courtesy of G+H Photography
"Our favourite wedding from last season is Anil and Ilina's! This Hindu wedding and reception took place in Markham at the Hilton Hotel. We loved it for so many reasons, but the standout was how considerate the bride and groom were of the guest experience. Every well-thought out detail was with their dear friends and family members in mind to maximize their experience, and the result was truly stunning. For example, the Tiny Tom donuts made yummy treats after the ceremony, Chipotle catered awesome burritos for the late night food, and guests had a selection of flipflops available to to dance the night away! Anil and Ilina had a beautiful day that was full of so much love, and the guests walked away with a wonderful experience."
– Alisha Chadee, Events by Whim
---
Swoon Weddings & Events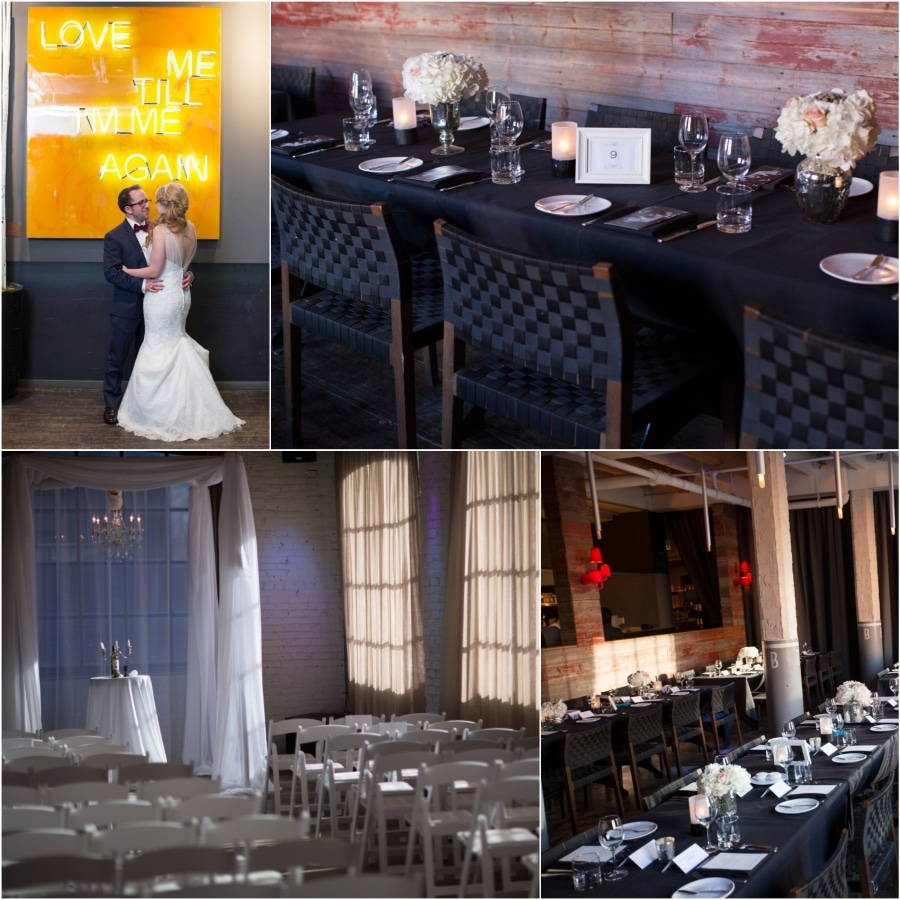 Photos Courtesy of Boston Avenue.
"Talia and Ryan's wedding was such an incredible day. It started off with the bride, groom, and bridal party getting ready at the beautiful One King West. Photos were taken in downtown Toronto as everyone made their way over to Brassaii, where the ceremony and reception would take place. Having the wedding at Brassaii really gave it a chic, urban feel, which was exactly what this couple envisioned for their big day.
The ceremony was in a gorgeous room with high ceilings, and the chuppah looked stunning with the chandelier. The cocktail hour was full of delicious hors d'oeuvres and flowed seamlessly into the reception. To keep with the downtown urban feel, mismatched vases with gorgeous florals and candles sat atop black linens on rows of banquet tables. The wedding was intimate with 120 guests and the speeches were incredibly heartfelt, you could really feel the love in the room. The guests had an amazing time and danced all night long. Talia and Ryan are one of the nicest couples I've worked for, and it was such a pleasure making their big day stress-free and better than they could have imagined!"
– Alana Klein, Swoon Events