Reviews
My husband and I got married at The Grange this past September! Caroline and Marlise made our experience so wonderful and the whole process felt seamless. They provided us with exactly what we wanted: a beautiful venue (that is deeply rooted in family and a love for the land, nature and the county!), sustainably harvested wine, and delicious (local to the county) food! Everything aligned perfectly — it was a magical night. We are very happy that we chose the Grange as our venue. It was exactly what we wanted and more!
Krista Erickson
November 2019
The Grange is an absolutely stunning winery to visit or for an event! We had a small elopement ceremony this fall under the willow tree and enjoyed a delicious meal in the loft, catered by a local company and of course enjoying the Grange's Chardonnay and Pinot Noir. Working with Marlise was excellent and she was able to accommodate any request throughout our planning from recommending food choices to officiants and music for the ceremony. The day was exactly as we had pictured and our guests had a great time in such a picturesque location. I would definitely recommend this spot for anyone planning a wedding in PEC!
Jason Alexander
November 2019
I was responsible for organizing an executive dinner here in October (2019). As soon as we arrived, I realized that we made a great choice with the Grange. The atmosphere was perfect, the scenery beautiful, and food exquisite. After dinner, one of the attendees turned to me and said that it was one of the best dinning experiences of her life. It was an excellent experience all around.
The photos speak for themselves. Grange is one of the prettiest, picturesque wineries and a wonderful events space. The staff, are knowledgeable, caring and approachable. The wines crafted by Caroline and her daughter, Maggie are as beautiful in the bottle as they appear on the labels. Every wine is grown and made on their family farm that they have carefully stewarded for the past 20 years. I would recommend the Grange to anyone looking to explore the wines and terroir of PEC or to hold an event in the stunning barn. p.s. the free-ranging chickens are very instagrammable.
Kathleen Shattock
November 2019
What a dream venue! The location is stunning; huge, beautifully restored barn looking out to the vines, gorgeous creek running through the grounds; and I love the chickens! The staff was incredibly easy to work with and helped at every step of our event, and to top it off, the mother-daughter team make amazing wines!
Splendid venue! Friendly staff and outstanding estate-grown wines paired with food sourced straight from the County, among picturesque grounds and a beautiful rustic barn. Pictures are indeed worth a thousand words! Always a pleasure serving our custom, scratch-made menus at this one-of-a-kind gem! Owners and winemakers Caroline and Maggie are true artisans and with event manager Marlise, curate a truly memorable experience!
As a wedding officiant, I am always delighted to perform ceremonies at The Grange! Not only is the location absolutely breathtaking, but the personalized service that Marlise and her staff provide to couples and their families makes each wedding feel unique and special. Their unhurried, detailed approach allows everyone to be truly relaxed and "in the moment" on their most special day.
Grange of Prince Edward Estate Vineyard & Winery has been mentioned inside these other vendor profiles:
Company Overview
Company Overview
Deals & Packages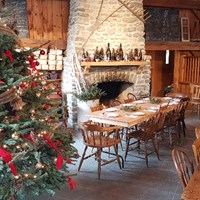 Holiday party
Private intimate dinners or extravagant affairs- let us curate the perfect holiday party for you and yours!
Savings: 34% off
Expiration: 1/31/2020
Map
990 Closson Rd, Prince Edward County, ON K0K 2J0