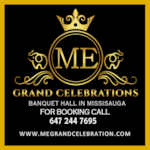 ME Grand Celebration Banquet Hall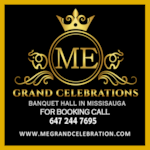 ME GRAND CELEBRATION is the First All-inclusive Banquet Hall in the GTA. We offer All-Inclusive Packages and NO Hidden Charges. Our maximum capacity is 310 guests. Conveniently located in the heart of Mississauga, we do not allow alcohol on our premises. WHAT MAKES US MORE LOVABLE IS OUR AUTHENTIC TRADITIONAL HALAL FOOD. We provide Halal Mouth Watering Traditional Pakistani, Afghan, Hakka Chinese, Middle Eastern, and Pure Vegetarian along with several Street-Food Style Stations (Golgappa Station, Bun Kabab Station, Chana Chaat Station, Mocktail Station CHAI KA STATION).
Our Specialized Decor is also included in our packages.
Take the stress out in finding your dream venue!
Company Overview
Venue Features
On-Site Ceremonies
Free Parking
Audio/Visual
Wi-Fi
Catering Information
On-Site Catering
Off-Premise Catering
Kosher Food
Map
1707 Sismet Road, Mississauga, ON L5M 0A9