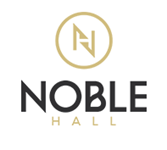 Critically acclaimed for its elegance, culinary artistry and impeccable service, Noble Hall (formerly Otello's Banquet & Convention Centre) is dedicated to creating unforgettable events. Newly renovated and spectacular, this historic building is located in the heart of Oakville. Blending modern amenities with old world charm, Noble Hall features two completely private event spaces, each with its own separate entrance. Elegant lobbies, spacious dance floors and a charming outdoor courtyard create a perfect backdrop for weddings, galas, corporate and special events for up to 320 guests.
Ewa from Nobel Hall recently organized my son and daughter-in-law's wedding. The bride and groom had a specific vision that (due to Covid-19) had to be created from scratch at a family cottage and she handled everything from arranging rentals, set up, catering and florist. Ewa and her crew were amazing and they exceeded our expectations in capturing the vision. I will be forever grateful to her for making this wedding the best memory for all of our family.
Was there for our wedding tasting. In these times and with all the horror stories online about other couples' adjusting wedding plans, I can say Ewa at Noble Hall has been terrific and accommodating during this tough time for all of us. The food was great and our excitement to get married next year got a boost today with these delicious dishes.
So many things were not handled well or done incorrectly. I could write a book but I will keep this to a few points.Patrick was rude and very difficult to work with on multiple occasions. At the wedding, he lied to the grandmother of the bride, told the bride to go look under a table for what she was looking for (which means he saw things lying on the floor and didn't pick them up), and was very rude to a disabled family member. Some simple things promised when the paperwork was signed took 8 months to get, after being told it would take 2 weeks tops! During the planning process, he told the bride repeatedly "don't worry, you have lots of time, don't worry about that yet." Wouldn't give timelines for when decisions needed to be made. Then all of a sudden his tone changed to "why haven't you sent this in yet? This should have been done already." He made it so much more stressful than it needed to be.Eva was very dismissive everytime concerns were brought to her during the process. After a massive email with complaints was sent to her after the wedding, her response was simply that she would talk to Patrick about it. As if that does anything to rectify the situation. The wedding package included a cake. They ordered the wrong one and refused to provide a refund for that portion of the cost. Even though proof was provided that they did not order what was requested.The whole thing was so upsetting that it's taken me over a year to finally write this review. This review does not include everything, but I would be writing for hours to include it all.
TheVolvotech
January 2020
Went there for New Years Eve party with my friends and family and I must say it was one of the best partys Ive been to. Everyone had a blast.Food was amazing and the staff was excellent and the place was full.Highly recommended place
Justin Mandell
September 2019
My wife and I held an outdoor wedding ceremony and indoor reception for approximately 75 guests earlier this month. The entire experience was fantastic. Noble Hall offers wedding packages that include many of the incidentals you would normally have to arrange on your own- florist, DJ, decorations, cake, etc. We worked with Patrick and Eva, who were very accommodating to our requests. The event proceeded beautifully and without incident. We received many positive compliments on the hall from our guests. To anyone looking for a venue, I would highly recommend they consider Noble Hall. You won't be disappointed.
Noble Hall has been mentioned inside these other vendor profiles:
Company Overview
Company Overview
Venue Features
On-Site Ceremonies
Wheelchair Access
Free Parking
Wi-Fi
Outdoor Facilities
Catering Information
On-Site Catering
Off-Premise Catering
Kosher Food
Deals & Packages
What services are included with this Package:
Full deluxe Bar
Full D.J services with full lighting
Head table & cake table decor
Antipasto Bar
Wedding cake
Centrepieces
Charger plates
Chair covers
Money Box
---
Here's the Fine Print:
This is an all inclusive price
This package is exclusive to EventSource.ca visitors. To redeem, you must mention you found this package on EventSource.ca.
Map
2273 Royal Windsor Dr, Oakville, ON L6J 7X8