Reviews
He is very knowledgeable pediatrician. As a nurse myself this is the kind of doctor you want to work with.
Always on time. Straight forward and to the point, which I like. He took us in right away after another office had turned our newborn away. Very professional and the staff is very friendly. Highly recommend!
My kids have been both "frequent fliers" (3x in a week) and 1x per year patients and here is what I love:1. Punclutality (we have never ever waited for our visit)2. Same day visits - a few times the kids broke out in a rash, or had ear infections etc. and the staff and the dr. are super accommodating in getting us in the same day3. Counsels well - in our case about getting a helmet for a slightly flat head etc. We get the facts and were able to make an informed decision that was best for us. 4. Is careful about prescribing antibiotics 5. Reassuring and not judgemental. As a first time mom that was awesome. I recommend Dr. Lindzon.
stoyan kolev
October 2018
This is the worst pedestrian I've ever seen, strongly recommend Do Not go there.We was late for 10 min and they took the patient after us to wait more than a hour with a special need CRYING kid,Tell me ,who is that perant will leave his kid to cry and wait for that long?
We were looking for a pediatrician for our child and my husband found this pediatrician. This morning I called to ask them to be our son's pediatrician and I was really disappointed by the receptionist I talked to.I wanted to explain that my husband called them a few days ago and heard they were accepting new patients, and ask if they still were. When I hadn't done with explaining, the receptionist said "we have so many patients so we don't remember what your husband discussed on the phone." I was not expecting that the receptionist remembered my hasband's call at all. I was just explaining how we heard they were accepting patients.And when I said I'm looking for a pediatrician for my son, she said there are two doctors in the office and which one I want. I didn't know there are 2 pediatricians so I told her I don't know which one to get and asked which do you recommend. Then she said "why don't you search on the website before calling us? I have no comments on that." Needless to say, she said it in a cold and unfriendly way.Of course I checked their website beforehand (I got their phone number on the website). But it seemed there was only one pediatrician in the office (sorry if I just missed the information).It might have been silly to ask which doctor was better but she didn't need to be that mean. She could have told me what each doctor specializes. The pediatricians might be great but it is unfortunate that we won't see how nice they are because of this rude receptionist. Thanks for ruining my morning.
Ashley Lindzon Events has been mentioned inside these other vendor profiles: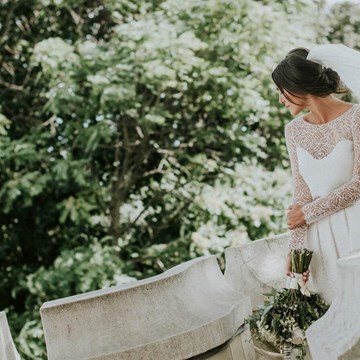 Marissa and Will's Fairy-Tale Wedding at the Always Enchanting Casa Loma
4/11/2018
Read more