If 2020 taught us anything, it's that no matter what life throws at us, love will always prevail. No where is this more true than for the 2020 couples, who, despite the challenges the year posed, decided that their deep-seeded love was enough for them to move forward with their wedding plans despite the decreased guest count and other related restrictions. Even so, with thanks to some pretty seriously talented planners, décor vendors, and florists, their results were nonetheless magical!
Don't believe us? We reached out to a handful of Toronto wedding planners to share their favourite weddings from 2020 with us so you can see for yourself! There's some great 2021 wedding inspiration in this one!
---
Art of Celebrations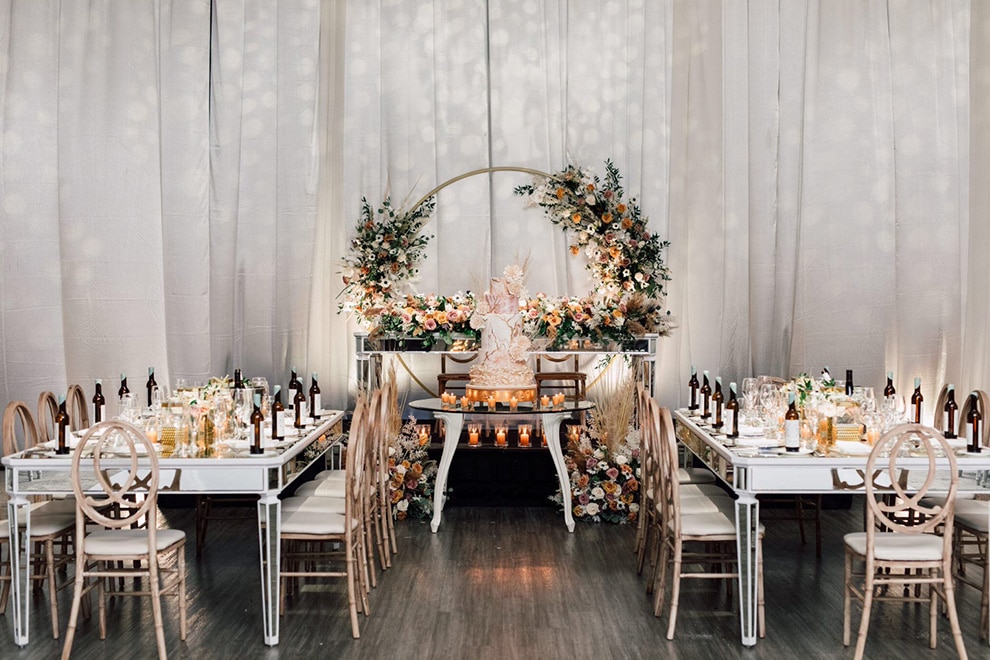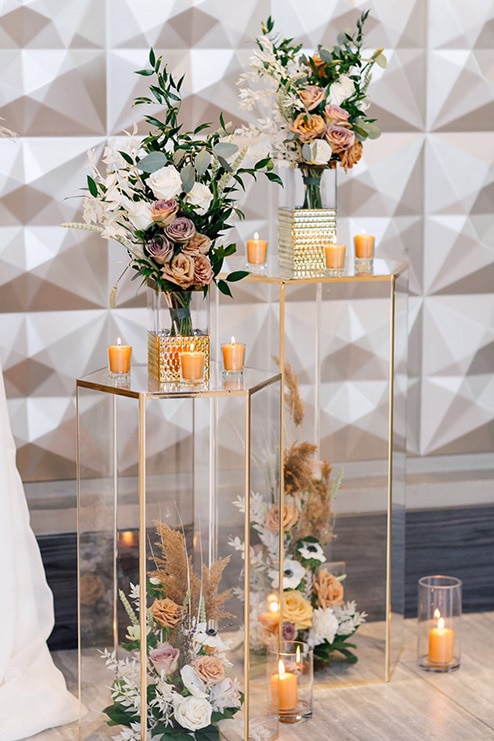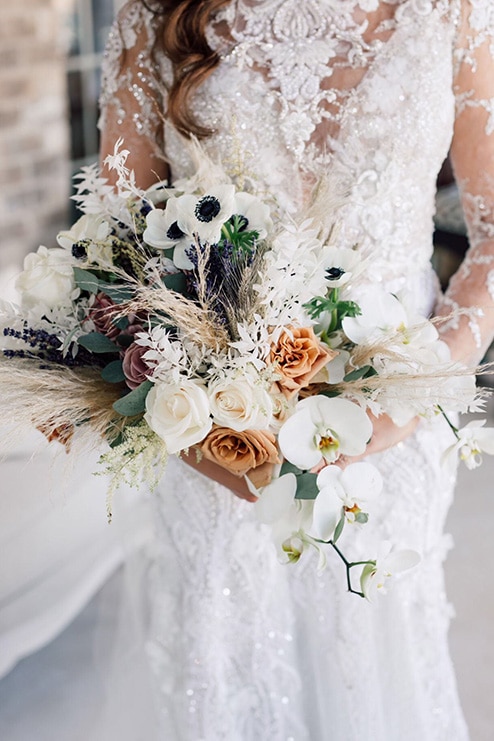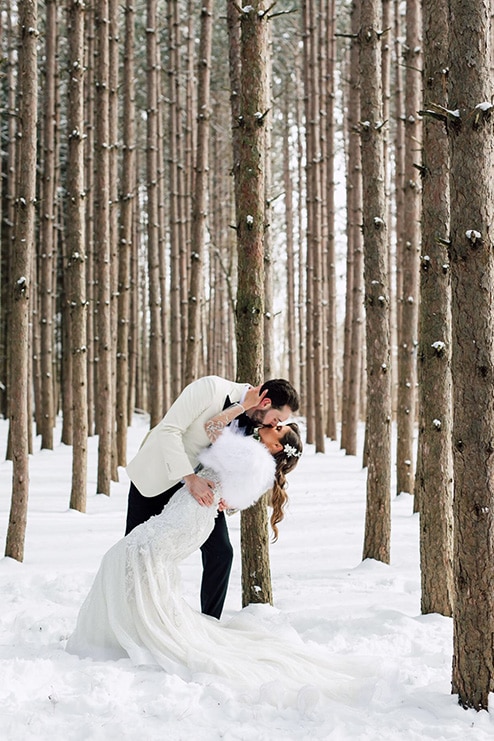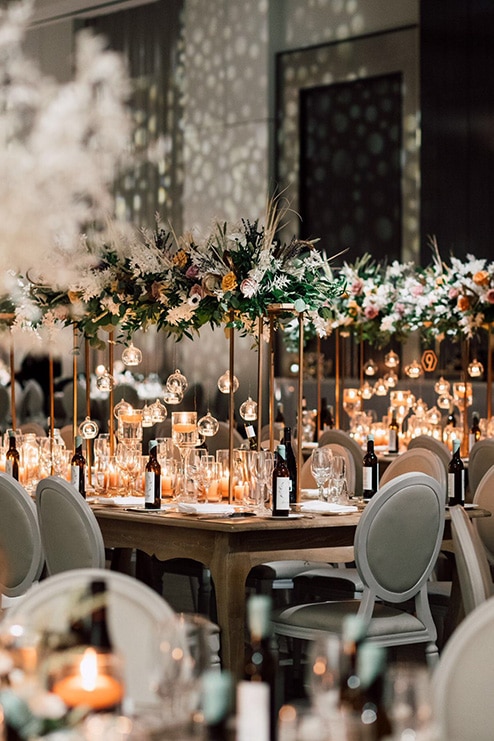 Photos Courtesy of Purple Tree Wedding Photography
"On February 29th 2020 Julia and William said I do. The wedding happened on a leap day in February which only occurs every four years so the couple had the opportunity to go with the theme Leap into Love. Little did they know leaping into love definitely paid off! It was a very special wedding – for the couple, their guests, and all the vendors – due to it being the first wedding of 2020 and the final one before the COVID-19 pandemic lockdown took place.
The wedding was filled with personal touches and cultural elements. Both Julia and Will are of Ukrainian background which was evident through the Kozak table during cocktail hour, a table with Korovai bread, and a traditional Ukrainian dance presentation performed by a dance group which Julia herself once was a part of. Guests also enjoyed wine and party favours from Rosewood Estates Winery which is Will's family winery and honey farm. The flowers and décor were also reminiscent of Ukrainian embroidery and flower wreaths with subtle honeycomb elements throughout. The colours and accents perfectly highlighted the winter season and made the wedding that much more beautiful and special! "
– Roxy, Art of Celebrations
Vendors Featured in this Article
---
Karina Lemke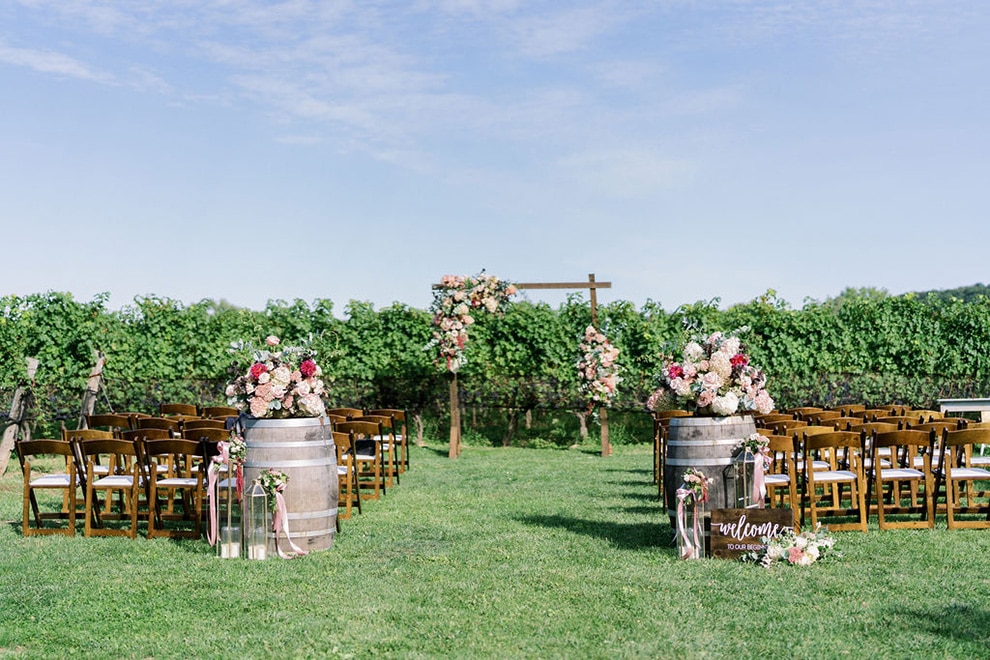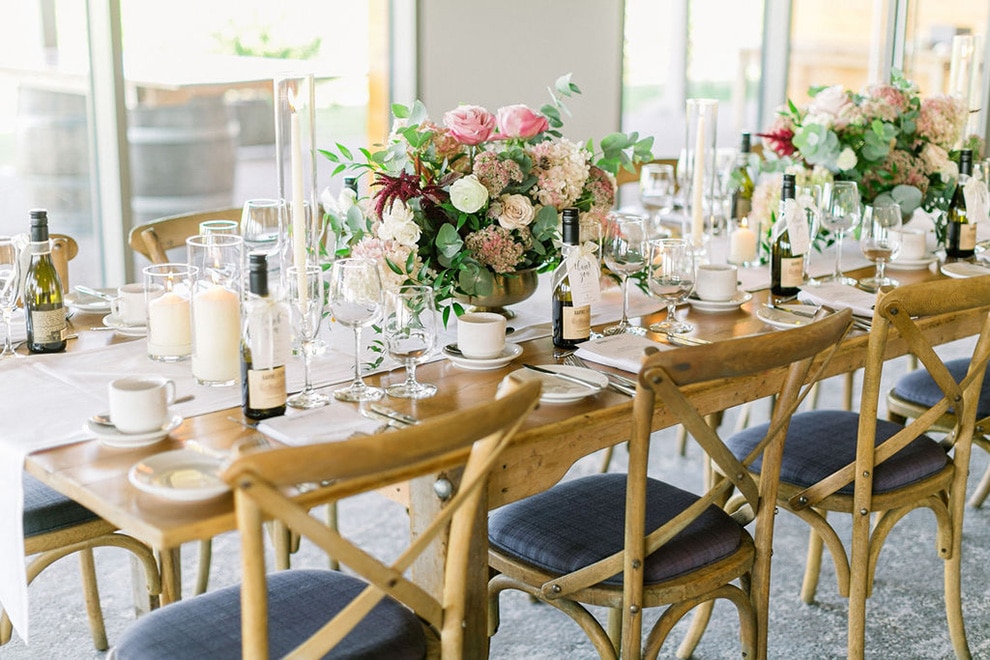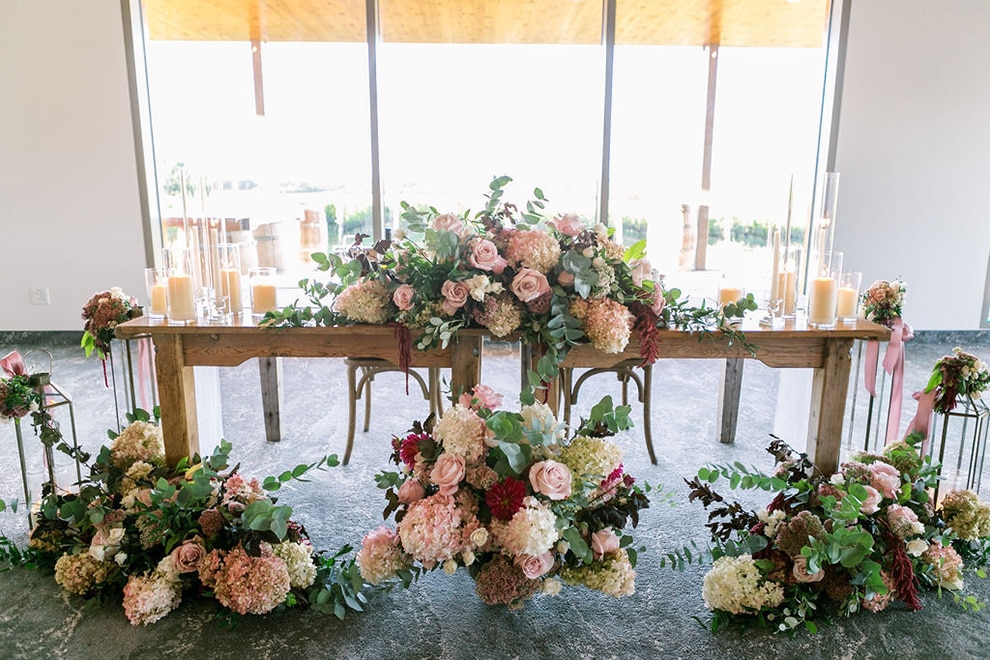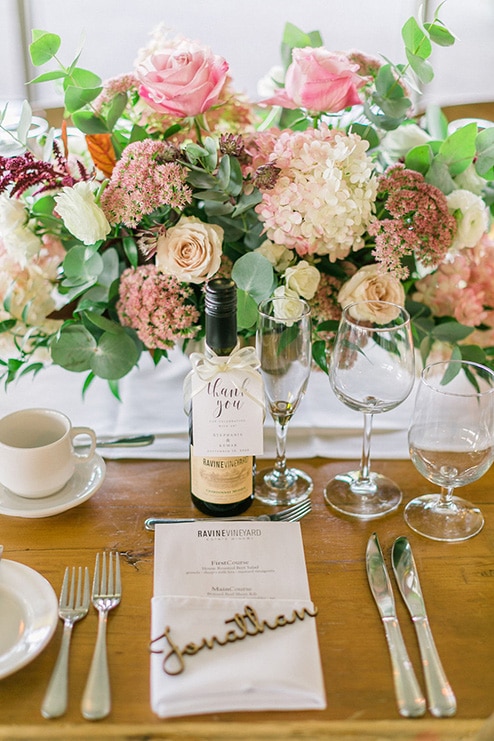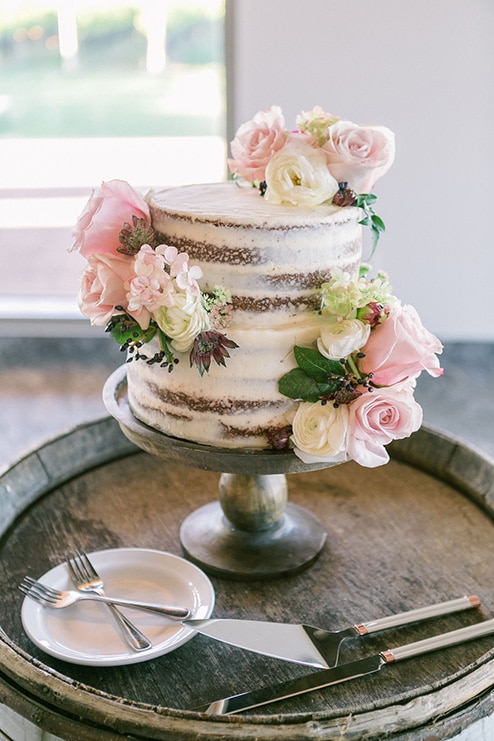 Photos Courtesy of Corina V. Photography
"The summer of 2020 shattered some dreams but fulfilled many others and such was the case with Stephanie and Kemar. As a planner navigating the ever-changing sets of restrictions and variances from region to region, I opted early on to partner with a few incredible locations that had the ability to provide ceremony and reception options in primarily outdoor locations that also had some suitable indoor contingency options. I needed to ensure that each venue and each couple remained as fluid as possible with their plans given the incredible dynamic, ever changing situation.
Speaking with Stephanie, I knew that a romantic Vineyard wedding suited her style perfectly. The venue was incredible to work with and we were able to snag a highly covetable weekend date in September. In a non-pandemic year, it would not have been even close to possible. The couple, their family and many of their guests were able to make a weekend of it.
Stephanie was the most gorgeous and gracious of brides and the guests were truly grateful to have been able to celebrate their marriage – for a few glorious hours on a perfect late summer afternoon in September, the cloud of COVID-19 passed to reveal nothing but love & sunshine!"
– Karina, Karina Lemke
---
As You Wish Weddings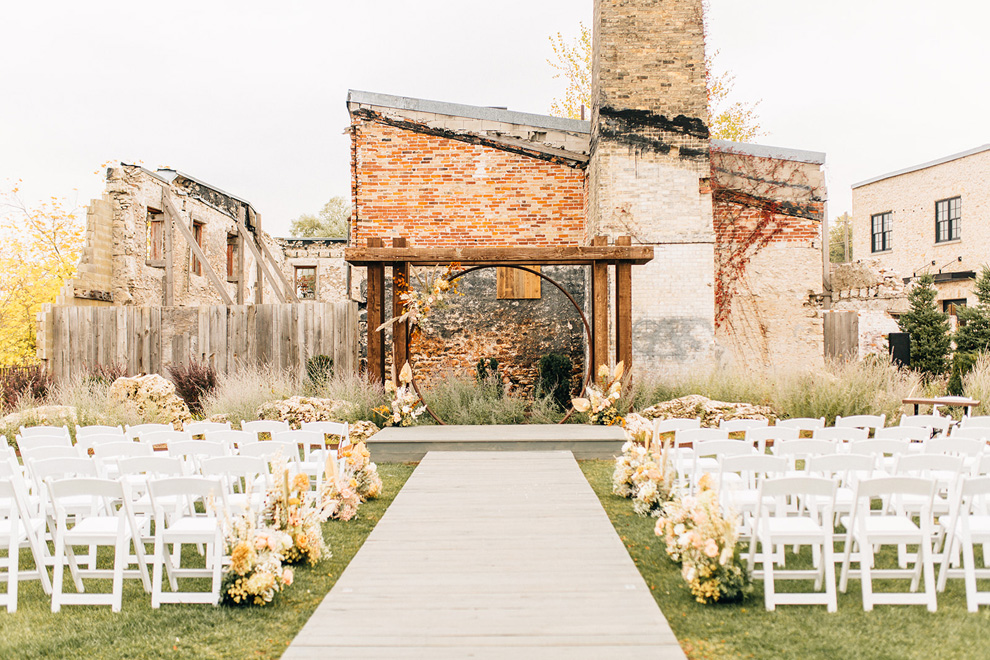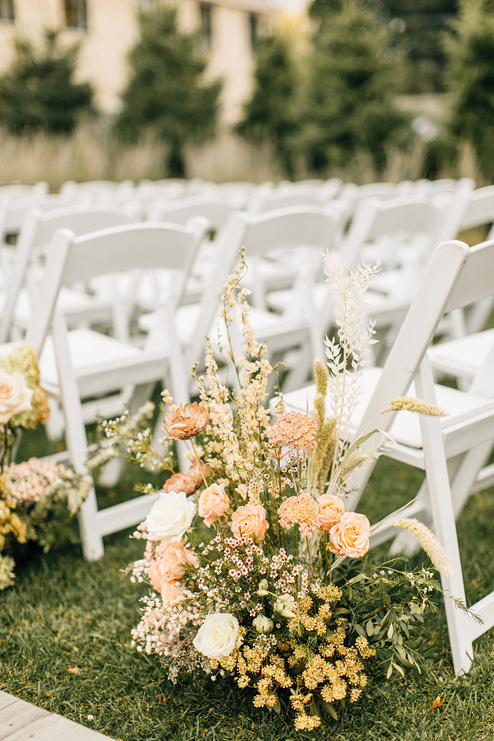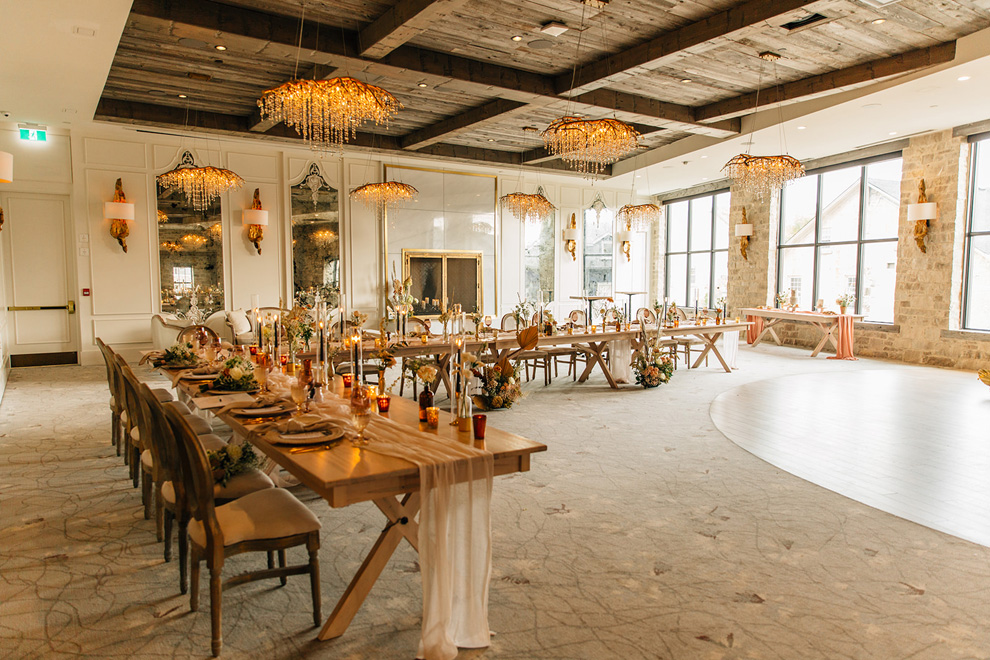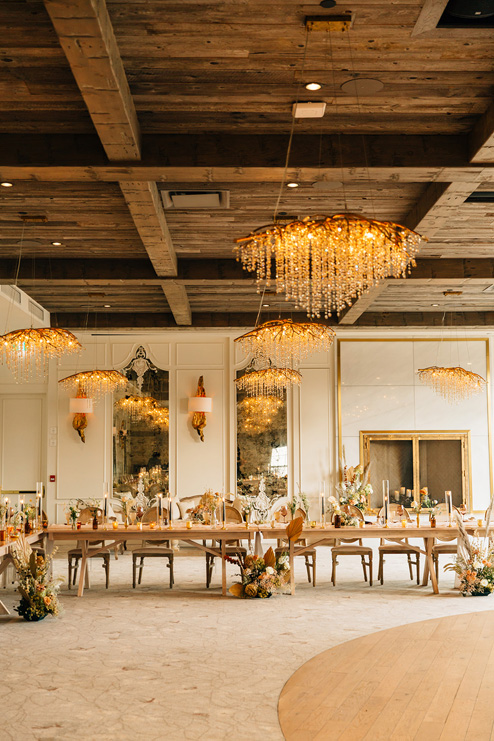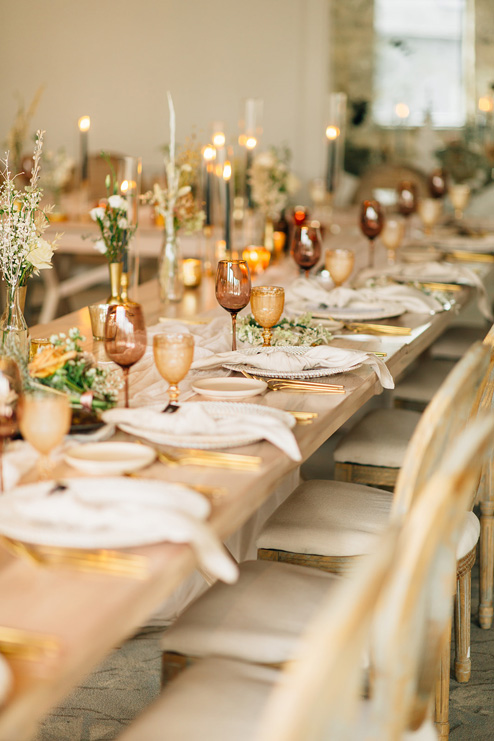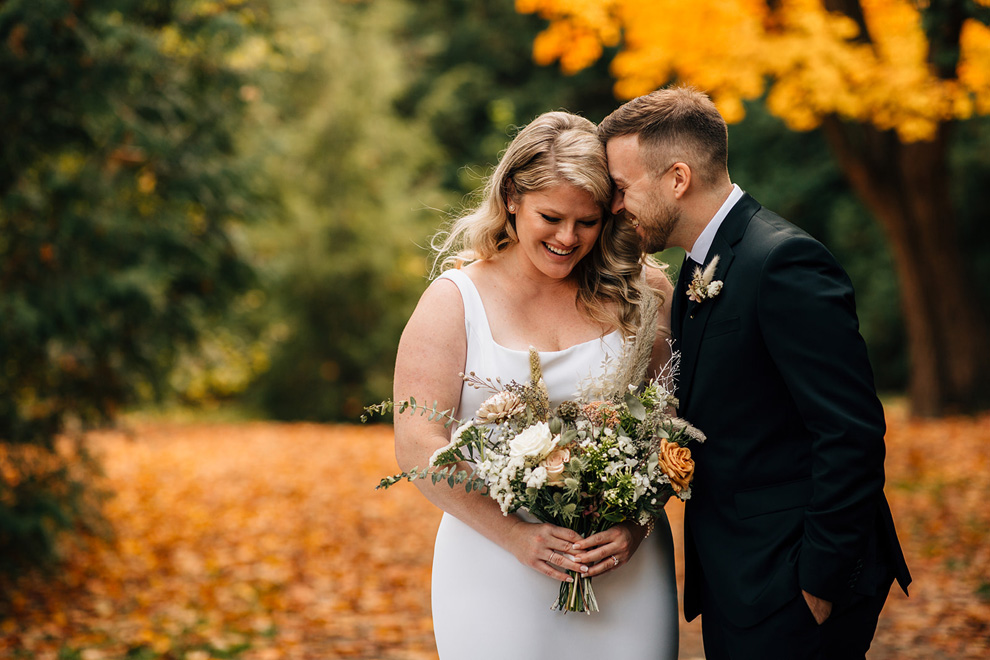 Photos Courtesy of Alyssa Wodabek
"As we all know, 2020 was quite the year. From the uncertainty and unknowns, to the cancellations and postponements, it was a tough one for the wedding industry and our couples to navigate. Though they were few and far between, the weddings that did happen in 2020 had a few common threads: very intimate, incredibly meaningful, and definitely stunning.
Katie and Phil were engaged in January 2019 and fell in love with the gorgeous Elora Mill Hotel & Spa. They set their date for October 10, 2020 and envisioned a combination of sleek, modern touches juxtaposed against neutral, textural elements – a complete dream for us to design!
Committed to saying 'I do' on their original date even though it wouldn't be the 150+ guest wedding they had initially planned, Katie & Phil had an absolutely beautiful day with their closest family and friends, filled with dreamy details and so much love."
– Caryn, As You Wish Weddings
---
Designed Dream Events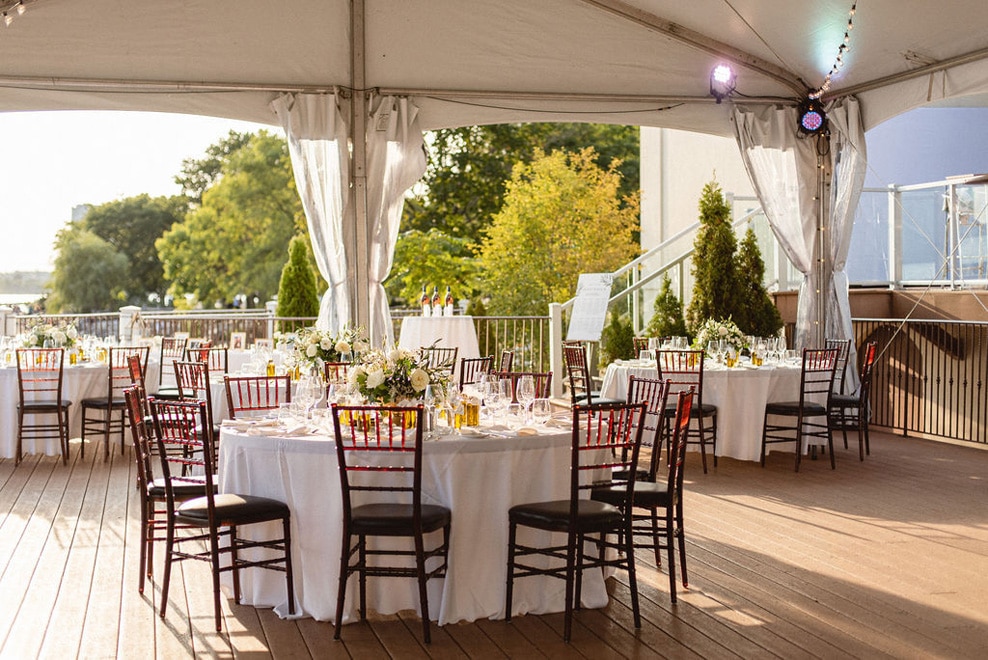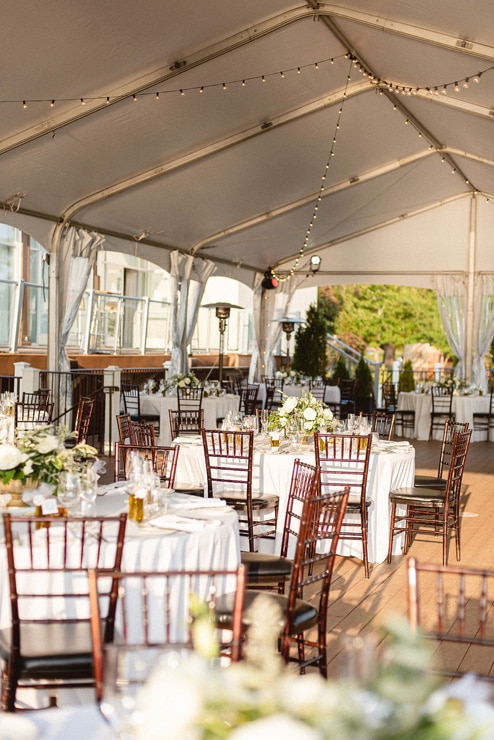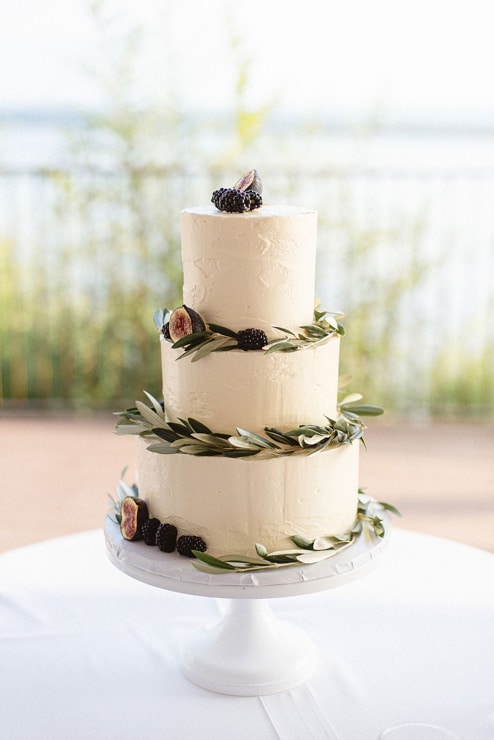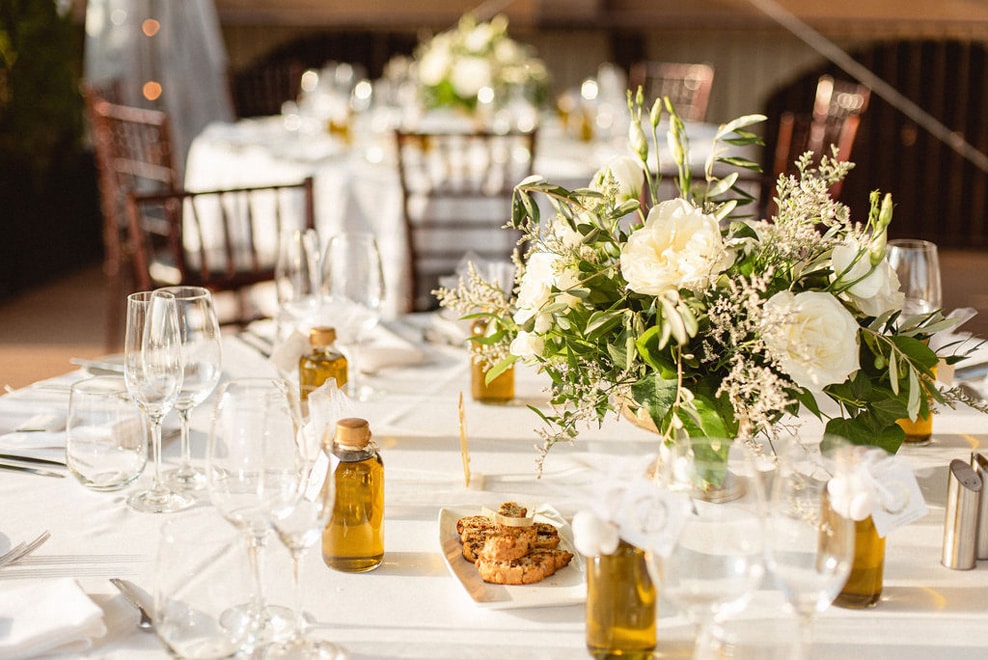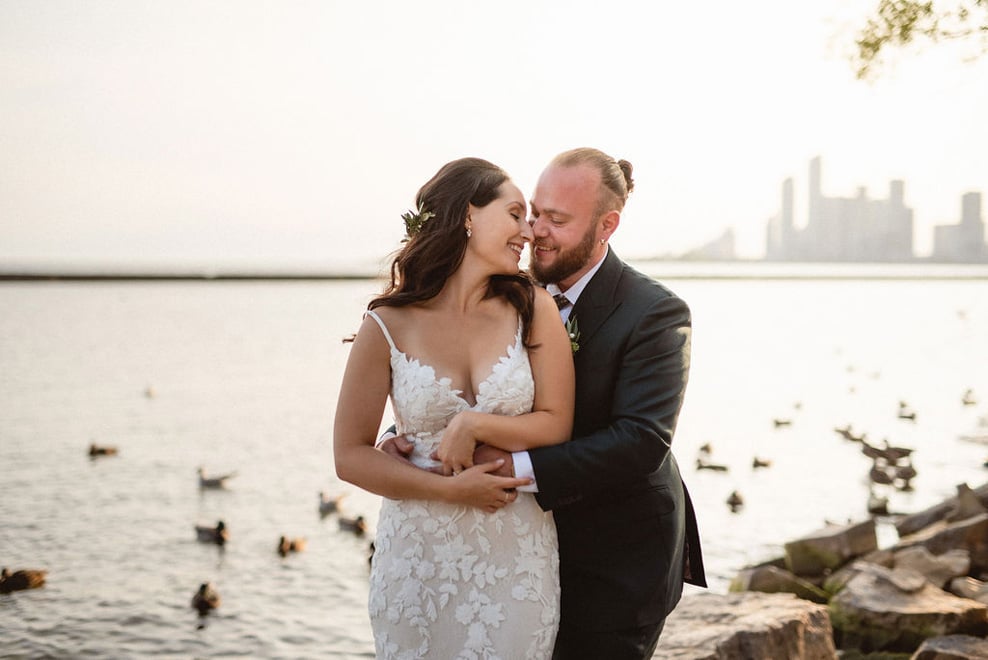 Photos Courtesy of Eneira Photography
"Anastasia and Daniel's wedding was a wedding very dear to our hearts! I have known and have been working with Anastasia for over 8 years, she is a talented photographer from Olive Photography. We have been very close industry friends for years and shared lots of amazing memories!
Anastasia mentioned to me that one of her top venue choices was Palais Royale, but because her numbers were too high that venue wasn't able to fit their wedding. Of course, COVID-19 forced A&D to cut down their guest list, and Palais Royale was back on the table! The venue was very flexible and extremely helpful in the whole process. We found a new date (September 12th, 2020) that worked for the couple, their guests, all of their vendors and we booked it right away. The whole rescheduling process took less than a month and the wedding was better than my couple was hoping for 🙂
The patio at Palais Royale is a dream place to get married at, very romantic and feels like it is a destination wedding! The atmosphere was very relaxed and intimate with only close family and friends (90 guests). The décor was very organic and natural and reflected the nature of Anastasia and Daniel and their deep love!! I am so happy that we could help Anastasia and Daniel with their dream wedding and with the whole rescheduling process! "
– Fidan, Designed Dream Events
---
Blush & Bowties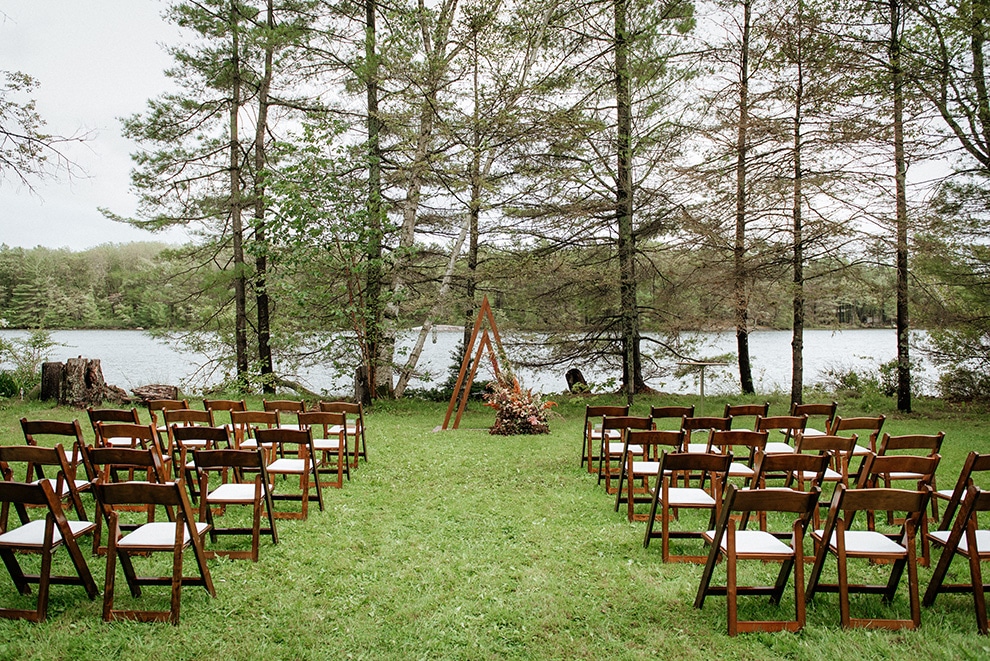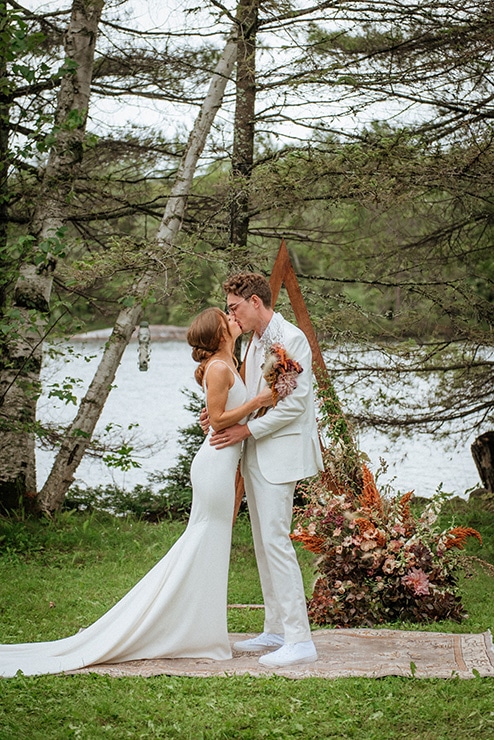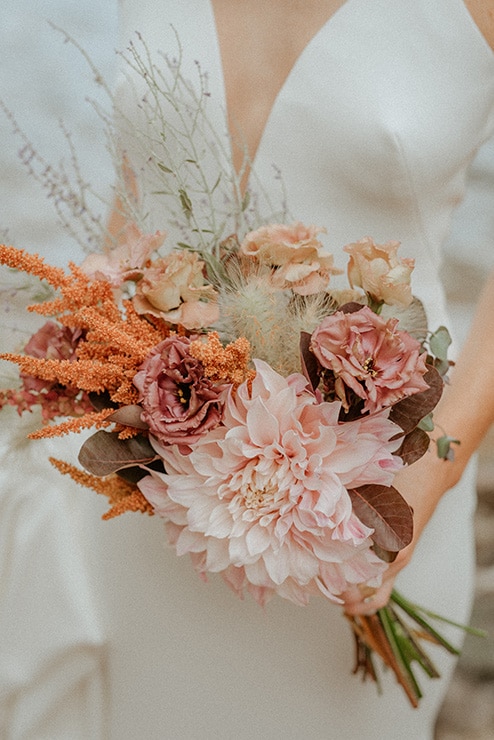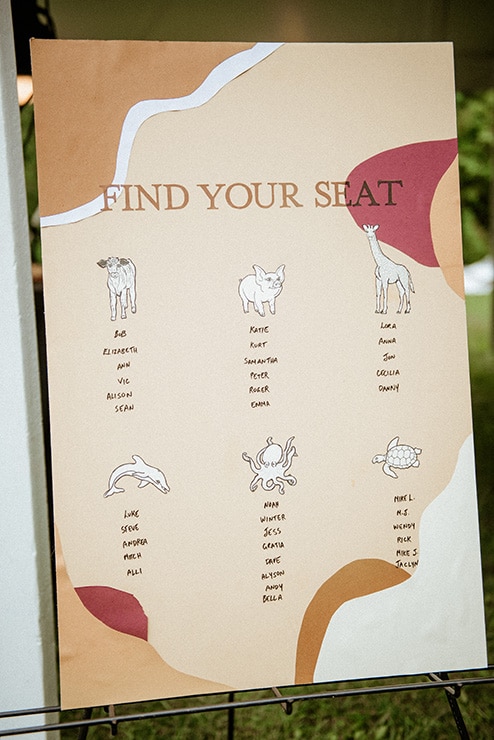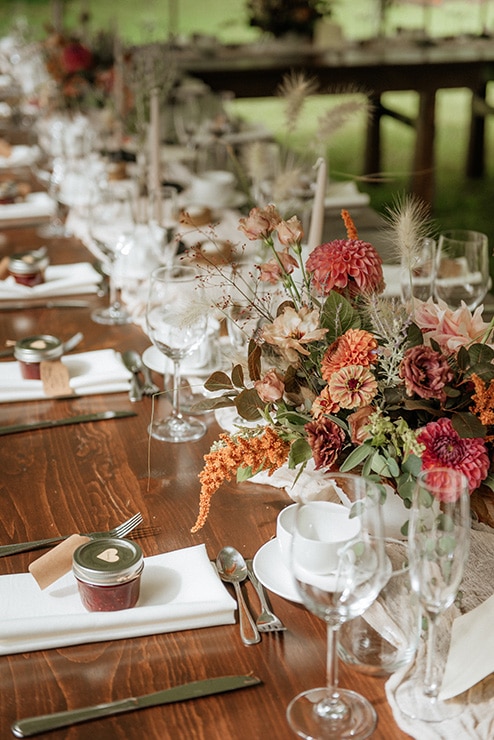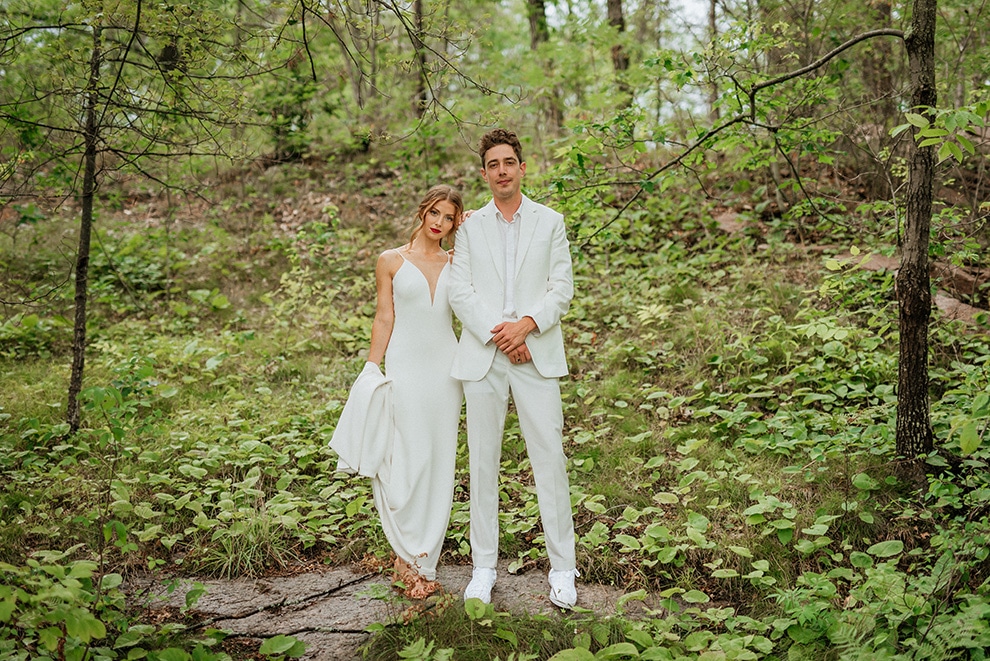 Photo Courtesy of Leydon Photography 
"Lora and Luke's plans for their wedding day had been derailed by COVID-19 earlier in 2020. It took us all a little while to wrap our heads around what the next steps would be for them, but ultimately moving their wedding to their woodland cottage turned out to be the perfect locale for their intimate occasion.
This couple traded in their 150 person wedding at a venue for an intimate affair at their cottage with a quaint 45 guests. They had a beautiful ceremony facing the water, sipped cocktails on the charming deck, and enjoyed BBQ jerk chicken for dinner. The couple handmade many items for their day including their modern ceremony arch and signage. Floralora created earthy and warm arrangements, pulling in tones and inspiration from the surrounding nature. For our team, this wedding really illuminated the heart of why weddings are important. I think in general, the pandemic has shown that as long as there is love there will be weddings. They might look a little different right now, but the core meaning and importance of them remains.
Lora and Luke's trust in our team and kind nature made the process, despite such a challenging time, incredibly rewarding and one of the most memorable weddings of 2020."
– Alex, Blush & Bowties
---
Fab Fête Event Planning Boutique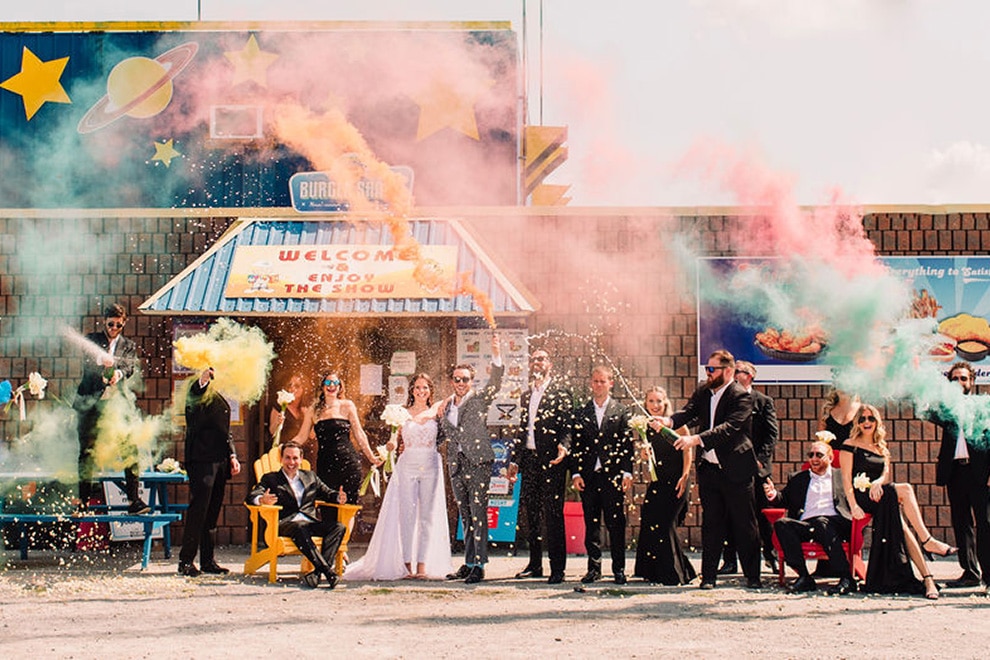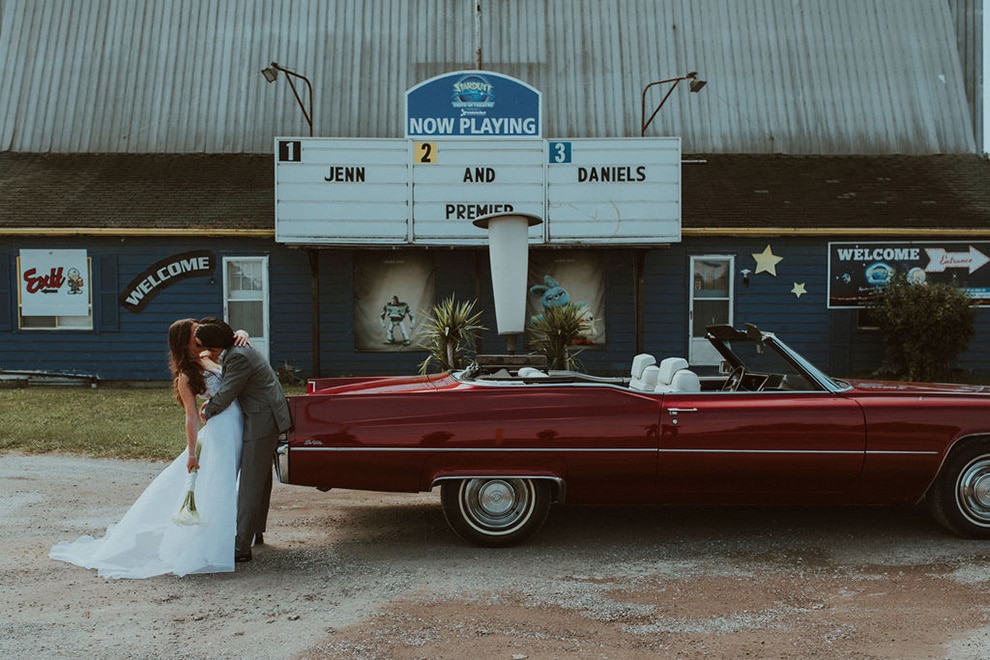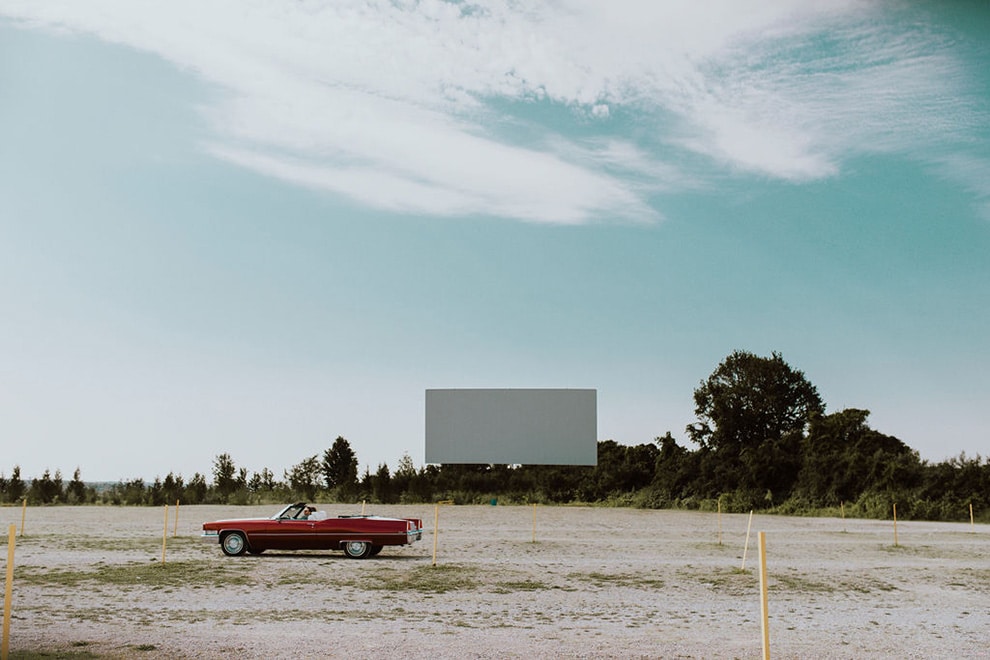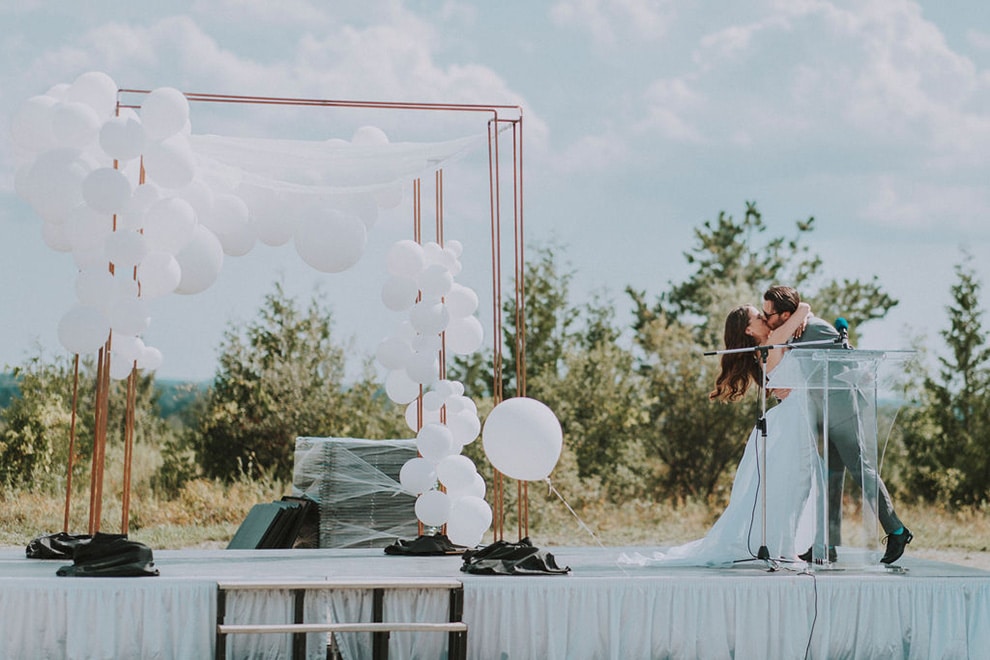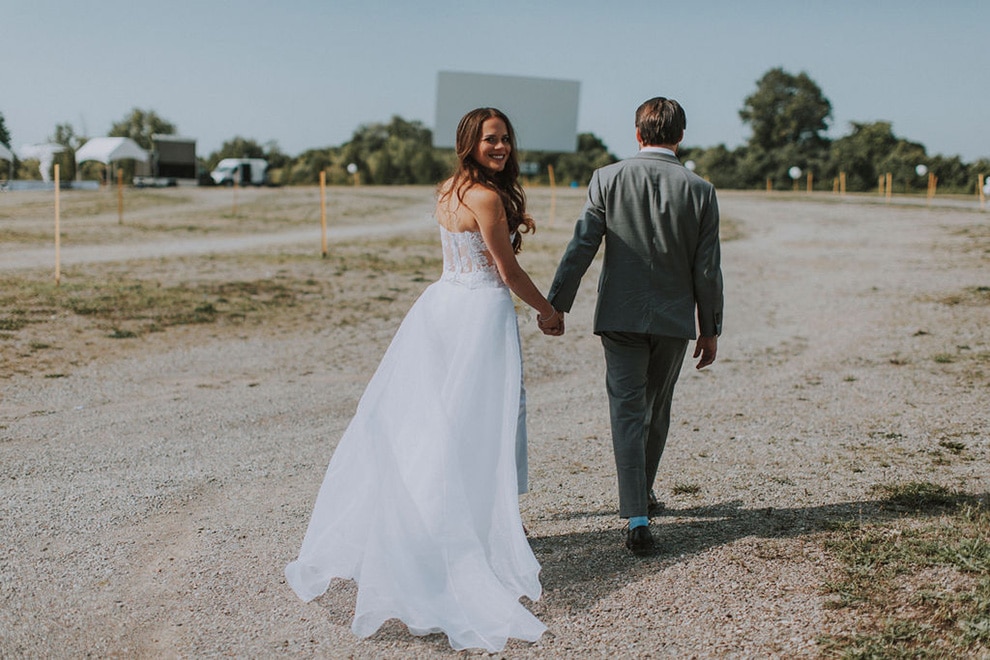 Photos Courtesy of Lori Waltenbury
"There are not many types of weddings that we haven't done before- micro weddings, large scale weddings, tent weddings etc… Although each and every one of our weddings is amazing in it's own way, we get very excited when we are given the opportunity to do something completely out of the box and creative. When Jenn came to us and said she wanted to do something unique and exciting in the midst of the pandemic and her and Daniel wanted to get married no matter what, the idea of the Drive-in seemed perfect.
Although the idea was amazing, the logistical aspect of the wedding was probably the most complicated we ever had to deal with… yet we loved every minute of it! We had 200+ cars come through to Stardust Drive-In on a Saturday afternoon. Because it was during the day, we had to rent screens that were LED and worked during the daytime hours. Every guest was given a food truck menu, a basket of goodies which included sanitizer, snacks for the car, and thunder sticks to use when the couple said I Do. Guests were also given a balloon that was tied onto their car mirror. When guests wanted to place an order or ask a question from servers that we hired, they merely had to let their balloon out of the car and they were able to bring it back in once they were given the service they needed- it worked beautifully! Food trucks and BBQ stations lined the back portion of the drive in and to make it completely socially distanced, we had the servers go back and forth from the food trucks to the cars and the surrounding areas. Guests were encouraged to get out of their cars and stay within their designated parking areas.
The Bride and Groom were so much fun – from their stunning outfits to the old convertible they drove off in once they said I Do, they were really an amazing and creative couple. Did I forget to mention that everything was branded including the pizza boxes, popcorn and cotton candy bags? Let's also not forget the ice cream bicycle carts that drove around winding in and out of cars. This wedding was one for the books!"
– Michelle, Fab Fête Event Planning Boutique
---
Shaw Events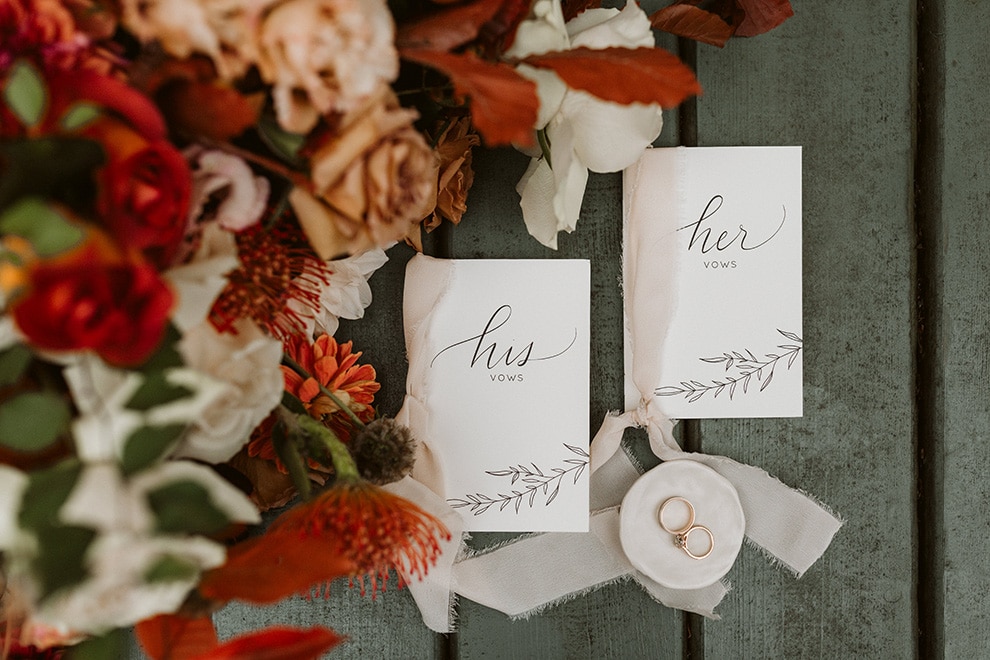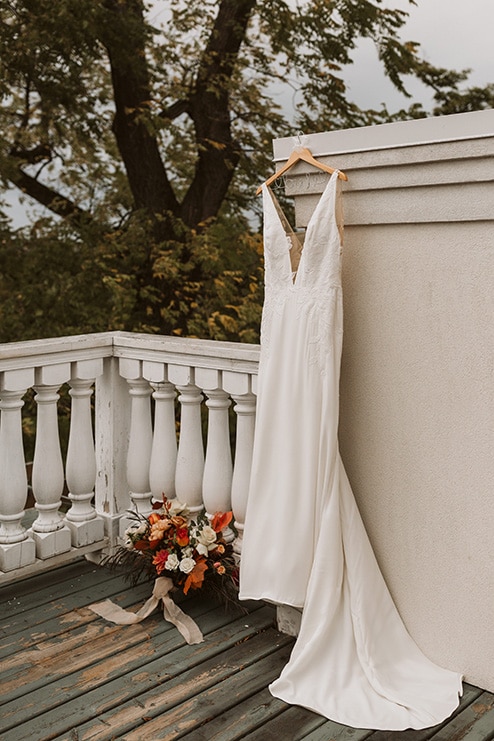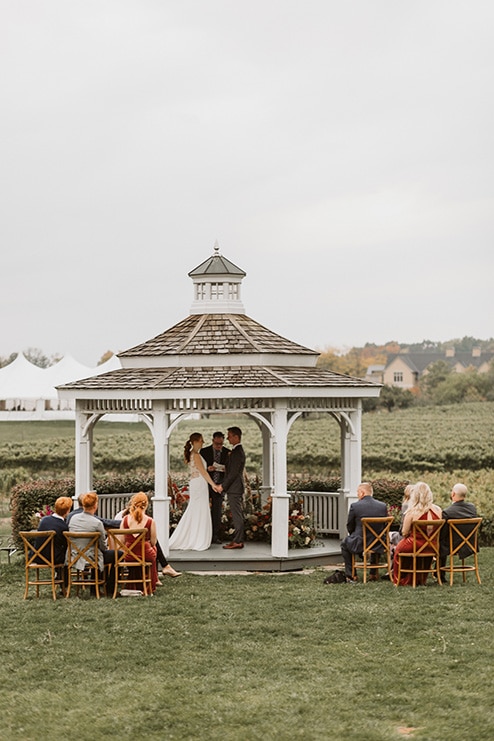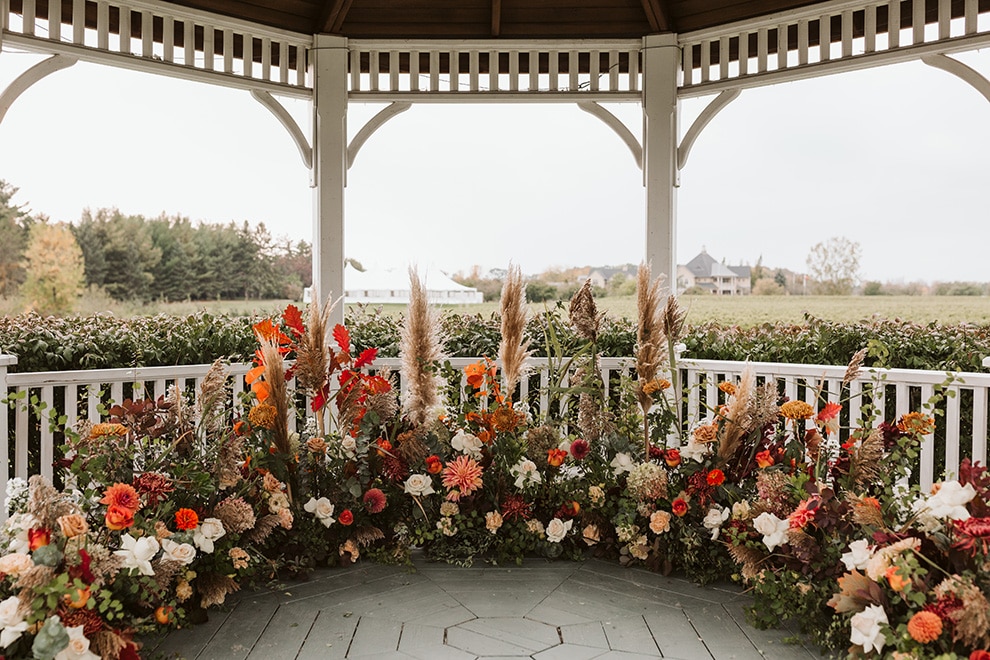 Photo Courtesy of Marcucci Photography 
"Erin and Richard were supposed to marry on October 10, 2020. With COVID-19 regulations in place, they decided to elope, just the two of them, and postpone their larger wedding to 2021.
A day before their elopement, we received a call from their immediate family, who were all going to come and watch the ceremony. Erin and Richard couldn't have been more thrilled! They spent their morning at the spa together, and then got ready separately, so they could surprise each other during their first look. Seeing Erin get ready with her sister and mom was so special to me. This was something she was looking forward to, but thought she would miss out on, since they had chosen to elope just the two of them. When their families decided to come, it meant Erin got that special time with her favourite people. This is what 2020 did for us. It made us realize that it's the people in our lives that mean the most – not the large parties we plan, or the things we have.
It was an overcast, cool October day, but the warmth Monika of My Motif brought in with the florals, made up for it. Lea of Marcucci Photography captured beautiful, intimate moments from their day, that we designed as a reflection of their original design plan. After their intimate ceremony, Erin and Richard had a private dinner at a local restaurant in Niagara on the Lake to celebrate, followed by a nights stay at the ceremony venue. I cant wait to see these two celebrate again in 2021. "
– Danielle, Shaw Events
---
Swoon Events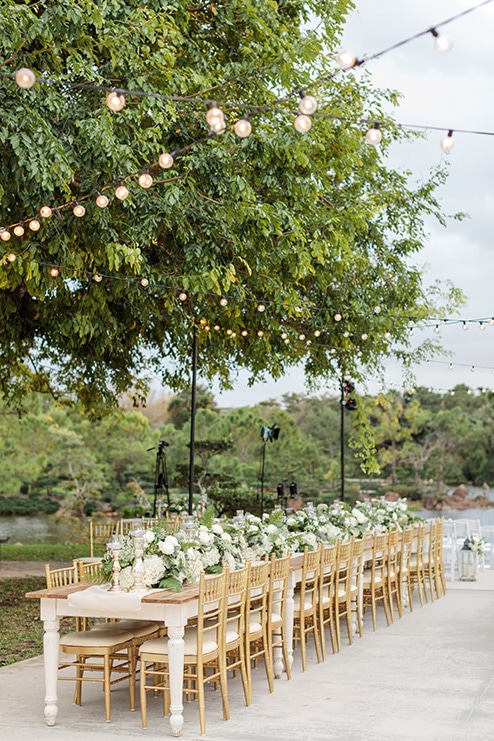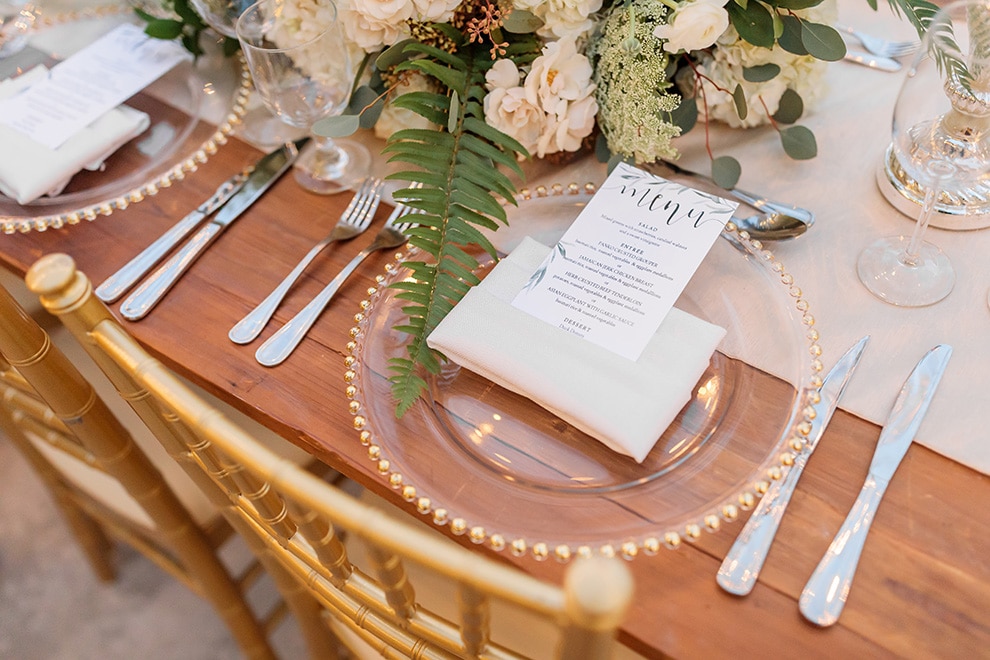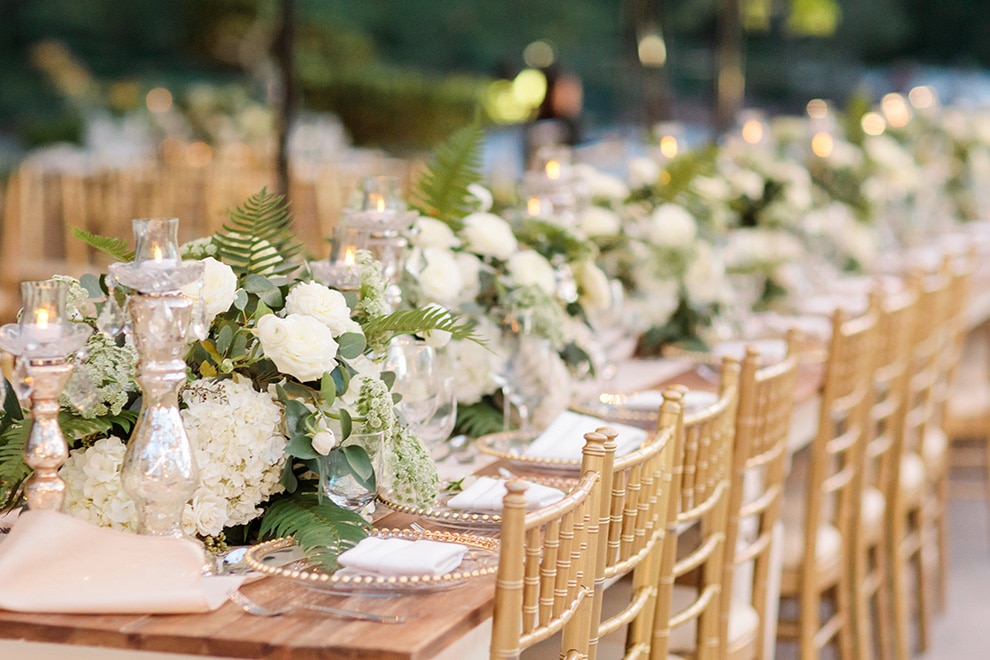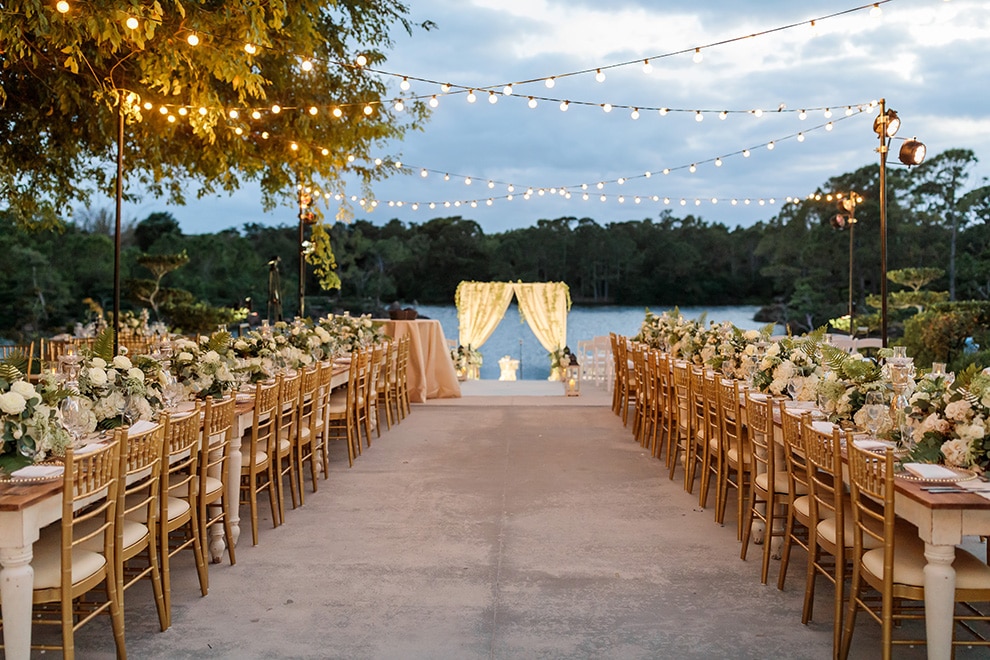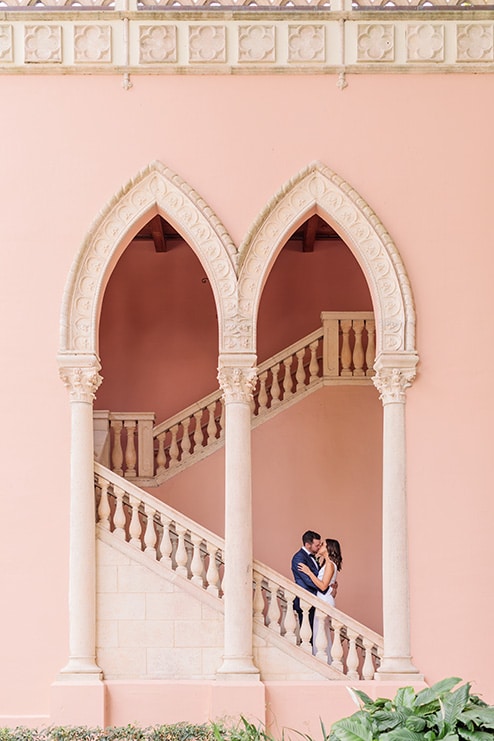 Photos Courtesy of Assaf Friedman
"Sara and Michael's gorgeous outdoor wedding was truly a dream! Their destination wedding was one of my favourites from last year, which took place in Delray Beach, Florida on the stunning grounds of The Morikami Museum & Japanese Gardens. Florida holds a special place in Sara and Michael's hearts, and they wanted to embrace an entirely outdoor wedding and make the guests feel like they had been transported somewhere magical!
Seeing as the entire wedding was outdoors, we wanted to include the beauty of nature and keep the florals organic with lots of texture and greenery. The long farmhouse tables added a rustic touch, and we grounded this look by adding more modern elements such as the gold chairs and charger plates. The farmhouse tables were covered in low floral arrangements, with little space in between each arrangement to create a floral hedge of sorts, which gave off a very luxurious feel.
The ceremony took place in front of the large pond on the museum property, right as the sun was setting. The oversized champagne draped chuppah was romantic and elegant, and the addition of climbing vines gave it an organic feel. Guests were able to dine under the stars and dance the night away under the magic of the string lights above. There were multiple surprises for the guests like a Ben and Jerry's ice cream cart, Auntie Anne's pretzels and a donut wall instead of a wedding cake. Everyone was having so much fun we extended the DJ so the party could keep going! It was an absolute pleasure working with such a wonderful couple and their families, and a wedding I will truly treasure for years to come!"
– Alana, Swoon Events
---
Lustre Events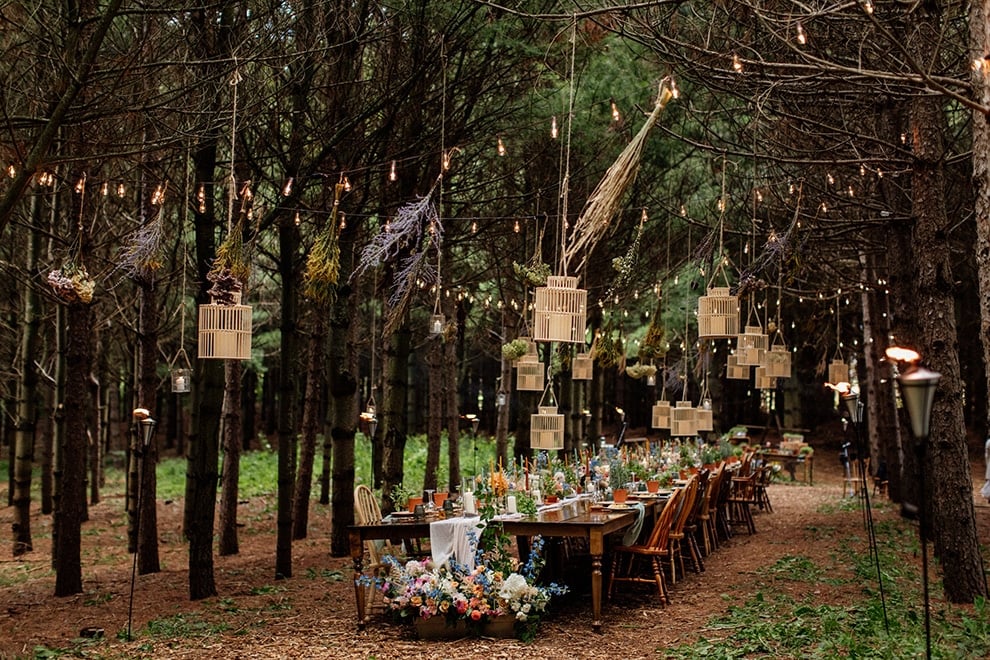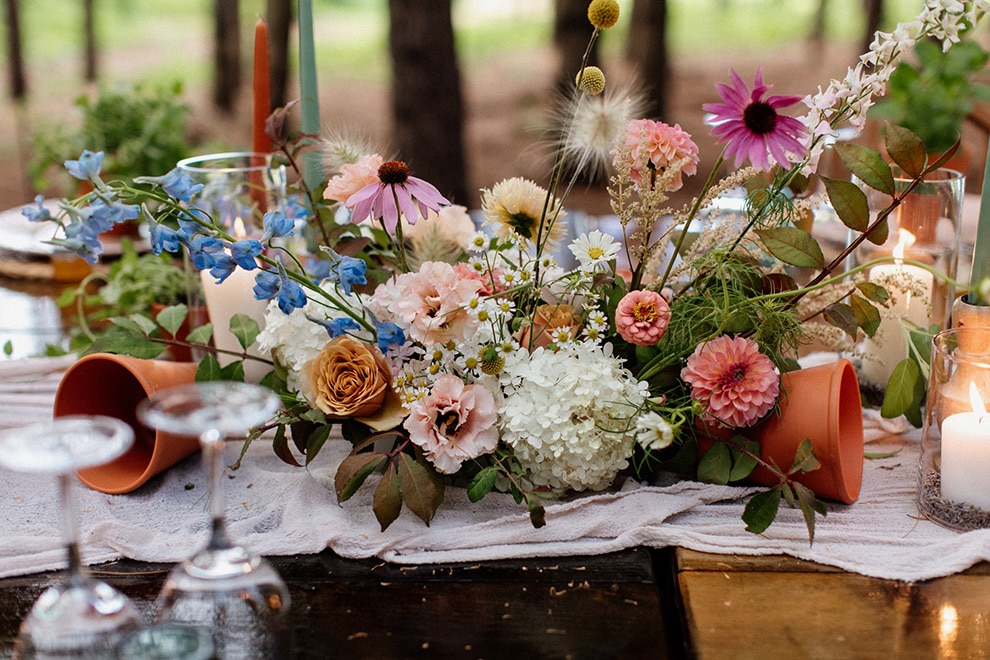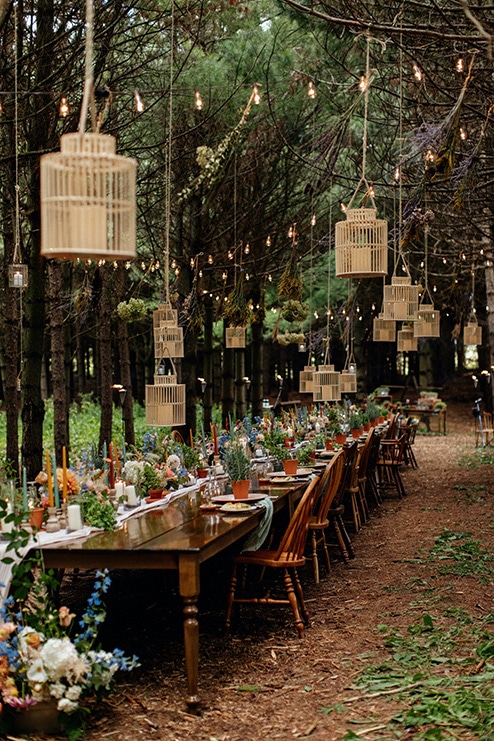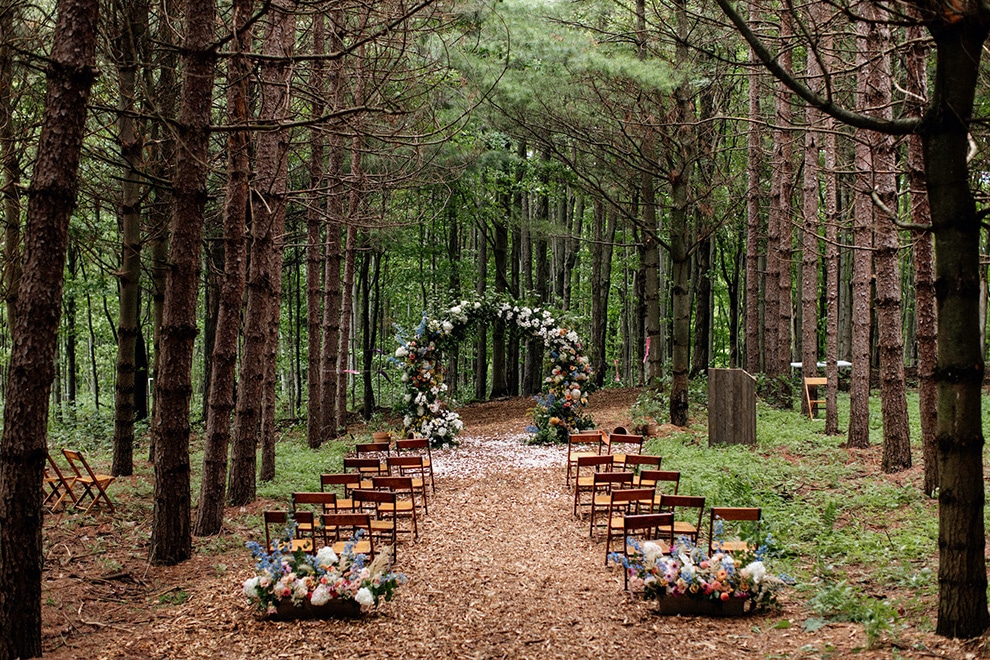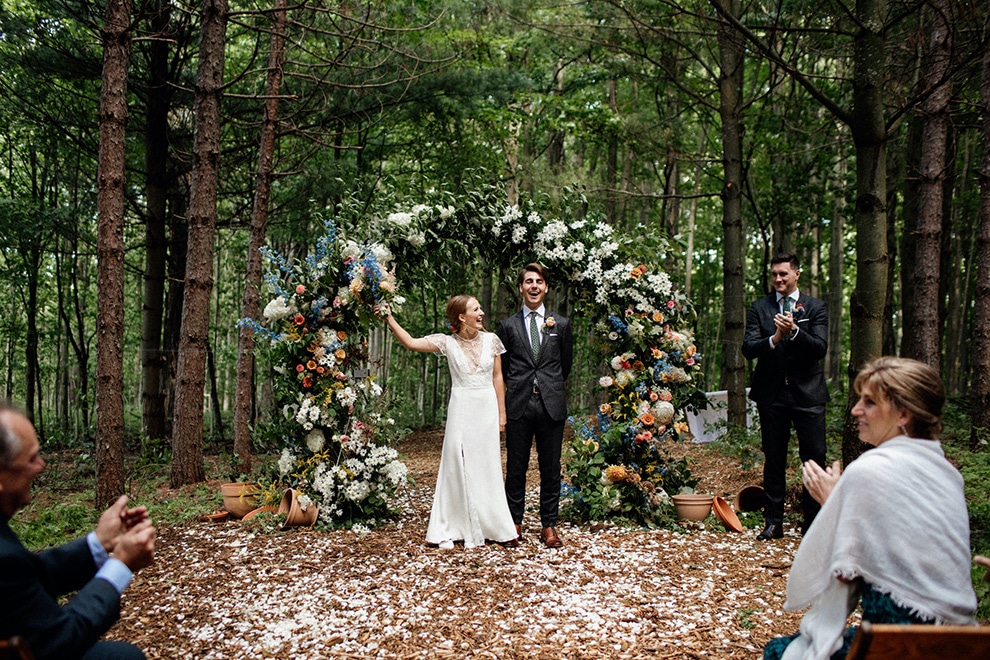 Photos Courtesy of Jennifer van Son Photography
"Ali and John's magical forest wedding was unforgettable in every sense of the word. These two sweethearts were thrown a lot of hurdles while planning their nuptials. Originally it was going to be a celebration with 150 guests. Ultimately, they ended up hosting 24 of their closest people on their private property which has so much sentiment to their entire family. We can't imagine their day unfolding any other way.
From the start, our focus was on connection, memories, and a truly personal guest experience meant to dazzle. After arriving at the welcome tent and kicking things off with some champagne, guests were sent on a path through the property to 'walk their story' on their way to the ceremony. The forest trail was lined with photos, memories, and keepsakes for guests to soak in while they were followed by a strolling guitarist serenading them along the path. Midway through, they were surprised to approach a table with an amuse bouche to enjoy a tasty bite before continuing on and being met by a full bluegrass band!
The ceremony took place in front of a stunning secret garden inspired floral arch Blush and Bloom created. To make things even more personal, the groom's Dad officiated the ceremony while all of their friends and family who couldn't attend were present virtually, enjoying the festivities on a live stream.
The reception was in what felt like their very own enchanted forest as they dined at a gorgeous garden infused harvest table. The dreamy floating lanterns and dried bouquets hung from the trees created a feeling of fantasy. One of our favourite details incorporated in the place settings was the garden-scape focaccia bread paired with fresh floral petal terracotta butter dishes!
But what truly made this day so incredibly special was Ali and John. Their desire to treat guests to something authentically them, and their flexibility and patience while navigating a pandemic, mixed with their trust in us to bring the right team together and pull it off, created a once in a lifetime day. The level of joy and celebration was something we are so grateful to have been a part of!"
– Melissa & Morgan, Lustre Events
---
Devoted To You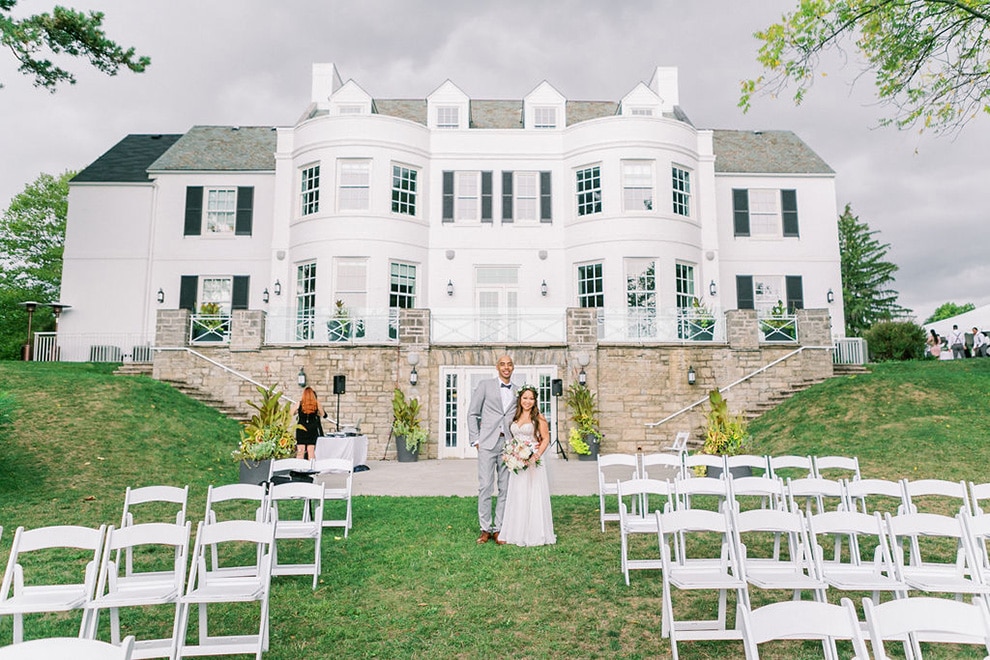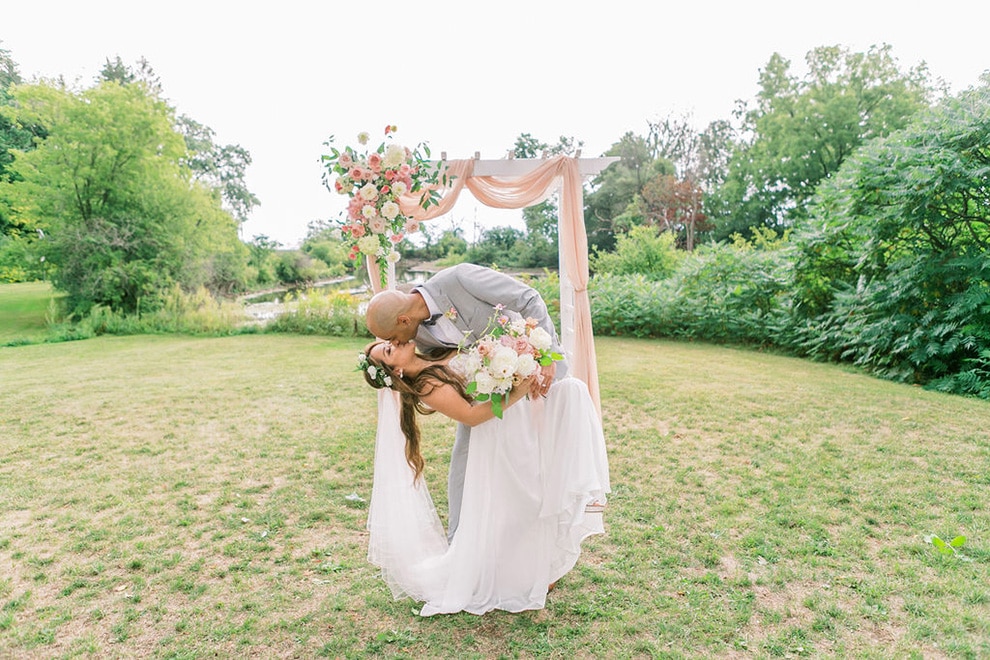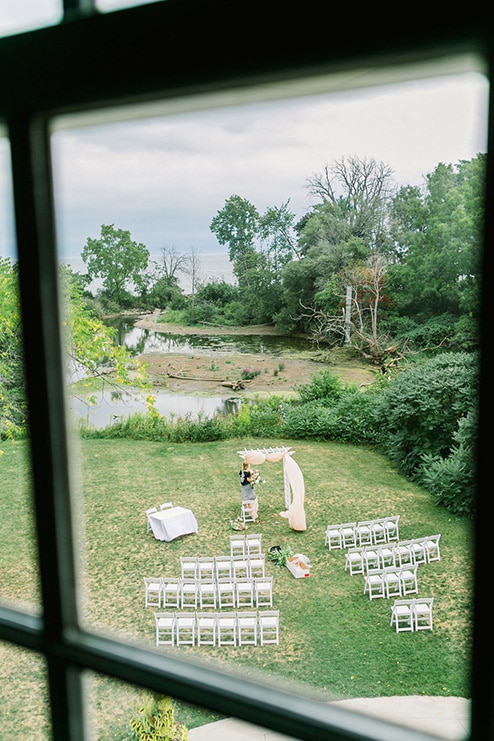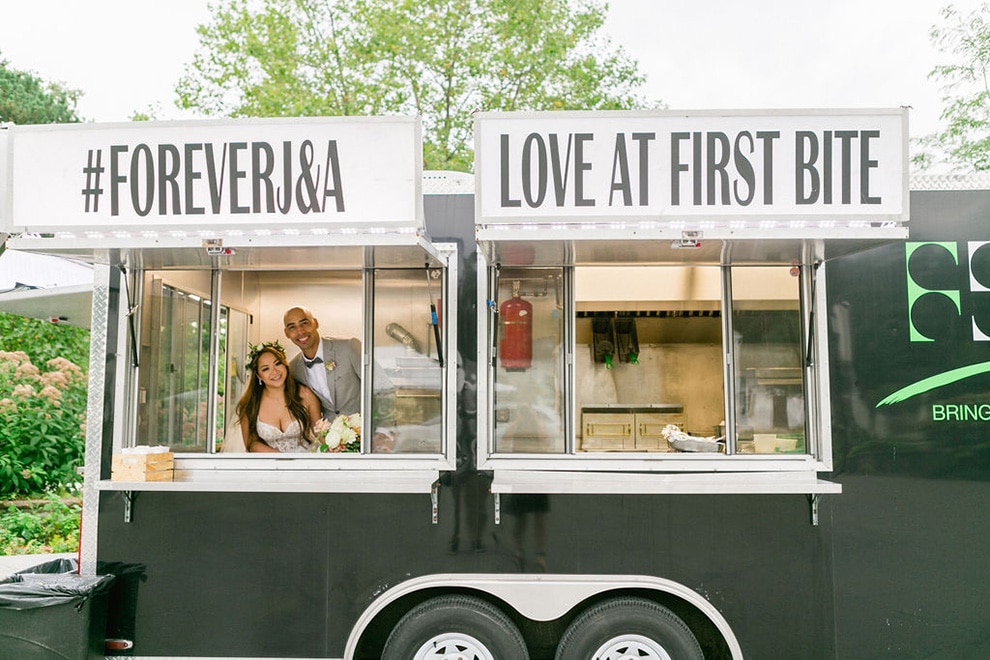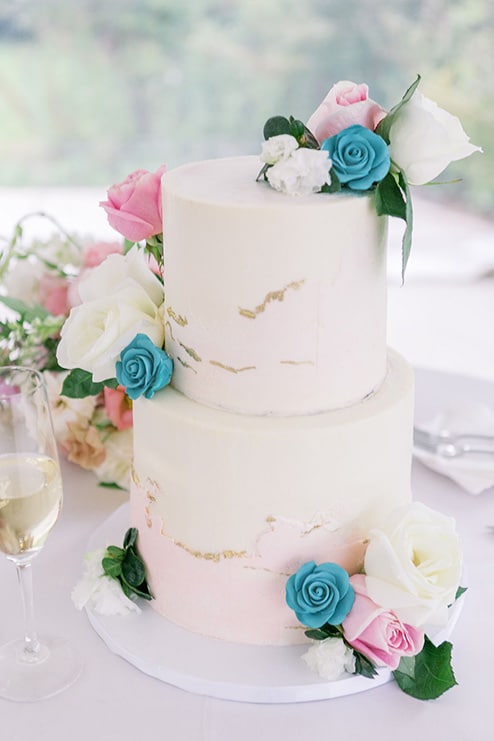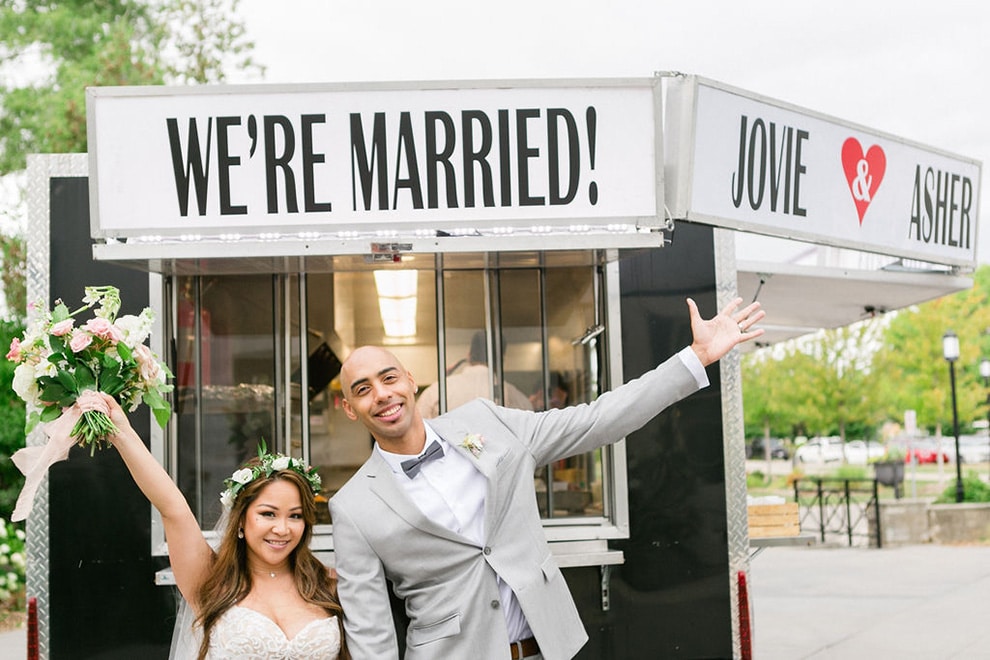 Photos Courtesy of Corina V. Photography
"Jovie and Asher tied the knot at the beautiful Harding Waterfront Estate on the Labour Day long weekend. The wedding was planned in a week as the couple was flying back from BC. Since the start of the pandemic, this was our first wedding with large bridal parties which made me feel somewhat normal again. We worked creatively to condense a traditional wedding day into a three hour celebration. The couple celebrated with their closest families and friends (COVID-style) followed by a mini-reception with champagne and food truck. Everything went perfectly with the best team and even the weather cooperated until the very end of the event (it started raining as soon as we finished packing up)."
– Carmen, Devoted To You
---
Rainbow Chan Weddings and Events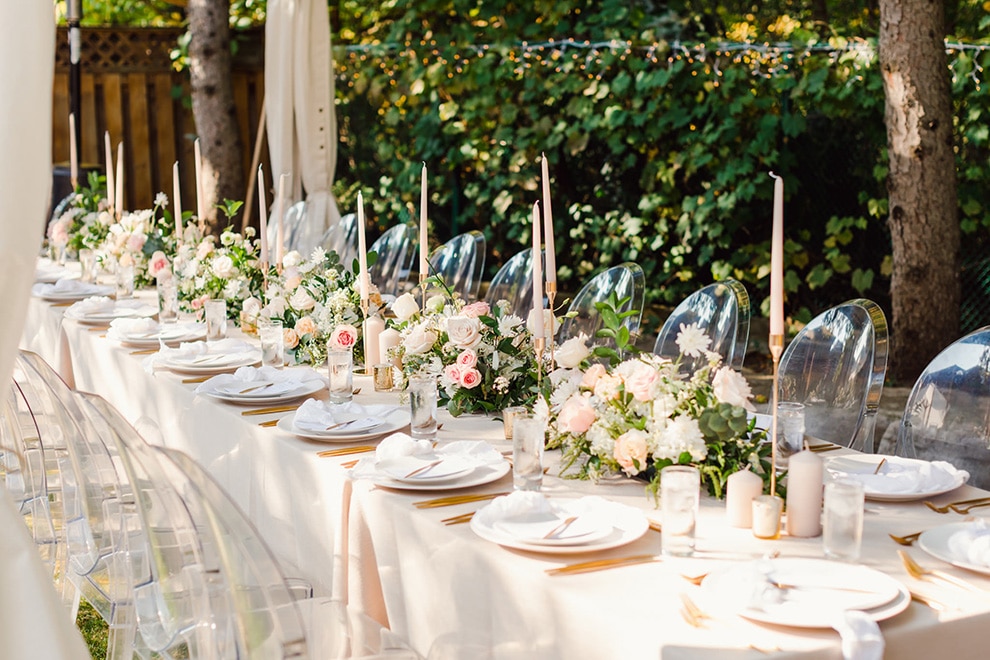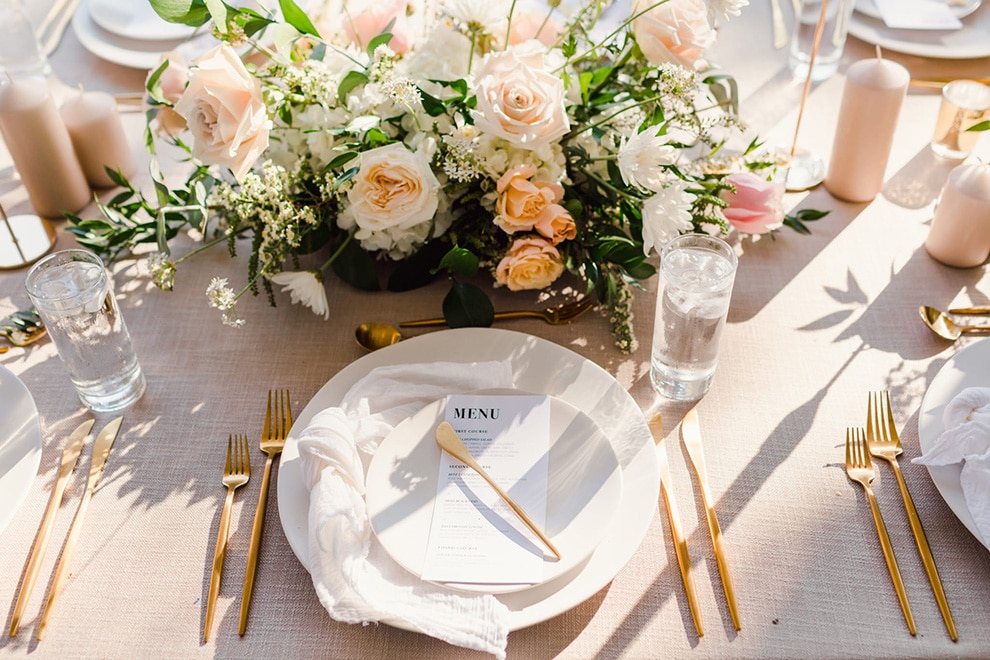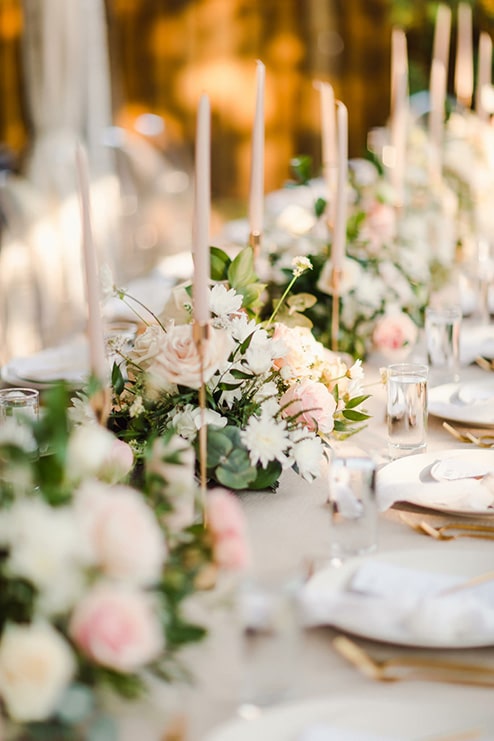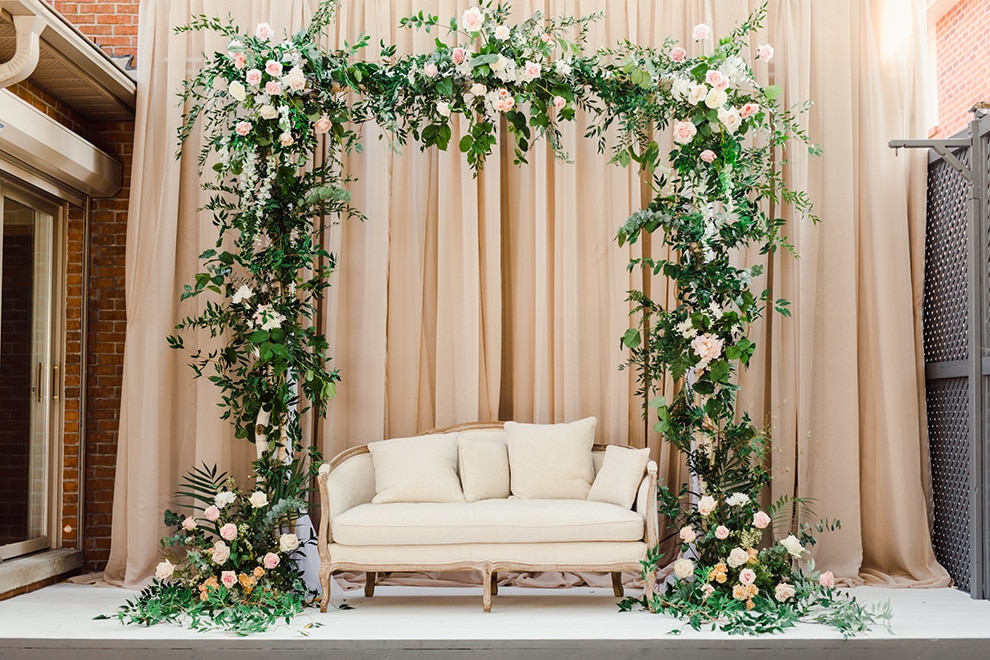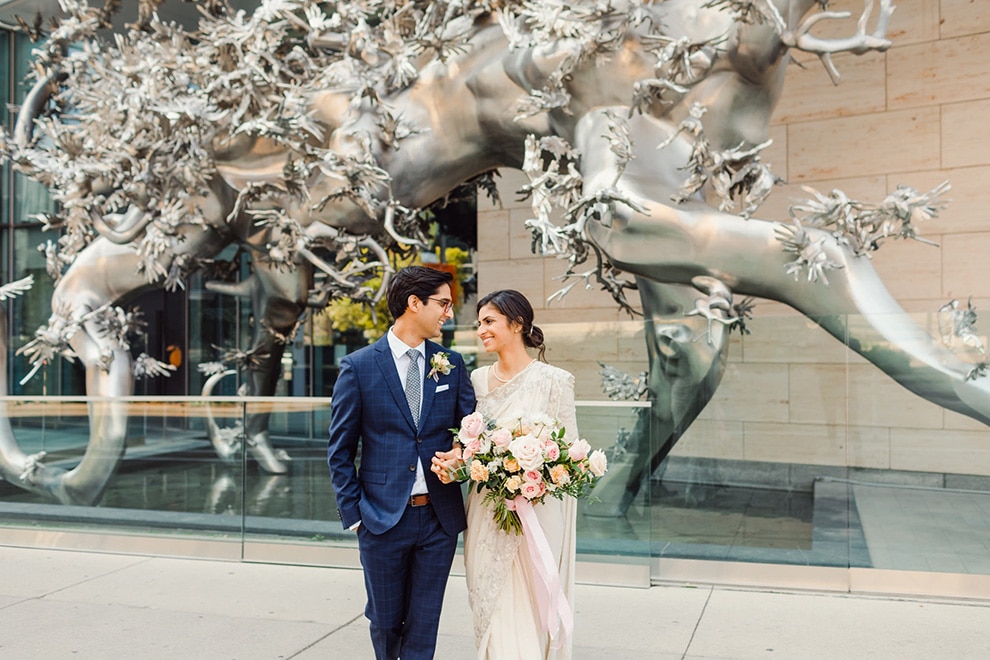 Photos Courtesy of Purple Tree Wedding Photography
"This wedding is extremely special to us, because we managed to plan and execute everything from start to finish flawlessly within 10 days! It is record breaking for us. This is the power of COVID-19, due to all the unknown and uncertainty, our team worked vigorously to pivot and make things happen. This is definitely in thanks to all the fantastic vendors that agreed to work with us and pull this all together on such short notice!
Aliya and Hussein got us on-board to assist with their wedding planning in mid August of 2020. Originally they were planning to get married on April 3, 2021, however due to all the uncertainty surrounding COVID-19, they decided to push their wedding day sooner. In mid September of 2020, I received a call from Hussein, saying they wanted to host their wedding the following weekend, which meant we had exactly 10 days to plan the wedding! It seemed almost impossible at first, but Aliya and Hussein trusted us completely and are super easy going, so the entire process was flawless.
On the day of the wedding, they both got ready at the Shangri-La Hotel, Toronto's Presidential Suite. They had their wedding ceremony followed by an intimate dinner reception in their own backyard. Following the COVID-19 guidelines at the time, they had exactly 22 guests sitting around one long table under the fairy string lights. Bride and groom got to enjoy their dinner with their closest friends and family, having full meaningful conversation with each of their guests. The night ended with the bride and groom's first dance in the evening, which was extremely romantic. Aliya and Hussein were extremely happy with the outcome of their wedding day."
– Rainbow, Rainbow Chan Weddings and Events
You May Also Be Interested In
Mad Bash Group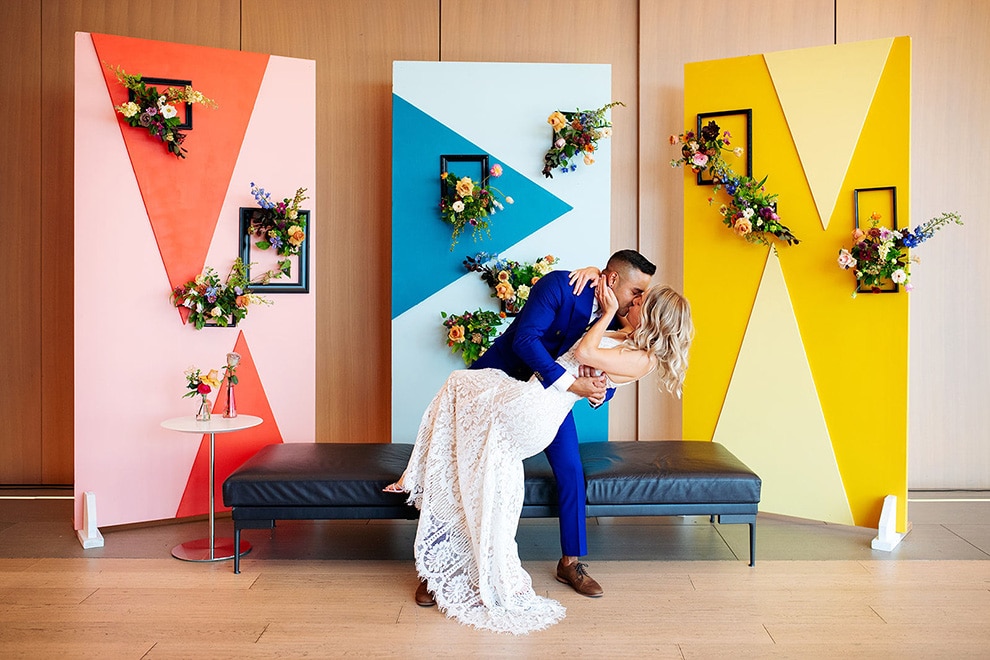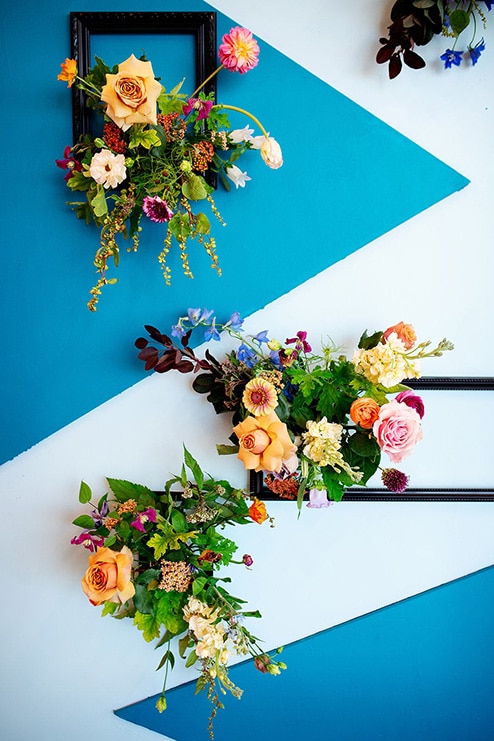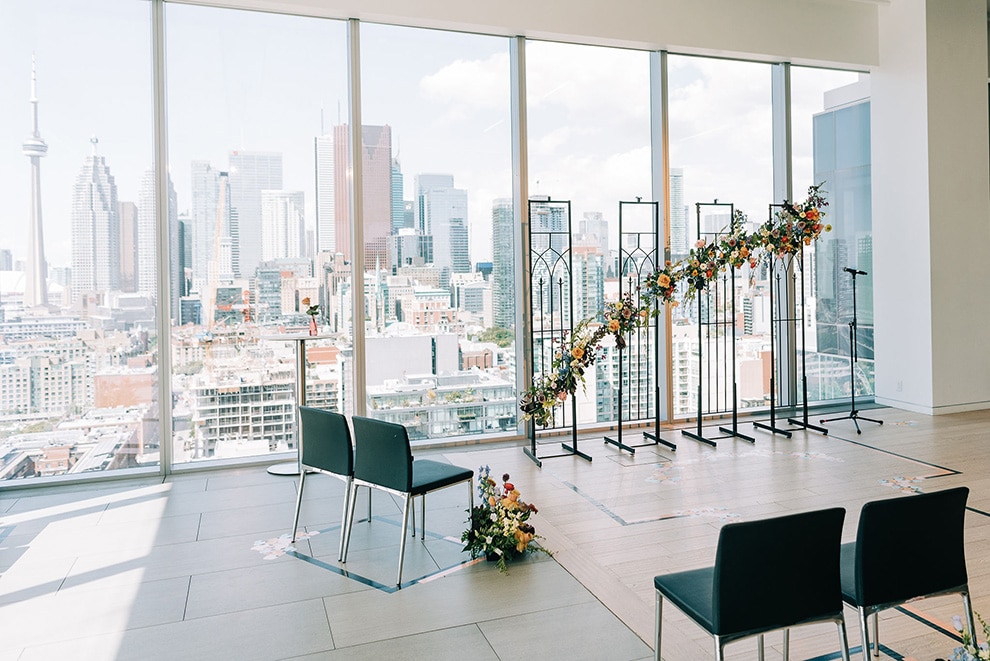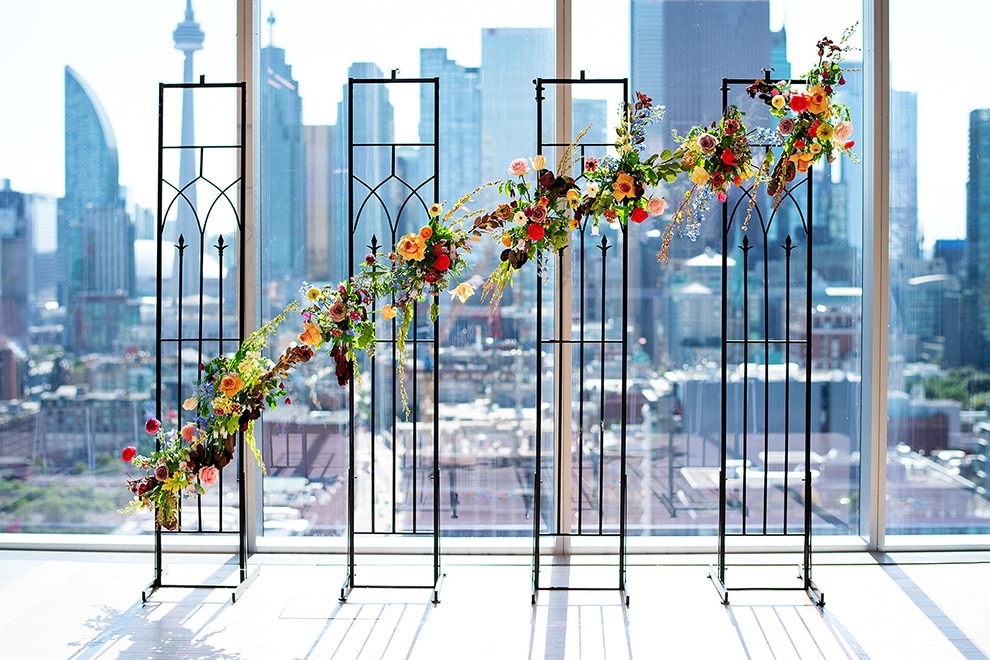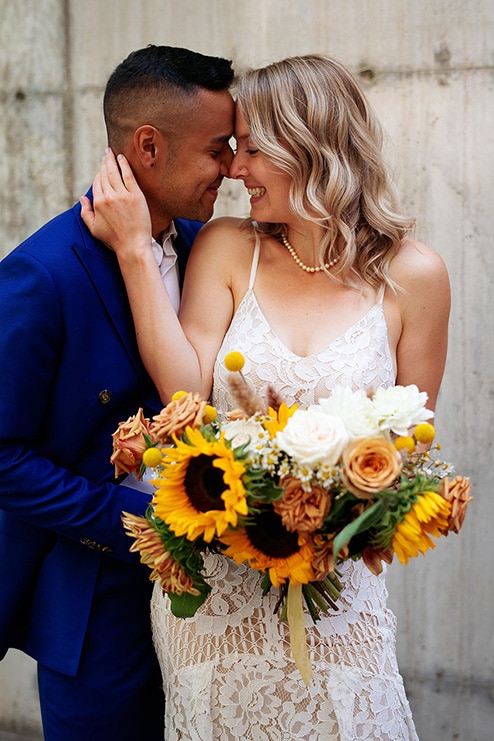 Photos Courtesy of Alicia Thurston Photography
"2020 was a whirlwind of a year, but we're so happy we were still able to marry over 85 couples with The Pop-Up Chapel Co.! Back in August, our team dreamed, designed and styled what became our very first socially distanced Pop-Up Chapel since the pandemic began. This Chapel was completely inspired by the beauty and vibrancy of summer where we filled the space with bright florals in our colour palette of sunshine yellow, coral, lavender and shades of blue. The design also included a photo opp that has become one of our all time favourites! You know we love sustainability, so we up-cycled one of our in-house backdrops, and adorned it with thrifted black vintage frames that had lush blooms spilling out of them to give off this unreal 3D effect! That day we wed 6 beautiful couples at one of our absolute favourite venues in the city, The Globe and Mail Centre, where they said 'I do' in front of a panoramic view of the city's skyline.
Even though there were new restrictions that were put in place for COVID-19, which definitely modified our layout and planning process, we were still committed to making the day stress-free and beautiful for our couples and their guests, and we were just happy to be getting these love birds hitched! Not to mention, we are so excited to have successfully raised $1,800 in support of Black Legal Action Centre, and the florals from this Chapel were later donated to the Elisa House Women's Shelter."
– Nicole, Mad Bash Group
---
Shealyn Angus Weddings & Events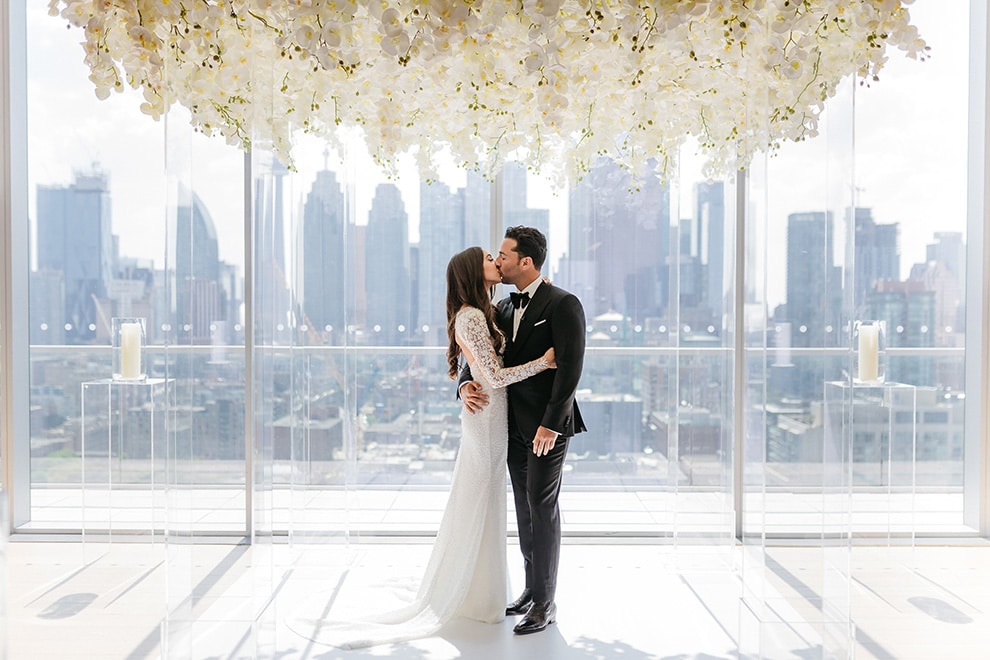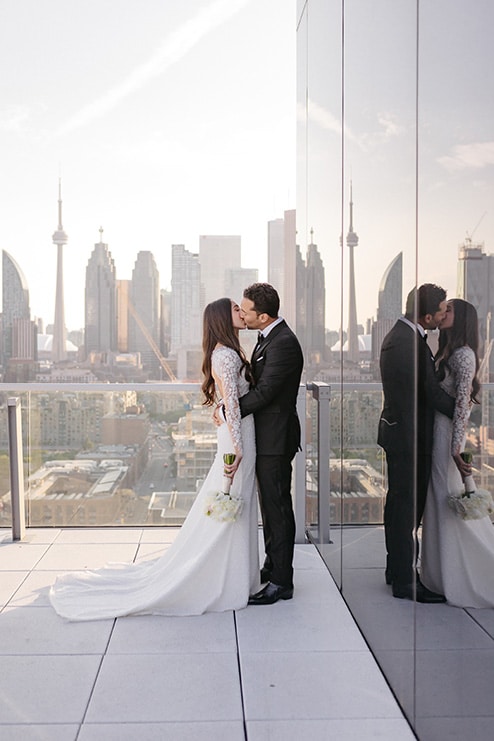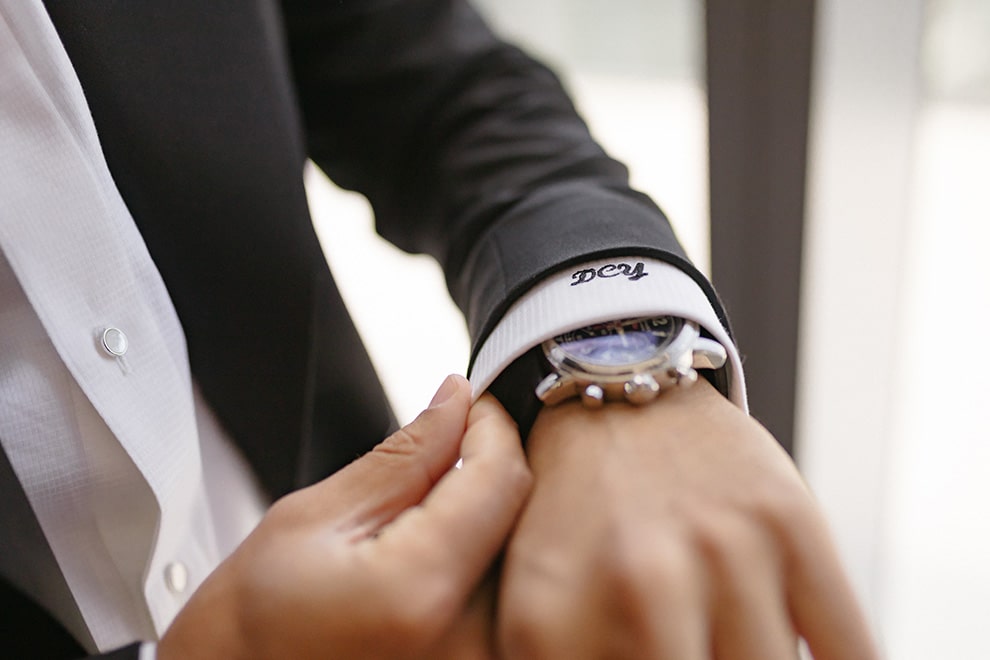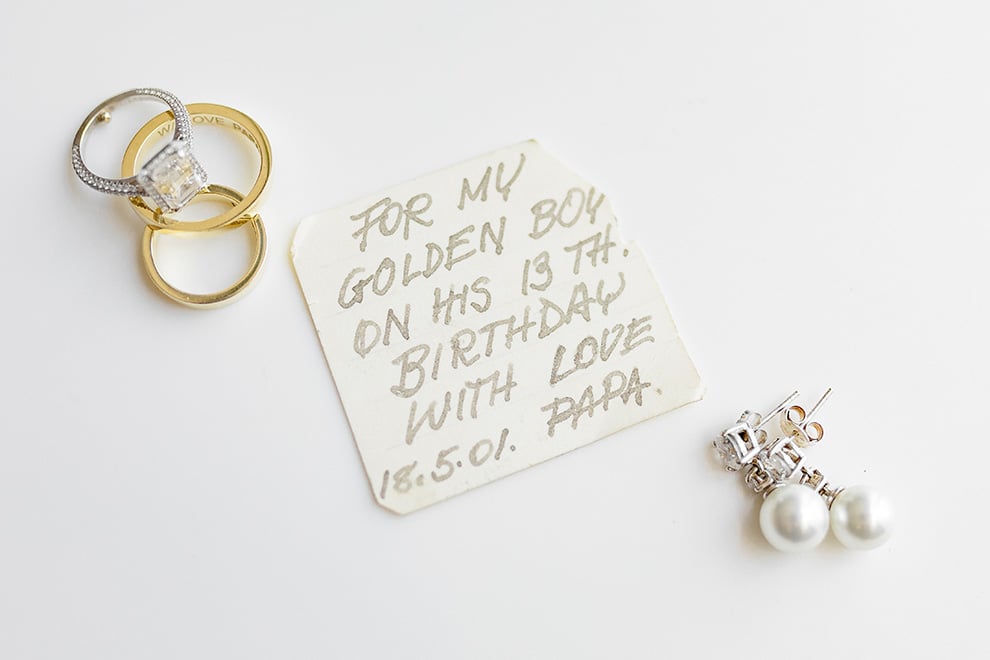 Photos Courtesy of Danielle Horvath Photography
"This year may have postponed a wedding or two, however one thing we learned is that a micro wedding as beautiful as Melissa & David's will make you want to consider trimming that guest list. The beautiful couple opted for a modern and sophisticated feel, selecting the The Globe and Mail Centre as their venue of choice. With stunning, 360-degree views of Toronto's cityscape –the venue was the perfect setting for Melissa and David to say their I do's.
Melissa and David's vision of white, modern, airy décor was brought to reality with the help of Jackie O Florists. Their team created a breathtaking acrylic Chuppah made up of hundreds of hanging white orchids. The crisp white aisle by Event Graffiti was lined with acrylic stands and 'floating' white candles, creating the most stunning walkway.
'The Chuppah was very important to us. It not only symbolizes the home that David and I plan to build together, but we knew that it was also going to be the focal point of our entire wedding day' said the couple. For their wedding bands, David had melted down a piece of gold that was given to him by his late grandfather on his 13th birthday. He engraved each ring with "with love, Papa" and the couple will now forever wear a piece of their Papa around their finger.
Beautiful live music played by Sole Power echoed through the venue space as the couples' small bridal party walked down the aisle. With the help of D.M.S. Video Productions, the couple's extended family and friends were able to witness their marriage virtually, as the high-quality livestream allowed guests to feel as if they were right there in the same room. You could just feel the couple's love radiate throughout the entire room; of the 45 guests who attended Melissa and David's wedding in person, there was not a dry eye in the room. It was a small, intimate and a truly heartfelt ceremony.
Although COVID-19 has had such a negative impact on our world that has affected so many–it has made us realize what is most important to us in our lives, and that is family and good health. From what was initially supposed to be a 250-person wedding, to then having a small, intimate wedding of 45 guests who were dearest to us–we would not have changed a thing. It really was the most perfect day. Melissa and David were an absolute pleasure to work with and have set such a beautiful example of how downsizing a wedding can still be just as fulfilling and magical. For couple's out there hesitant to do so–you will not regret it!"
– Kelly, Shealyn Angus Weddings & Events