Having the wedding of your dreams is impossible without spending an arm and a leg, right? Wrong! There's no doubt that the sky's the limit when it comes to weddings, however, hosting a stunning wedding in Toronto doesn't mean having to break the bank. Brides often ask if we can recommend any gorgeous, affordable cheap wedding venues in the GTA and the truth is, there are so many options! So, to help those of you who are searching for that perfect, yet affordable cheap wedding venues, we rounded up some of Toronto's top spots that won't break the bank. Happy hunting! 
Vendors Featured in this Article
---
The Albany Club
91 King St E, Toronto, ON M5C 1G3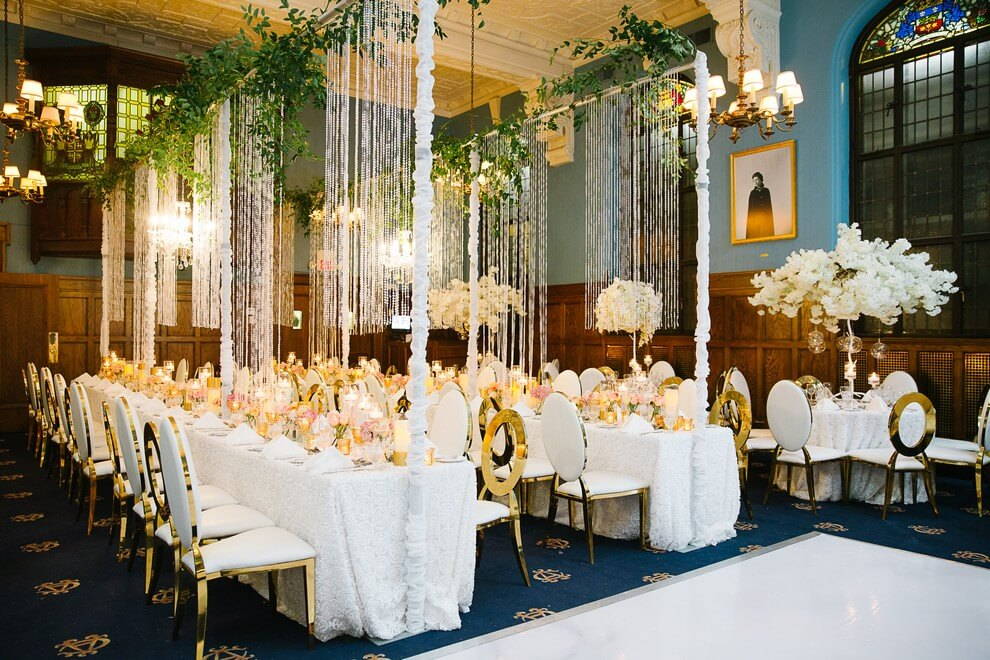 Photo Courtesy of Avenue Photo
The always elegant The Albany Club is situated right in the downtown core. The historic venue has several rooms to choose from for your special day and can accommodate both the ceremony and reception. Added bonus: the WPIC certified team at the Albany Club can also help you with wedding planning right from day one!
Pricing: Starts at $100 per person
You May Also Be Interested In
Alderlea
40 Elizabeth St S, Brampton, ON L6Y 1R1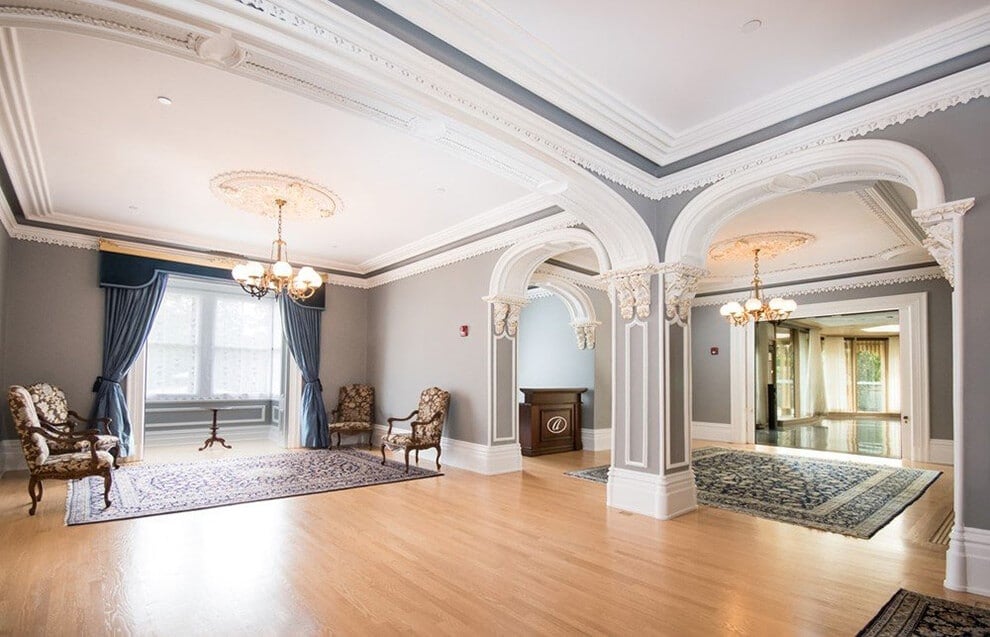 The Alderlea is a beautifully restored 19th century mansion in downtown Brampton. Not only is it a gorgeous venue, the iconic heritage building also offers privacy and elegant surroundings! Perfect for an intimate wedding, the Alderlea can accommodate up to 80 people plus a head table for a sit-down meal, or 120 for stand-up or theatre-style events.
Pricing: Rental rates start at $400 for 4 hours
---
The Pop-Up Chapel Co.
1444 Dupont Street, Bldg. A Unit 6, Toronto, ON M6P 4H3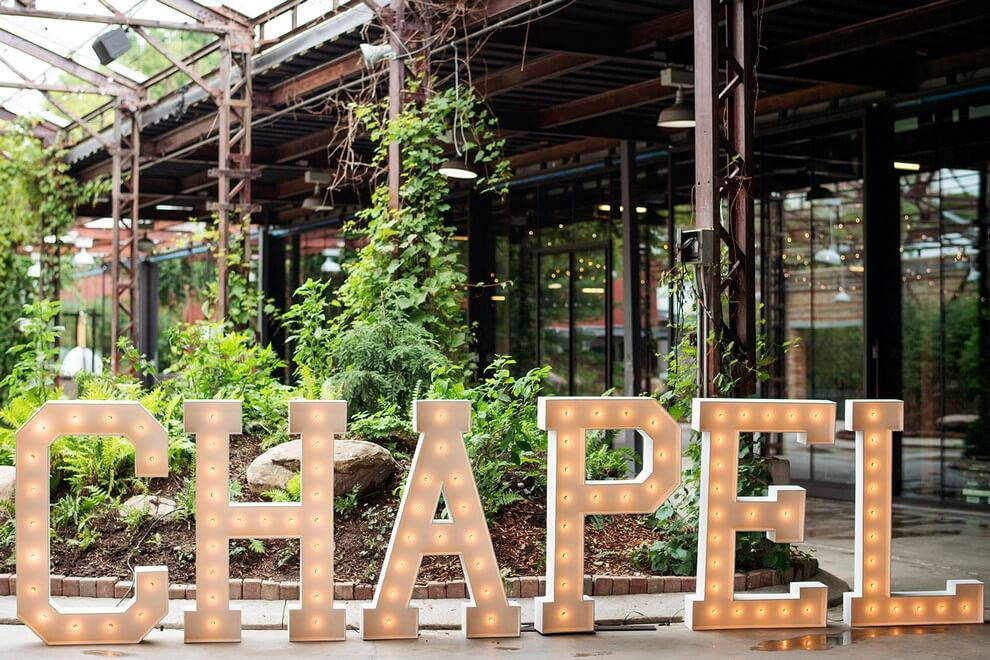 Photo Courtesy of Alicia Thurston Photography
If you're looking for a simple way to tie the knot, you should definitely check out The Pop-Up Chapel Co. run by the super talented team at Mad Bash Group. The pop-up chapel offers all the features of a fully planned, professionally decorated wedding at an affordable price. For a very reasonable flat-rate, you'll have "turnkey" access to a handful of the city's most popular vendors, and the LBL team will look after every last detail, all you and your nearest and dearest have to do is show up! Bonus: a portion of all the proceeds go back to local charity.
Pricing: $2500
---
La Vecchia Ristorante
2405 Yonge St A, Toronto, ON M4P 2E7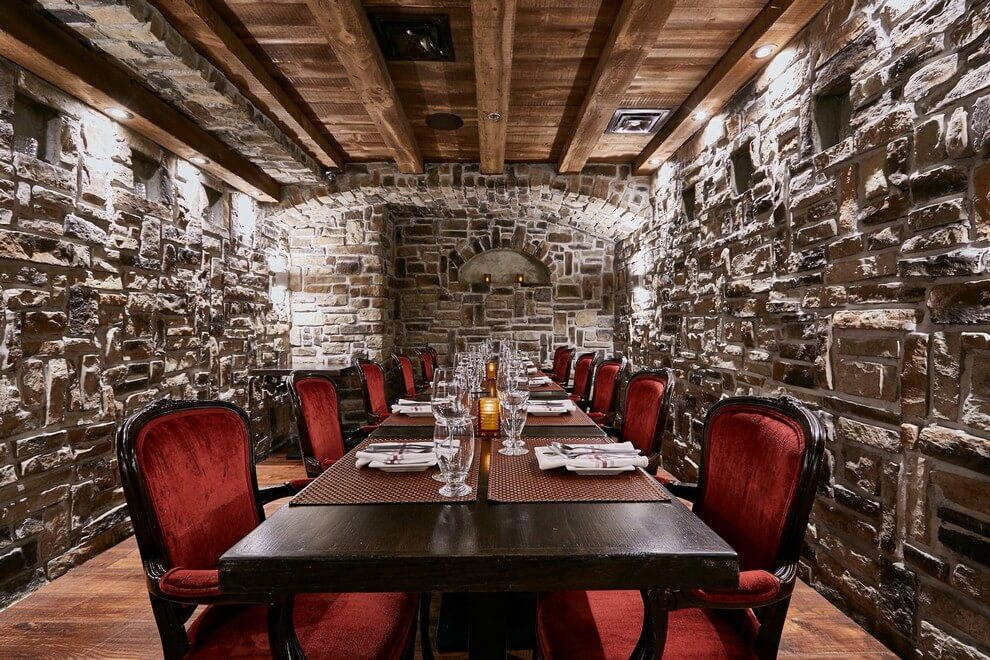 La Vecchia Ristorante has two private dining rooms ideally suited to host an intimate wedding. Inspired by old world design with stone walls and exposed wood beam ceilings, the restaurant offers an incredibly romantic ambiance! Added bonus: The private dining rooms can be combined into one AND they are both pre-equipped with audio-visual equipment!
Pricing: Starting at $50.00 per guest
---
Varley Art Gallery
216 Main St Unionville, Markham, ON L3R 2H1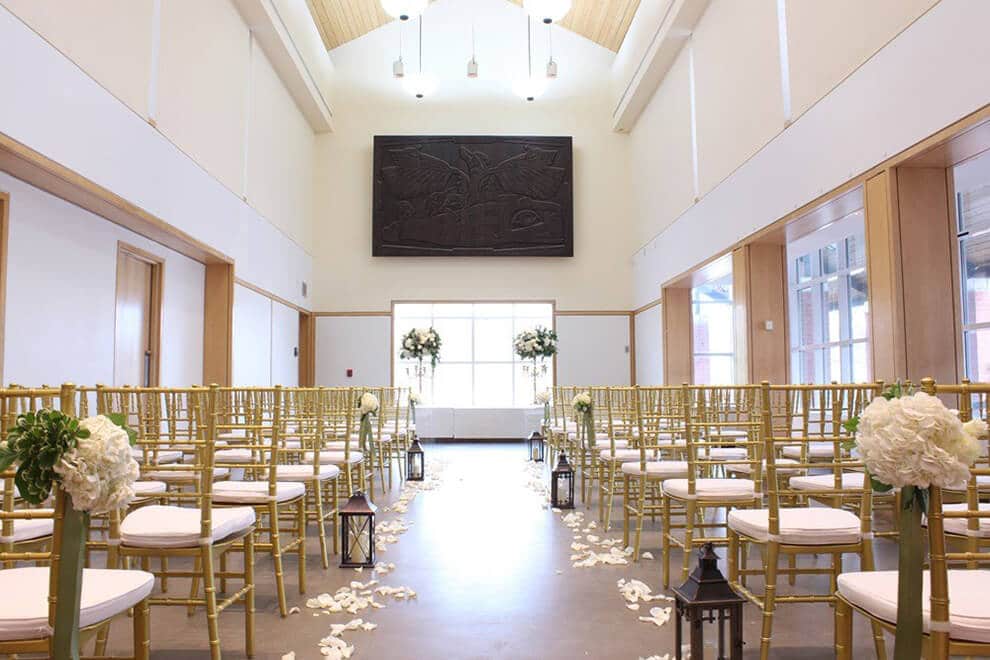 Perfect for an intimate ceremony and reception, the Varley Art Gallery boasts a gorgeous space with cathedral ceilings and a spacious outdoor courtyard overlooking the picturesque Main Street Unionville! If you really want to impress your guests, the venue also offers guided tours of the galleries – pretty cool!
Pricing: Rental starts at $500.00
---
The Glenerin Inn & Spa
1695 The Collegeway, Mississauga, ON L5L 3S7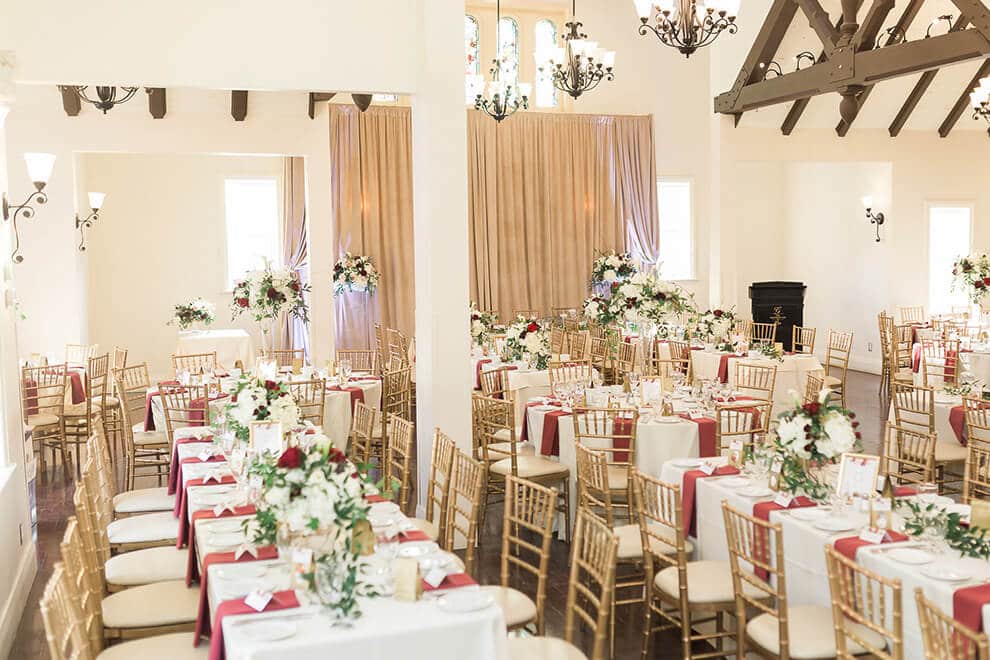 Located in the picturesque Sawmill Valley Trail and Creek, the historic The Glenerin Inn & Spa is a unique getaway spot located just outside the busy city. Blending country charm with urban sophistication, your big day will be nothing short of warm and romantic!
Pricing: Starts at $69.00 per guest
---
Whitchurch-Stouffville Museum & Community Centre
14732 Woodbine Ave, Stouffville, ON L4A 2K9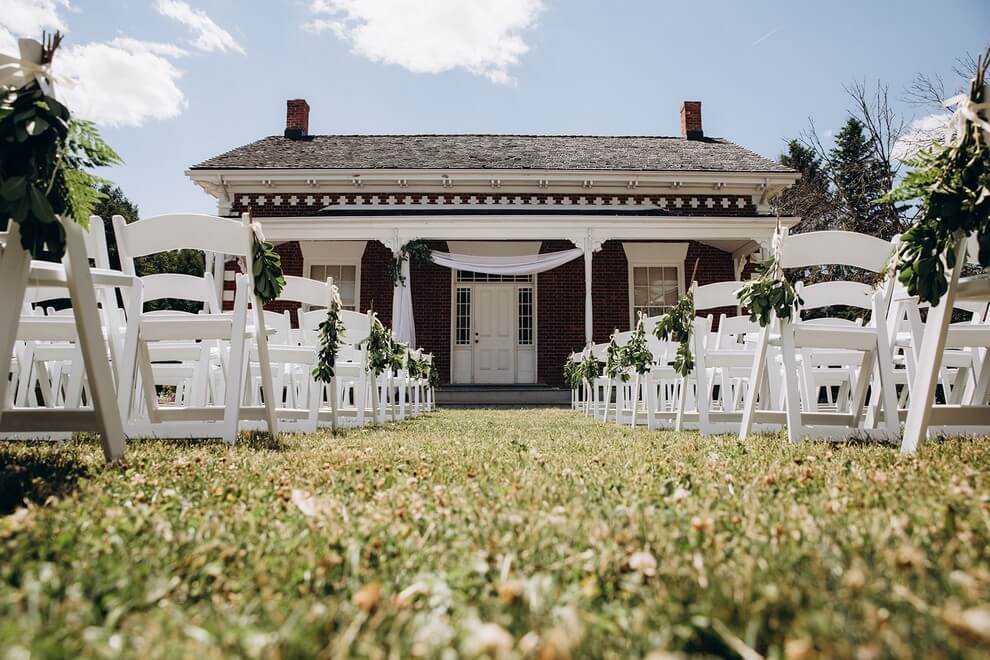 Photo Courtesy of Bozhyk Photography
The Community Centre at the Whitchurch-Stouffville Museum & Community Centre was born in 2012, enabling the museum to offer fully accessible rental spaces in a sweet modern facility. The beautifully manicured grounds and charm of the museum's buildings are perfect for classic and unique photo opportunities!
Pricing: Wedding packages start at $450
---
Granite Brewery
245 Eglinton Avenue East, Toronto, ON M4P 3B7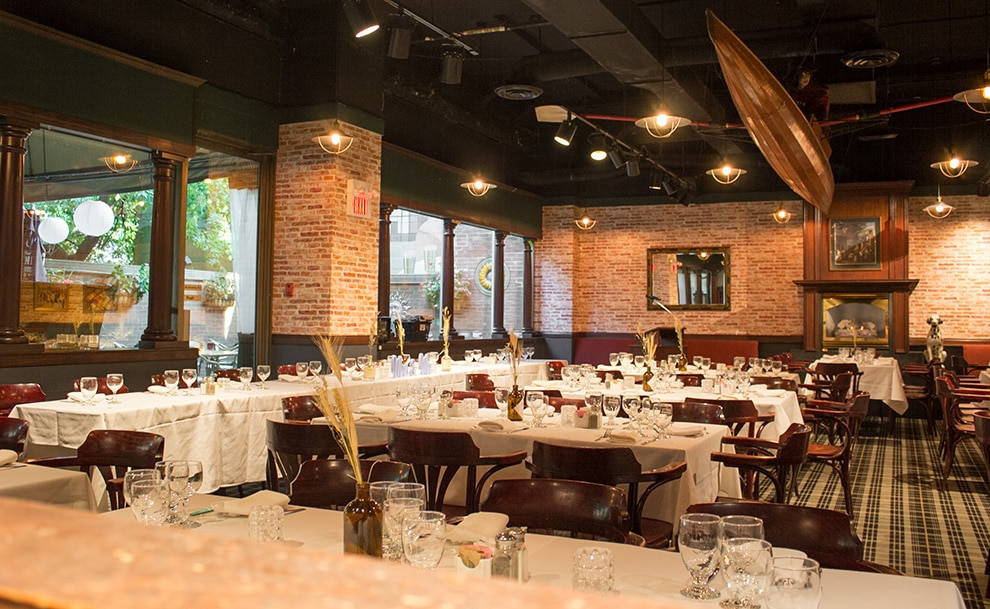 The Granite Brewery can accommodate weddings of 80-120 guests. There's even a private garden for your ceremony! Additional perk: Parking is FREE (which seems unheard of in Toronto these days)! How convenient is that?
Pricing: Starts at $74.95 per guest (minimum of 80 guests required, smaller groups will be charged for 80 guests)
---
The Henley Room
1225 Lake Shore Blvd W, Toronto, ON M6K 3C1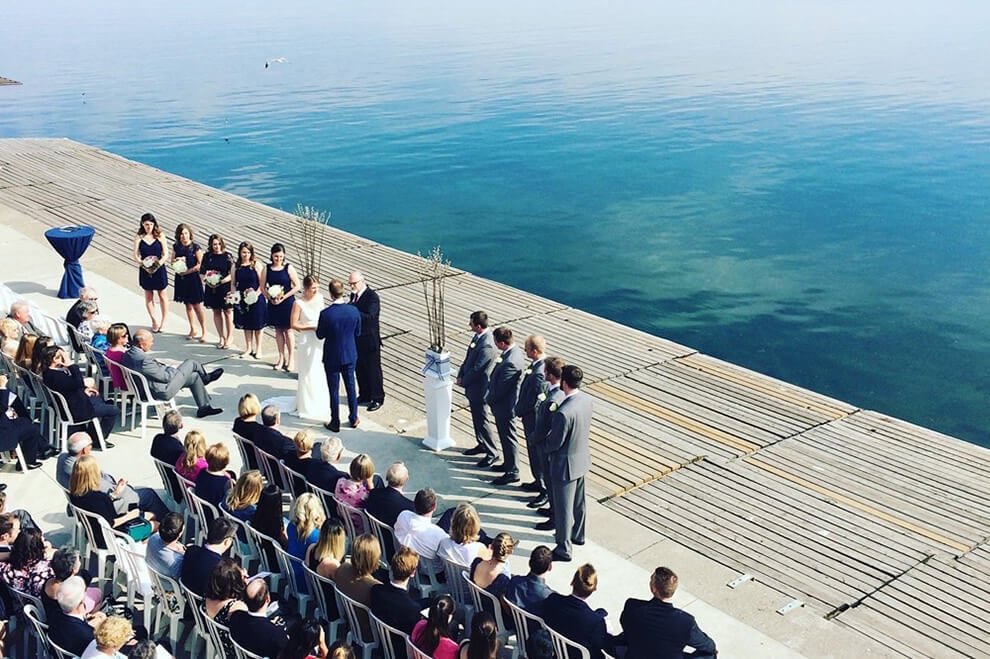 Located on the northern shore of Lake Ontario, The Henley Room is the perfect wedding place to hold a wedding with a gorgeous waterfront setting! More than just a place to party, The Henley Room allows clients to host both the ceremony and reception onsite without breaking the bank!
Pricing: Starts at $3700 (with minimum spend)
---
Artscape Sandbox
301 Adelaide St. West, Toronto, ON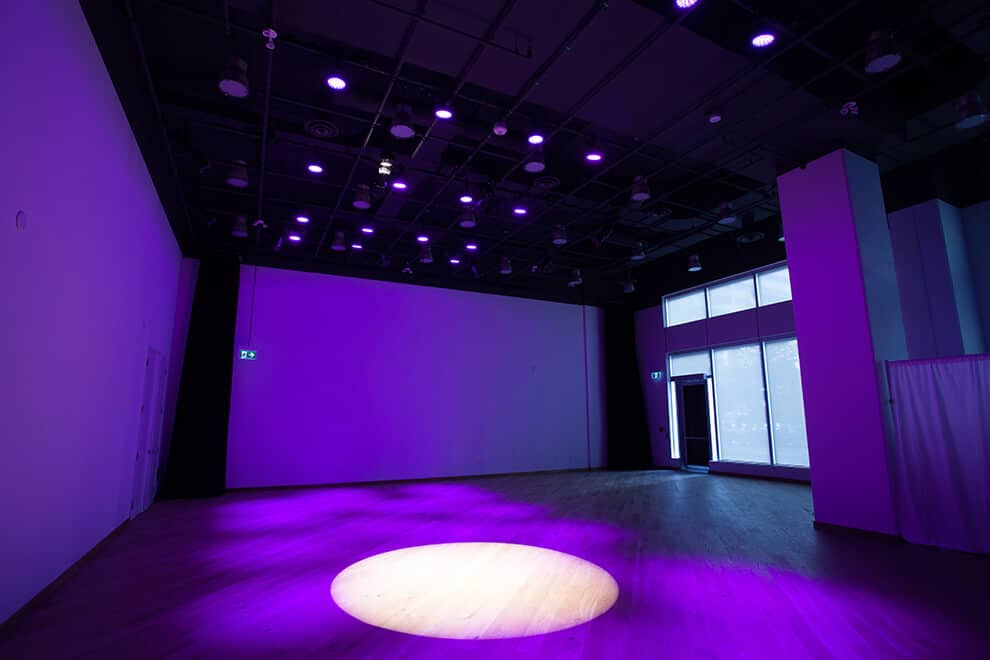 Photo Courtesy of Garrison McArthur Photographers
Artscape Sandbox is a chic, modern space right in the heart of Toronto's Entertainment District. Sandbox offers a "blank canvas" space allowing you to envision the wedding of your dreams and find cost-savings where you can. We love that there's no pressure to choose from a list of vendors (though they do have a suggested list of vendors they've worked with in case you need the help)! Another mega plus? No corkage fees!
Pricing: Full wedding packages start at $6,790
---
19 on the Park
19 Civic Ave, Stouffville, ON L4A 1G5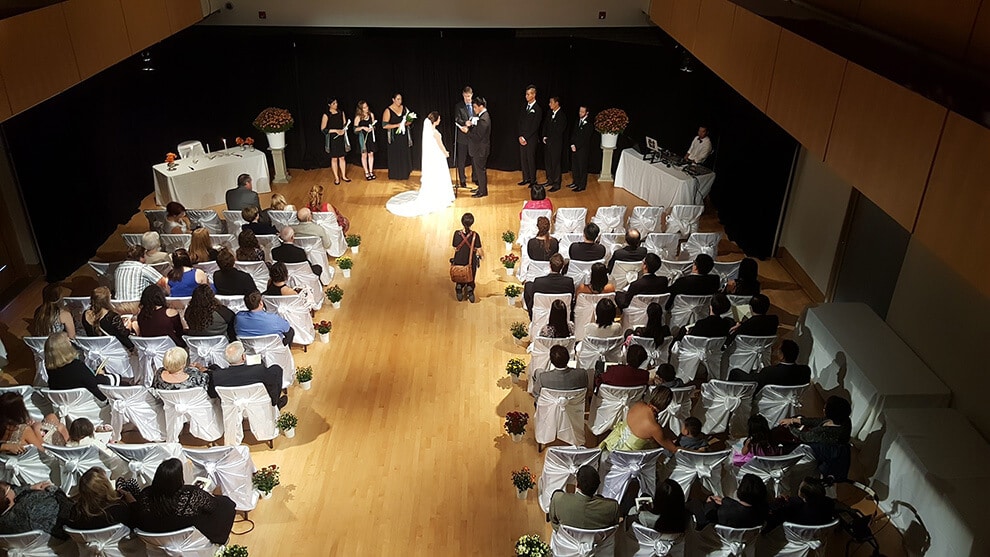 Built in 1890 (and still holding its original charm and grandeur) 19 on the Park is another perfect "tabula rasa" venue that can accommodate any wedding style. Located just north of Toronto in the heart of downtown Stouffville, 19 On The Park provides numerous romantic spots for photos with its dramatic ceiling height, exposed brick, and balcony overlooking the twinkling fountain and trees of Civic Square – all at a fraction of what you think it will cost!
Pricing: Full-day rental rates start at $1500
---
Of course, if you're on a very tight budget and looking for a cheap wedding location, you still have options! With various Rotary Club and Royal Canadian Legion locations across the GTA, you're sure to find something that will fit your needs!
Did we miss any other affordable venue options? Please let us know in the comments below and as we'll be updating the article frequently.