Fox Photography
Gallery
of Fox Photography
Vendors Similar to Fox Photography
This vendor does not yet have any EventSource reviews. Be the first to leave one!
Danielle Parker
November 2019
Michelle and Dan are the best wedding photographers out there! They make you feel so comfortable from day one to your wedding day. On your day they make sure everything runs smoothly and efficiently while capturing the best moments. We are so in love with all of our pictures and could not ask for anything more! Thanks so much Michelle and Dan!!!!
Maria Nguyen
November 2019
We absolutely love Michelle and Dan, they helped make our wedding day that much more special. From the beginning when I sent Michelle a message on Wedding Wire - She was absolutely amazing to deal with, and the reason why we chose Fox Photography (besides both of their amazing skills!) was the impeccable customer service. Both Michelle and Dan were very patience and SO informative (I would send Michelle an email with a simple question, and she would respond with 3 paragraphs and links for more info). We are truly grateful for their service!
Sabin Naqvi
November 2019
Where do I begin? Michelle and Dan are just the most down-to-earth, friendly, easy going and professional people. From the moment we met, we felt we could let go of trying to micromanage the process and let them guide us instead. Their work speaks for itself, but the people behind the camera matter so much on the day of. They know how awkward it can be for people who have never been in front of the camera before and make the process so light and fun. My husband is incredibly uneasy when it comes to these things, but Dan captured some of the best shots of the men and we're so delighted. For the ladies, you definitely want Michelle in your corner. She understands what shots a bride will treasure, what moments are incredibly special to you and somehow manages to capture all that and more. She also gets what is flattering and is the sweetest most gentle friend you could have on the day. The guests loved both Michelle and Dan and felt they were just another pair of friends we'd naturally have outside of all this.We can't rave about them enough. We love you guys and will forever think of you when we look back at all our photos.
After attending multiple wedding shows and scouring the web for wedding photographers, we were introduced to Fox Photography through a friend. Dan and Michelle are simply wonderful! Tremendously responsive, extremely organized and helpful upon our initial meeting Michelle provided a rough timeline of our day, which guided our overall wedding planning and scheduling of the day. Both Dan and Michelle made us feel very comfortable and made us laugh throughout the day (capturing those candid moments!) During my getting ready session, Michelle even reminded me to bring my cat in the room and she was able to capture precious moments with my very shy, skittish cat. We received our photos within a very reasonable time frame and really appreciated the sneak peeks in between. Thank you Fox Photography for capturing our wedding day we will treasure these memories for a lifetime!
Fox photography shot our wedding (May 2019) and engagement photos, and they are just absolutely AMAZING!! Professional, reliable, easy to work with, amazing at what they do, and Michelle and Dan are just two of the nicest people you'll meet. Out of all our vendors, Fox Photography was the one we knew we wouldn't have to worry about. I was extremely picky when looking for a wedding photographer--after all, that is one thing you'll keep forever after the big day. I searched through dozens of photographers and their portfolios, and then I came across Fox Photography. The quality of their photos are top notch--everything is crystal clear (you'd be surprised how many professional photographers I found who didn't have crisp photos), and the editing style is timeless and classic. They also have full albums on their site, which shows the consistency of their work. I can go on and on about their photos but you can see them for yourselves. During the engagement shoot, they genuinely made us laugh and made us feel so comfortable in front of the camera, which made for some real laughing photos. If you are camera shy or don't know where to place your hands, don't worry you will be in good hands if you choose them. On our wedding day, they captured all the photos we wanted and more! We loved seeing photos of small details and of our guests that we didn't even see them take. Overall I couldn't recommend them enough. They are 100% worth the investment and you won't regret booking with them!
I have worked with Michelle and Dan on several occasions. I absolutely love their work ! Their pictures are always so perfect and they showcase our hair and makeup work perfectly <3
Thanks so much to this amazing team for all the stunning pictures and memories you capture.

Fox Photography has been mentioned inside these other vendor profiles:
Blog Posts featuring Fox Photography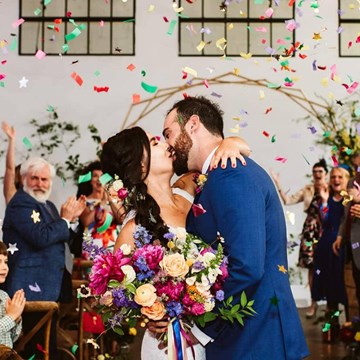 Read more