Pastel Dress Party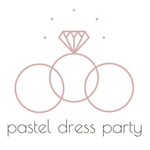 Pastel Dress Party was founded with one mission – to give some love to bridesmaids who like to do things a little differently.
We're for all the bridesmaids who feel like dress options might be limited and somewhat cookie-cutter. We're for all the bridesmaids who love DIY projects but want to do something a little different than what's on Pinterest. And we're for the bridesmaids who want to crush their bridesmaids duties, and look glam doing it.
That's why Pastel Dress Party was built to literally be your one-stop shop for all your bridesmaid needs. From the beautiful robes you'll wear in the morning as you get ready, to the uniquely-made bridesmaid dress you'll wear for the wedding, and all the party decor and gifts you'll need in between. Your love, and our love of bridesmaids!
Styling the modern bridal party since 2012
Vendors Similar to Pastel Dress Party
This place is the sketchiest place ever. They firstly, ordered the wrong skirt for my sister's wedding, tried to charge me twice and when I went to pick up the 2nd skirt (because now it was 2 days before her wedding) they were closed and it was sitting with another business. Horrible customer service and weirder location. It is beside a hooters and has a sketchy store front too. Ew.
My fellow bridesmaid and I went to their Toronto location to try on dresses, and were really excited about how accommodating they were and how nice the dresses seemed. What we tried on and what we received, however, were COMPLETELY different. The dress I received was cheaply made, lopsided, and when all was said and done, cost me close to $400. Despite a lengthy back and forth with the company (and being ignored for weeks at a time), they refused to give us a reasonable refund (only 15%). We had to get new dresses from somewhere else in the end. I can't stress enough how disappointed we were with this place, their dresses, and their service. Would not recommend to anyone.
andrea Scodeller
August 2018
We had ordered two custom dresses that were not by any means inexpensive. They showed up three months later and were not what we ordered. You would think custom meant made for you- but that is not the case. There needed to be a number of alterations done that basically would cost as much as the dress in the first place. The quality was awful- one side was an inch longer than the other. I had to pay a pretty penny just to get the bottom of the dress an even length. Once I realized that the material was disintegrating and fraying and was not wearable I immediately reached out to see if a solution could be made or a refund greater then 15% was available. It takes about a week for them to even answer emails and then they go on to say that we didn't adhere to the 7 day policy. I understand companies have agreements and policies- but when you pay 375$ for a dress you expect a high level or quality and professionalism. Getting 15% back for a dress you are unable to wear is completely unacceptable. Moral of the story - don't waste your money here- we ended up having to buy new dresses - so a tip from me - go buy your dresses from bhdln or anywhere else.
Poor customer experience:This company is not professionally run. Aside from the sketchy entrance and greeting I received when visiting the Toronto location, I received a very poor experience from Stephanie, their on site alteration consultant. She left me in the room with all of the skirts and went on her phone for a majority of the time. When I picked a skirt, she ordered the wrong one for me! I waited 2 months to receive the wrong item. When I went to return it, she wasnt there and told me to leave it at the front door. When I approached her to order the skirt I originally wanted, she said she would, charged my card and then claimed she never did! I had to escalate to her manager who expedited a new skirt for me, 1 week before my sisters wedding and then I paid duties on top of that. I would not recommend this company as they only helped to expedite the last skirt. I still have an outstanding charge from them and they refused to help with duties from China. All around, poor experience.
All the girls were so helpful, friendly and very welcoming from the moment the bridal party met them. They made us feel very comfortable! Even with the dress fitting and alterations, they were very patient and easy going about meet ups and flexible with times as everyone's schedule is different. The dress feels very comfortable and light on. One of the things I loved most is that they are machine washable! I would definitely recommend Pastel Dress Party to anyone! Keep up the amazing job, ladies! :)
Pastel Dress Party has been mentioned inside these other vendor profiles:
Blog Posts featuring Pastel Dress Party