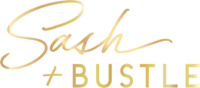 At Sash & Bustle, we carry a small, carefully curated collection of gowns at moderate price points, and many of our designers are exclusive to our boutique in Toronto! With our complementary collections of accessories and gifts we help to make shopping for your wedding dress fun and exciting while putting together a look that is unique to you.
Visit our East End Toronto boutique for an intimate, relaxed, and fun bridal experience.
Vendors Similar to Sash & Bustle
Kerri Payton-Stewart
October 2020
Brendan was fantastic. I walked into the appointment not knowing exactly what I was going for, I only really had a list of dislikes. He really took the time to understand me by asking the right questions. The process was easy, stress free and fun! I found a dress that was so "me" thanks to his expertise. Highly recommend. Thanks Brendan!
Alexa was absolutely amazing! Super fun when trying on dresses/styling me, but also very professional and detail oriented. We had such a great time with her. Caitlin was also around for a lot of my appointment and she was already really great! I had also worked with Brendan previously at my first appointment and he was super amazing as well. Overall, a fabulous experience and I found my dress!
Emily-Anne Mikos
October 2020
This place is magical!! I never thought I would pick a dress on a first visit, but by the end of the appointment I was saying yes! I was helped by Brendan and he was absolutely amazing. He was thoughtful and more than helpful with my mother and grandmother throughout the whole appointment. He even picked out my now wedding dress!! I could not have had a better experience. For any first time brides, Sash & Bustle is the place to go!
katiusha cuntrera
October 2020
This was my first experience trying on wedding dresses and I have to say it was an unforgettable experience! Brendan, was amazing. He got my style right away and won me over with his picks! I would definitely recommend this store.
I cannot express how thankful I am that Sash & Bustle was my first bridal dress experience! I came to S&B in January and I had Jasmine helping me. She was so welcoming and kind from the second we walked in. She was so patient and relaxed that it made me feel at ease and allowed me to enjoy the process from start to finish without any worry. I ended up finding my dream dress (I tried on a lot & my dress ended up being the 1st one I tried on)!The entire Sash & Bustle team is INCREDIBLE! Every single person there is always willing to lend a hand and go the extra mile. Whether thats in person or if I needed to send them a quick email with some questions, they are fully there to support you and its obvious how genuine they are and how much they truly care about their clients. They love what they do and it shines through in every way possible!
Sash & Bustle has been mentioned inside these other vendor profiles:
Blog Posts featuring Sash & Bustle