At Sash & Bustle, we carry a small, carefully curated collection of gowns at moderate price points, and many of our designers are exclusive to our boutique in Toronto! With our complementary collections of accessories and gifts we help to make shopping for your wedding dress fun and exciting while putting together a look that is unique to you.
Visit our East End Toronto boutique for an intimate, relaxed, and fun bridal experience.
Vendors Similar to Sash & Bustle
I cannot say enough positive things about Sash & Bustle. I had a horrible experience at another bridal boutique and the second I walked into Sash & Bustle I felt so welcomed and listened too. The dress selection is insane, every single gown in the store is gorgeous. It would be impossible to not find your dream dress. The staff are sincerely the kindest people, one of the consultants even cried with me when I found my dress, they make you feel like theyre your close friends shopping with you. It was a 10/10 experience and Ill be recommending them to everyone I know for a lot of years to come.
Brittany Sigler
March 2020
"I highly recommend Sash and Bustle to all brides! I am from Rochester, NY and went to every bridal boutique in the area, trying on over 50 dresses. However, no one had the Bohemian style I was looking for with the budget I had. Then after some research, my mom found Sash and Bustle online. Just by looking at the pictures, I knew this was the place and I was not wrong. My entire experience was perfect. From the tea they hand you when you walk in, the elegant ambiance, to letting you look through the racks and pick out dresses to try on. The owners were amazing and willing to do anything, even help us find a hotel room and provide dinner recommendations. Needless to say my wedding dress was not only the first dress I tried on, but my mom also found a dress for the reception. We both could not be happier :)"
Claire Seymour
February 2020
Sash and Bustle was a lovely experience. All of my girlfriends who have been married recommended going to Sash and Bustle, and it did not disappoint. The setting and dress selection were great and I had a wonderful appointment with Megan, she was supportive and not overbearing but had good thoughts and feedback and ideas to try. I see another review stated that the downs were limited in selection (but beautiful) and I actually found this to be a strength of Sash and Bustle. They have worked hard to have the best options and know their inventory well so no time is wasted. 10/10 would recommend.
I had a wonderful experience at Sash and Bustle! It was the first and only bridal store that I visited, and Hallie made the process fun and stress-free. I attended the Blush by Hayley Paige trunk show and they had all of the dresses on my wish list. I purchased the Perri gown at the end of October and it arrived at the store in early December. I was thrilled at how quickly it came! Thank you so much for making me feel beautiful on my wedding day, and helping me say yes to the dress!
Amazing staff! They have good variations of dresses and everyone is so nice and kind! I never felt rushed or forced to do anything. Im so happy with my purchase and definitely going to recommend anyone who needs a wedding dress!
Sash & Bustle has been mentioned inside these other vendor profiles:
Whitney Heard Photography
Blog Posts featuring Sash & Bustle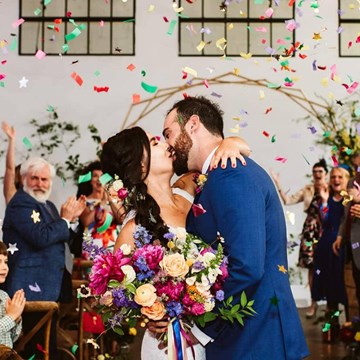 Read more