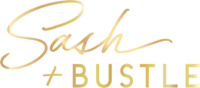 At Sash & Bustle, we carry a small, carefully curated collection of gowns at moderate price points, and many of our designers are exclusive to our boutique in Toronto! With our complementary collections of accessories and gifts we help to make shopping for your wedding dress fun and exciting while putting together a look that is unique to you.
Visit our East End Toronto boutique for an intimate, relaxed, and fun bridal experience.
Vendors Similar to Sash & Bustle
Hayley Spears
February 2021
I chose to have my bridal experience at Sash and Bustle because I love the people. Everyone was always so helpful and friendly. I had my virtual and at home appointment with Alexa and she was amazing! She is clearly passionate about her job and making her brides feel special. She asked me all the right questions and made me feel so comfortable, she has a true gift. I highly recommend Sash and Bustle to find your gown. For them it is not just about the transaction but about making it the best possible experience for you. I cannot wait to receive my gown!
Stephanie Kots
February 2021
When I was ready to purchase my dress back in early October 2020, my consultant had told me the dress would come in 3-6 months before my big day in September of this year (this would be March 2021 at the 6 month mark). However, I got an email in December stating that my dress was all ready to be picked up and had 30 days to do so or I would be getting charged a storage fee. At this point, I was out of work due to lock down regulations and kindly asked if I could keep my dress till mid February in order to secure financials for the rest of the payment (keep in mind I had thought I had till March to save for the rest of my payment). Unfortunately, my request was denied and still had to pick it up by the date agreed on. The week of my dress pick up I got a few calls and emails asking to confirm my pick up date and was asked twice for payment prior to pick up (felt very pushy). I felt that the staff were not accommodating nor understanding of financial situations due to the lock down as well as being told my dress would be ready in March. I am not sure why a storage fee would have to be charged when they are already storing my dress - 15-30 days extra during a pandemic and lock down should have not been a big issue. When picking up my dress, the consultant who handed it to me congratulated me but then proceeded to start trying to "sell me" by booking more appointments for accessories. I stated that one of my bridesmaids had already purchased me the earrings I had fallen in love with from them and that's all I needed. When I got home, I opened my dress (because of course they do not let you open it at least before taking it home) and noticed one of my cap sleeves had a pull on it. Overall, my experience was anything but special. I found my absolute dream dress and that is what I am thankful for. I understand the pandemic has been very trying for all businesses out there right now, but the last thing that should be done is almost forcing brides to pick up and pay when they were told a completely different timeline.
Alanna Cassells
January 2021
This was the charming boutique where I first stepped into a wedding dress- and I was not disappointed. Bright and clean in the boutique... loved the aesthetic. There were many dresses to choose from, it made deciding that much harder!The staff were accommodating , informative, and fun. I loved that my little group was placed in a private part of the boutique. I did not feel rushed or pressured. It was a lovely experience- such a pleasant day that I will always remember. Would recommend to all the future brides looking for their dress!
Jalina Bielaska-Da Silva
January 2021
Sash & Bustle is a beautiful store that was really helpful for my wedding accessories! I was completely blown away by their efforts to move online during the pandemic. I had a virtual appointment with Brendan who was so positive and helpful (I ended up purchasing both earrings and a hair piece). He made myself and my bridesmaid so comfortable in the virtual environment and was extremely knowledgable about which accessories would compliment my dress.
Coily Crownn
November 2020
First of all, I found my dream dress here! SO HAPPY!They have such a modern styles and large variety to choose from!!From the moment I walked in with my mom and cousin, we were greeted with such a warm welcome from the team!Brendan worked with us and he was literally a ray of SUNSHINE ! He had great advice, he was funny, down to earth and made us feel so comfortable! We love him!! Hes amazing!Caitlin was also such a great helping hand! She also made my experience amazing!We appreciate them both tremendously.I recommend anyone looking for an amazing gown for their special day, and amazing costumer service,to come to Sash and Bustle!Thank you guys again for the amazing experience!
Sash & Bustle has been mentioned inside these other vendor profiles:
Blog Posts featuring Sash & Bustle
Read more