The number of couples who have had to put their wedding plans on hold throughout 2020 and 2021 is staggering. Cue The Pop-Up Chapel Co. – Toronto's answer to upscale, turnkey, simplified, environmentally sustainable, intimate weddings – all with a charitable twist! Hosted at Evergreen Brick Works, the venue was apparently working double-time utilizing both The BMO Atrium and Koerner Gardens in order to marry no less than 39 eager couples. With each space uniquely designed, and a team of 8 incredibly talented photographers, there were so many beautiful love stories shared and captured. You won't want to miss this one! Fun fact: this event raised an astounding $11,700 in support of the Evergreen Brickworks Children's Garden charity!
Deal alert: If you're thinking of eloping, The Pop-Up Chapel Co. is hosting a sale until March 14. Select chapel dates across Canada are discounted for a limited time and can be found by city by visiting their website.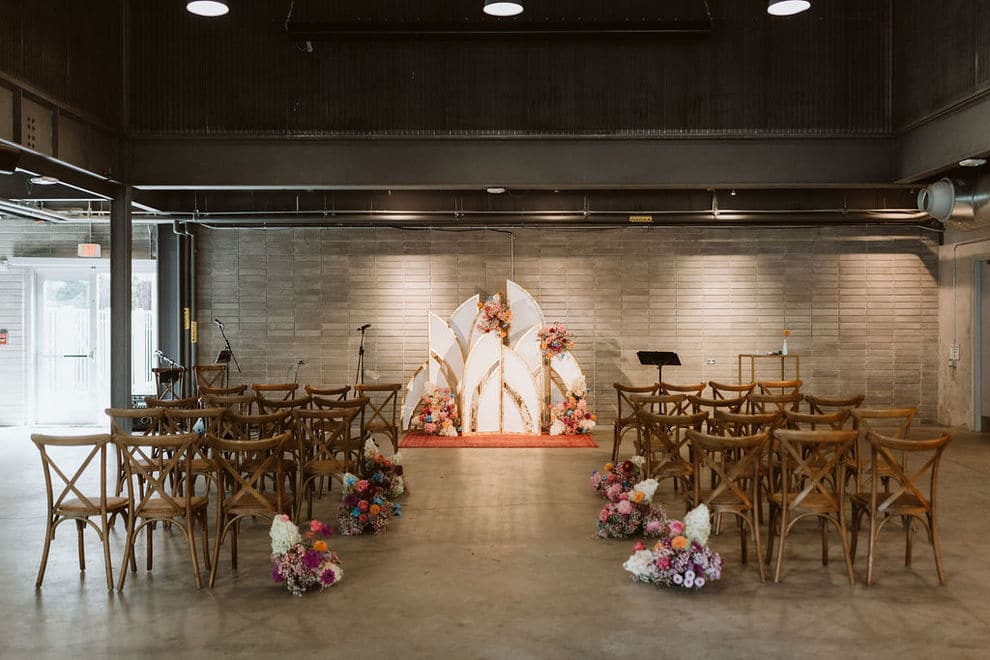 Both spaces were lovingly designed by The Pop-Up Chapel Co.'s in -house designer with warm burgundy shades and lots of texture, BMO Atrium was transformed into a real life fairytale for all of the romantics at heart. The ceremony space featured velvet accents that complimented the dreamy colour scheme of deep pink, orange and blue and touches of gold. The backdrop was architecturally inspired with layered soft white and gold trimmed panels, all highlighted by stunning blooms styled by Flower Child Social. The clusters of densely packed, bold florals made the space feel whimsical and warm.
You May Also Be Interested In
One of the things people love most about the pop-up chapels is that they look after every single minor detail so you don't need to! Soft furnishings adding to the intimate feel of the day are provided by Divine Furniture Rental. The 19 couples made it official, with Kelley Potter and RM Ceremonies residing over the proceedings. Honoring tradition, couples had 6-inch cutting cakes made by Olivia Yang Cake Studio, which were both adorable and delicious. No Chapel experience is complete without live ceremony music and The Next Level Entertainment played each couple down the aisle to a song of their choice that will now live in their hearts for a lifetime. Although the space remained the same, each couple had an experience as unique as their love story, complete with custom designed personal florals made for them by Flower Treasures. Special Moments were captured on video by SRS Film Making and Gowatch, to be shared live with family and friends across the world!
If an outdoor wedding that still has an urban edge is your dream, Koerner Gardens is the space for you. It features graffitied brick walls, lush live greenery and the best part- an open air roof which makes the large space feel boundless. Another thing this space has going for it is the ability to drive right in, which allowed Tipsy Turny Trailer Mobile Bar to serve drinks in style. The trailer was topped with the iconic Chapel marquee letters from Wild and Free Marquee, making it the perfect photo op especially when paired with a Kwento cutting cake. The backdrop was created to mimic the sun's rays and decked out with an abundance of stunning hydrangeas by ultra-talented Kenilworth Floral, who also arranged the couples bouquets and boutonnieres alongside May Flowers and June Bloom Events. Couples were played down the aisle to the sweet sound of Toronto Jazz Collective, where they were greeted by the seasoned officiants at Celebrate the Love and Jonny Belinko Wedding Officiant.
---
Avery Wassel Photography
Janine & Raymond
Carmen & Darcy
---
Jane Decle Photography
Jason & Natalie
---
Marcucci Photography
Holly & James
Katherine & Alexander
---
Wade Muir Photography
Christa & David
---
Alicia Thurston Photography
Ena & Mitch
Marlene & Louis
---
Boeun Kim Photography
Candice & David
Eunis & Jodel
---
Hayley Palmquist Photography
Catarina & Danny
Justine & Christopher
---
Robyn S. Russell Photography
Jessica & Michael