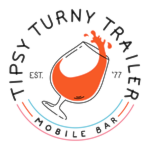 The Tipsy Turny Trailer is Toronto's cutest mobile bar and bartending service, serving craft beer and cocktails from a vintage trailer! Paired with a retro design and unmistakable charm, the Tipsy Turny Trailer will make your event anything but ordinary. Whether it's craft beer, wine, cider, kombucha, cold brew, spirits or non-alcoholic beverages, we have an array of options from preferred local and international vendors that will surely impress your guests.
Services Offered
Your choice of full bar or cocktail hour service
6-tap draft system for alcoholic and non-alcoholic beverages
Custom drink menu development & signature cocktail creation
Fully insured with general and liquor liability insurance
SmartServe Certified Bartenders
Option for open or cash bar
Keg pick-up and dropoff
All decor including bar signage & lighting with the option to customize our shelving
Optional add-ons such as glassware rentals, balloons, florals, custom signage, decals and branding +more
How It Works
Choose one of their two packages based on your guest count, hours of service and desired menu. Each of their packages include mobile bar rental, recyclable PET plastic cups, paper napkins, paper straws, all bar tools, chilling ice, beer gas for keg service, refillable water station, bar signage, trailer decor & lighting, commercial general liability insurance & Smart Serve certified bartenders. Looking to do a custom cocktail? The Tipsy Turny Trailer will work within your budget to create a premium beverage your guests won't forget.
Service Areas
Anywhere in Ontario!
Photos
of Tipsy Turny Trailer Mobile Bar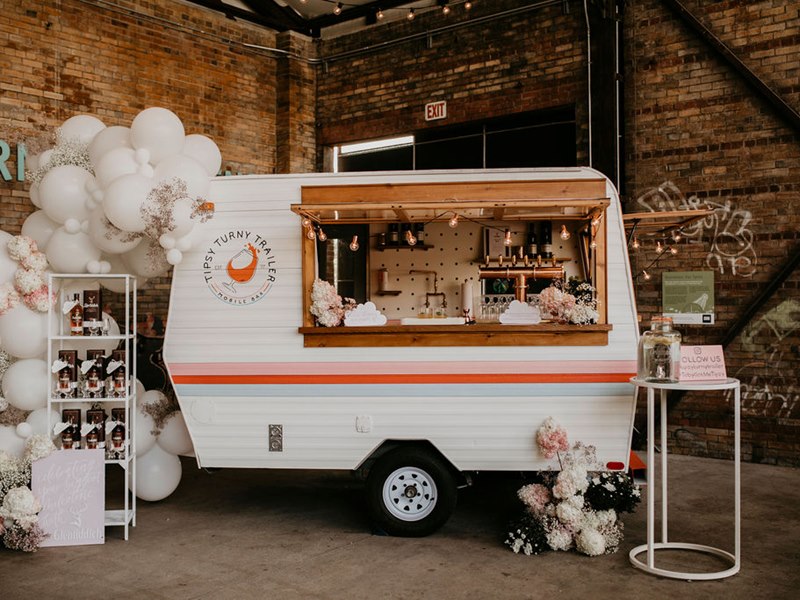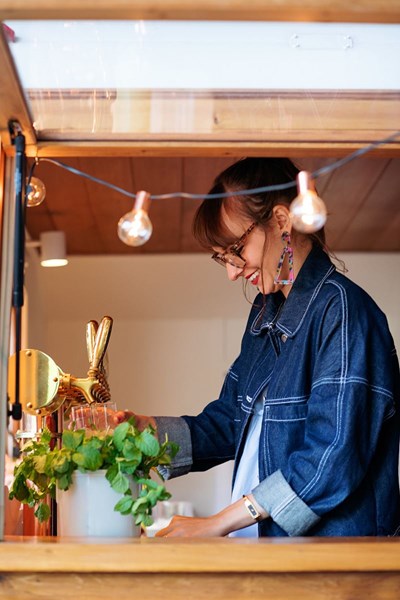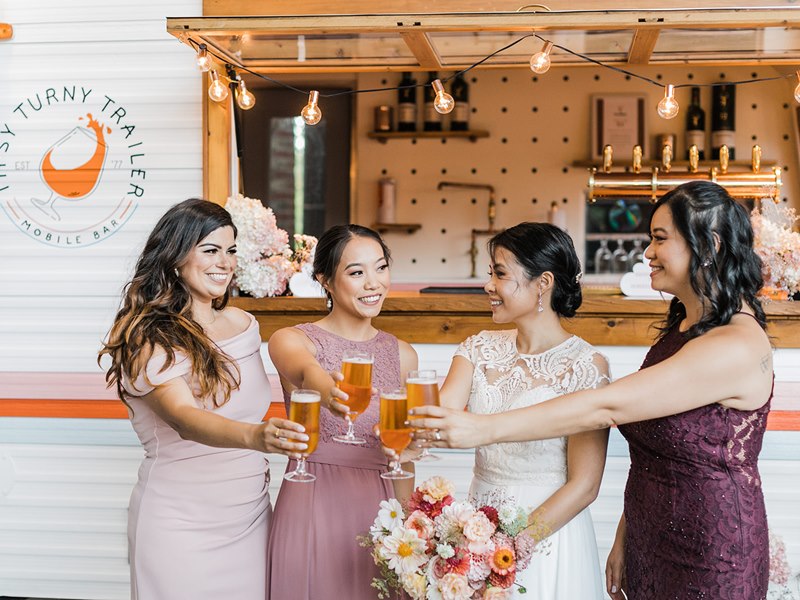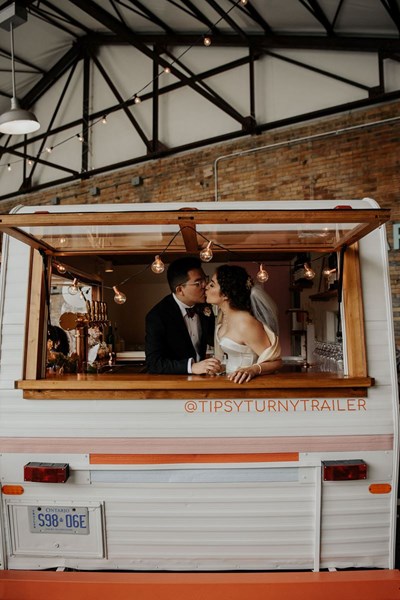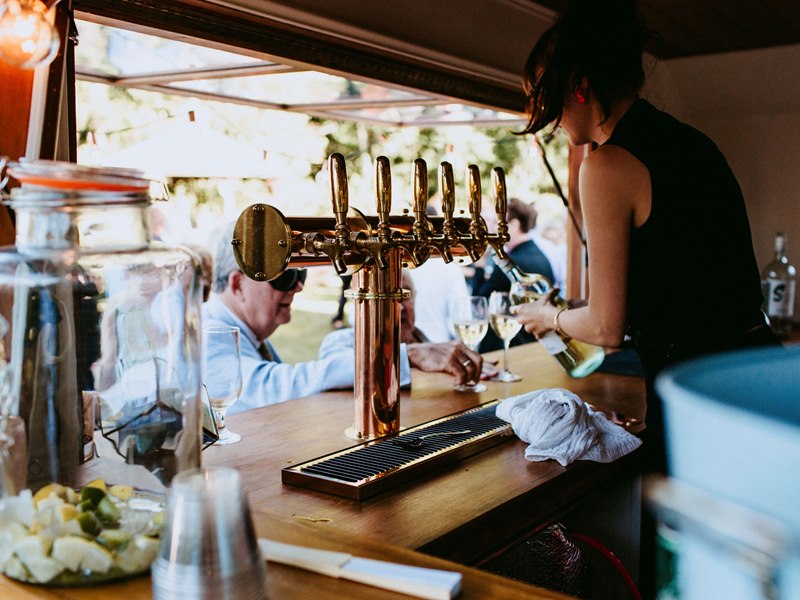 Vendors Similar to Tipsy Turny Trailer Mobile Bar
Everlee Event Studio
January 2020
I've had the opportunity to work with Tipsy Turny Trailer a handful of times in 2019, their first year of business. Robyn & Fredo are the ultimate duo that add so much personality to the beverage experience. From local craft beers to custom colourful cocktails with glitter to unlimited event add-on's (balloons, vinyls, barware etc), Robyn & Fredo work together to bring your beverage vision to life. If you're looking to heighten your guests experience, you should truly consider Tipsy Turny Trailer. Whether you stick to a preferred package or create a custom menu, you and your guests will be blown away by this mobile bar.
Lindsay Colbourne
December 2019
We had Tipsy Turny Trailer at our Love by Lynzie pop-up chapel and I'm so glad! It was such a cute little touch! Our guests got to enjoy amazing cocktails and we had to best little photo opportunity! And Robyn was super lovely!
Such a fun and unique way to do drinks at your wedding. The trailer is beautiful and the service is top-notch. Highly recommend. It's that something special to really elevate your wedding experience
Yale shargall
December 2019
Cutest setup I've ever seen in my life! Amazing service! Delicious drinks! So thankful they were at my wedding! If we ever decide to do another event trust me... THEY WILL BE THERE!
Nicole Connor
November 2019
Tipsy Turny Trailer is the PERFECT mobile bar for any event, wedding, whatever! As wedding planners hosting one of our Pop Up Chapels, we booked them for our second last Chapel of the year at Evergreen Brickworks on September 12th and 13th and they were the best addition to the event. Not only were they incredibly easy to communicate and work with leading up to the event, but they were super professional on site, arrived prepared and early to ensure set up was ready on time (which is a planners dream vendor!) and all of our couples and their guests love love LOVED the cocktails they were serving! All around 20/10!
Tipsy Turny Trailer Mobile Bar has been mentioned inside these other vendor profiles:
Tipsy Turny Trailer Mobile Bar Endorses the following vendors
We had the absolute pleasure of working with WeBalloonz at the Sept 2019 Pop-Up Chapel. The way they decked out our mobile bar made it look so premium!!! We were so impressed with their creativity and ability to work so fast! They were also so respectful when we told them we were nervous of what materials they were going to use to adhere to our trailer. We would 100% recommend them to elevate any type of event. We can't wait to work with the team at WeBalloonz in the future!
Earlier this year we had the opportunity to take part in the first ever two day Pop-Up Chapel held by Love by Lynzie at Evergreen Brick Works. We have nothing but positive things to say about working with the Pop-Up Chapel team! They run such an organized event, from load in to tear down everything ran smoothly and we truly felt like part of a community. We were able to use this experience as a networking opportunity and have meet some fantastic local vendors and photographers who have helped us gain even more business! We hope to work with the Pop-Up Chapel team again in the future! #CoolerThanCityHall
Blog Posts featuring Tipsy Turny Trailer Mobile Bar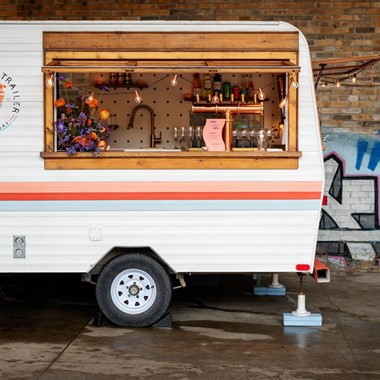 Read more