Last week, Mad Bash Group hosted their 9th (yes, NINTH!) The Pop-Up Chapel Co. at Evergreen Brick Works, marrying 20 couples over 2 days – a new record! Working with over 30 vendors, the LBL team once again went above and beyond to ensure a memorable experience for all of the couples and their closest friends and family. The vibe of the room and the decor changed from day one to day two; day one being a bright blue sky with white clouds and day two focusing on an ombre sunset with cotton candy clouds. We can only imagine the serious team effort it took to have 20 couples and over 400 guests make their way in and out of the chapel every hour on the hour. Wowza!
If you're not familiar with the chapel, allow us to fill you in. For a very reasonable flat-rate, and with a portion of the proceeds always going to a local charity (this chapel raised $3000 for Fetch and Releash as well as $3000 for Evergreen Children's Garden), LBL's pop up chapel offers all the features of a fully planned, professionally decorated, intimate wedding and your job is simple; to show up! It's the perfect way to celebrate your big day with those closest to you in a stunning celebration brought to you by some of the city's top vendors – all while saving money and avoiding the stress that comes with planning a traditional wedding! Sounds like something that tickles your fancy? Scroll down for all the details of last week's chapel!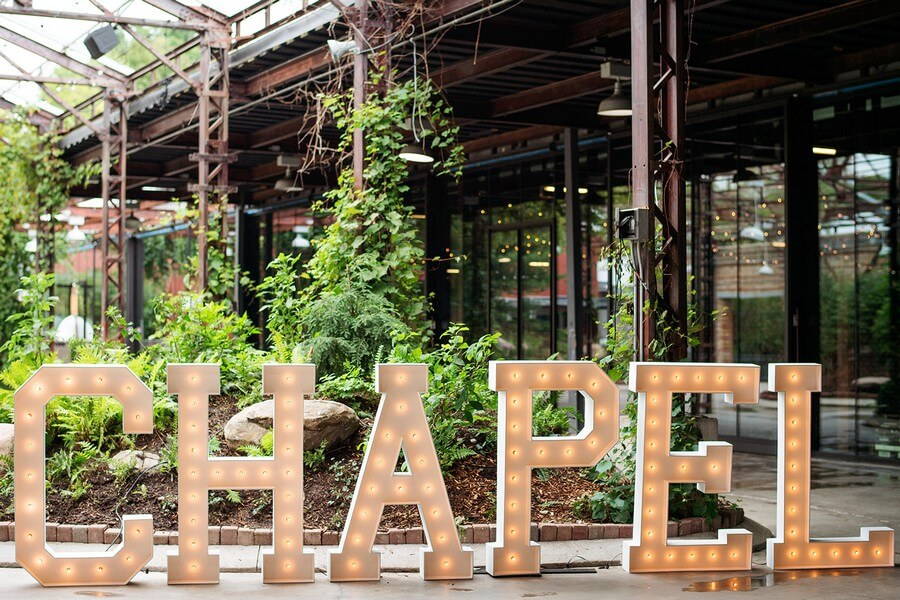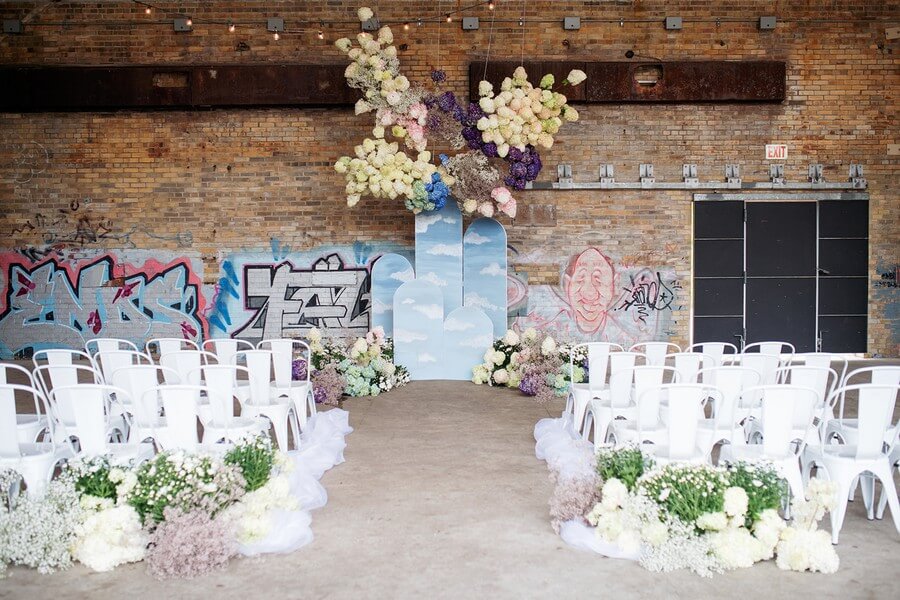 Custom laser cut clouds with lilac coloured calligraphy by Anelo Calligraphy
Vendors Featured in this Article
The signature cocktail was served from Toronto's newest mobile bar, Tipsy Turny Trailer and featured both 12 year old Glenfiddich Whisky and Tonica Kombucha. Each couple went home with a personal gift, a bottle of 18 year old Glenfiddich Whisky and a set of engraved glasses.
From Tipsy Turny Trailer: This was our first time being a part of the pop up chapel and it was such a rush being able to witness 20 beautiful weddings and be a part of their special day! It was a bit of a change for us since we would typically serve a variety of different beverages through the night but for the chapel we had a more refined offering, including a signature cocktail. Plus, almost every couple got into our mobile bar for a photo which we loved! The chapel made us feel like we were part of a super unique community of vendors who were just there to create something beautiful together. It was such an amazing experience and we hope to be a part of them in 2020!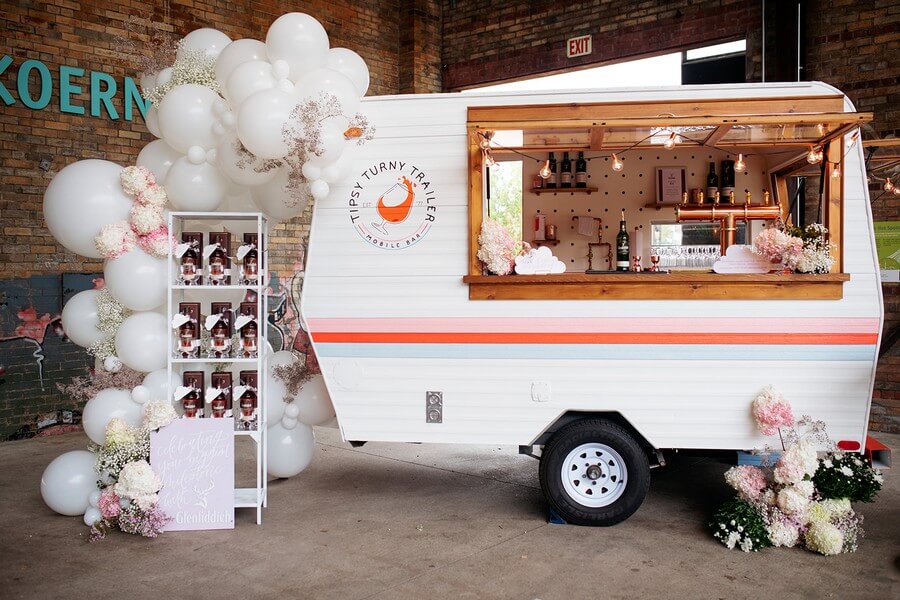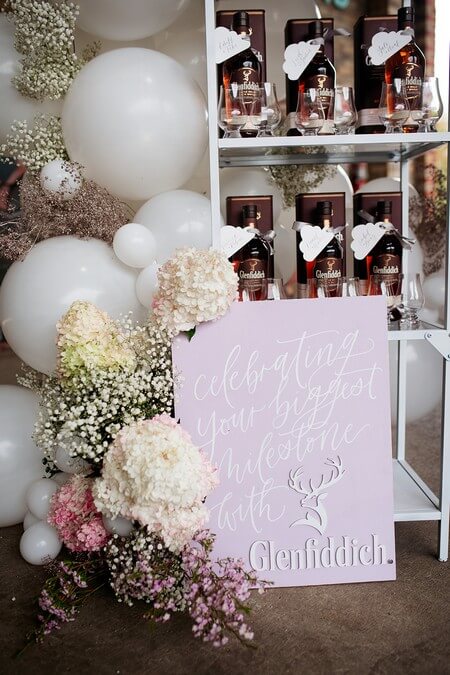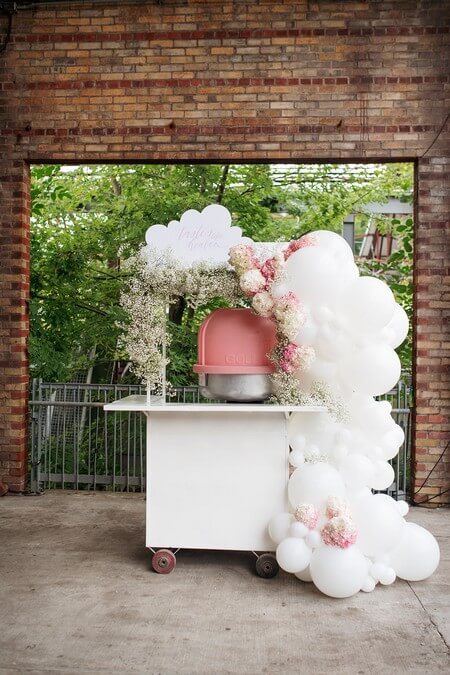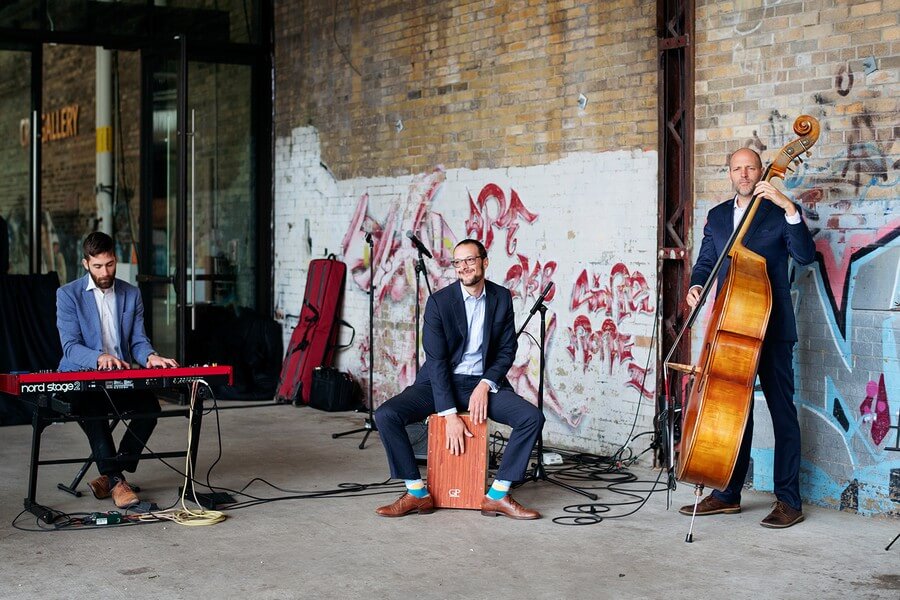 Photos Courtesy of Alicia Thurston Photography
From Alicia Thurston: I love being a part of the pop up chapel! The design created by the LBL team is always exciting, gorgeous and inspiring and I think it attracts couples who are really fun to work with. Beyond working with an incredible team and amazing couples, it stretches me creatively, photographing multiple weddings in a day means thinking outside of the box so that I can create a unique experience for each couple. I definitely love being able to give back to our community, I think it's important to pay it forward.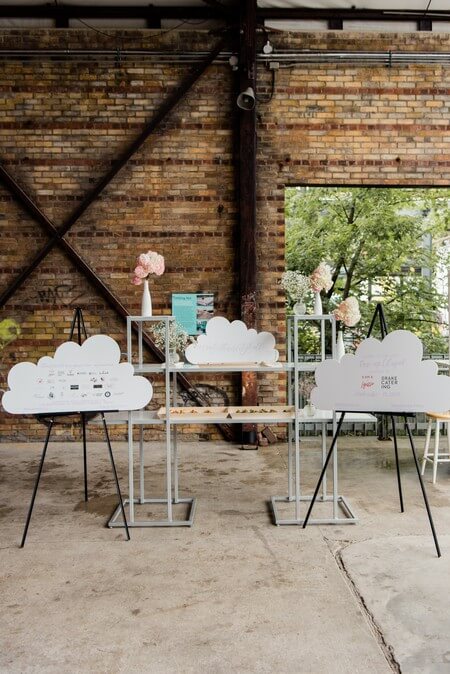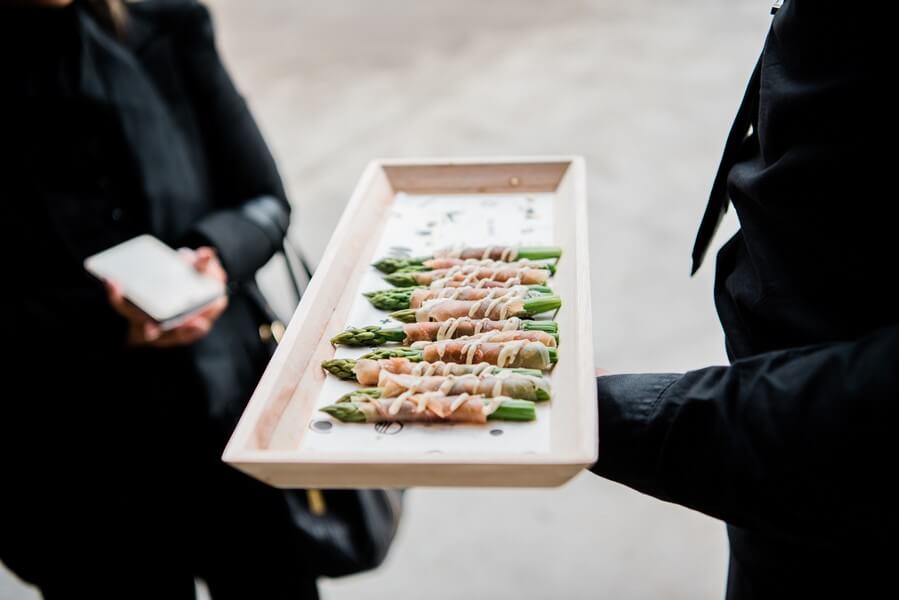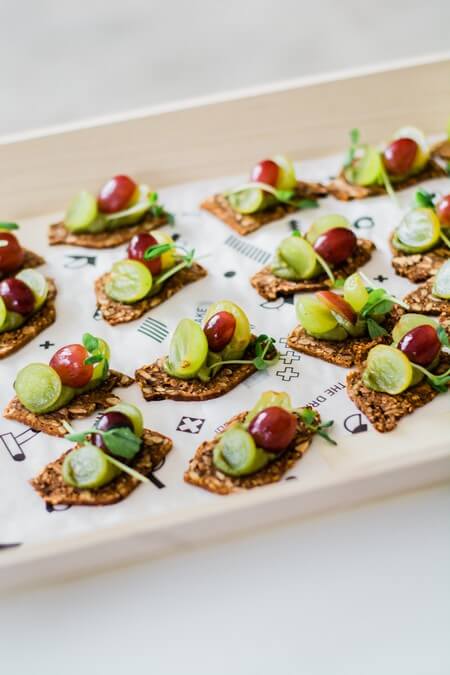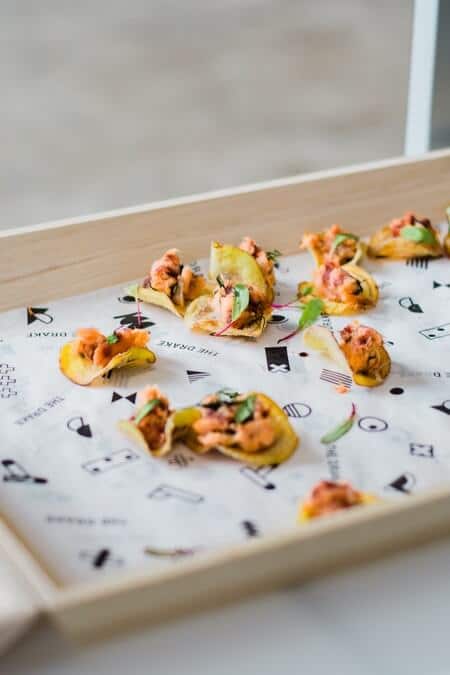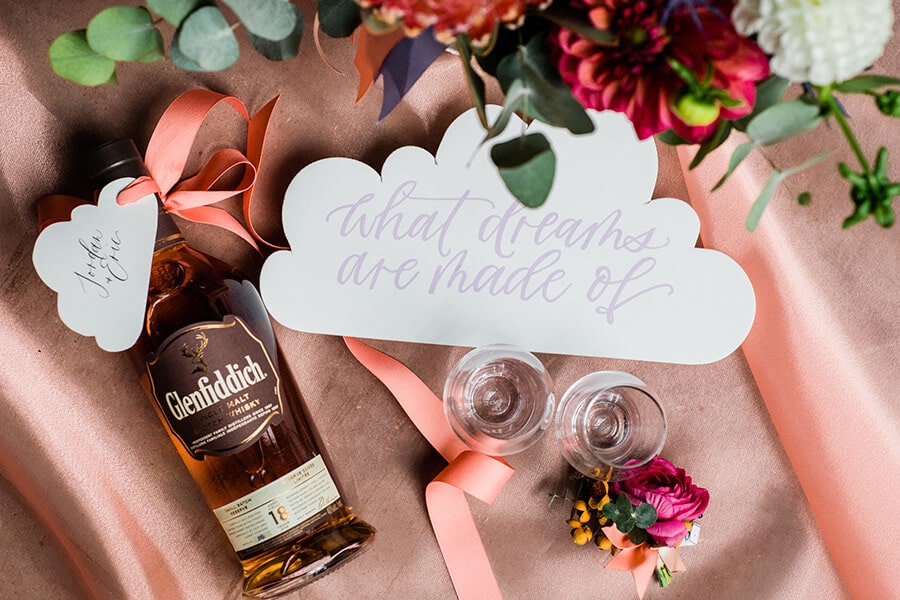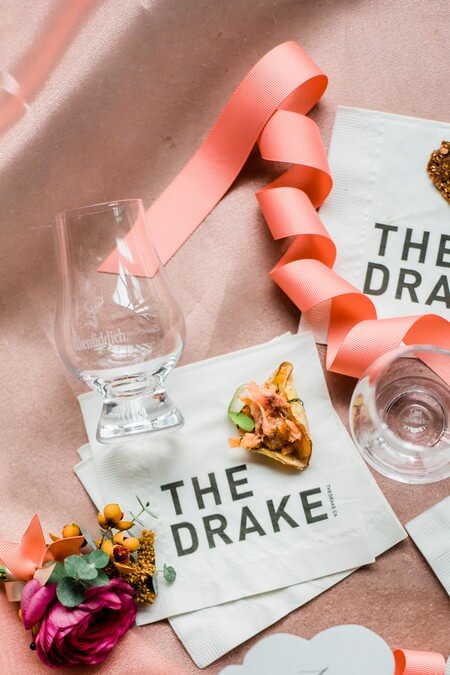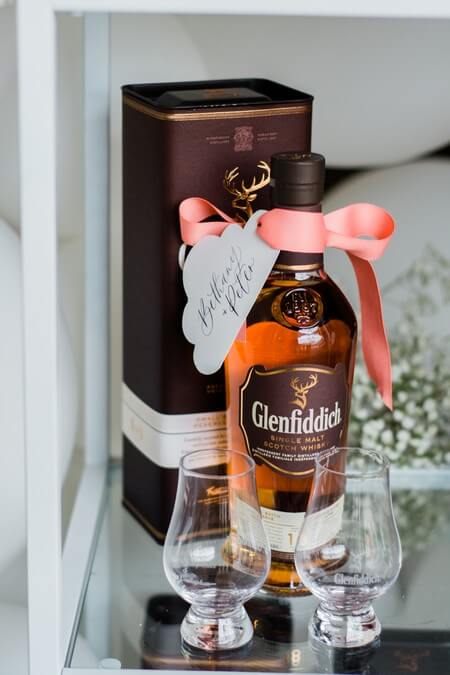 Photos Courtesy of Rachael Minto Weddings
---
Melissa and Hayden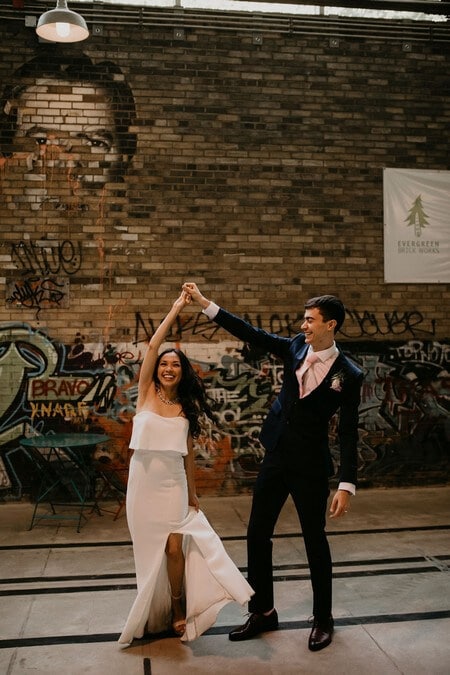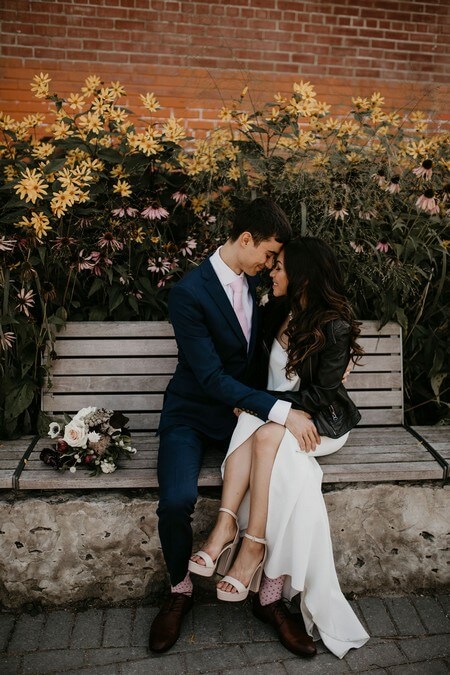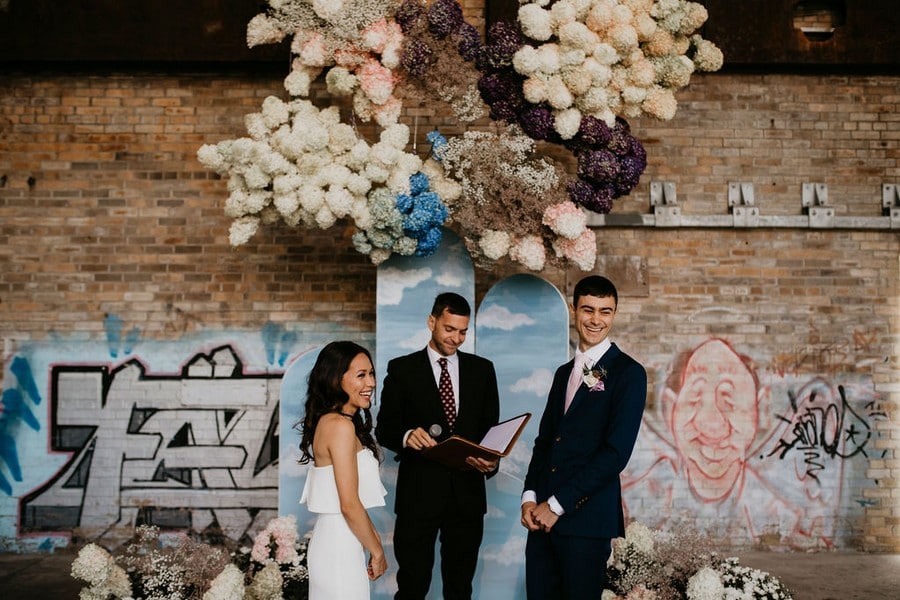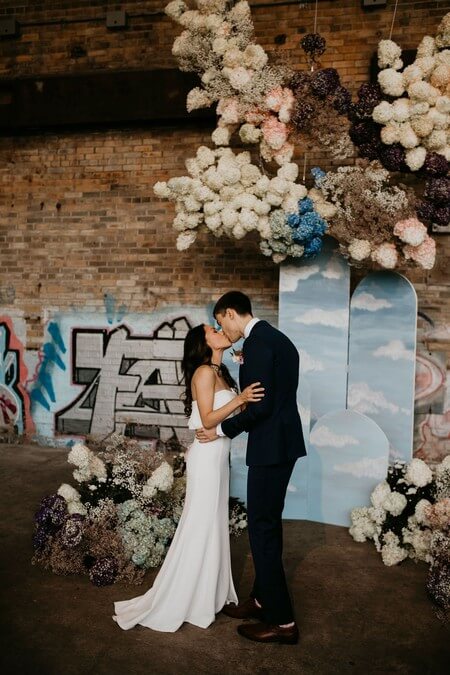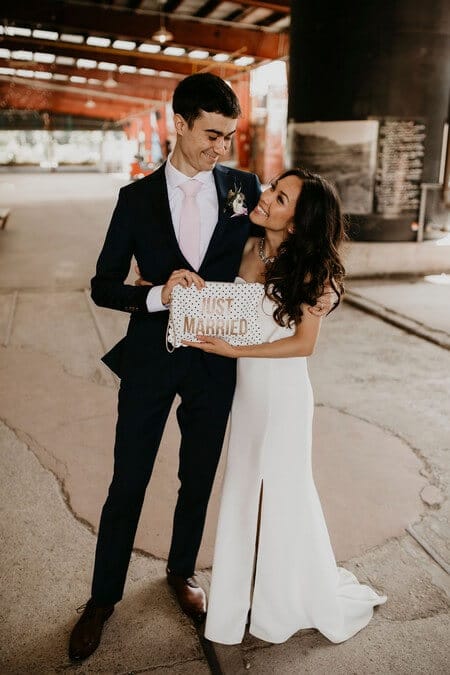 Photos Courtesy of Rachel Hunt Photography
From the Couple: There were quite a few things that drew us in, but mainly we really wanted an alternative to a religious ceremony that was not city hall. We both come from very large Catholic/Christian families yet we aren't devout ourselves, and we longed for a smaller, more intimate celebration. We were also so impressed with the quality of the events – the vendor lists, the fact that some of the proceeds go to charity, the peace of mind that comes with professionals planning the big day. All of this was massively appealing, not to mention the price point felt like a steal!
From what I remember, our friends and families reactions were full of lots of excitement mixed with, "what's that?" I ended up forwarding the website link to my family and friends so they could take a look first hand and poke around in the gallery. We were all super excited about the surprise theme that day!
---
Victoria and Robin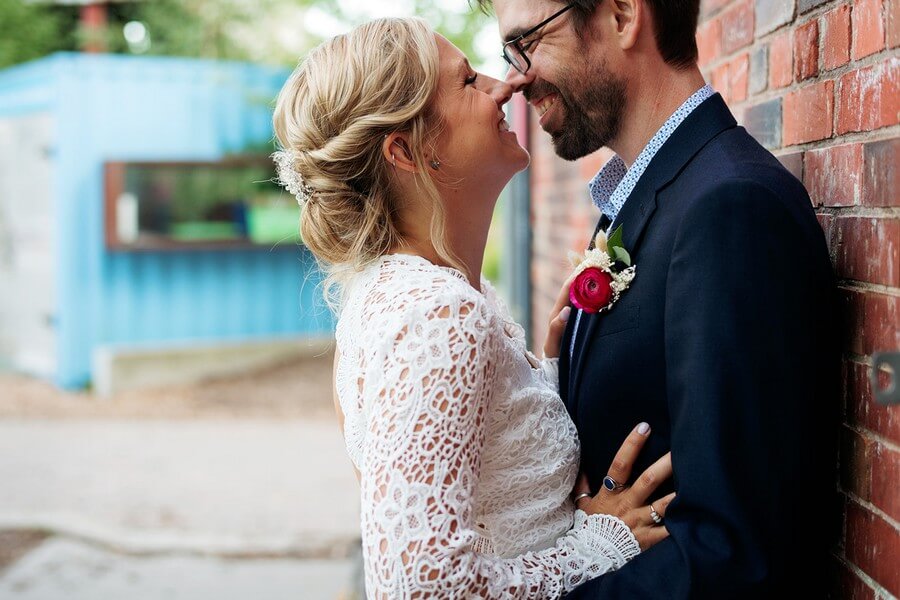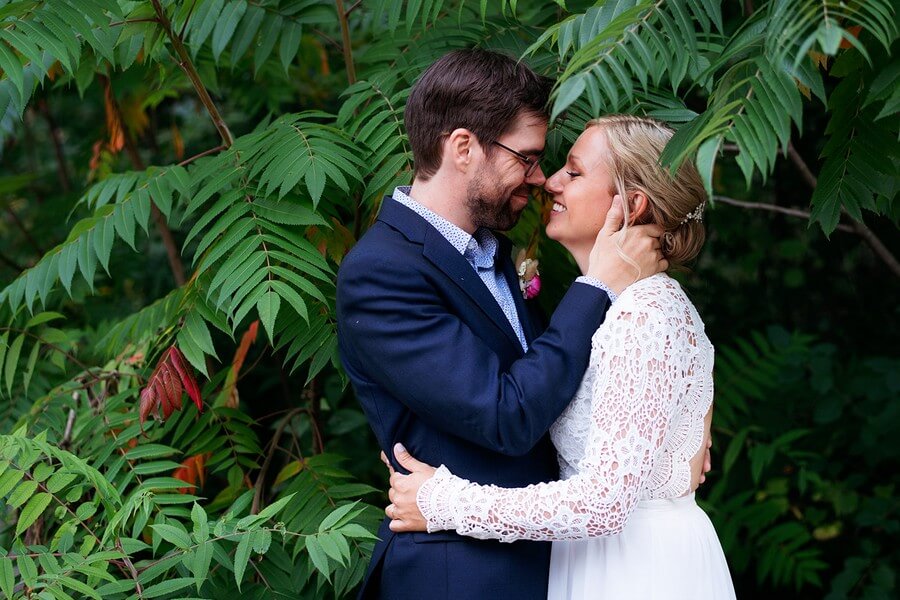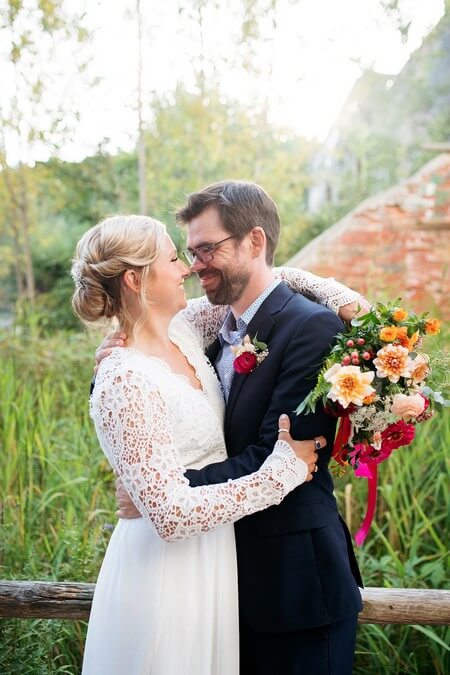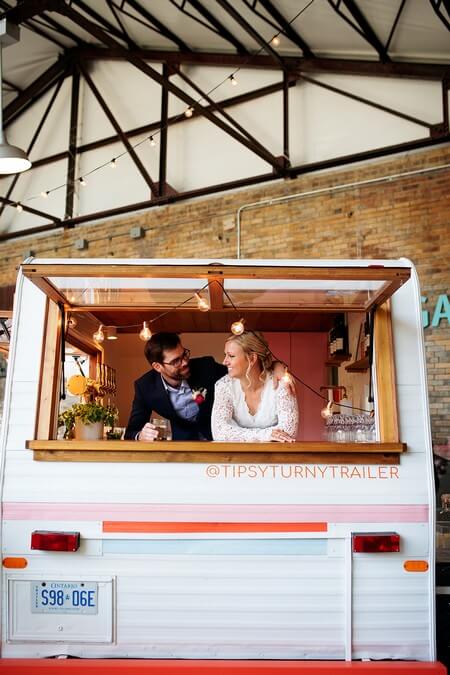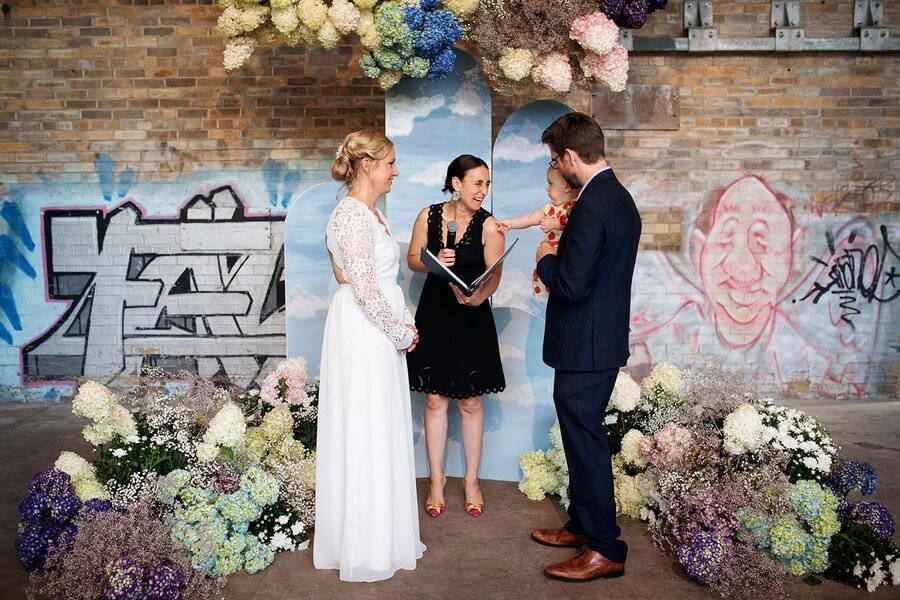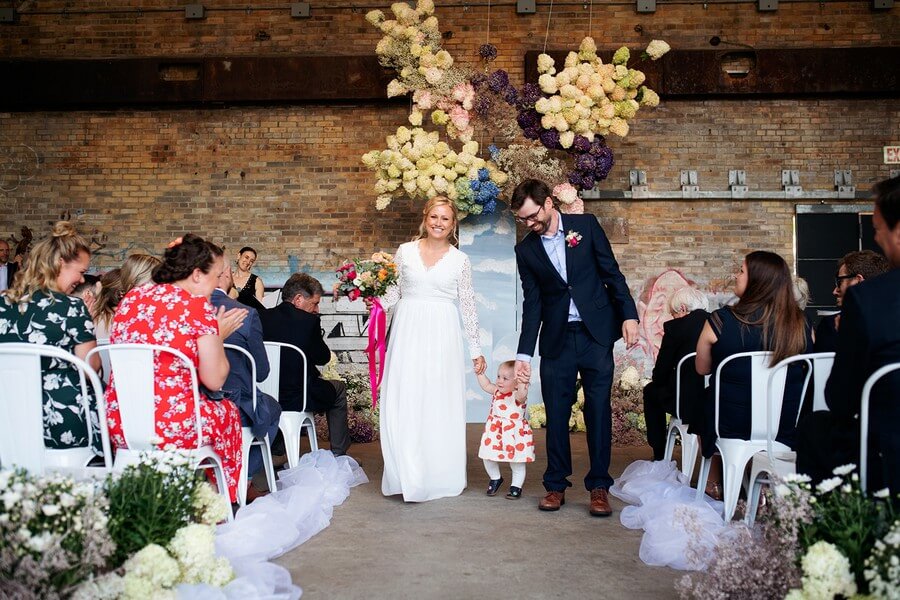 Photos Courtesy of Alicia Thurston Photography
From the Couple: We aren't fans of the pomp and circumstance that surrounds a traditional wedding, but wanted something a bit more special than city hall. When our friend told us about the pop up chapel we knew immediately it was exactly what we were looking for. The planning of a traditional wedding felt daunting and overwhelming. We loved that the pop up chapel completely simplified the process, took care of the major decisions and made it easy, without compromising on the decor or experience. At first our friends and family were a bit shocked, but once we explained the chapel experience and showed them photos of previous chapels, they were completely sold on it just like us. I think they were all a bit relieved that all the decision making was done for them and us and that we could all just sit back and enjoy the day, stress free.
Without the large wedding expense, we were able to buy a house and we plan to travel. An epic honeymoon is on the cards for sure. We are happy to have money to spend on several experiences together as a family instead of one single day.
---
Kelly-Lee and Ryan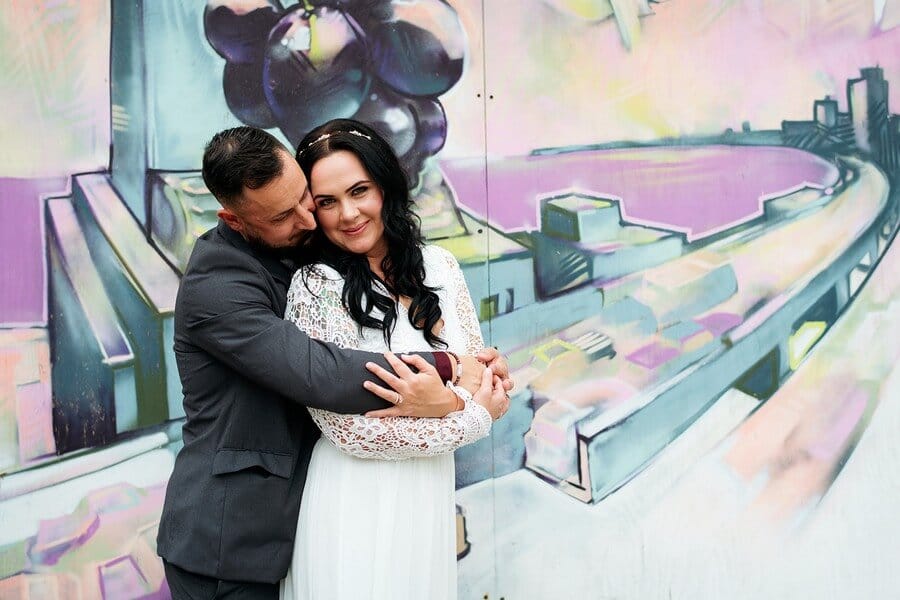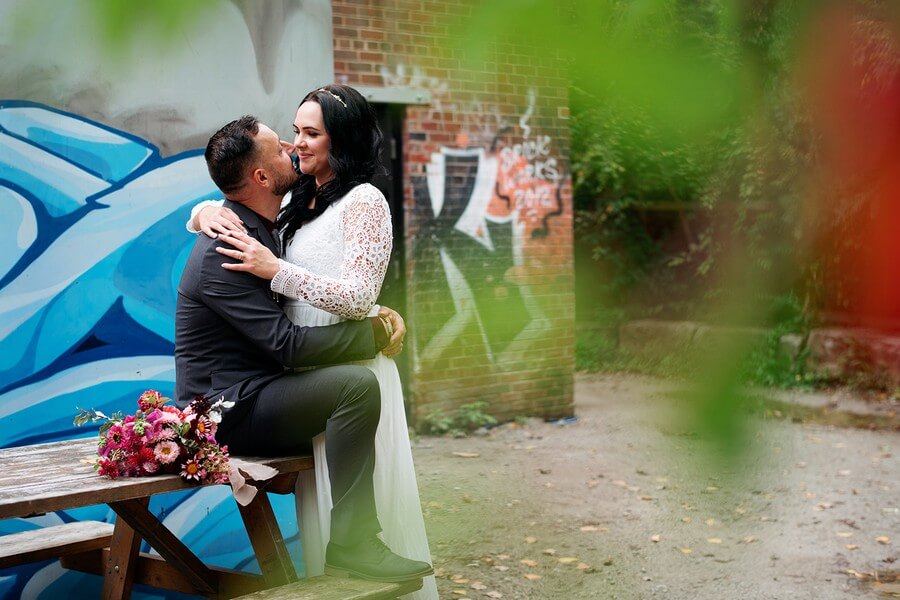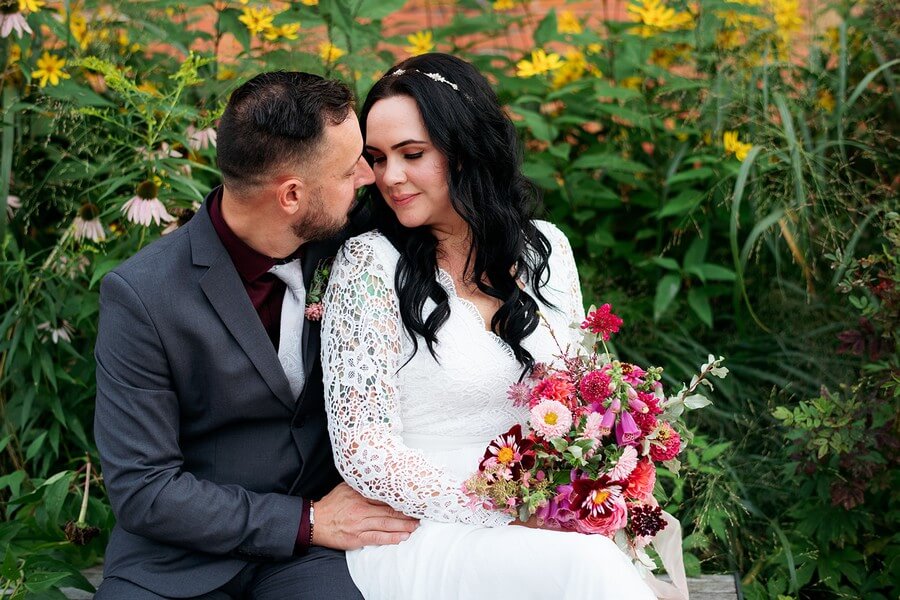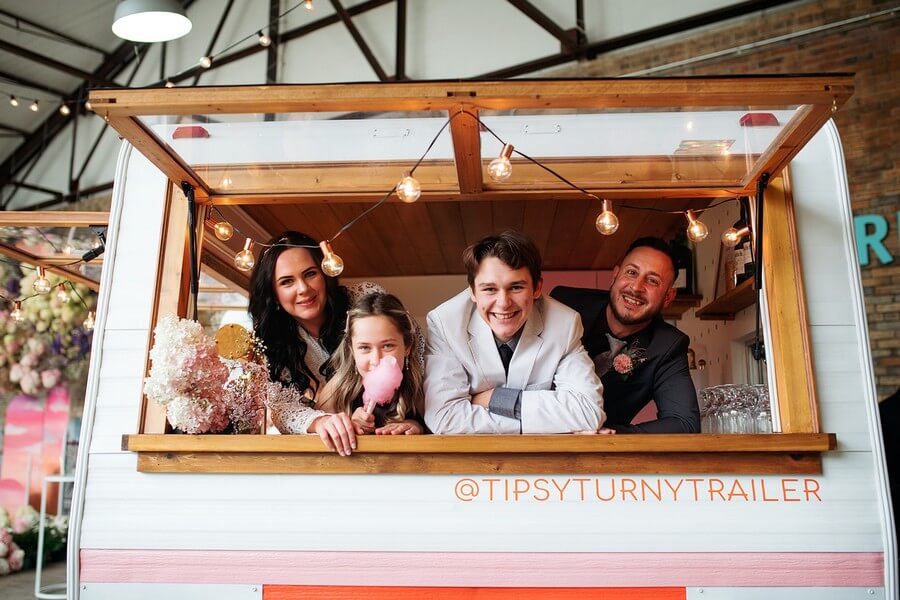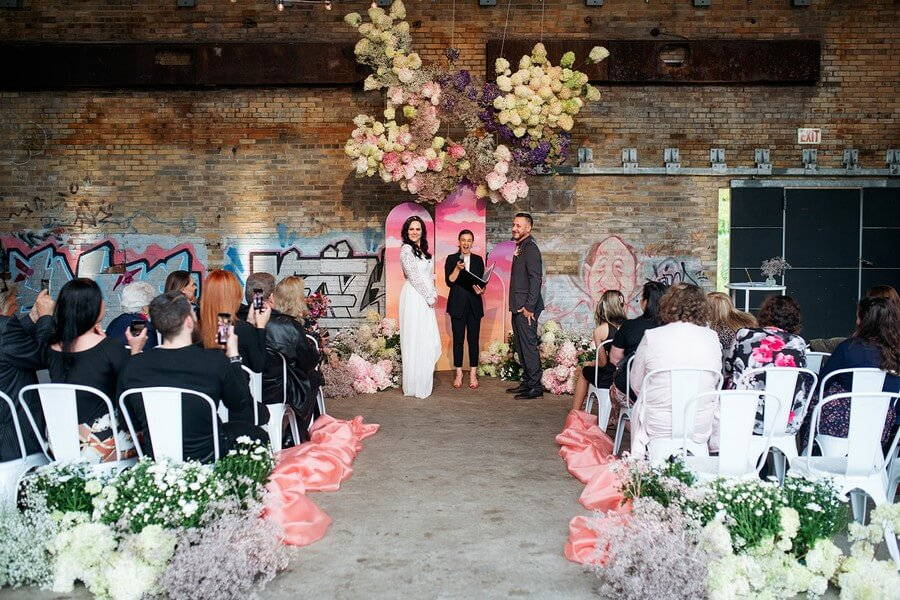 Photos Courtesy of Alicia Thurston Photography
From the Couple: We chose the pop up chapel as we have been together for many years and wanted to get married without doing a large costly wedding! It was important to us to get married in a small intimate ceremony that was quick and super stylish, required minimal work on our part and best of all some of the cost goes to charity! Our friends and family were quite happy with our decision to choose a pop up chapel. They were excited that we didn't need any planning or stress during our time and to just get married after 16 years together!
We plan on using the money we saved to have a larger party next year on our 1 year wedding anniversary to invite all of our friends and family to celebrate! And maybe a honeymoon in between!
---
Yale and Asaf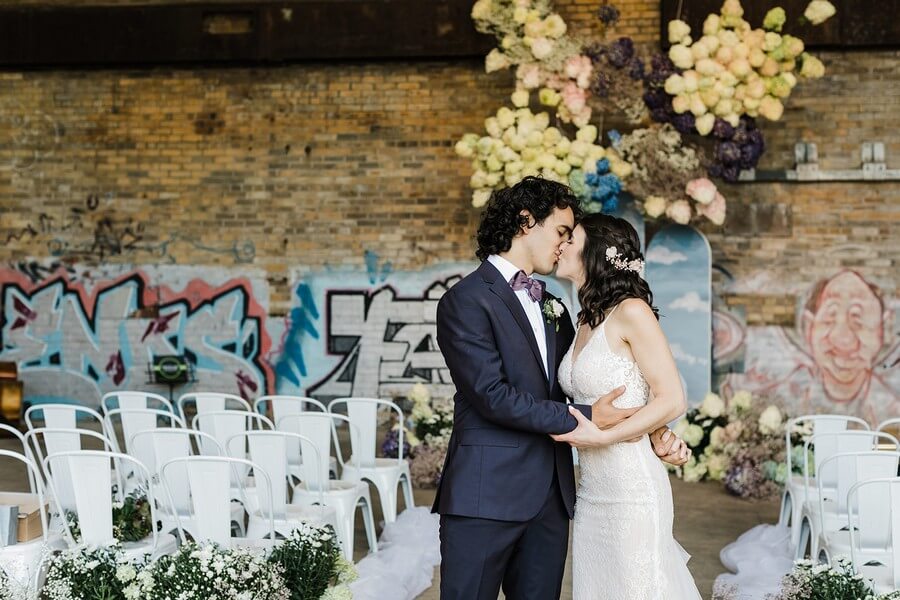 Photos Courtesy of Rita Kravchuk Photography
From the Couple: We have always wanted to get married. We wanted something special that wouldn't leave us in complete debt. When we heard about the pop up chapel on the radio it seemed like everything we always wanted. At first, our friends and family were like "huh what is that?"… and then we got a lot of "wow that is so smart!" or "I would tell everyone to do it!" They love that we are not starting our next chapter in debt. It's time to start saving up for a family and a home!
---
Hayley and Ryan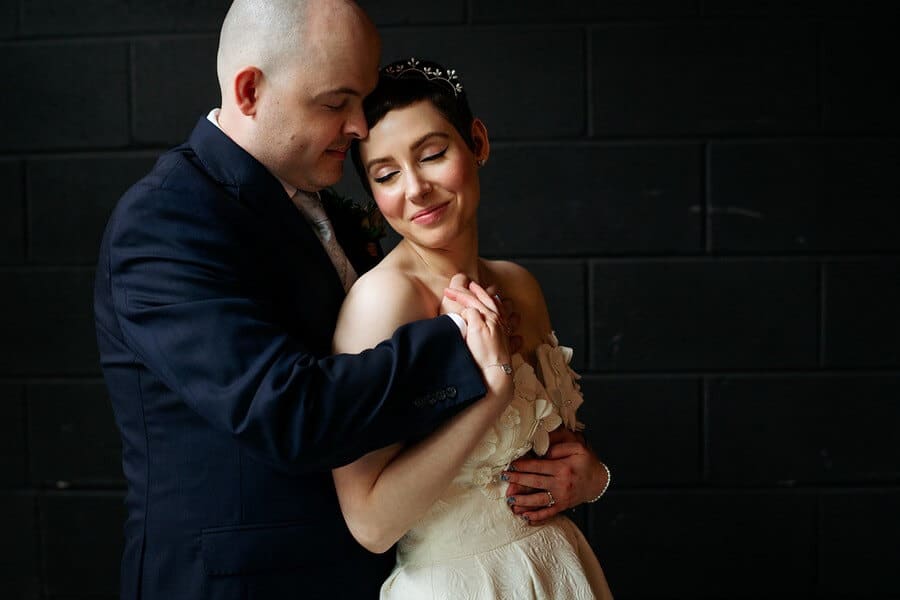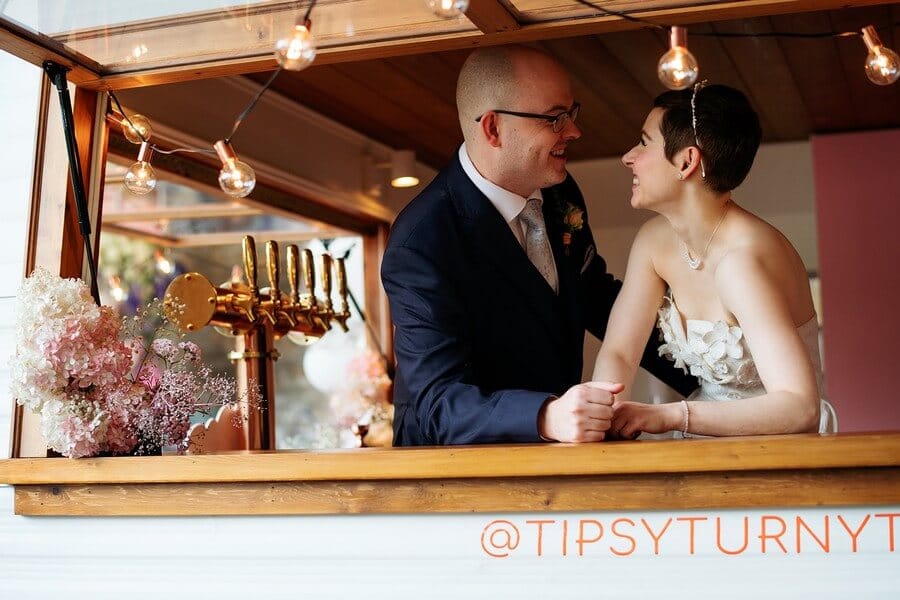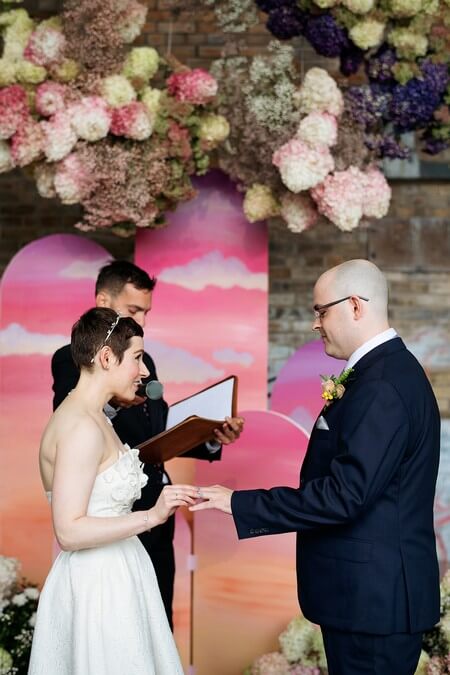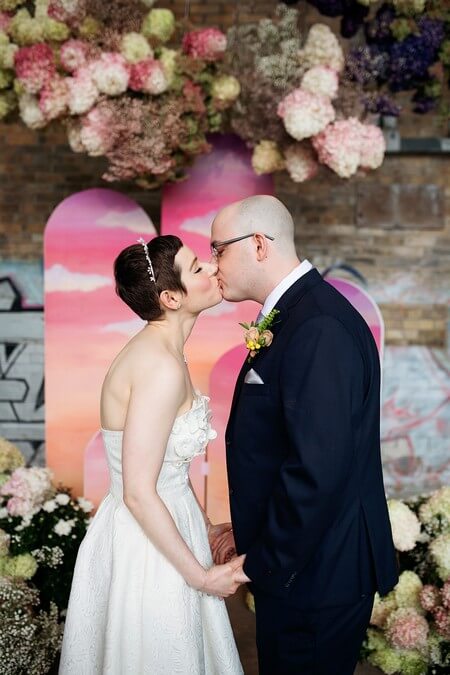 Photos Courtesy of Alicia Thurston Photography
From the Couple: We had been engaged for over three years and together for 10 and every time we tried to plan something I got stressed out over the cost of everything involved. We had decided on city hall although I was not in love with the idea because it did not really feel like a wedding and there were no perks. I wanted flowers and decorations! We liked the idea of a pop up chapel allowing us to tie the knot in a special and more meaningful way than city hall. We had waited long enough and this was the perfect opportunity for us to have a small and intimate ceremony with our nearest and dearest. I also loved how much was included for the price and the less stress that came with not having to plan as much and shop around for vendors.
With the money we saved by doing a pop up chapel, it helps bring us closer to our goal of having our own place/home. We will be living with my family for a bit so we can continue to save up in the hope of moving out as soon as possible and fully starting our lives together — just the two of us.
---
Charlene and Michalis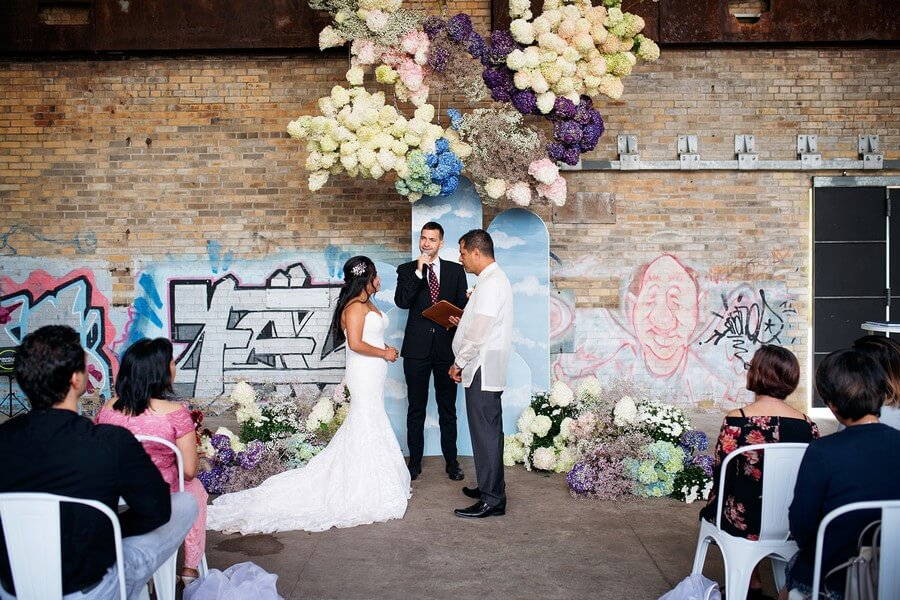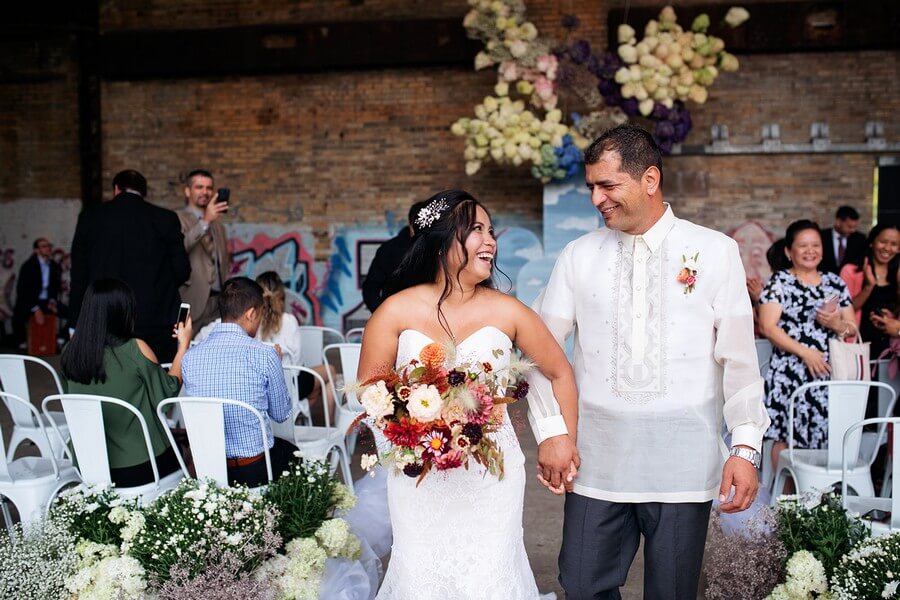 Photos Courtesy of Alicia Thurston Photography
From the Couple: We were drawn to the idea of a pop up wedding because it was less stress than planning a wedding ourselves. Knowing that we didn't have to worry because our special day would be handled by professionals really gave us peace of mind. We also loved the thought of having an inexpensive wedding with style and also giving back to charity! The money that we are going to save from doing pop up chapel will go to our mortgage/travel savings, but just knowing that we don't need to spend much money or be on any debt to get married is just pure happiness.
---
Allison and Zachary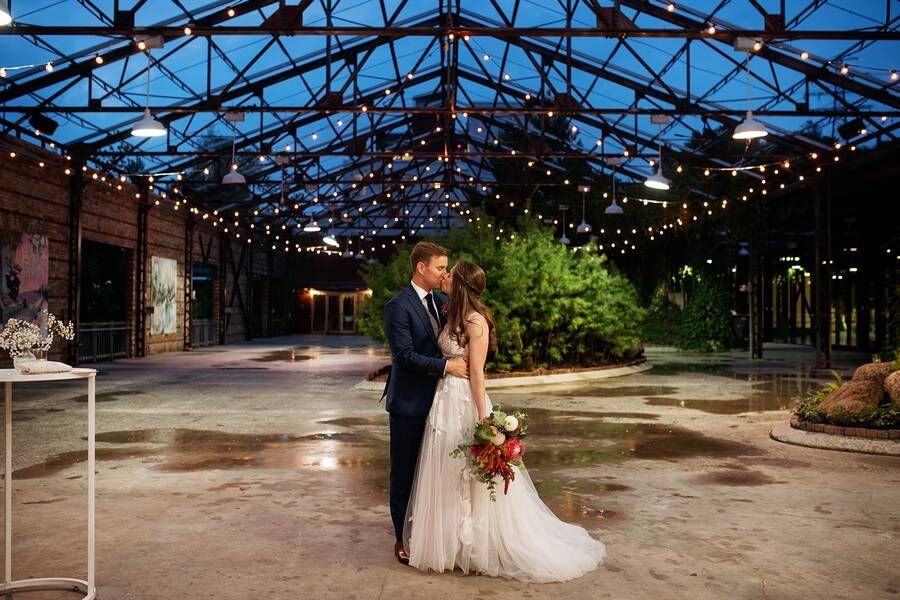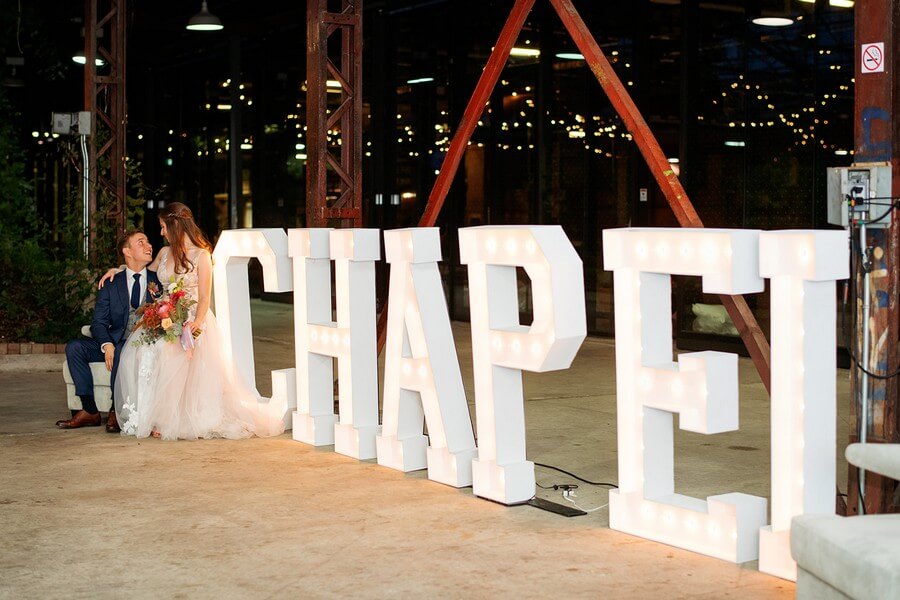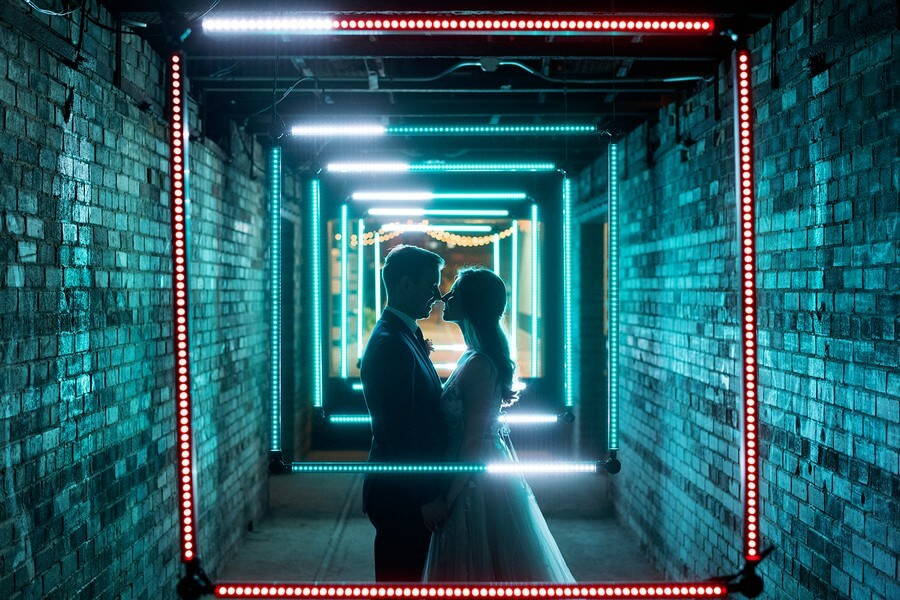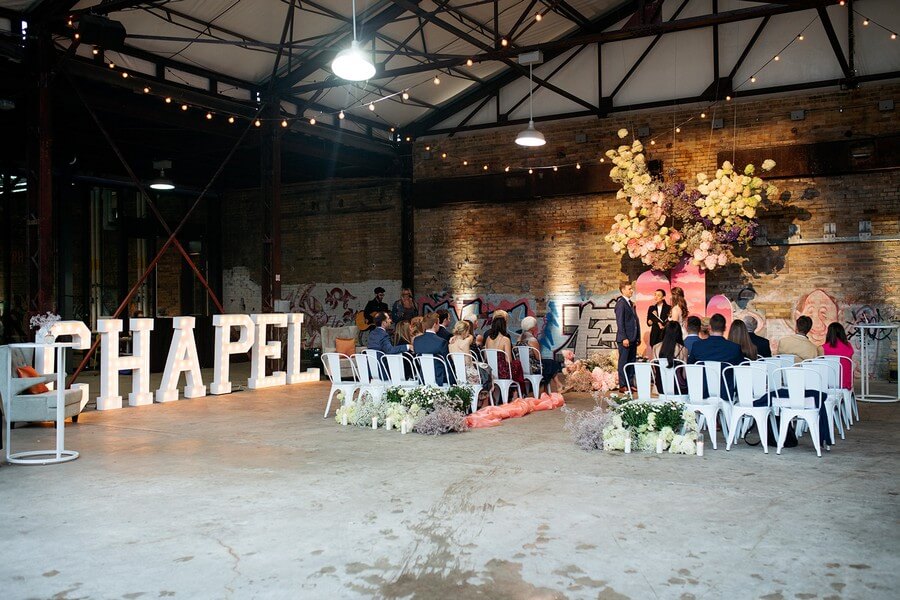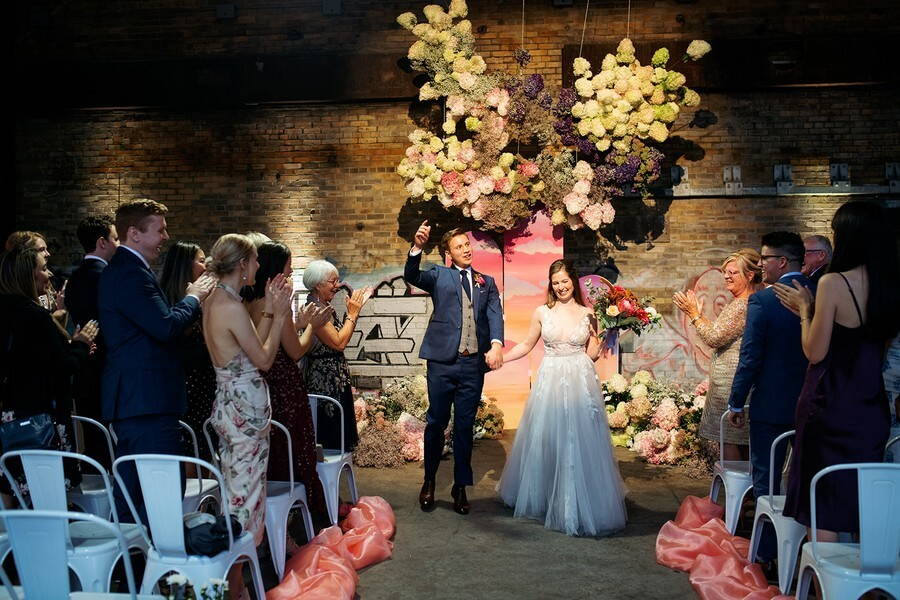 Photos Courtesy of Alicia Thurston Photography
From the Couple: The best advice we received while planning our wedding was to make a list of 'must-haves'. Making this list, we realized that our ideal celebration only required two things: our closest family and friends and good food. The pop-up chapel checked both of these boxes (with style), plus a few 'like-to-haves' such as live music and the opportunity to donate to Fetch and Releash! Our family and friends were excited to join us for an intimate celebration. My parents also had a small wedding and they highly recommended that we do the same. After the chapel, we headed to the Drake Hotel for dinner and dancing.
The opportunity to save money was definitely a draw of the chapel, but the best part of foregoing a traditional wedding was the time savings. Instead of spending 1-2 years stressing over wedding plans, we spent 7 months enjoying our engagement, planning our honeymoon and looking forward to the big day.
---
Heather and Chris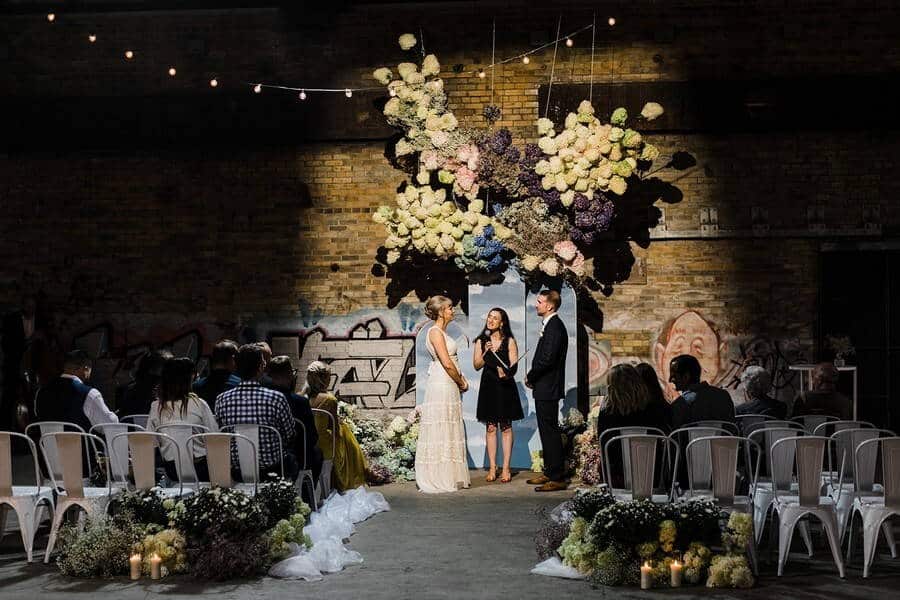 Photos Courtesy of Rita Kravchuck Photography
From the Couple: What started as a joke in the fall of 2018 (why don't we just get married on our anniversary?!) turned into a real possibility when my fiance' learned about pop up chapel! When we looked into Love by Lynzie's previous events we were sold! Our loved ones were surprised both that we decided on such an interesting way to get married, but also that we were (finally!) tying the knot after 20 years of being together!
---
Jordan and Eric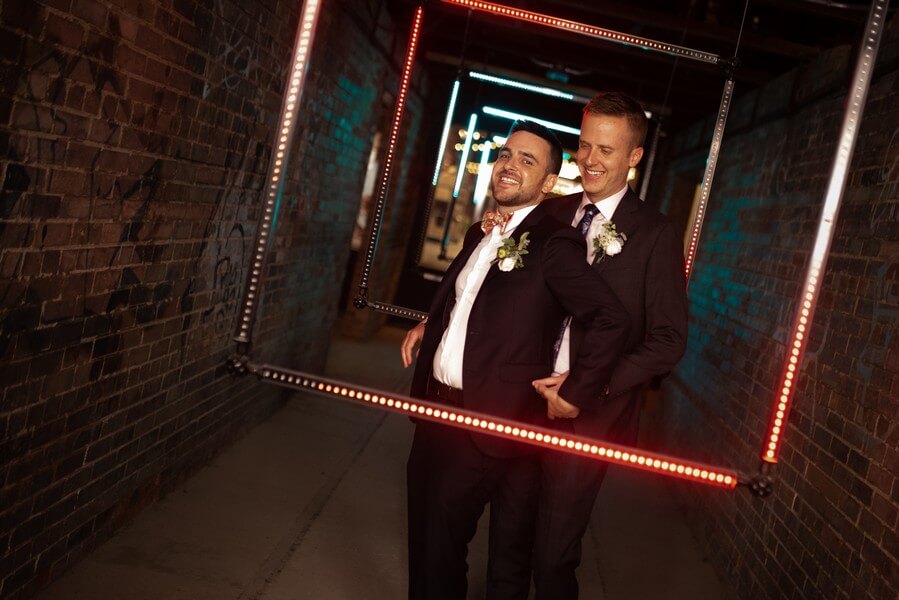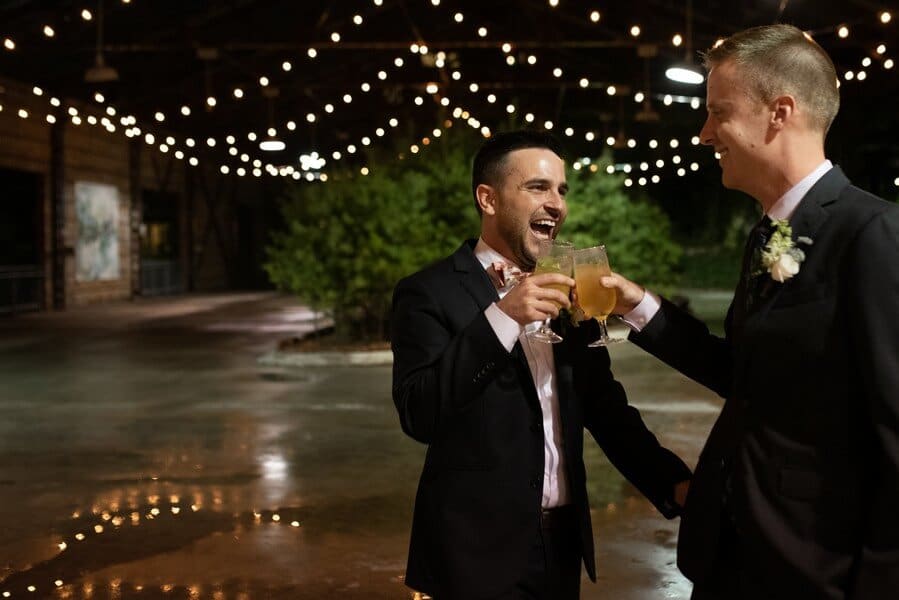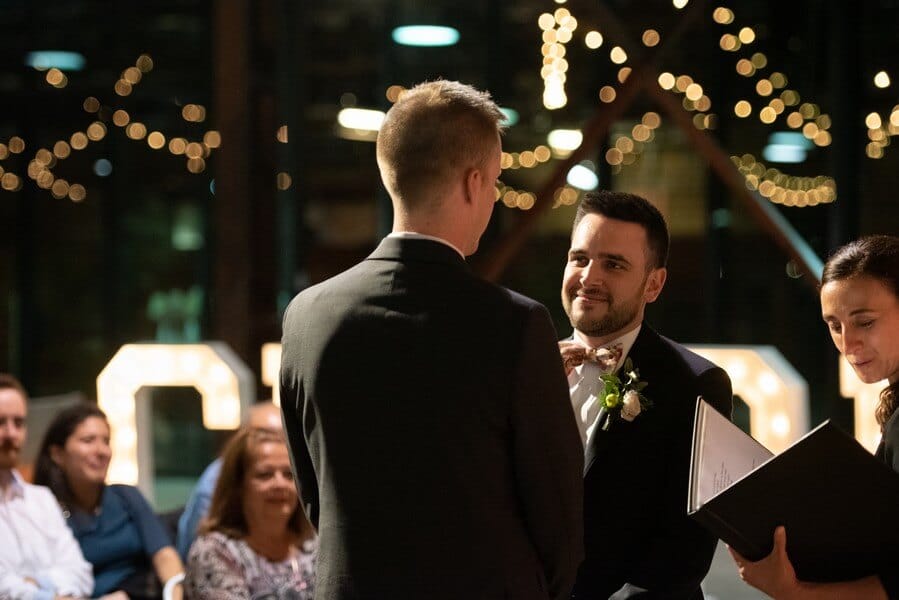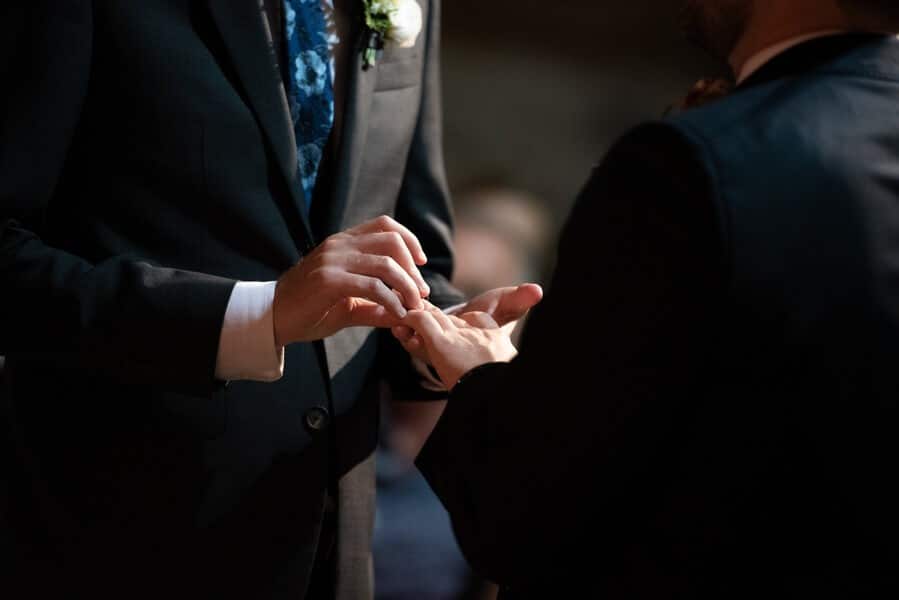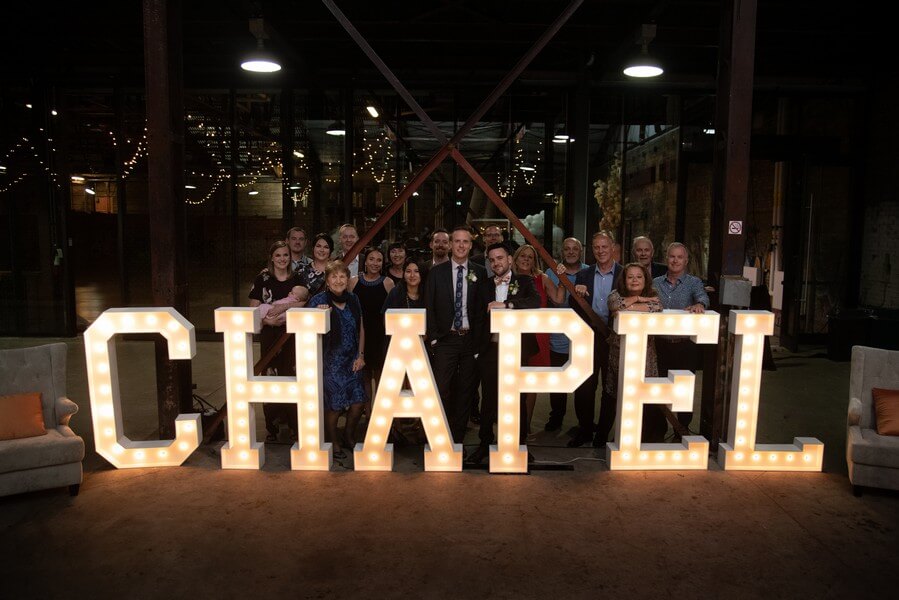 Photos Courtesy of Wade Muir Photography
From the Couple: We were interested in doing something very small and just including our family as the idea of a larger traditional wedding never appealed to either of us. We were originally interested in doing something at city hall, however, my mom stumbled across the pop up chapel and we all agreed very quickly that this concept was the right choice for us. We were largely drawn in by the inclusion of the photographer as we still wanted to have memorable photos from the day that weren't just taken at city hall.
Our family and friends had been warned throughout our relationship that we would not be having a traditional wedding so it didn't come as a surprise to them when we announced that we would be participating in the pop up chapel. Everyone understands our view of what having a wedding means to us and they are all supportive. We decided to only have immediate family join us for the pop up chapel so there were definitely a few disappointed close friends and extended family members, however, they are all very understanding of the decision we made. We opted to have a couple of dinners with some small groups of friends and extended family members over the weekend following the chapel. Overall everyone has been very impressed when we explain what the pop up chapel is. One of my friends at work even put herself on the wait list to participate next year. She has now secured a spot at a pop up chapel next summer!
We don't have any serious plans to spend the money that we are saved from doing the pop up chapel instead of a traditional wedding. In some ways the money is already spent because we bought our first home together last summer. As I said earlier, we had always planned to do something small so we didn't ever really have money set aside for our wedding. This concept just helped us with making the day that little bit more special while keeping it small and affordable the way that we had planned.
---
Lindsay and Graham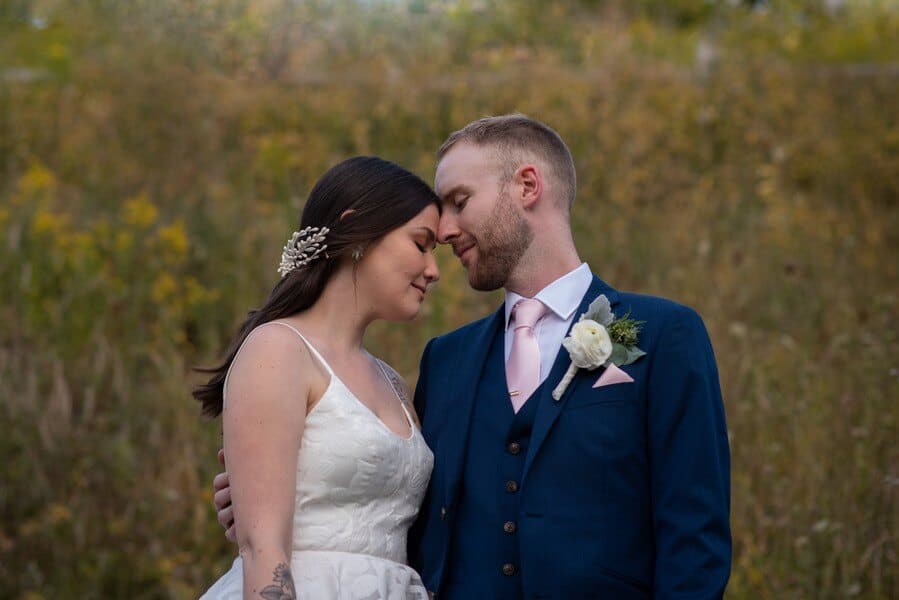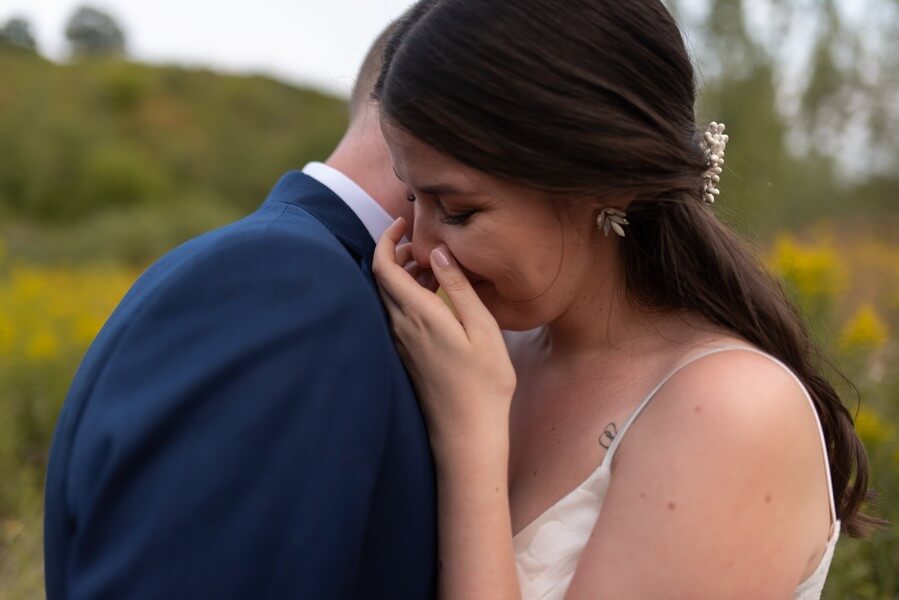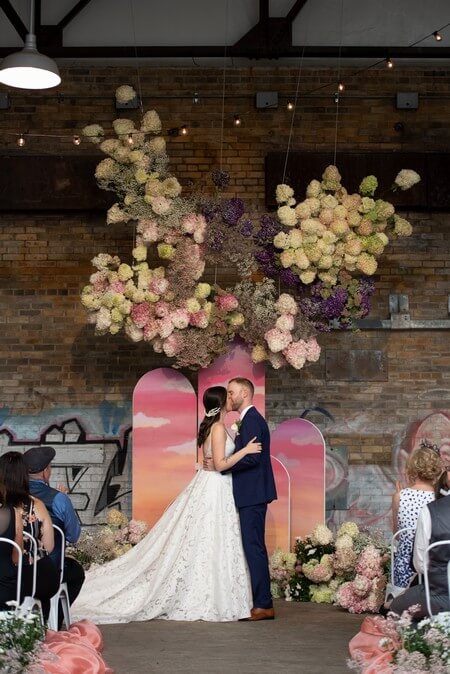 Photos Courtesy of Wade Muir Photography
From the Couple: We were really drawn to the pop up chapel for it's ease. We're not very traditional so we wanted a day that was special and relaxed. Our friends and families were really intrigued and loved the concept! Some of our friends were disappointed they couldn't come, but we like that there's just room for family. We love travelling so we're excited to put what we save towards an unforgettable trip.