You may already know this (or perhaps you are in the process of learning this), but planning a successful, memorable wedding doesn't happen by chance! It's no secret that hiring an experienced and reputable wedding planner can make all the difference. They have the knowledge, the connections, the talent, and the leadership qualities required to pull together one of the most important days of your life.
Luckily for us Toronto-folk, there are so many awesome wedding planners in the GTA that are ready, willing, and able to help you plan the wedding of your dreams – whether it be a laid back, low key affair or a luxe wedding filled to the brim with lavish florals and extravagant decor! To help get you inspired, we reached out to said local talent and asked them to share their favourite weddings from last season. Let's start pinning!
---
KJ & Co.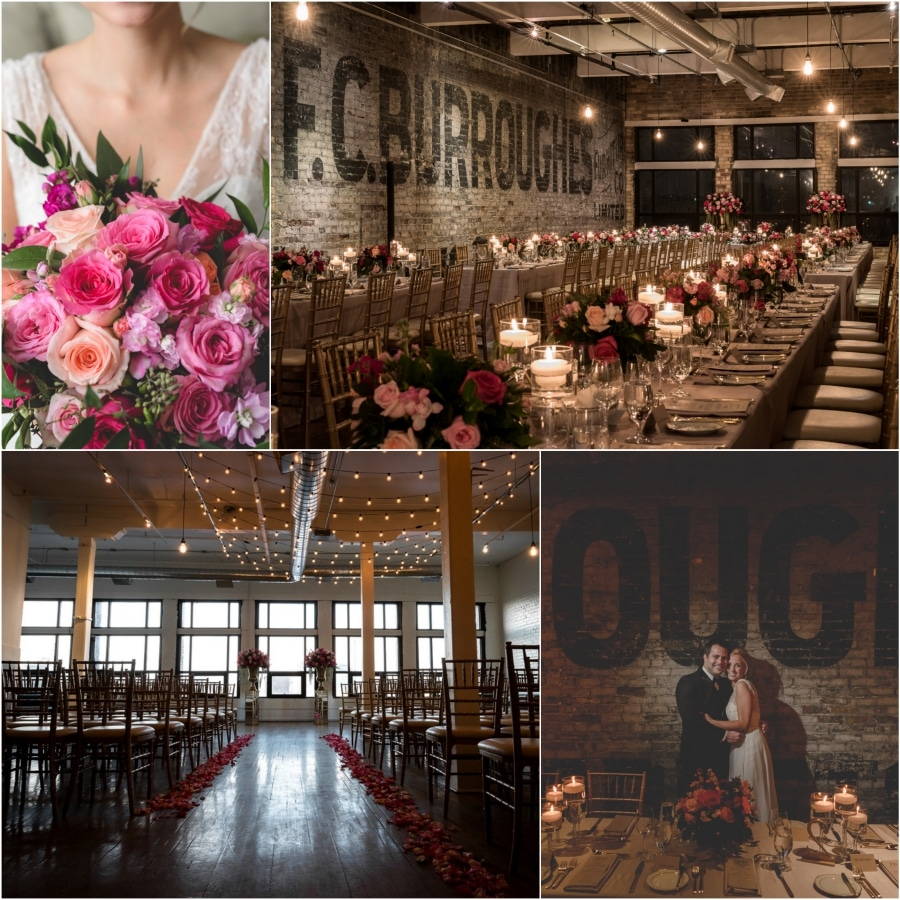 Photos Courtesy of Vaughn Barry Photography
"Since the bride had already walked down the aisle as a bridesmaid in two previous KJ and Co. weddings, I was pretty excited for her big day filled with familiar faces. Not to mention, we were very happy to be working at The Burroughes again. Such a neat space! In this case, we opted for dinner in the exposed brick room, filled with romantic candlelight and lush florals from Rachel A. Clingen Wedding & Event Design. This made for a very dramatic look and intimate feel for dinner. The ceremony, cocktail hour, and dancing took place in the larger adjacent loft space. The string lights and candlelight really added to the atmosphere as guests enjoyed the evening."
– Krista Jane, KJ & Co.
Vendors Featured in this Article
---
Blush & Bowties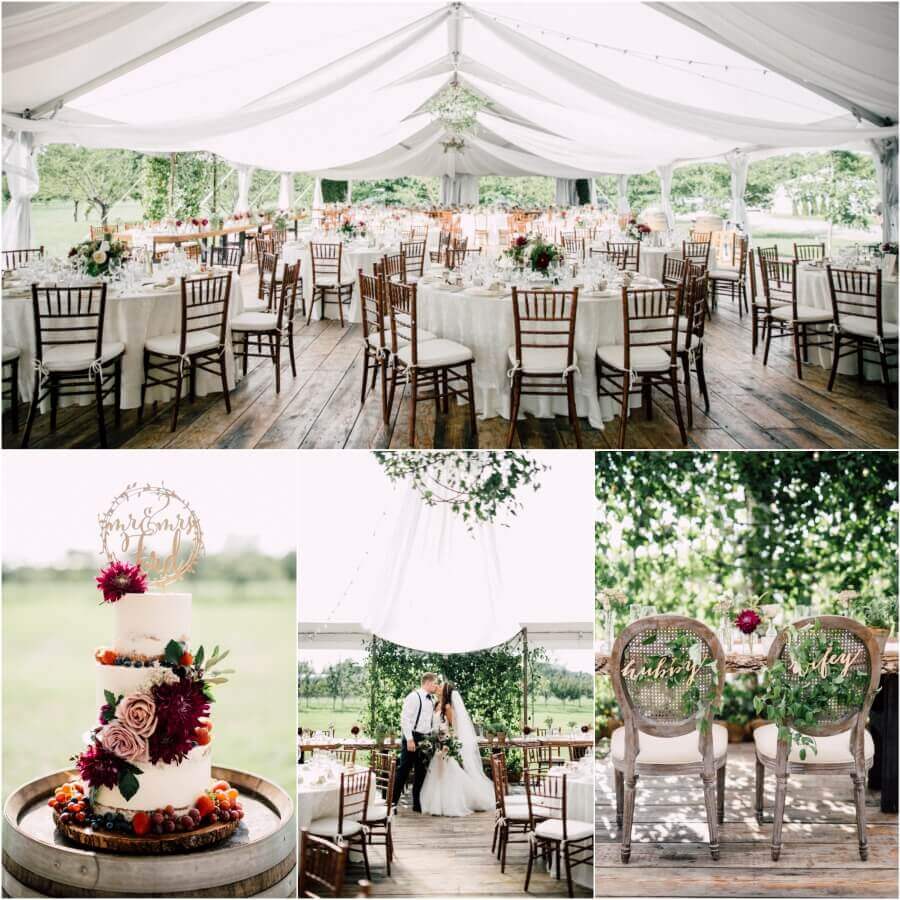 Photos Courtesy of Simply Lace Photography
"Adriana and Mike's wedding day was full of whimsical and romantic details and was one of my favourite weddings of the past summer to help plan, design, and execute. From the berry and dusty purple flowers by Bloom & Co. the incredible semi-naked berry cake by Cake Luxe, the iron chandeliers with hanging foliage, the custom stationery by Paper & Poste, and the string light backdrop by Simply Beautiful Decor, and live edge tables, this wedding was the perfect expression of the couple's fun loving nature and impeccable taste.
I think it's so important to think about the enjoyment of the guests when planning a wedding and Adriana and Mike truly gave their guests an entertaining event at one of the most picturesque locations in the Niagara region, Kurtz Orchards. Their day had live music, an airstream photobooth (provided by Snaptique), and even surprise fireworks from a neighbouring vineyard! The day was full of energy, love, and so much laughter, not to mention an amazing dance party to close the evening. This wedding was a non-stop party, and I couldn't help but notice the couple smiling ear to ear the entire day, which really is the main goal when all is said and done."
– Alexandra McNamara, Blush & Bowties
---
Rebecca Chan Weddings & Events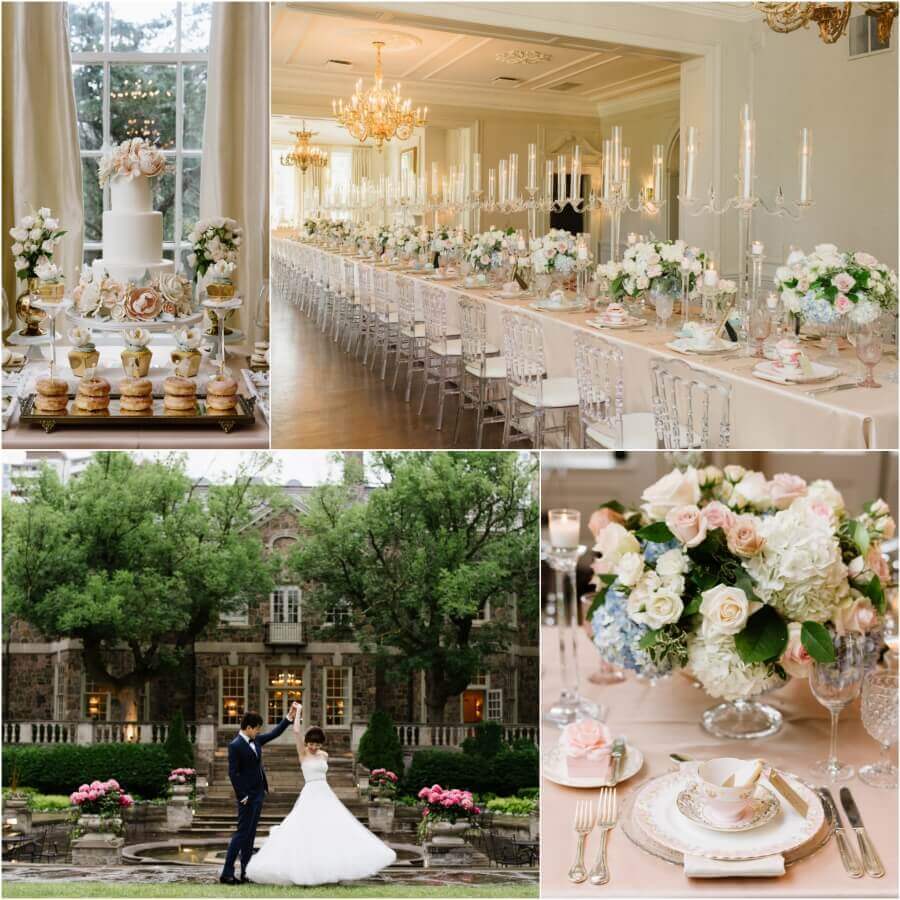 Photos Courtesy of Mango Studios
"Every wedding we planned last year was so special but one stands out in particular. I was inspired by the old world charm of Graydon Hall Manor and our bride's love for afternoon tea. Her favourite colours were soft blue and blush, and we collaborated with Rachel A. Clingen Wedding & Event Design to infuse these colours into every ounce of the wedding. After a romantic outdoor ceremony, guests dined indoors along one dramatic table overflowing with crystal candelabras and soft blooms. Each place setting included mismatched vintage China of alternating pink and blue colours. Since it was afternoon tea inspired, we created tea bag cookie name tags for each guest. This wedding was truly picture perfect from beginning to end and I was thrilled to plan it with this sweet couple."
– Rebecca Chan, Rebecca Chan Weddings & Events
---
As You Wish Weddings
Photos Courtesy of Simply Lace Photography
"Iryna & Brendan's wedding took place at Gracewood Estates on the stunning grounds of Kurtz Orchards in Niagara-on-the-Lake. Together we spent 16 months planning and curating a day that fit the couple's vision, which was filled to the brim with gorgeous details including a white tent strung with bistro lights, a seating chart hung in a tree, fresh seasonal blooms, and live entertainment. A highlight of the night was an unplanned and heartfelt moment when their guests lit sparklers while the bride & groom cut their wedding cake. We can't say enough about how enjoyable this wedding was to plan and be a part of – we just wish we could do it all over again!"
– Caryn Leith, As You Wish Weddings
---
La Chic Soiree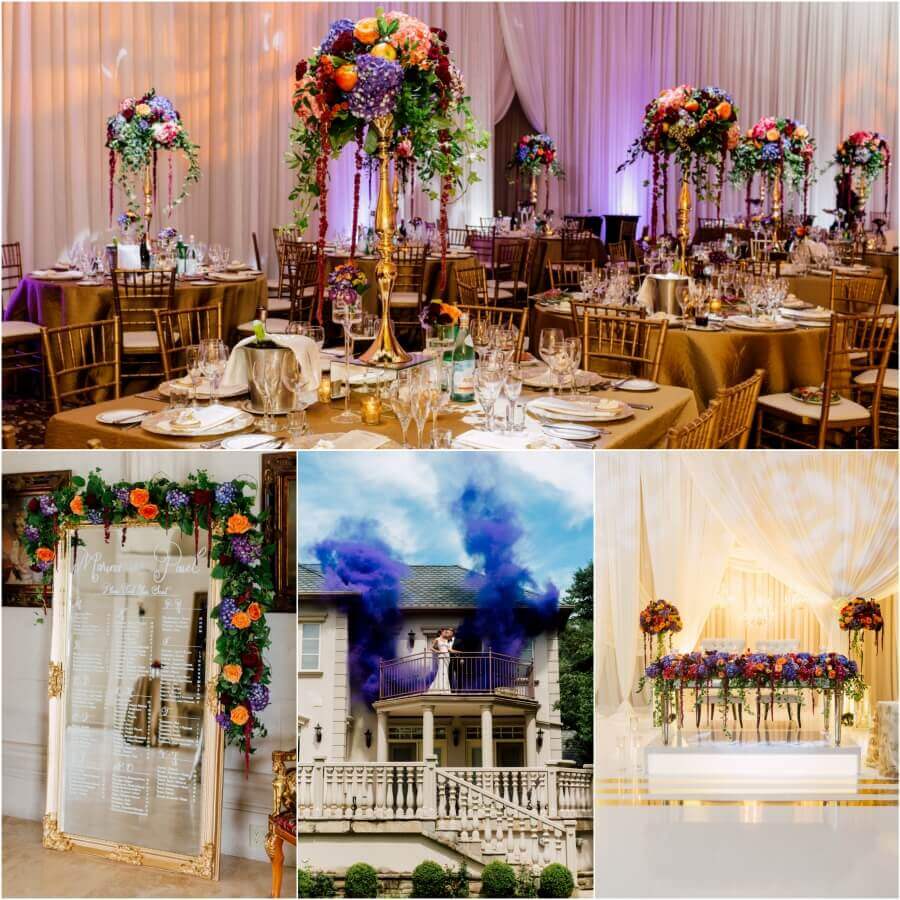 Photos Courtesy of  Purple Tree Wedding Photography
"The reason I loved this wedding is because the couple let me take creative control of the overall design and look of the wedding. It was so different in terms of colours than most weddings. The bride really wanted that regal feel to her wedding so we played up the gold tones and even added fresh apples to the centrepieces to enhance the look. The mini desserts were made by Fine Cakes By Zehra – she really played up on the royal feel and created the most beautiful (and delicious) minis I've ever seen! With florals from , the wedding looked like something that would take place in Italy with a Tuscan vibe!"
– Anya Bortnik, La Chic Soiree
---
Love By Lynzie Events + Design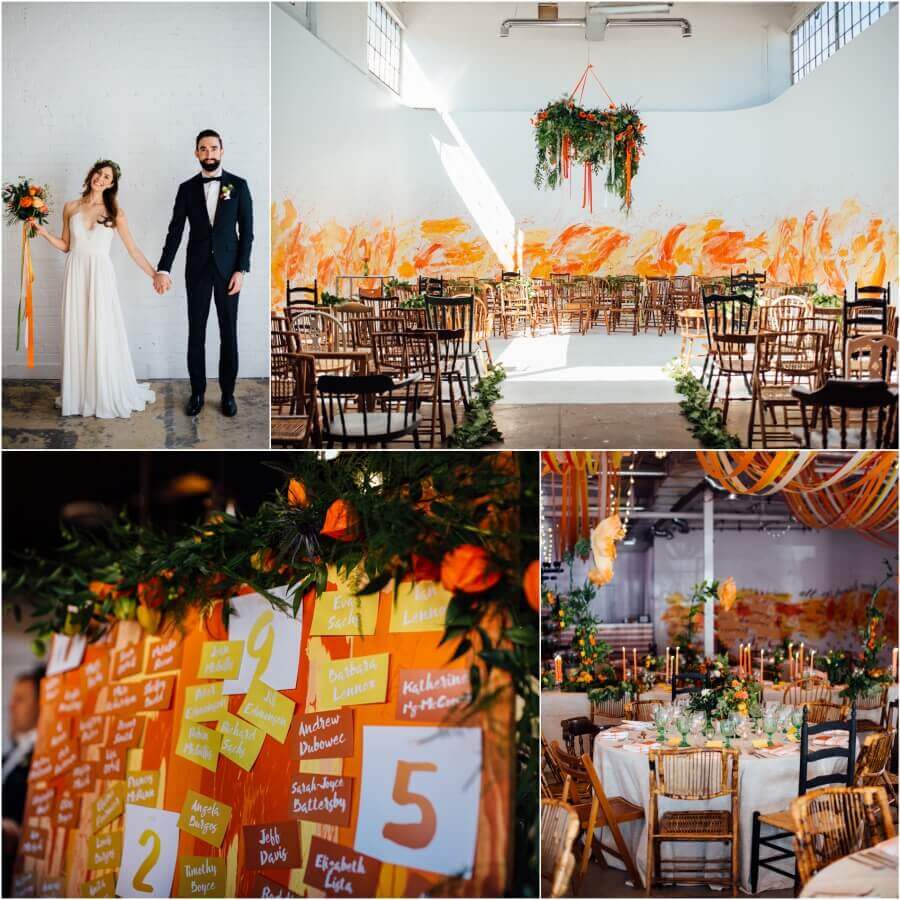 Photos Courtesy of Sara Monika, Photographer
"It's safe to say that Erin and Chris' wedding was not only our favourite of last season but of all time. There was so much insane detail put into every aspect of this wedding. It helped a lot that the couple had been together since high school and had a lot of history that added personal touches everywhere! Erin and Chris came to us with a completely open mind and wanting to do something totally unique. They absolutely knew they wanted their wedding's colour scheme to be orange and green, and that's when we knew it was kismet… I mean orange?! Come on!
Erin and Chris got married at District 28 in early September. Being a film studio, District 28 is literally a blank white space, so you have to be as creative as you can be! We were allowed to paint all over the walls and create murals for both the ceremony and reception space which was an absolute blast! The paint splatter meets enchanted forest theme carried on throughout every room of the venue including the paint splatter guest book and seating chart in the cocktail space. The ribbon installation and hand made paper flower centrepieces were hands down the coolest things we've ever seen done at a wedding and really brought a feeling of whimsy to the space.
Looking back at these photos still gives us the "feels" and puts a smile on our faces. We loved working with Erin and Chris on their wedding and can't wait to have more open-minded creative clients to walk through our doors in the future."
– Carlee Wright, Mad Bash Group
---
Fusion Events
Photos Courtesy of Everlasting Moments
"What makes a "favourite" wedding for me isn't necessarily details or budget. While those things are great, as a planner, I most enjoy the people. Every couple is different; therefore, the process is always changing and I deeply enjoy the discovery process. Crystal and JD were just lovely people to work with and that's what made it one of my favourite weddings of the year (the fact that it was a veritable dream team of vendors was also nice). They met in law school in Michigan and have been inseparable since.
The wedding featured a rich pallet of jewel tones which was brought to life by the amazing team at Stemz. Guests were treated to a 5 course meal at the amazing Four Seasons Hotel. The couple and their guests danced the night away to the sweet sounds of the band Shugga. At the end of the night everyone grabbed their custom hangover kits as they would most certainly need them!"
– Arthur Kerekes, Fusion Events
---
O Weddings and Events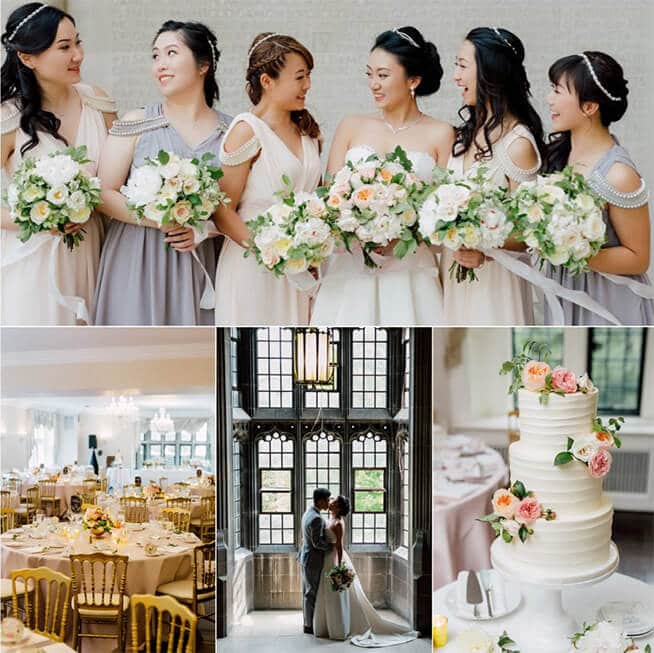 Photos Courtesy of Purple Tree Wedding Photography
"One of our favorite weddings of 2016 was Angel and Guxin's garden inspired wedding at the Estates of Sunnybrook. I knew they were the kind of couple I would love to work with from the moment I met them. During our consultation, Angel and Guxin expressed their love for wedding details and we talked about incorporating soft pastel colours, premium garden florals, blush linens, gold accents, and small personal touches to make their day really unique and intimate. The wedding day itself was a dream come true. The day was beautiful and sunny and the couple had their ceremony and reception dinner in the gorgeous grounds of Vaughan Estate. We kept all the colors and florals in consistent theme and with a team of amazing vendors, we brought their picture perfect wedding visions to life."
– Jessie Huang, O Weddings and Events
---
Ashley Pigott Events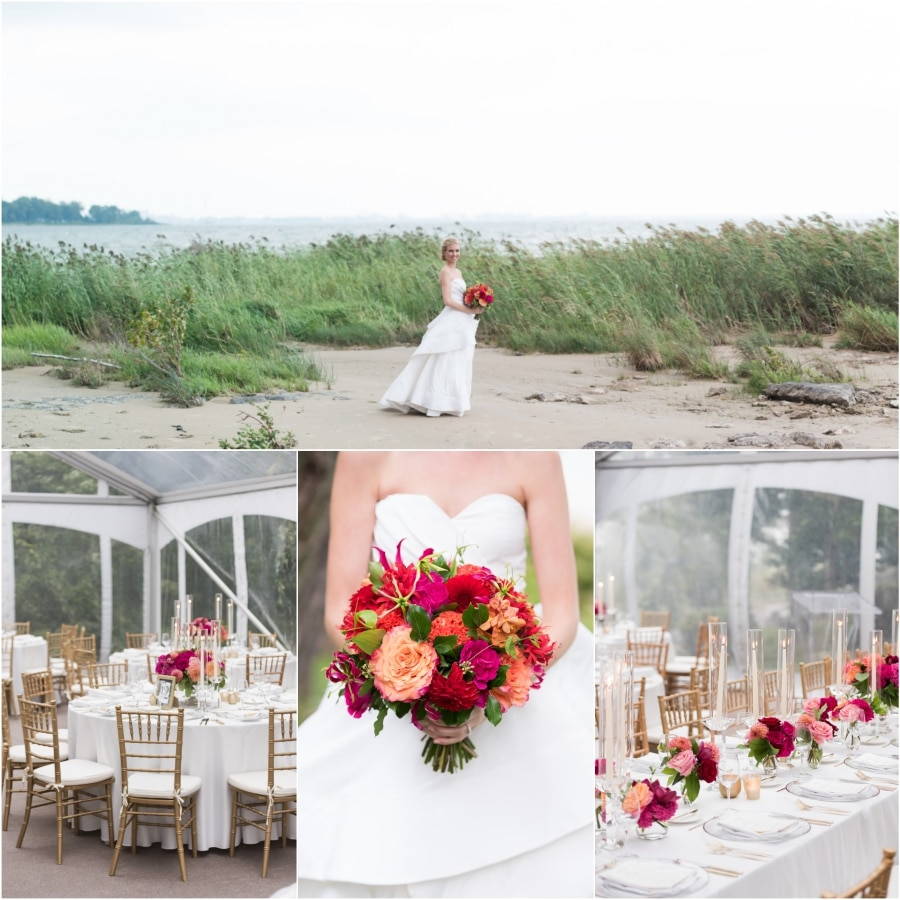 Photos Courtesy of 515 Photo Co.
"Maria and Ryan were one of our all time favourite couples! We knew when they entrusted us to plan and design their day that these two were special. Planning from afar, Maria is in New York City and Ryan in Philadelphia, they were set to be married at Maria's family beach house in Niagara. Working together, we meticulously planned every detail of the day – from florals and decor, band and entertainment, and Ryan's request of strings lights everywhere! Inspired by our bride's grandmothers garden, we used bright corals and vibrant oranges with accents of gold throughout. Each and every moment of the day was set and ready for execution.
On the day of the wedding, a storm rolled in over Lake Erie and we braced for the worst. The ceremony was moved into the cocktail tent, the umbrellas were out in full force and all contingency plans were put into action. All the while, our bride remained cool as a cucumber. The guests smiled and laughed as the rain poured down and the feeling of togetherness was never been more present than it was in that tent. Each and every person, guests, family, bridal party, and even the waitstaff remained in high spirits and did everything they could to ensure this day was one none of us will ever forget. Maria and Ryan, the most gracious couple we have ever had the pleasure of working with, will forever be with me. Their wedding day will be one that we will all remember for a lifetime."
– Ashley Pigott, Ashley Pigott Events
---
Fabulous Occasions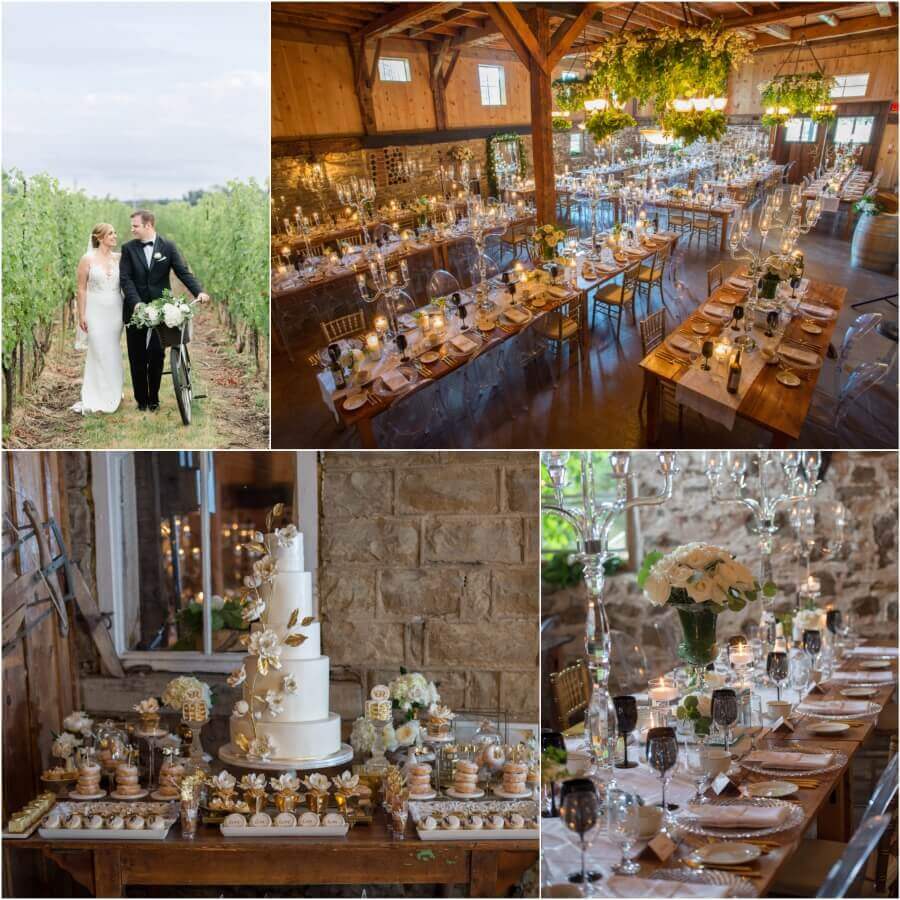 Photos Courtesy of Krista Fox Photography
"Stefani and Rick's wedding at Honsberger Estate was definitely one of my favourites from last wedding season! The bride was an absolute sweetheart and very open to all of my ideas and suggestions! Stefani & I decided early on in the planning process that we wanted to do something a little bit different with the styling of the wedding. The reception space at Honsberger Estate is a circa 1800's barn so most couple getting married there tend to stick to a rustic chic décor theme, but we decided to bring some glam into the space!
Enlisting the help of Daniela from Wild Theory Floral and Event Design we glammed the space up by incorporating mirrors, crystal, white roses, gold accents, and a touch of black for sophistication into the design. We had a mix of gold chaivari chairs and clear ghost chairs to further play on the eclectic, yet modern approach to the design. The show stopper was the floral treatment which was added to the existing chandeliers in the venue. The finished product was truly breathtaking! Another favourite element was the stunning cake & dessert table created by Christina from Truffle Cake & Pastry. It was beautiful & delicious! The guests were treated to a feast for all senses with the beautiful décor, the fabulous wine & food, gorgeous smell of roses and danced the night away!"
– Malvina Chevolleau, Fabulous Occasions
---
Distinct Occasions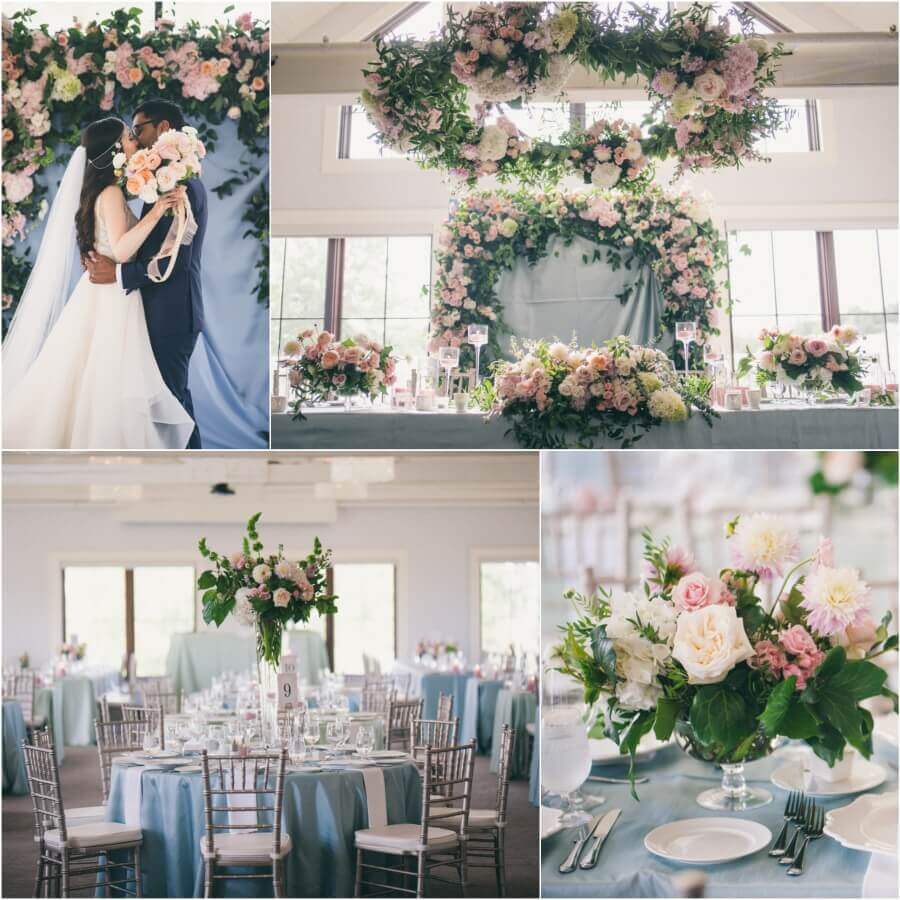 Photos Courtesy of Taylor Jackson Photography
"Some couples seem to fold into each other and compliment each other so well it has a way of reminding the world that true love does exist. Shannon & Shaan are all of that to each other and to their distinctively large families. When planning their wedding, we wanted to mix their cultures to create a wedding fusion that both families (Hindu & Italian) would love. The result was two of a kind: two magical days of celebration, two wedding ceremonies, two outfits for each of them, two meals and one love story. Funnily enough, I was a gift to the couple from the groom's sister & bridesmaid whose wedding I had planned years earlier!"
– Crystal Adair-Benning, Distinct Occasions
---
Weddings By Design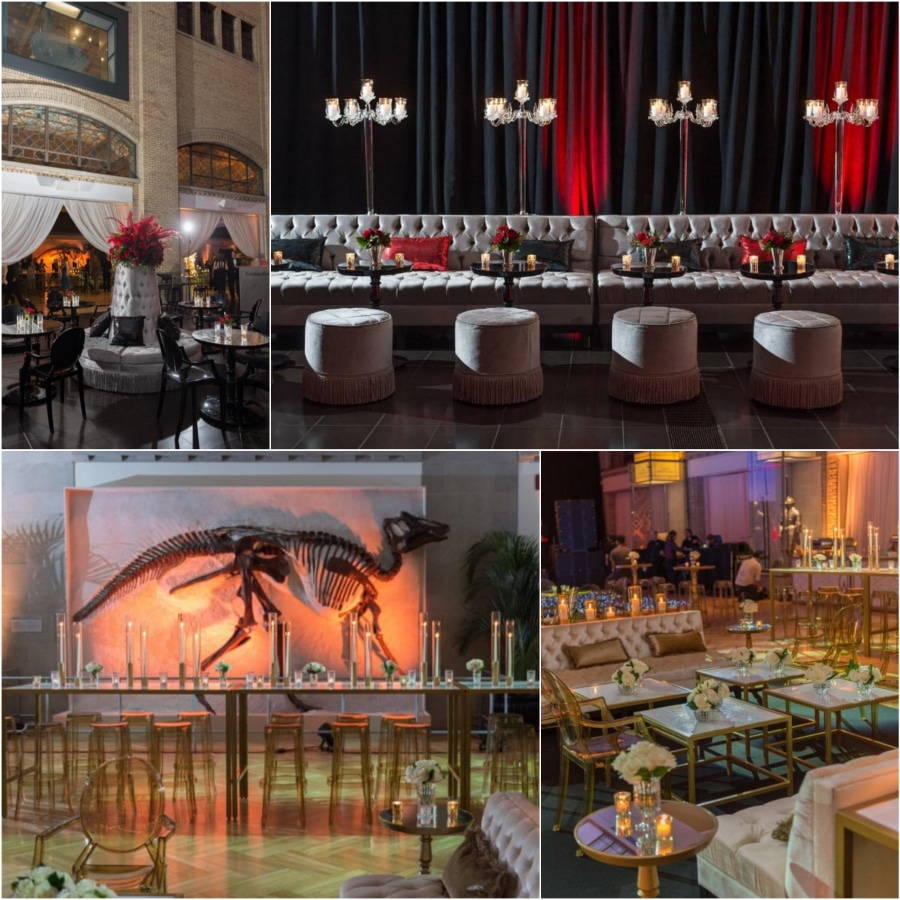 Photos Courtesy of Krista Fox Photography
"This stunning wedding reception was inspired by Old Hollywood Glamour, and The Royal Ontario Museum was the perfect backdrop to stage this exquisite event. The entrance to Currelly Gallery was draped with luxurious ivory sheers swagged open to reveal the stunning grandeur of the first reception area. The dramatic colour palette for this Old Hollywood style reception is champagne/gold and ivory, accented with crystal and mirror. As guests transition from Currelly Gallery to Chen Court they experience another side to Hollywood Glam – the colour scheme in this space is red, black and silver. Continuing the glam feel from Currelly the décor incorporated crystal candelabras and other candlelights under a starry night ceiling treatment. This couple's wedding reception was truly a Hollywood style event with all the bells and whistles. Thanks to some great vendors for making this event a big success."
– Helen Pispidikis, Weddings by Design
---
Ruby Refined Events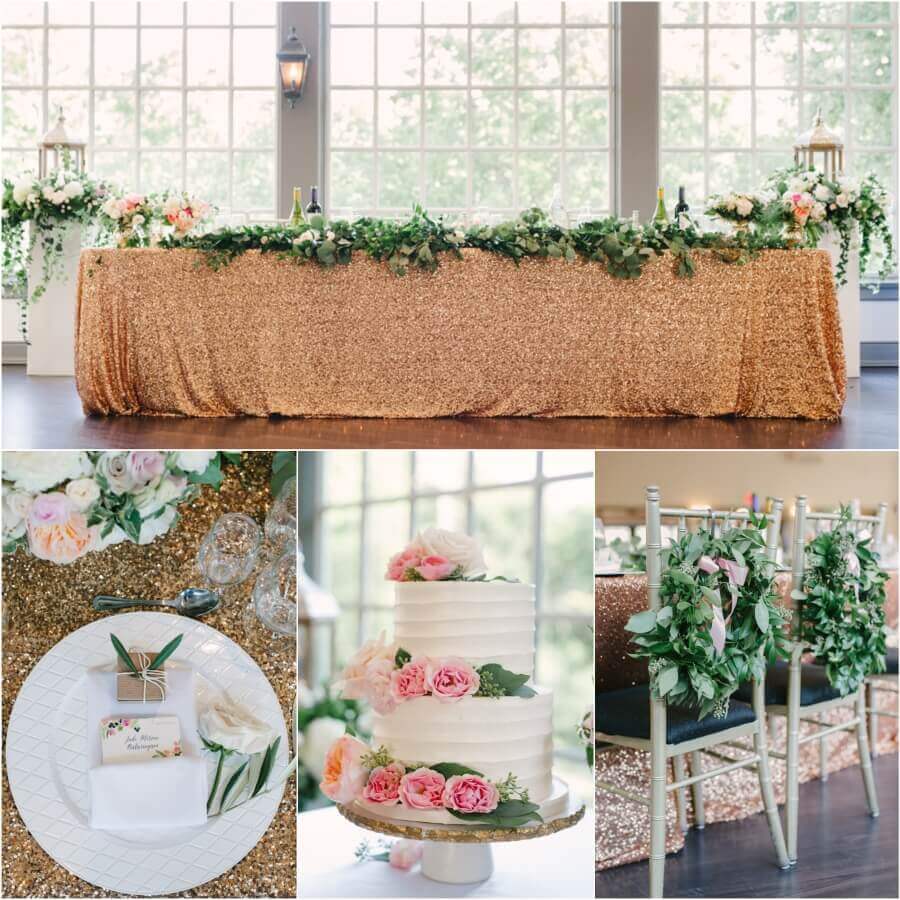 Photos Courtesy of Strokes Photography
"One of my favourite weddings took place in September at The Doctor's House in Kleinburg. Angie and Mervin's Guyanese-Sri Lankan wedding had a lovely palette of blush, green, navy blue, and sparkly gold. The lush florals and greenery combined with white lanterns set the tone for a luxe romantic affair. The couple also incorporated elements from their cultural backgrounds including traditional sweets in a takeaway box at each place setting – it's the personal details that really made this wedding stand out."
– Sidra Ahmad, Ruby Refined Events
---
Fab Fête Event Planning Boutique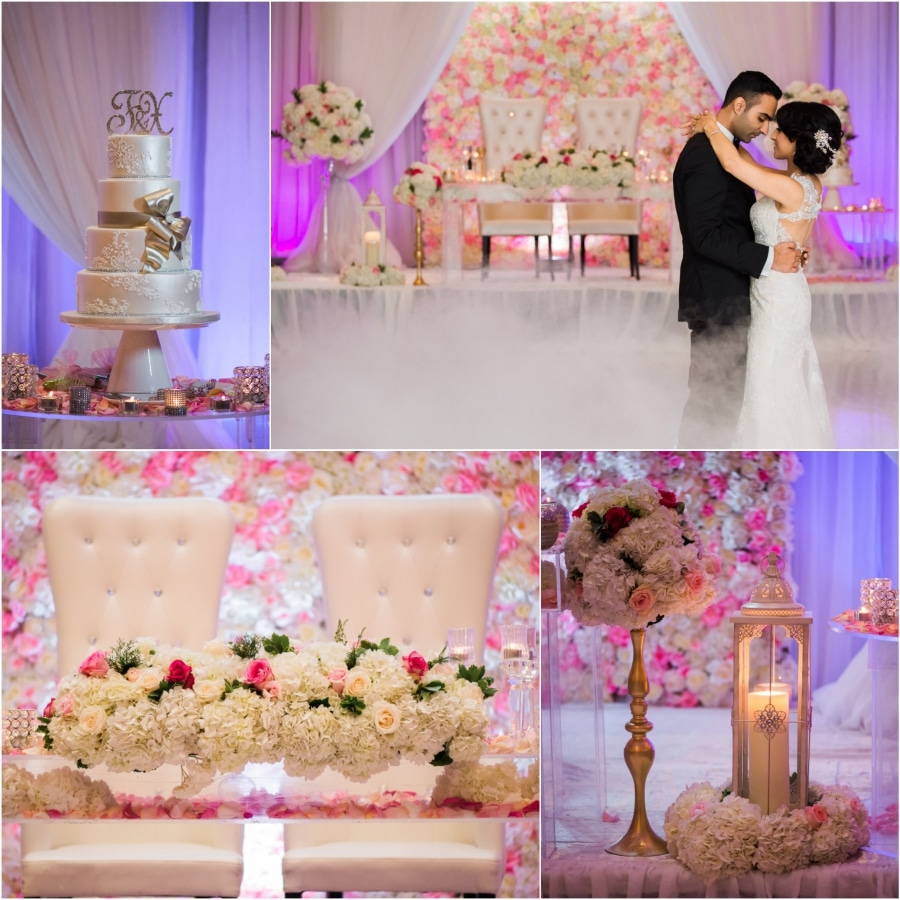 Photos Courtesy of Lisa Mark Photography
"Living in Toronto, we are so lucky to work with a plethora of multicultural couples which is why Farah & Xeryus' wedding is one of our favourites from 2016! The couple grew up in Toronto so they wanted a modern wedding but it was still extremely important for them to incorporate some of their Zoroastrian wedding customs. We accomplished this by bringing in two priests to perform a traditional Zoroastrian ceremony in the venue, while a harpist played classical music for the processional and recessional. Farah wore a stunning white beaded Sari and Xeryus adorned a white tunic, as per the traditional custom.
After the beautiful ceremony, Farah & Xeryus changed into modern wedding attire: a long, classic white gown for her and a dapper, black tux for the groom. Guests enjoyed a delicious, four course, Italian meal and danced the night away in the gorgeous reception room designed by Stars Decoration. DJ Angelo from Extreem Entertainment played a combination of top 40 and Persian and Indian songs, to appease and entertain all of the guests."
– Tamara Niyazov & Michelle Garber, Fab Fête Event Planning Boutique
---
Jackie Penner Events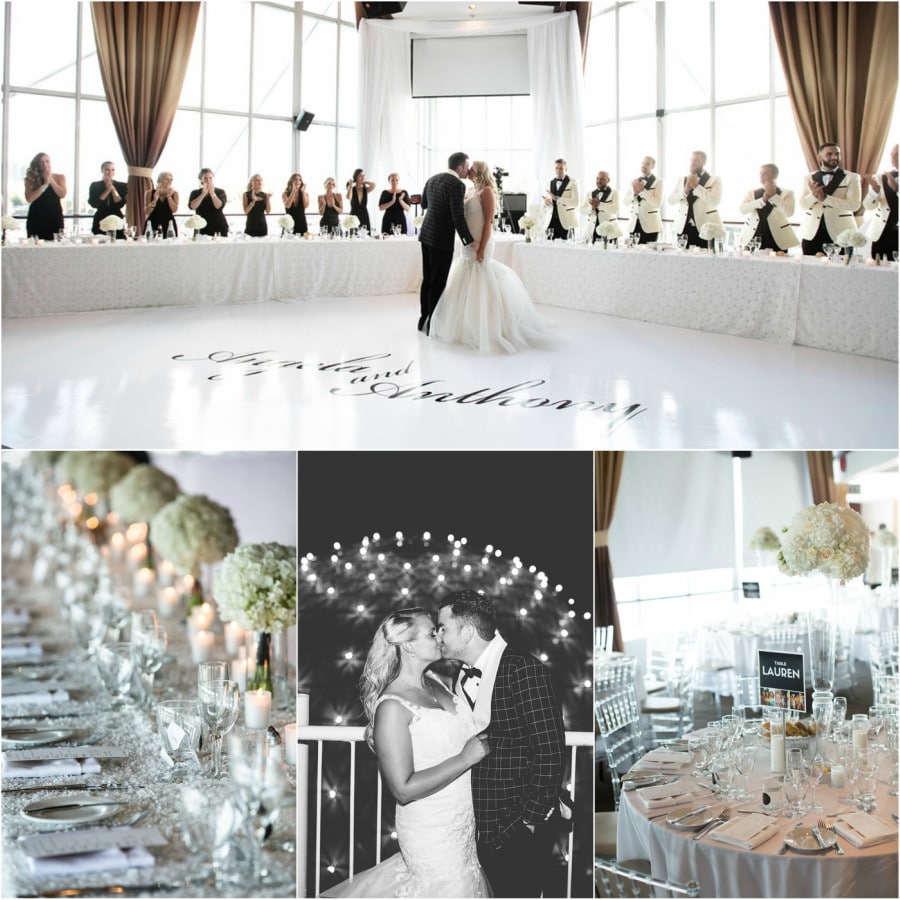 Photos Courtesy of Brian Reilly Photography
"Each and every wedding we are privileged to be a part of are special to us. Angela and Anthony's wedding was particularly memorable for many reasons but most of all because of the way these two look at each other. From our first encounter, we knew this wedding would be nothing short of amazing. A bridal party of 26, a room jam packed with love, support, and excitement, a glamorously-stunning bride and a suit-designer groom. It was the recipe for epic-ness. We loved working out the logistical challenges of the venue posed, working with new vendors, and seeing all of the thoughtful details the couple planned come to life."
– Jackie Penner, Jackie Penner Events
---
Devoted To You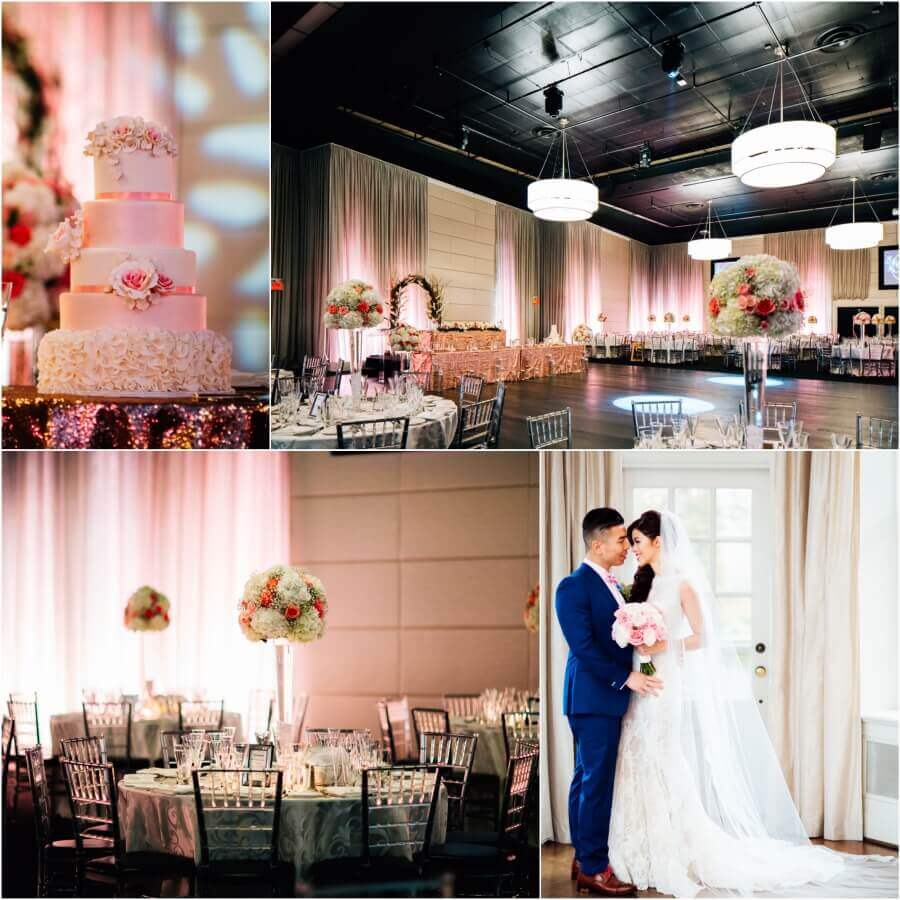 Photos Courtesy of Ground Glass Studio
"To us, favourite doesn't always have to equate to lavish. For us, this wedding was one of the most memorable and entertaining of the year. From challenging door games for the groom and his entourage, to romantic vows and an evening filled with loads of entertainment, there was never a dull moment throughout the day of the wedding. Not to mention, the couple was extremely fun to work with.  In our opinion, it makes a huge difference when the couple you work with loves to party and knows how to party.
The evening kicked off with a mashup of songs for the grand entrance and a surprise appearance of a larger-than-life sized Pikachu and ended with the mannequin challenge transitioning into the couple's first dance. There was also a lion dance performance and a special dance performance by samba dancers and the bride to light up the party. Flashing LED foam sticks were handed out to guests to create the ambiance for them to hit the dance floor."
– Carmen Luk, Devoted To You
---
Monarchy Blue Weddings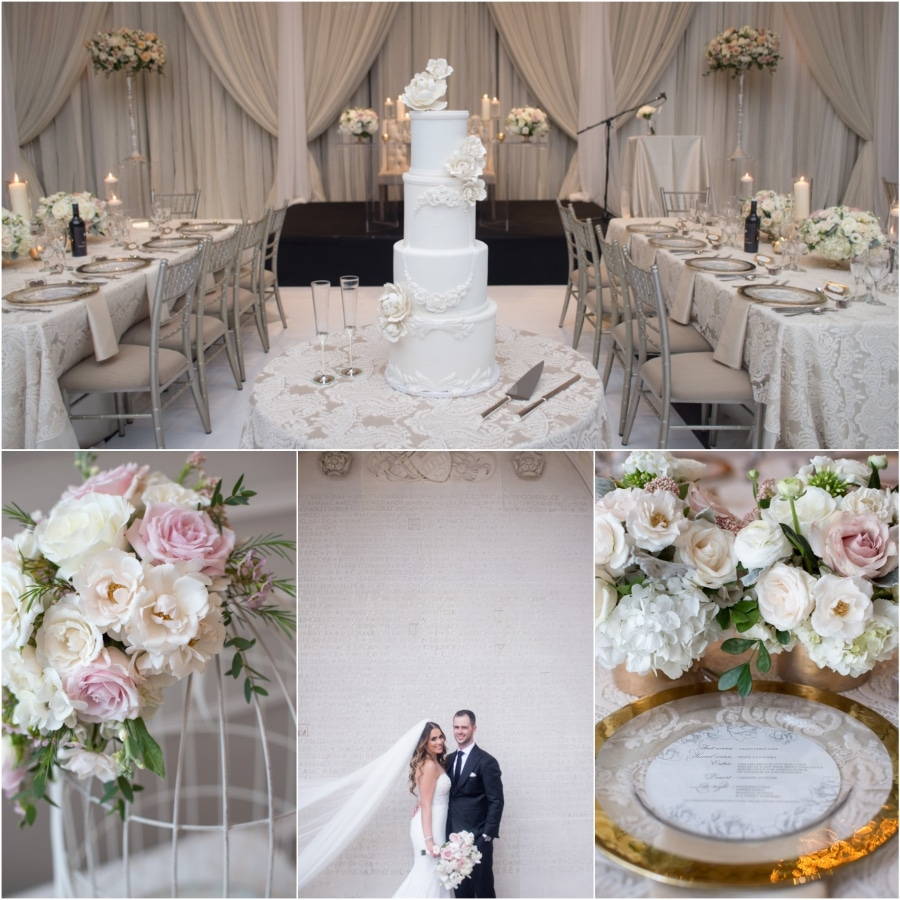 Photos Courtesy of Amsis Photography
"Looking back on 2016, we can say that we had the pleasure of working with many wonderful couples. One of those couples was Ashley and Christopher – high school sweethearts who were super excited to finally share in this special occasion with all their family and friends. The bride looked absolutely radiant in her Berta dress accessorized with a beautiful cathedral veil. Wedding details were all in ivory and blush tones. Lavish florals and draping by Covers Couture, romantic candlelight, an ornate cake design from Sweet Regards, and a personalized dance floor made for an elegant and classic wedding reception.
Ashley and Christopher went to great lengths to make sure that their wedding day was not only beautiful and full of romance, but also lots of fun for their guests. Set to a backdrop of gorgeous florals and elegant decor, silk aerial dancers put on a show during dinner; and at midnight, everyone was treated to a delicious sweet and savoury feast, topped with customized Beavertails. It was a great pleasure executing this wedding for such an amazing couple."
– Maria, Monarchy Blue Weddings & Events
---
Tea For Two Weddings & Events
Photos Courtesy of Lucas T Photography
"Liana and Alex's wedding was a dreamy medieval affair. Their Game of Thrones theme was a joy to help plan and execute down to every last detail. A rich jewel tone palette, brass accents, touches of fur, and a feast fit for a King and Queen warmed the Berkeley Church and complemented the love and warmth that radiated from our couple. Candlelight, calligraphy, and a celtic musical duo were more elements that brought our bride and groom's vision to life and made for a romantic, fun, fantasy-filled evening for all of their guests."
– Christina Mastruzzo and Kathleen Appia, Tea for Two Weddings & Events
---
Art of Celebrations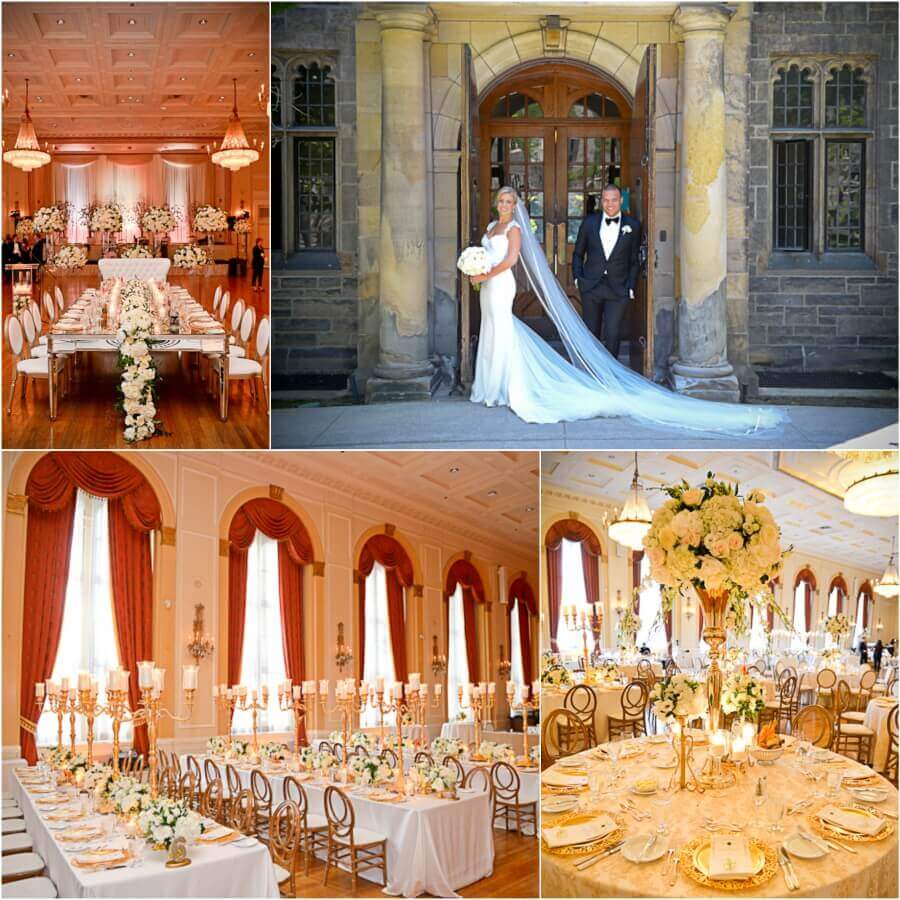 Photos Courtesy of Quaram Studios
"Last wedding season was one to remember for the Art of Celebrations team, but one above all stole our hearts and made a lasting impression on all of us. It was a timeless classic and a true fairytale which took place at two of Toronto's oldest and most beloved venues – The Trinity College and Fairmont Royal York. Katie and Derek married on a picture-perfect June day. After the ceremony, guests were led to a stunningly manicured outdoor courtyard (where they enjoyed live music along with cocktails and perfectly paired hors d'oeuvres) and then shuttled on TTC buses (a fun, Toronto staple as most guests were from out of town) to the Fairmont Royal York Hotel for dinner and dancing.
Beautiful floral and candle displays warmed up the space, a custom Step and Repeat was set up for guests to take their glam photos, and a red carpet was rolled out leading guests into the stunning ballroom. Inside the Concert Hall, we set up round and long tables, filled with hundreds of gold candelabras, beautiful classic white and green floral arrangements, gold charger plates, and orchid heads on each place setting.
After the dinner and after all the formalities were completed, the party commenced! The dance floor was filled to the tip until last call and guests were having a blast right until the lights went up. At around 11PM another surprise awaited the guests – as they danced the night away, custom carts filled with McDonald's favourites (cheeseburgers, nuggets and fries) were wheeled around the room. To conclude, the wedding was a perfect pairing of formal black-tie elegance with youthful and fun party for everyone to enjoy!"
– Roxy Zapala, Art of Celebrations