Reviews
Chris and the staff at Parkview Manor are an absolute pleasure to interact with. Helping a bride feel calm is a hard task to accomplish but throughout each step of the way Chris was there to answer my thousands of questions and do everything in his power to accommodate any and all of our requests. The venue itself is absolutely beautiful! From the ballrooms to the bathrooms, everything is perfectly maintained and gorgeous. My guests raved about the amazing food, ample parking, and yours will too if you book at Parkview Manor!
We were looking for an elegant wedding venue for a long time and almost gave up till we visited Parkview Manor. Chris and his team made everything easy for us and we were amazed with the way our Wedding turned out. He was also present at the day of the wedding and managed the staff and services. The food was amazing and all the guests were served frequently. Bar also delivered a top notch service and we couldn't be happier. We would definitely recommend Parkview Manor to anyone that is looking for a nice and elegant venue for their wedding.
Panarcadian Federation
January 2020
Parkview Manor you have surpassed every expectation we had! For the past 18 years we have held our New Year's Eve Gala at Parkview Manor and every year it just gets better. Your food, service and setup cannot be matched. If you can keep an Antipasto Bar fully supplied and running smoothly with so many people, then you are truly the Best. Our sincere heartfelt thanks to Chris ,John And all the staff. See you next year!
I had my dream wedding at Parkview Manor. Everything was great. Chris made the whole process very easy for us and helped us a lot . He rarely says no to you unless what you ask for is completely off. Through the whole night he was there and he made sure every single thing was going smoothly. The entire staff were super kind, helpful and friendly. They treated us like family and gave positive energy to our event which is priceless. The place itself is very nice and classy. It has a huge parking lot available. Food was great, dessert table was awesome. All of our guest loved their food. We were proud to serve our guests with such abundance. ( The bar was serving people so generously and our guests complemented us in multiple occasions only about the drinks!) I highly recommend Parkview Manor specially those who want to enjoy their event without any headache. Thanks again to Chris and his staff for helping us to have the best wedding PS ( from the groom's side!): Chris, God bless you and your staff. We want to have a wedding ceremony every year at your place. You don't know what you did for us and how grateful we are. I don't see any reason why someone getting married in Toronto or any near city would have their wedding ceremony somewhere else! Please don't waste your time and money, this is the best deal in town!
Wendi Tobias
January 2020
We loved our experience at Parkview Manor. Excellent staff, superb food and lovely decor. Chris was a pleasure to work with.
Parkview Manor is always 5/5 stars. For us putting entertainment in place, it is always a simplistic and easy process that has clients coming back for more! We love performing here as everything about Parkview is 5/5. Highly recommended!
We have done a wedding here in August 2018 for A&J--what a beautiful venue! The elegance of the cake matches the luxurious interior of Parkview Manor--just beautiful! Hoping to have a wedding cake delivery here, soon!
Haniyeh Fard, Olgu Events
November 2016
Just recently I was coordinating a wedding at Parkview Manor. As a wedding coordinator I enjoyed working with Parkview Manor, because the people who works there are all responsible, helpful, considered, and team player with great attitude. They pay attention to details and listen carefully to clients needs and wants. They don't take "NO" for an answer, and do anything to make the night as great as possible. They are professional and communicate really well with all venders. They had great choice of food with lots of variety. I highly recommend this venue for all kinds of events.
Parkview Manor has been mentioned inside these other vendor profiles:
The Right Moments Photography
Company Overview
Company Overview
Deals & Packages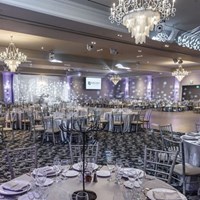 Friday & Sunday wedding package 30% off Saturday rates
Price $90 /person
---
---
What services are included with this Package:
Inquire about our amazing Friday & Sunday all inclusive wedding prices
---
Here's the Fine Print:
This package is exclusive to EventSource.ca visitors. To redeem, you must mention you found this package on EventSource.ca.
Map
55 Barber Greene Rd #1, North York, ON M3C 2A1