The Marrying Lady
Gallery
Reviews
Tade is an amazing wedding officiant. We interviewed other officiants, but they all gave us the impression that they treated each wedding as a workaday routine, applying a cookie-cutter approach to each ceremony. Not Tade not at all! As soon as we met with her in her apartment/office, we knew that she was a special officiant. She got to know us and our story and tailored the ceremony to our desires. Her pre-wedding walk-through was a revelation: she coached us through every moment of the ceremony, showing us how to be ready to get the most out of every moment both emotionally and photographically! During the actual ceremony, she set everyone at ease, bringing the confidence, poise, warmth and personal touches that we so wanted.

We also love what Tade stands for. She is famous for publicly marrying same-sex couples during World Pride in Toronto. She is experienced marrying people of all faiths and backgrounds. She read a land acknowledgment before our ceremony began, which was very important to us.

I dont think it is possible to find a more thorough, professional, and overall outstanding officiant!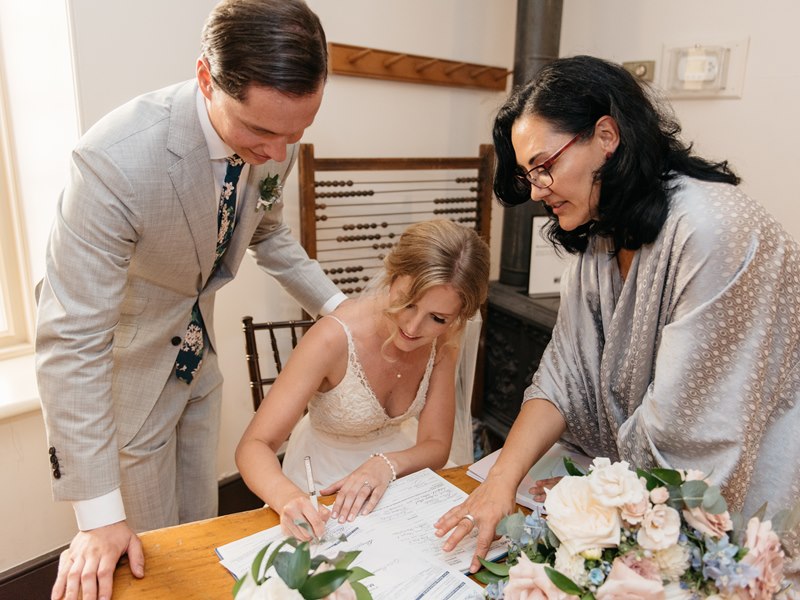 Casie Forster
August 2019
Tade was great from start to finish. Prompt communication, easy to arrange the event even though we had to change things around a few times. We had a very small low-key ceremony, and didnt want to bother with many of the usual wedding traditions. Even with this limited scope, Tade was able to marry us in a way that was simple but heartfelt - overall a very lovely experience! Cant imagine anyone doing a better job, absolutely recommended!
My partner and I were looking to do a very quick, private wedding and went to Tade for a Paperwork Only wedding. She was wonderful and gave us a little ceremony that was exactly what we wanted, yet more than we could have hoped for. It was a beautiful moment that we will remember forever. We are so thankful to Tade being so helpful and kind throughout the process, and providing us with a really beautiful marriage experience.
Tade, thank you so much for helping make our wedding ceremony perfect. You have such a calming presence and a great sense of humour to help with the wedding day nerves. We got so many compliments about the ceremony. It was an amazing evening!
Ashley Mcmillan
July 2019
Tade was so warm, professional and calming. We received so many compliments from our guests after our ceremony, telling us how wonderful it was and how our officiant spoke so beautifully. She helped ease any confusion by running through things with us, and had a wonderful sense of humour through the wholeProcess. Would recommended her 10/10. She is a beautiful person, inside and out. Thank you Tade for making our big deal so perfect.
The Marrying Lady has been mentioned inside these other vendor profiles: