Gallery
This content requires HTML5/CSS3, WebGL, or Adobe Flash Player Version 9 or higher.
Reviews
We had our wedding earlier this month at The Warehouse and I am so glad we chose this venue! They were incredibly accommodating, flexible and responsive. The venue looked beautiful and all of the staff were so great to work with. Highly recommend this venue!
Had a great experience with this venue. They were accommodating to the very last day to ensure everything was perfect.

Thank you for a great evening!
Thank you Jordan, Natalie, Robin for providing the perfect space for our recent event! We could not be happier with the process leading up to the event and during the party itself. Jordan, I especially appreciate you taking the time to have a late night conference call the day before the event. This shows personal attention and your concern for us and wanting to pull of the best party possible. This attention to detail is what we really appreciate. We werent just another family having a party, our party and creating a fun experience was of paramount importance. You are great and I would not hesitate in recommending The Warehouse to any of my friends who are looking for a top notch venue.
Athena & Adam
October 2018
Our wedding was just last weekend and I have nothing but wonderful things to say about the Warehouse and specifically about Carly our coordinator. She ensured all of our questions were answered, was extremely professional, prompt and made us both feel at ease knowing she was at the helm of it all. Our guests were really impressed with the space. Even being a more industrial venue & having minimal decor, the curtained walls and simple uplighting made the venue extremely elegant. We opted for the package offered with Toben Foods and that was a big hit all around. Would recommend again and again.... especially with Carly there, you are in great hands if you choose this venue!
2 is for the appeal of the actual space and the amazing caterer staffs (TOBEN food by design!) we got to work with through the venue. Our wedding started off like any others, chaotic and overwhelming however during our cocktail hour that's when we noticed the issue. Mind you, we did not have a planner we had a point person which was a friend of ours. The bar had served the wrong Cognac (we had paid extra for an upgrade Cognac and let's be real with all the extra taxes this upgrade didnt come cheap) and when we inquired the bartender insisted it was the right one. Busy with our agenda(this is where we made the mistake of not following up right away about the issue) it's cocktail hour, that means greeting guests and taking photos, we did not have time to follow up. Entrusting the staff to get it right was our biggest mistake, into our dining time the bar (now inside the dining space) the bar was still serving the wrong Cognac! Beyond frustrated and confused, we reached out to our coordinator friend to follow up with the manager on duty. The manager on duty has no idea of this and was positive it was correct until we insisted she double check, after having called the owner of the venue, it was confirmed indeed that it was (the owner's) their fault. The owner Jordan had ordered the wrong Cognac, and day of never bothered to check the stock and neither did any of the staffs. The worst part of all this was not only had we had to pay extra for the Cognac (which wasn't their typical stock and had to be ordered 10 days in advance) from the time it took them to correct the mistake, the bar had even stopped serving Cognac to our guest, telling them they were out. This was absolute humiliating and embarrassing but of course try telling that to Jordan, who admits it was his mistake, but apparently has to put his business and staff first. By ensuring his staff are paid accordingly since they still serviced our event and as per Jordan's word "you guys still drank the alcohol" (regardless if they had served us the wrong one initially). They eventually got us our correct Cognac but by then they had already embarrassed us and wasted much of our bar time. The owner never followed up with us right away, his excuse was he needed to take the time to talk to everyone (but not us) to see exactly what happened. It was clear as water. The owner Jordan admits to having mistakenly ordered the wrong Cognac, his staff never bothered to check day before or day off however insinuated that we should have noticed sooner. They made us feel like since we were 1 of 3 weddings that weekend, that having something go wrong is almost guaranteed. And of course, to the man that hosts weddings every weekend, he understood nothing about the embarrassment we went through especially with knowing how important a wedding day is to people. It's once in a lifetime! Yes, the mistake was corrected, but you can not buy us back the time you wasted especially when it's on our tab and the embarrassment you caused us! The biggest slap on the face was his (lack thereof) compensation to make up for what he deemed not a "big deal" since he rectified it right away and had to rush out of is home that evening to correct his own mistake. After my partner spent an hour on the phone with him it's seems Jordan's argument was that he came through for us, and we should grateful nothing more happened that could have "ruined"'our wedding. We were asking for at least half the money we had paid extra ON TOP of the bar fee, because either way we had already paid for their premium bar price per person. So like when you go to a restaurant and your order comes out wrong the chef, comes your meal and offers to make you a new one. So here's a few things to remember when and if you choose to book with this venue;
1. Get a planner! if you don't have one, make sure to get a coordinator that can commit his/her time seriously and put being a coordinator above being a guest. This way he/she can check over all the details of your wedding day of. Because apparently, it's also your job especially if you what everything to be to done correctly.
2. Finger crossed nothing goes wrong that has to do with the venue because as long as all the staffs are on the clock and working, you have to pay up regardless of any errors. Unless you want to put your wedding on hold while they attend to the error, because you can press pause In the middle of a wedding then as Jordan so subtly puts it, if we want to go down the road of placing blame it could also come down to you not doing your part to ensure your own wedding is running as it should.
3. And should something go wrong, just take whatever Jordan offers you because at the end this is an independently own venue, there's no one else above him. So if he truly doesn't care about how he'd embarrassed you then, suck it up. Because in the end be grateful he reached out to you and attempted to rectify his mistake.
The Warehouse Event Venue has been mentioned inside these other vendor profiles:

Fiesta Rentals Photo Booth

Gervais Party & Tent Rentals


Company Overview
Company Overview
Deals & Packages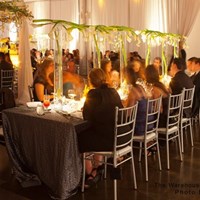 2018/19 warehouse wedding package
Price $100 /person
---
---
What services are included with this Package:
Silver chivari chairs
White & black coffee tables and cruisers
Plexi-glass bars
White & black leather lounge furniture
Venue security
Complimentary bridal suite
Complimentary on-site parking
Complimentary coat check
16' white velour drape
On-site event manager
60" and 72" round tables
Full kitchen facilities
---
Here's the Fine Print:
This package is exclusive to EventSource.ca visitors. To redeem, you must mention you found this package on EventSource.ca.
Map
35 Carl Hall Rd Unit 2, North York, ON M3K 2B6