Reviews
Best company and service for staffing!
Kevin O'Brien Fehr
July 2019
I hired The Butler Did It to assist with a private function in our home. This annual party, to which we invite 30 or more adults and their kids, involves the final cooking, plating and serving of hot and cold appetizers and several large pans of paella. I did not want full catering, but rather, a team who could take charge of my prepped food and present it to my guests, leaving me free to socialize and enjoy the party. TBDI recommended that I hire two waitstaff and a lead cook, and that suggestion worked out perfectly!

The staff arrived in the middle of a thunderstorm accompanied by a power failure. They immediately calmed my panic, and got to work with kitchen prep and set up. When the power came back on, it became apparent very quickly that Chef Tom knew exactly what he was doing with paella, and also took on the challenge of breading and frying several dozen jamon croquettas. Servers Maeve and Chris were incredibly attentive to our guests. It was hilarious to see the expressions on the faces of our friends, who had never been greeted at our door with glasses of sangria and hot appetizers. Most of all, it was their personalities that shone. The staff were enjoying themselves, and the guests reacted accordingly, and asked me why I hadnt found TBDI ten years ago.

They left the kitchen spotless. The rental dishes were in their crates, the dishes were washed, and the leftovers were put away. A quick tidy up in the morning was all that was necessary. I wont hesitate to call TBDI as soon as we get a date established for next summers party. I suspect that some of my friends will be calling them too.
farid jalilian
April 2019
They are very professional. They cater any food and serve the food with a smile. Love them I will call them again and again
They have this really nice and helpful server Ashley. Thanks for the great service! Would definitely recommend them. Ashley was a pleasure
Lara Johnson
November 2018
This is the second time we have hired staff from The Butler Did It, for a private event in our home. Both times, we were delighted with the exceptional staff who arrived at our house, on-time and with smiles. They were friendly, efficient, hard-working and made our events stress-free. I could not recommend them more highly and will definitely use this company again. Thank you so much!!
The Butler Did It has been mentioned inside these other vendor profiles:

Sarah Bunnett-Gibson Wedding Officiant

Company Overview
Company Overview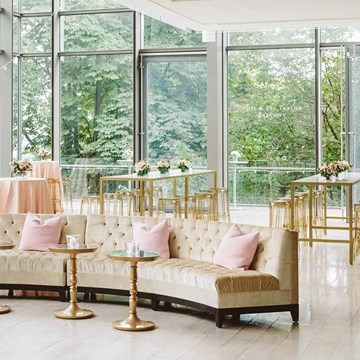 Ally and Zach's Lounge-Style Wedding at The Royal Conservatory of Music
4/26/2018
Read more
Map
5 Elm St, Suite 2, Toronto, ON M5G 1H1