Celebrating your love under the bright blue sky or under a starry night is nothing short of magical! With summer coming up fast, couples and guests alike can look forward to spending time in the great outdoors soaking in all the glorious warm weather. With only a few months of ideal sunny weather at our disposal, it's no wonder that outdoor summer weddings remain in super high demand! But – and there is a big but – there's always the risk of rain or other inclement weather. So what to do? Good thing there's outdoor tent venues for weddings and events!
While many venues offer an indoor alternative as a back-up, there are plenty of venues that provide tented options as well (not to mention a healthy number of tent rental companies for those of you celebrating at a private residence). With outdoor tent venues for weddings, you and your guests will not only be protected from the elements, but you will also have the perfect outdoor view and airy breeze. Not to mention, if your big day proves to be a scorcher, a tented space can also provide some welcome shade and be a comfortable spot for everyone to congregate. To help those of you searching for a spot to host your outdoor wedding, we've rounded up some of Toronto's top venues with outdoor tented spaces. If you're looking for other Toronto-based wedding venues in general, make sure to read our other blog posts for more details!
Vendors Featured in this Article
---
Graydon Hall Manor
185 Graydon Hall Dr, North York, ON M3A 3B1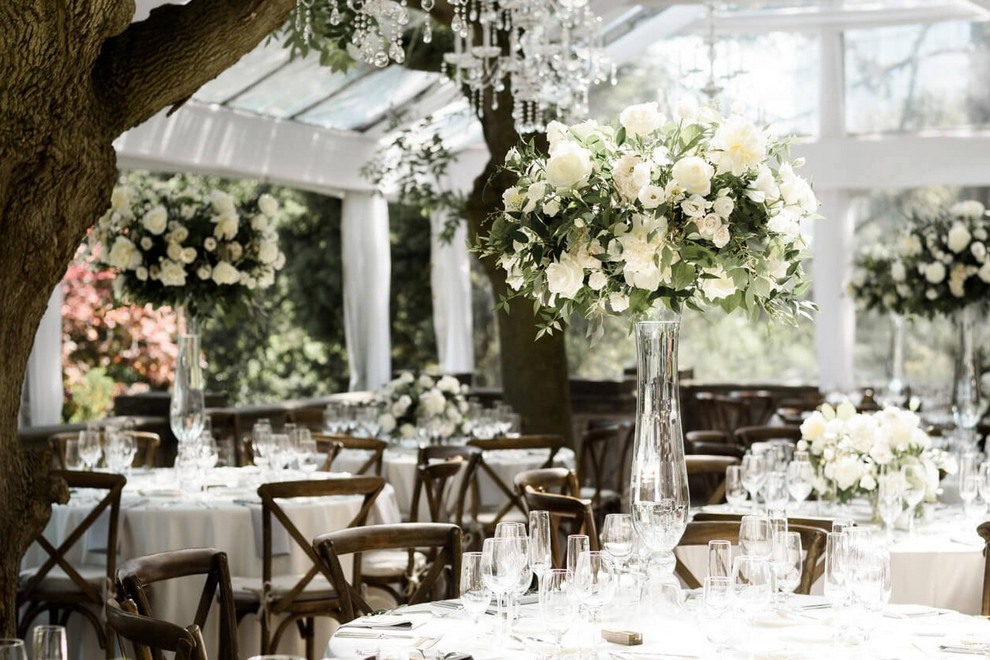 Photo Courtesy of Alix Gould Photography
If elegance and sophistication are what you're after, Graydon Hall Manor is your perfect match. The historical boutique venue offers a 160 foot long stone terrace with a view of flowing fountains and beautiful gardens. The outdoor terrace can seat up to 250 guests.
You May Also Be Interested In
Casa Loma
1 Austin Terrace, Toronto, ON M5R 1X8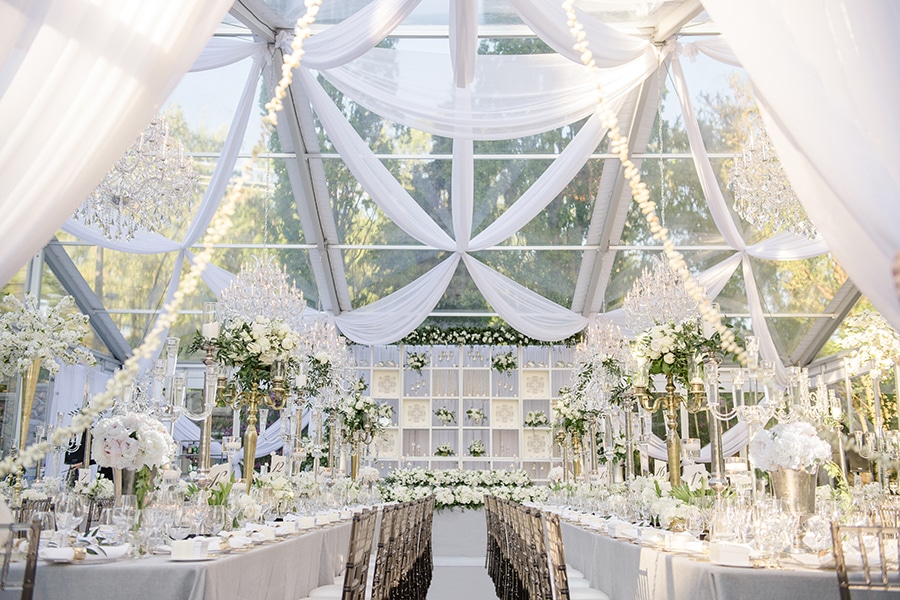 If you are looking for an elegant backdrop for your reception the Casa Loma's Glass Pavilion offers a perfect outdoor view of both the Toronto city and the historical majestic castle. The space can accommodate up to 350 guests and is surrounded by a beautiful lush garden!
---
Miller Lash House
130 Old Kingston Rd, Scarborough, ON M1E 3J5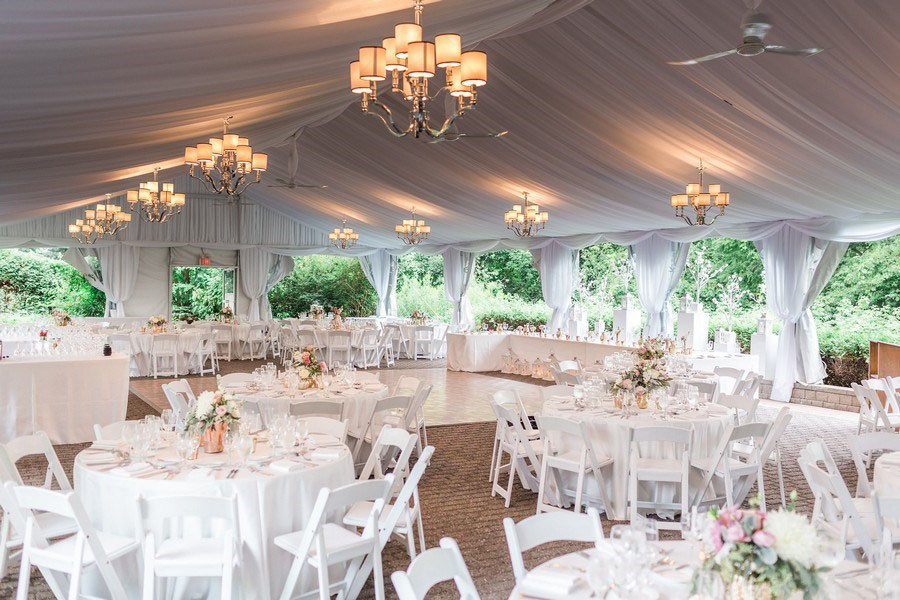 Miller Lash House located in East Toronto is a historic house that prides itself in stunning architecture, luscious gardens, impeccable service, and undeniable ambiance. The venue holds outdoor wedding receptions for up to 220 guests in their outdoor tent and evergreen ceremony site. If you have a bigger guest list, their River Rock water ceremony site can accommodate up to 400 guests!
---
Cambium Farms
18333 Winston Churchill Blvd, Caledon, ON L7K 0R9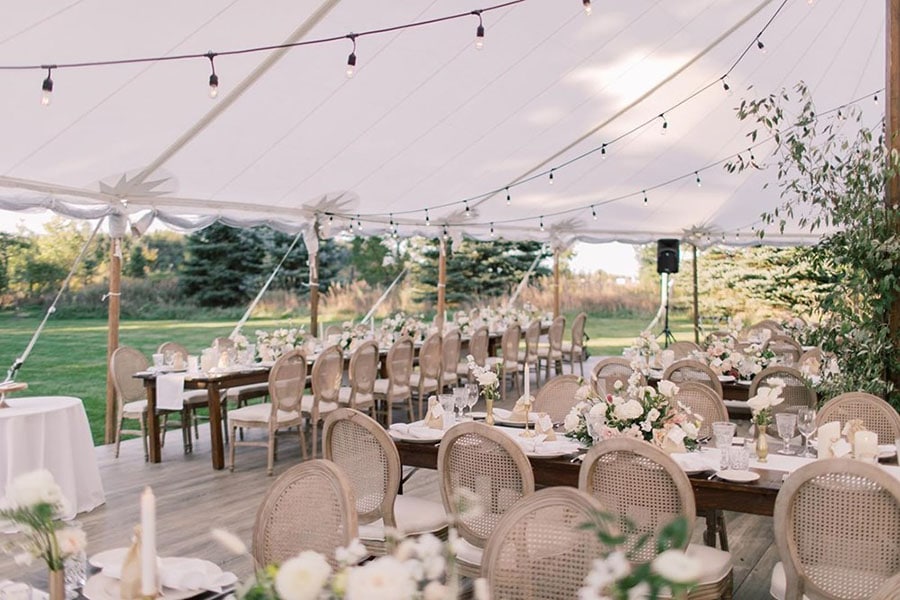 Photo Courtesy of Richelle Hunter Photography
Cambium Farms is one of Toronto's hidden gems that offers an elegant tent option for your wedding. It includes a beautiful sailcloth tent with a stunning view of a century-old barn and towering evergreen. The tented space can accommodate up to 100 guests in an entirely safe and socially distanced manner.
---
Aga Khan Museum
77 Wynford Dr, North York, ON M3C 1K1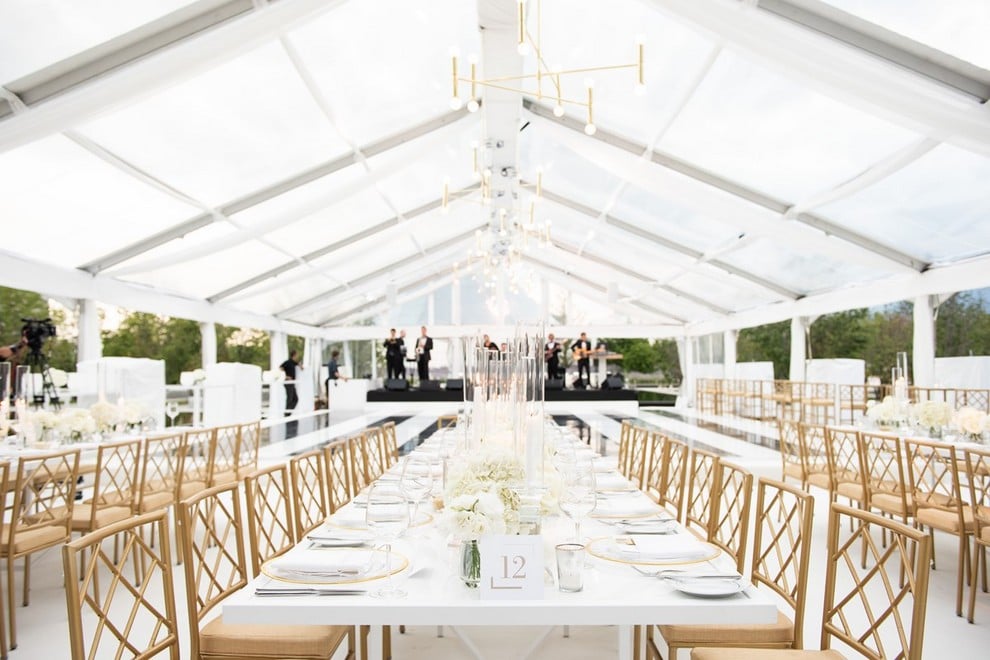 The Green Park at Aga Khan Museum truly has it all when it comes to planning that idyllic outdoor tented wedding. Complimented by its formal gardens, terrace, and iconic reflective pools, the tented area can host up to to 400 guests. Catering is provided by none other than McEwan Catering.
---
Fermanagh Farms
4023 3rd Line, King, ON L0G 1W0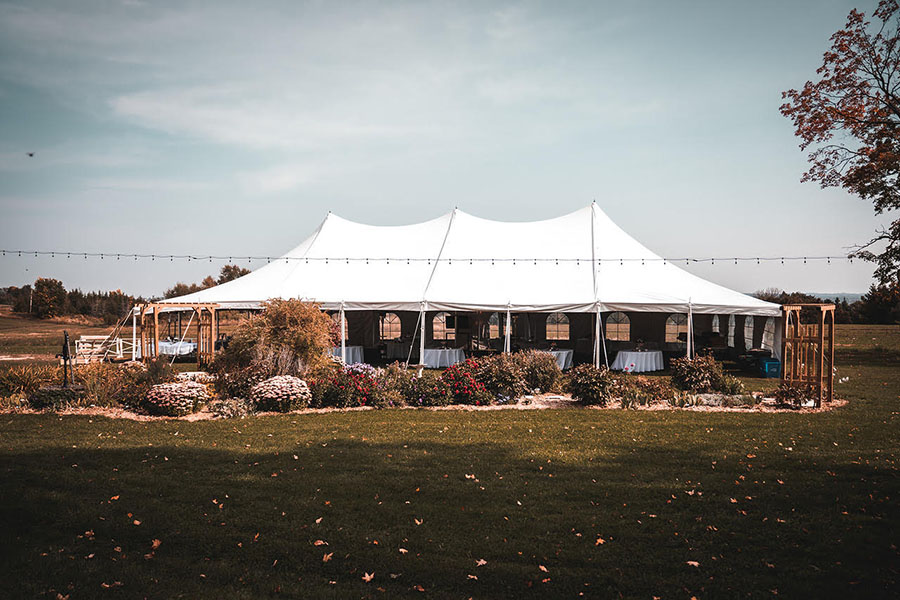 The rustic and natural fields at Fermanagh Farms are perfect for those looking to escape the city! The rural farm is surrounded by beautiful perennial gardens, jaw-dropping tall trees, and a barn nearby that makes for a gorgeous natural backdrop. Their 40 by 80-foot tented space can accommodate 100 people socially distanced. Their tented venue package starts at $7,500.
---
Willow Springs Winery
5572 Bethesda Rd, Stouffville, ON L4A 3A2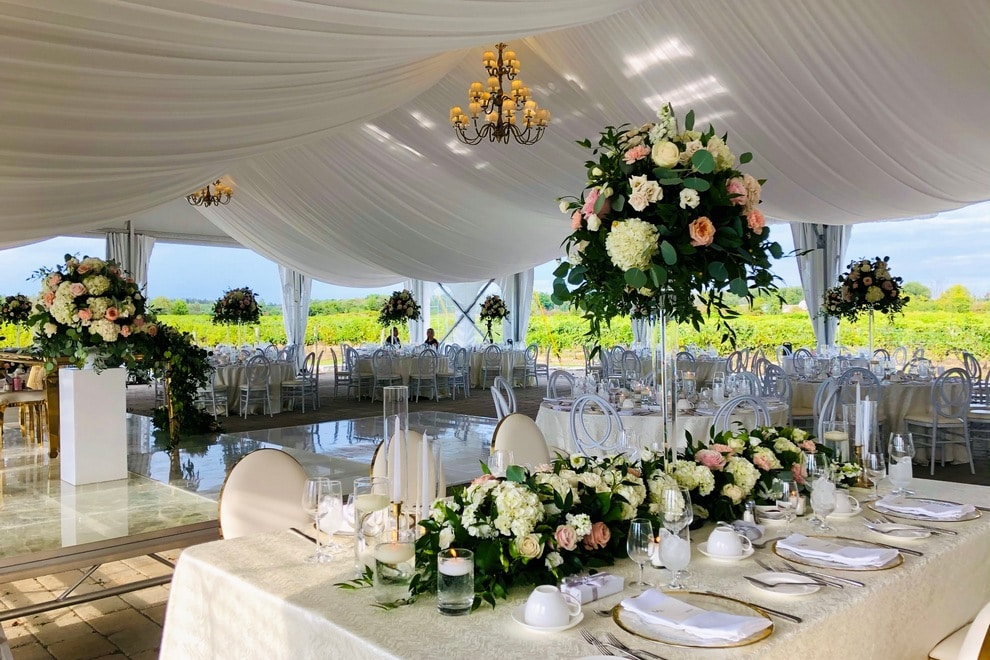 Situated atop the Oak Ridges Moraine, the unique Willow Springs Winery is a wine and event destination not to be missed! Featuring 11-acres of vineyard beauty as your enchanting backdrop, and a magical pavilion for all your event needs, you and 80 to 119 seated guests can comfortably enjoy the views.
---
The Symes
150 Symes Rd, Toronto, ON M6N 0B1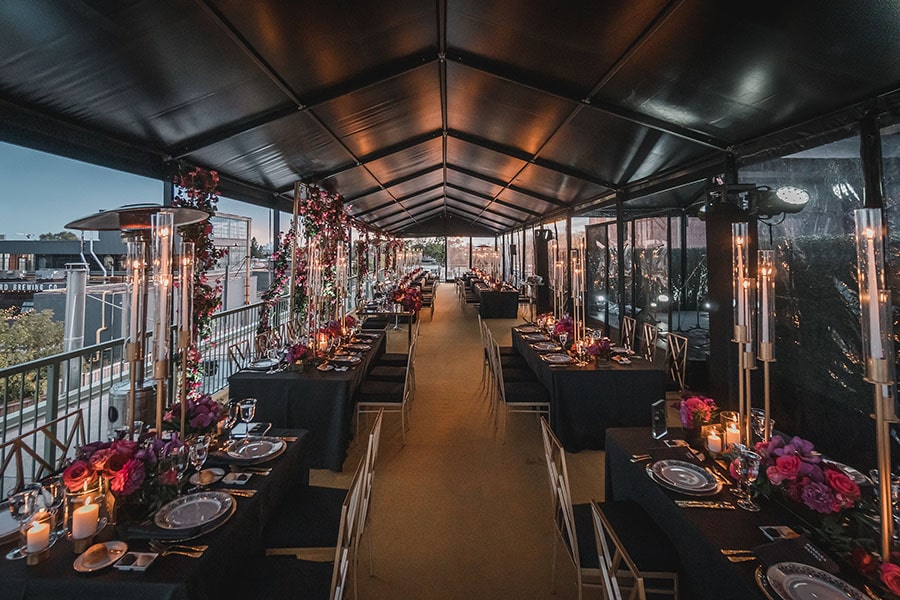 Photo Courtesy of Carlos Bolivar
An ideal tented area for your guest to casually sit and chat after your ceremony, The Symes' patio outside the Scarlette Room (booked together) features a 20 foot by 100-foot long outdoor space that can accommodate up to 90 people socially distanced while seated. Bonus: you can turn the space into a cocktail and dessert area too!
See also: 14 Delightful Catered Desserts for the Wedding Season
---
The Manor
16750 Weston Rd, King, ON L7B 0C7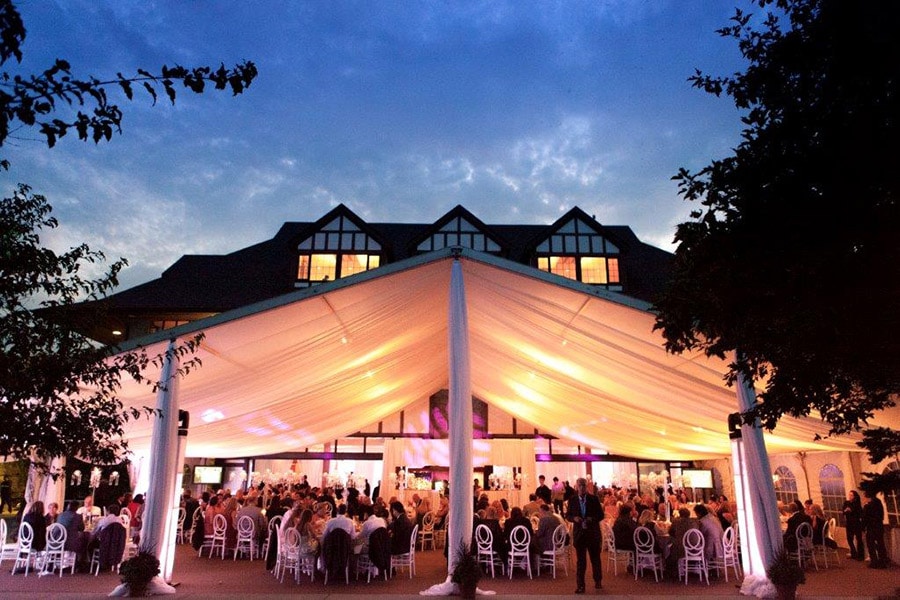 The Manor is another great venue just located 20 minutes north of Vaughan. They have a stunning outdoor patio tent that can accommodate up to 180 guests. The tented space also includes a draped interior featuring picturesque views of the rolling greens of its adjacent golf club. The space is complimented by the tranquil pond just a few steps away. Guests often stop to watch the beautiful swans glide effortlessly across the water.
---
The Arlington Estate
8934 Huntington Rd, Vaughan, ON L4H 4X1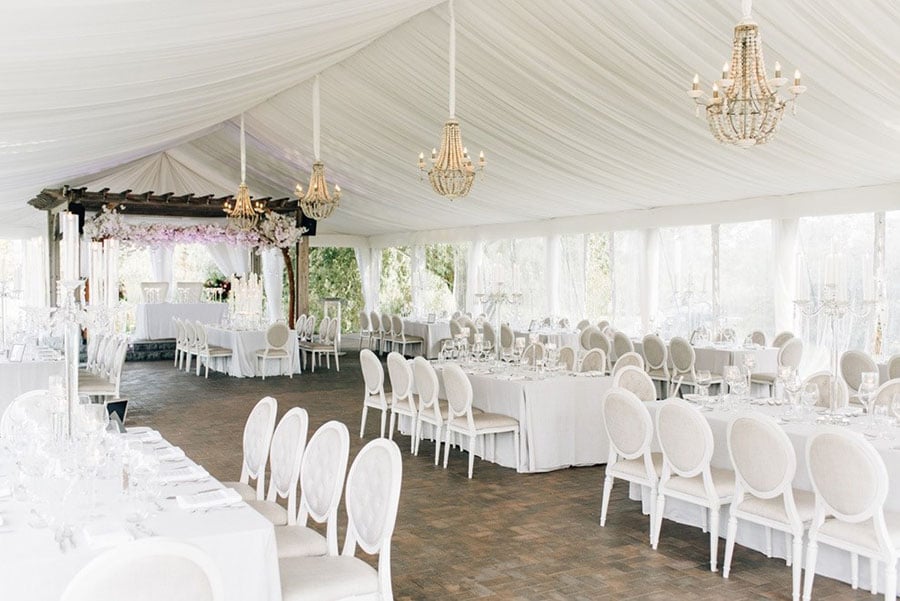 Photo Courtesy of Kendra Ruth Photography
The Arlington Estate accommodates all types of luxury events from as small as 80 up to 475 guests. Their tented space offers 1650 sqft of event space. While we were unable to obtain much more info directly from the venue, you can be certain that the space is absolutely stunning.
---
Royal Ambassador Event Centre
15430 Innis Lake Rd, Caledon, ON L7C 2Z1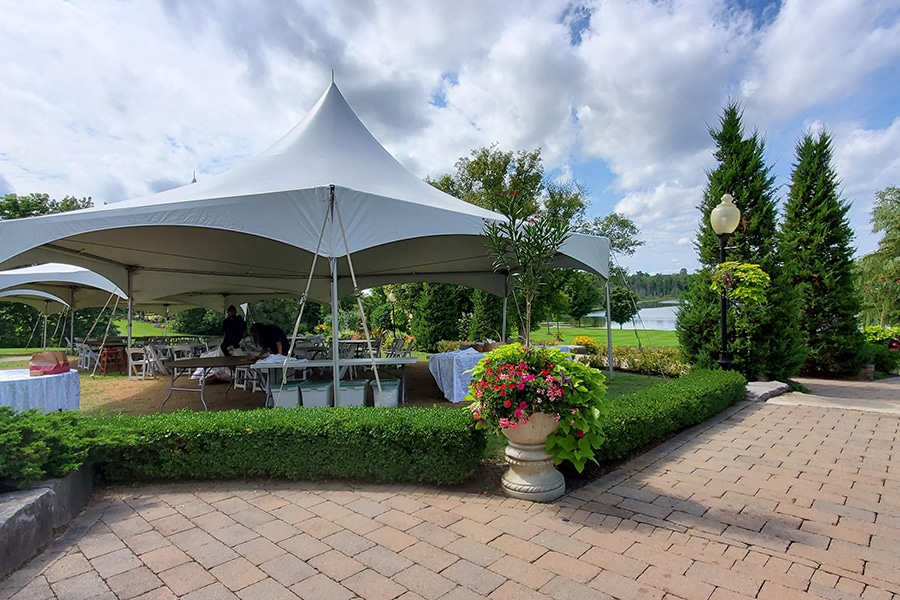 Located in the heart of Caledon, Royal Ambassador Event Centre remains one of the more popular outdoor tent venues for weddings and events in the GTA with spacious tents situated along their vast grounds. Their tents can accommodate from 15 to 200 guests. It also includes a great view of their beautiful gardens, rolling hills, and of course, the Innis Lake.
---
MGM Luxury Event Center
15930 St Andrews Road, Caledon, ON L7C 2R8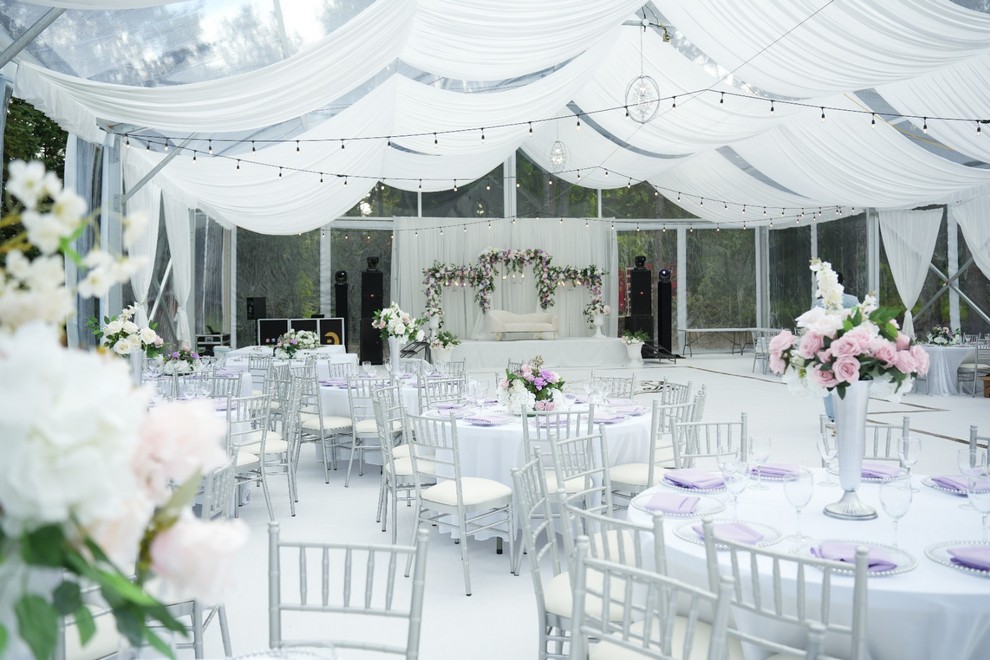 Spanning over 20 acres, MGM Luxury Event Center is perfect for those seeking a lavish and upscale setting for outdoor tent venues for weddings and events. For the tented option, the clear span tent is great choice that easily accommodate 350 seated. The venue is also fully equipped with multiple bathrooms and ample space for your guests to mingle.
---
Whitchurch-Stouffville Museum & Community Centre
14732 Woodbine Ave, Stouffville, ON L4A 2K9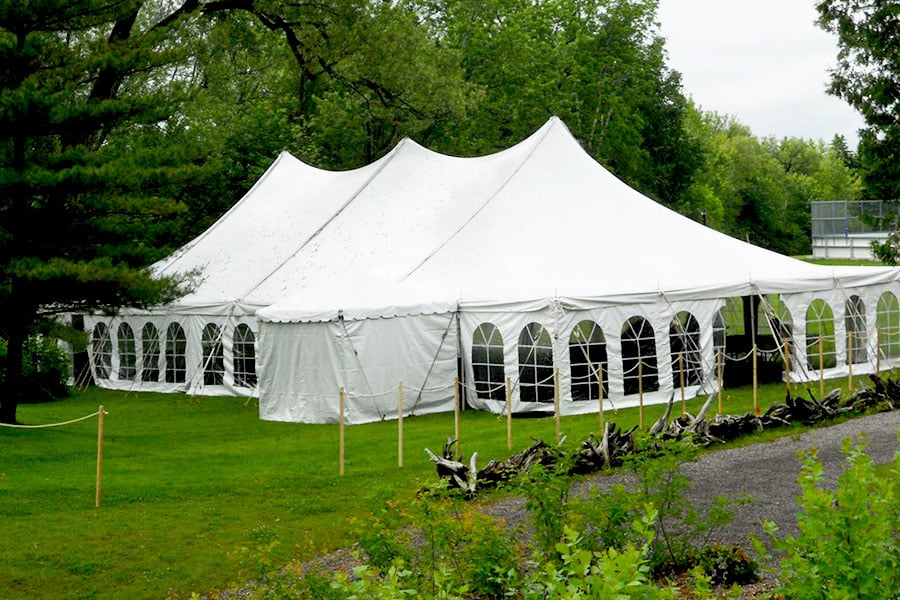 If you prefer to use your own tent, Whitchurch-Stouffville Museum & Community Centre offers an outdoor reception space right beside their main museum building. Their space can accommodate tent sizes up to 40 by 80 feet and can hold a maximum of 300 guests. They also offer outdoor reception and ceremony packages.
See also: Six Rental Companies in the GTA
---