Gallery
This content requires HTML5/CSS3, WebGL, or Adobe Flash Player Version 9 or higher.
Reviews
Our experience with this venue was absolutely amazing! Antoinette was great to work with throughout every aspect of our event. Her willingness to work with our budget, attention to detail on special dietary needs, outstanding support through all the planning made for a great experience. She was walking the floor during our event making sure everything was perfect and it was! The food was delicious, and staff were very attentive and accommodating. I would highly recommend this venue. Thank you, Antoinette, and everyone at the Renaissance by the Creek!
Crissa & Carlo
December 2019
An acquaintance of mine held her reception here at Renaissance so we went to check it out when we were still venue hunting. We fell in love with the place right away! Highly recommended! :)We got married on October 18, 2019. The venue looked simply divine on the day and the staff were very courteous, welcoming and lovely. The floor manager made sure that everything is flowing smoothly and under control. Caesar was very attentive making sure we had food and drinks on our table and very responsive to our needs. He even made sure that our wedding planner had something to eat and drink. We opted for a buffet style dinner and food were substantial and of course delectable. At the end of the night, all of our guests have said that the food has been the best they've ever had at a wedding and they were also full of compliments about the venue. They have said that it is a simple yet a graceful venue for events.We would like to take this moment to say THANK YOU to the team of Renaissance especially to Carlos Abreu and Pravin Patel for being part of our wedding! It was so nice to look back and see everyone enjoyed themselves so much. Thank you again!!!
Hosted our wedding here. The food was better than most fine dining restaurants we have been to. Parking is plentiful but might require some walking (alternate lot is across the street). Staff is very professional. I wish more friends get married here so we can eat here again.
I had written a negative review back on November 10th because of issues I had with the food. I have been contacted by their staff and have very kindly been offered a refund and a chance to cater for us again. Apparently they have new staff and are trying to work out some kinks. I appreciate their effort and look forward to seeing how the food turns out.
I recently ordered from their takeout menu for a gathering of 20 people. I have to say I was really disappointed! At $39 a person you'd think the food would've be better. The calde verde was so thick it was more like porridge than soup. The potatoes has no flavour and the assorted pastries looked like they came out of a box with not even a single custard tart a traditional Portuguese pastry. I've ordered from this place for over 20 years and since these new owners have taken over the food quality has declined drastically. $648 I paid..... I could've done a better job myself. I will never order from them again, and I will make sure everyone I know is also aware.
King Valet is the preferred valet vendor of Renaissance by the Creek and we love to work them! Renaissance is one of the most luxury halls in the city with the best tasting food options, staff and of course, parking alternatives.

I recommend them highly for your next event. Valet parking is perfect for this venue and Renaissance ensures all guests have a the choice of the best vendors available in the city. I guarantee an incredible experience with Renaissance by the Creek.

Renaissance By The Creek has been mentioned inside these other vendor profiles:
Dennis Larkin Photography
Company Overview
Company Overview
Deals & Packages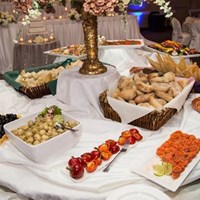 Italian menu
Price $115 /person
---
---
What services are included with this Package:
---
Here's the Fine Print:
This package is exclusive to EventSource.ca visitors. To redeem, you must mention you found this package on EventSource.ca.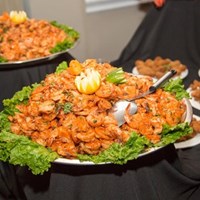 Portuguese menu
Price $118 /person
---
---
What services are included with this Package:
4 - course menu
Traditional late night seafood buffet
Sweet table with live sweet station
---
Here's the Fine Print:
This package is exclusive to EventSource.ca visitors. To redeem, you must mention you found this package on EventSource.ca.
Map
3045 Southcreek Rd, Mississauga, ON L4X 2X7