Rovey Banquet Service Group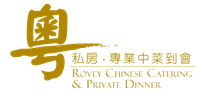 Rovey Chinese Catering occupies a unique niche in the Chinese banquet catering market by virtue of our dependability, professionalism, and fineness. Over the years, we have coordinated and catered hundreds of Chinese events ranging from 120 to 1800 guests, including weddings, concerts, corporate functions, and gala dinners, in different major venues in the GTA area. Being the only caterer capable of preparing the entire Chinese menu on-site, references show our exquisite cuisine are the finest among competitors. With years of experience in special events and banquet management, perfect coordination and top notch service are rendered to every event. For our expertise and excellence, we are proud to have become a brand name in Chinese banquet catering and the preferred caterer of different hallmark venues.
Vendors Similar to Rovey Banquet Service Group
This vendor does not yet have any EventSource reviews. Be the first to leave one!
Lorraine Shum
September 2020
I had my small wedding dinner at Rovey Private dining room back in August 2020. Due to this year covid, Our dinner with family and friends had to be postponed due to the large size. Hence my husband and I held our close family dinner at Roveys as it is held in a private room. They have a policy of one dinner event per night which we felt was the safest place to eat out due to this situation. Their team followed every safety protocol with gloves and masks which my family felt comfortable dining out. Their food was AMAZING~~~ Every dish was made hot and amazing attention to detail with the presentation of the food. I HIGHLY recommend Rovey in and out for your event! From food quality to servicing, definitely would not disappoint you. Thank you Harvey and Roger for the amazing dinner which we will never forget!
The meals and service were ahead of my expectations. I really liked the environment of this spot. Wonderful spot to take my family out for dinner.
| Private dining | Limited Seating | Inside Hilton Hotel | Chinese | Non-LLBO | Big Prix fix menuMust preorder and book their set menu ahead of time.Minimum seating purchase (mostly one table of 10).Seats about 3 tables (30 seats).No alcohol license. They do serve coffee/tea/juice/pop.Amazing food, good service, always leave super full.Make sure you register your licence plate upon entering so you don't have to pay for parking.
Harvey and Roger catered my wedding and they were a pleasure to work with. They provided us a lot of helpful wedding tips during the food tasting. Food did not disappoint at the food tasting or the wedding. Highly recommend!
Roger and Harvey from Rovey Catering had been a pleasure to work with since the verybeginning. Prior to our menu tasting, Harvey was our main point of contact via email. He had always been helpful and prompt with his responses to any questions we had, making it very easy to communicate with him.When we met in person for the tasting, Roger accompanied us and it was a thoroughlyenjoyable experience for us and our parents. We were impressed not only with the food quality, but also with Roger's patience and knowledge. He was extremely detail-oriented and even gave us a lot of tips and reminders on other aspects of our wedding planning.We were lucky to have both Harvey and Roger present on our wedding day to assist withcoordination between their catering team and our venue staff and wedding MC. Althoughour reception rundown was a little behind schedule, the flow of the night was still very smooth. The food was fresh and delicious as expected and Rovey's servers were friendlyand courteous.We would highly recommend Rovey Catering to any couple looking to have a Chinese banquet at their wedding. You will not be disappointed!
Rovey Banquet Service Group has been mentioned inside these other vendor profiles:
Blog Posts featuring Rovey Banquet Service Group