Reviews
Sahab and Sepideh
February 2020
We hired DJ Siamak to be the DJ and MC for our wedding event on February 8th, 2020. We had seen DJ Siamak do Persian weddings on multiple occasions for our friends and families, so we knew that he was a great DJ, but seeing him in action just makes us appreciate his skills so much more. Right from the beginning when we met him for coffee to go over the day of details and song/theme choices, it was clear that he was putting a lot of thought and care into our special day. As our MC, he made sure that the event was flowing on time and was very accommodating of random requests not only from us, but our guests as well. He was funny, engaging, and used just the right mix of English and Farsi when speaking. His choice of music was excellent, and integrated our "must have" song choices, Persian and English music, and also a variety of genres that would suit our diverse mix of guests. Throughout the night the dance floor was never empty and we are still getting compliments from our guests about the music and the lively party that we threw. If you are in the market for a DJ, look no further than DJ Siamak.
Aleksandra and Andrew
November 2019
My husband and I had our wedding last month (October 5). DJ Siamak (Sam) was recommended by a work friend, who has used him for galas that she and her husband throw each year. We reached out to Siamak, and were immediately at ease - he was friendly, polite, and very personable. We hired him both as a DJ and MC, and let me tell you, we could not be happier with his services!! DJ Siamak was very well prepared - we had a Skype call to go over details before the big day, he had a detailed document for us to fill out so he could get an idea for our music preferences, what we did and didn't want happening the day of, the schedule for speeches, etc. Siamak showed up early the day of, set up his lights and equipment, and was an absolute delight the entire night. He made our guests laugh while introducing the speeches, and he was fun enough to even take some great pictures in our photo booth! :D He tailored our music to exactly suit our tastes - not only did he play the songs I'd requested, but the other ones he added were exactly in line with what we liked. One moment that stands out to me was when some close friends requested a silly song that we liked, but I only found my them to dance with them near the end of it. When he saw that we were excited about it and gearing up to dance even though it was almost over, he seamlessly started the song again to give us time to do our thing. Our reception went non-stop from 5 pm to 1 am, and there was never a moment when the dance floor was empty during that time (save for the portion when people were eating) thanks to Siamak. If that's not the sign of an excellent DJ, I don't know what is!!! I highly, highly recommend DJ Siamak to anyone who is looking for a professional, friendly and excellent DJ for their big day, or any other events that require music!
Mohsen&Bahareh
November 2019
Highly recommend DJ Sam ! Very cooperative in our choice of songs in the November 2ed wedding ! Diverse multicultural selection of songs in the wedding ! Very good arrangement of order of songs in different parts of the wedding! Stayed till the last moment with bride and groom ! Danced with groom at the end ! Great director and entertainer of the wedding dance ! God bless him. B&am
Norah and Mohammad
October 2019
Planning a wedding is an involved and tedious process that takes months to prepare for but no matter how much attention you've paid to the details and how intricately you've put together your itinerary, the flow on the day itself and how seamless the guests experience the transitions from arriving, to the ceremony, to dinner, speeches, and dancing will hang on the expertise and experience of your DJ. And that's something we consistently heard from a lot of our guests about our wedding day: just how flawless and fluid the whole day felt to them.
Siamak took the time to meet with us multiple times, got a sense of our tastes and how we envisioned our wedding day and we couldn't be happier with how everything turned out.
We're a couple from different backgrounds, but he somehow was able to get everyone on the dance floor. It warmed our hearts to see 8 and 80 year olds dancing together.
Thanks Siamak
David & Alana Ashbourne
September 2019
DJ Siamak is absolutely fantastic! From our first consultation to our wedding (and even in the days following the wedding), Siamak was knowledgeable, professional, and extremely thoughtful. He was able to create a reception that fit everyone's taste (young and old). His integration of persian music (+dancing tutorial) with popular music was a real show stopper!

We recommend Siamak for anyone looking to create the perfect event. A++

Thank you Siamak!
Unique Sounds DJ team did an amazing job for one of our recent wedding at the Hilton Markham Suites.
The MC, selection of the music and coordination was great. All the guests were engaged, enjoyed wonderful time on the dance floor throughout the evening. Congratulations on job well done!
We had DJ Siamak (Sam) from Unique Sounds DJ Services this past weekend for a wedding at our property. He was absolutely amazing! He played a great variety of music (had to entertain a Persian and Irish crowd!) kept the dance floor packed (even during dinner!) and was wonderful to work with. All of the staff were wishing he was back for our wedding the next day! He was also very respectful of our rules and regulations as a property and that is very appreciated!
Unique Sounds has been mentioned inside these other vendor profiles:
Company Overview
Company Overview
Four Seasons Hotel Toronto
Deals & Packages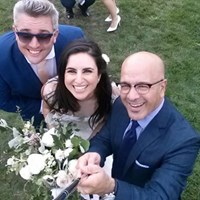 What services are included with this Package:
9 hrs of service
Fill DJ equipment for reception and ceremony
1 DJ service
Comprehensive music library
1 MC service
---
Here's the Fine Print:
Requires a minimum package
This package is exclusive to EventSource.ca visitors. To redeem, you must mention you found this package on EventSource.ca.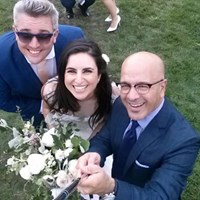 What services are included with this Package:
7 Hrs of service
Full DJ equipment
1 DJ service
Comprehensive music library
---
Here's the Fine Print:
This package is exclusive to EventSource.ca visitors. To redeem, you must mention you found this package on EventSource.ca.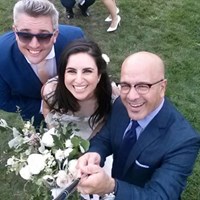 What services are included with this Package:
7 to 9 hrs of service
Full DJ equipment for reception and/or ceremony
2 DJ service
1 MC service
Compehensive music library
---
Here's the Fine Print:
This package is exclusive to EventSource.ca visitors. To redeem, you must mention you found this package on EventSource.ca.