Deer Creek Golf & Banquet Facility
Deer Creek Golf & Banquet Facility is a picturesque wedding venue located in Ajax, Ontario. Our newly renovated events venue is elegantly appointed with contemporary, classical design. Each of our sophisticated event rooms can support your unique needs from 20 to 600 guests. Our experienced and knowledgeable team of event specialists will help provide you with the perfect room and guidance for your wedding. The grounds provide picturesque views for guests to take in as well as lovely photo opportunities. Deer Creek Golf & Banquet Facility provides guests with creative, healthy, and delicious menu options by using fresh ingredients supplied by local producers. We take pride in offering high-quality food and beverage products at an exceptional standard that is sure to exceed expectations.
Be our guest and experience Deer Creek.
Facilities and Capacity
This traditional yet modern building can host events of many sizes, from as intimate as 20 guests to as grand as 600 guests. Taunton and Audley Hall are located on the main level of the building, both rooms come with a cocktail bar, terrace, and dining area. Both rooms can be combined to make one large space, boasting 25ft ceilings and grandiose chandeliers. Westney Hall located on the lower level is a mix of contemporary and rustic features. Barnboard doors and grey wood floors are standout elements in this warmly lit area. Our charming Coughlan Room is the smallest of all over our rooms also located on the lower level, this room holds up to 60 guests, with a bar in the room guests can enjoy an intimate experience or extend their event to our large outdoor patio space. We also have a beautiful outdoor pavilion which is found on our restaurant patio with a maximum capacity of 80 individuals. The stone and cedar structures were installed during our renovations and includes TVs and a sound system. Whether large or small we are here to ensure your event runs successfully and we take pride in creating a wonderful experience for you and your guests!
Services Offered
On-site, venue coordinators provide knowledgeable insight and support throughout the entire planning process and day-of execution. Deer Creek Golf & Banquet Facility's events and hospitality team provide a seamless experience for your guests with comprehensive guidance. These experts assist in package selection, menu customization, timeline creation, and wedding coordination and execution.
Cuisine
As a full-service and fully licensed venue, the culinary team is always eager to ensure each event is unique to each client. Customized menu options are possible outside of their signature packages. Deer Creek Golf & Banquet Facility will also work with your preferred caterer. Halal or special dietary requests are happily accommodated.
Gallery
of Deer Creek Golf & Banquet Facility
Vendors Similar to Deer Creek Golf & Banquet Facility
Jane Servinis
September 2019
I had my daughter's bridal shower at Deer creek and I was extremely happy with everything. The food was tremendous ....thank you chef Joey and everyone in the kitchen. The service was fantastic. Samantha was so helpful along the way with answering any questions I had and so flexible when I wanted to make changes to the floor plan. I would definitely recommend Deer Creek for any event. Thank you!
Hosted our wedding at this beautiful venue October 2018 and the staff did a fantastic job taking very good care of us. The team was extremely organized and well coordinated, and the entire event ran smoothly from beginning to end. We got a lot of compliments from our guests regarding the food which was delicious, and they had a blast having the surprise late night meal!
Dawn Canonico
September 2018
Our daughter was married at Deer Creek on September 1, 2018. The ceremony was held in the outdoor gazebo, and the reception was in Audley Hall. The venue is beautiful, spacious and is perfect for an all-in-one location wedding. The gazebo ceremony location is intimate and felt perfect. Following the ceremony, guests went directly to the cocktail/reception room for drinks and hors d'oeuvres. They were delicious and guests raved about them. Particularly the coconut shrimp and rice balls! The receiving line was held as guests entered into the banquet room, and was the perfect setup. The meal was a five course Italian dinner. We began with family style served antipasto, along with a selection of breads. Next was the pasta selection (beef ravioli) followed by the entree selections of beef with shrimp, cod or vegetarian. Following the entree was a seafood platter (my personal favourite!) along with green salad. The seasoning on the fried calamari and shrimp was SO good! The dessert was the chocolate/raspberry tartuffo - I have eaten a lot of these through the years, and without a doubt this was the best tartuffo I have ever eaten! Lindt Chocolate ice cream and raspberry centre... A-mazing. The late night stations of fresh fruit, pastries, and poutine bar were also a hit! The servers and bartending staff were friendly and also were able to keep the courses moving along fairly quickly. The coordinators Madison and Sam are easy to work with and made the day stress free. They were quick to respond to any questions or changes we requested. One of our guests is a manager at a Club Links golf course, and I asked his opinion as he is in the business and I valued his opinion... in his words: "Thanks for asking ! I thought the venue was beautiful! Ceremony site was small and romantic. Room was a perfect size and it was really nice having the patio for the cocktail reception. Decorations and table set up were very classy and fit well with the feel of the room. I loved the centre pieces ! Food was very good! Beef was cooked perfect and had great flavor. Bartenders were awesome. They were quick and after only a couple drinks they were remembering my order! I thought the venue did a great job and I would give them a good review for sure."
My daughter had her wedding at deer creek on April 14th, the day of the big ice storm. This is our second wedding at deer creek as our son was married there several years ago and we selected the same venue as our experience was a positive one. Unfortunately I cannot say the same for my daughter's wedding as we experienced a few issues that, even when brought to their attention, were not addressed. My daughter had broken her foot the day before the wedding and was in a large cast. I had called the hall in advance to make arrangements for her to enter into the lower level closest to her banquet room. When we arrived the hall had not shovelled nor cleared a path!! My daughter had to get out of the limo into 3 inches of snow and ice with her bridesmaids trying to help her when they themselves were sliding in their dress sandals. The second issue occurred during dinner. As there are typically only 2 bottles of wine per table served during dinner I had spoken to our planner to make arrangements to continue with the wine service and I would pay for the additional boiled as required. Unfortunately this did not occur and many of our guests were left to eat dinner with an empty glass. I called our planner on site but got voicemail, then I left our wedding to go upstairs to the office-still I could not find her. My husband also made 3 attempts, approaching the servers and kitchen manager, to get the service started. Each time he was told they would put a server on wine service but only when my husband became so irate and demanded they put 2 bottles of wine on each table did we get any action. By this time many of our guests had already finished their dinner and ours was cold. - [ ] The third issue was Deer creek's response to these issues. ( probably one of the worst customer service experiences considering the amount of money spent on the wedding) I had finally managed to speak with the wedding coordinator and voice my displeasure with the service and stated we would discuss it after the wedding. I let 2 weeks pass to see if anyone would contact me but no one did. They did however charge me immediately for the extra bottles of wine - which, by the way, we were happy to pay for it's just too bad they were not served when they should have been. I eventually called the coordinator to revoice my displeasure and ask why no one had called. She merely apologized and said there was nothing she could do but have the kitchen manager call me. The kitchen manager called but only reiterated the apologies. They were incapable of rectifying their errors in any way nor offering any type of compensation. Unbelievable. I understand that things happen and there was no way to go back in time and change what happened but to be so nonchalant and indifferent is appalling. It is this response from Deer creek that provokes me to never recommend them as a venue for an important function- unless management changes.
Danielle Ruffolo
January 2018
We had a wonderful experience working with Deer Creek for our December wedding. Jodee was a fabulous coordinator, and was extremely flexible and attentive throughout our planning process. The guests were very complimentary about the venue and the service they offered. It was an incredible day. We are so happy we chose Deer Creek and are so grateful to Jodee and the whole team!
Deer Creek Golf & Banquet Facility has been mentioned inside these other vendor profiles:
Gillian Foster Photography
I Do Toronto - Paula da Nova - Ontario Wedding Officiant
Sharon Mendonca Photography
by Francesca, xo Weddings & Events
Luna Weddings Photography
Toronto Photo Booth Company
Made by Navin - Marquee Lettering
ForeverSounds DJ Services
Southern Charm Vintage Rentals
Blog Posts featuring Deer Creek Golf & Banquet Facility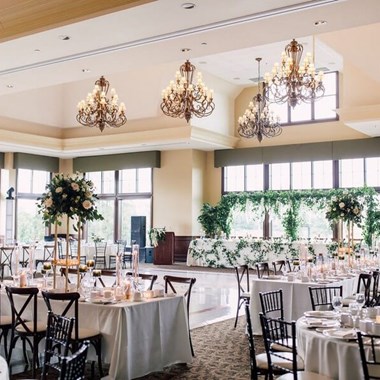 Read more
Map
2700 Audley Rd. North, Ajax, ON L1Z 1T7