Gallery
This content requires HTML5/CSS3, WebGL, or Adobe Flash Player Version 9 or higher.
Reviews
Stefan Oskar Neff
August 2019
We host events all the time at this hotel and they seem to go above and beyond to create such an amazing experience for our event participants. I highly recommend this hotel if you are hosting events like ours. The food was amazing as well.
I would like to thank you guys for going beyond our expectations. Our wedding was on July 26, 2019. The food was excellent, the service was amazing. We really appreciate it. I definitely recommend Paradise.
Venue was nice, the servers at the bars were quick and polite. Service at dinner was very disappointing. Having two people who ordered the vegan option for the wedding; they were served steak and chicken after telling the servers they do not eat meat.The severs then told the two people that they did not order vegan and it is on the two for making the mistake. The manager then said he had a sheet that shows it but refused to show us. The groom then confirmed that there were a total of 5 people who ordered vegan meals and the banquet hall said they would fix a meal for them.45 mins later they said they were going to bring out chicken fingers?!. Again they needed to be reminded that these two did not eat chicken or meat, and then placed a big bowl of salad in front of them.Almost an hour passed and the issue was resolved and a meal was put together .We did not appreciate hearing the manager tell us that we ordered meat options and theres nothing they could do. I am happy it got settled before dinner was over; however the way it was handled was very poor.I would go back to this venue, however I hope they are more organized in the future.
Just had our wedding there on July 13 in the Grand Queens and I seriously can't say enough about the amazing experience we had. From when we had our first meeting with Nina (who by the way is so caring and considerate of her couples) to the day of, every single thing was perfect. The decor, staff, and food were beyond anything I could have expected.I'll begin with Nina, our sales consultant, who put together our excellent package. She was able to customize our wedding to our culture and our preferences and continued to check in throughout the entire process.On the day of, our maitre d', Gina, was lovely! She always made sure we were taken care of and even gave us a to-go box of some snacks for the ride home. Our guests absolutely loved her and her warm hospitality. I'd also like to give a special mention to the baker, Antonella, who literally perfected my cake looks and taste wise!The food was beyond fantastic...normally there's always guests who complain about something, but at our wedding, EVERY SINGLE PERSON loved the food from the antipasto, to the main meal, sweets and late night stations. Thank you chef(s)!!! :D I'm so lucky to have picked Paradise for my special day! I would 10/10 recommend this venue to anyone looking to host their event.
stephanie alegria
June 2019
Paradise Banquet Hall was the perfect choice for our wedding, and we cannot thank you enough! The food, the ambiance, and the service were all impeccable! Our guests were beyond excited over the quality of the food and the amount that was served. We had a very diverse wedding, so to hear so many compliments for the food from many different ethnicities, was gratifying. A special shout out to the FABULOUS Gabriella for supporting us & guiding us from start to end. She made it all that much more worthwhile, she was very caring and understanding of our needs. She is truly a gem and we are so happy we got the opportunity to meet her! We can never repay her for the amount of work and commitment she showed my fiance and I during this process. Thank you Gabe and Paradise!
Paradise Banquet & Convention Centre has been mentioned inside these other vendor profiles:




John and Veronica Photography


Fiesta Rentals Photo Booth

Paula da Nova Wedding Minister

Fabulous Cakes and Confections
Company Overview
Company Overview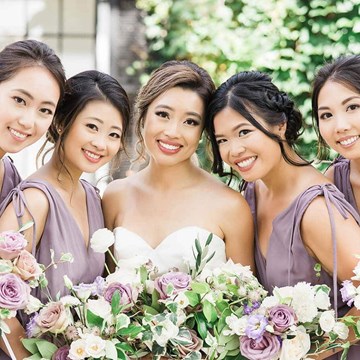 Natalie and Jason's Elegant Wedding at Paradise Banquet & Convention Centre
12/05/2018
Read more
Map
7601 Jane St, Concord, ON L4K 1X2