Reviews
Shengying Pan
January 2020
Had Flora and Erin as our wedding designer and planner and they did an unbelievable job. The decor was beautiful and fabulous and the whole event was well organized and the wedding day was hustle free and a blast. All of our family and guests had a great time and my wife and I had the most memorable day in our life. Moreover they took care of everything from the moment we had the initial meeting. Every step along the whole process was scheduled well in advance and in timely fashion, we were very involved but didnt need to worry about any of the chores. Let Fleur handle your wedding and I guarantee that you will not regret!
We have had an amazing wedding organized by Fleur Weddings. Everything was better than expected. The venue was spectacular, the guests were all amazed by how beautiful the whole wedding was. it was well organized from the get-go. Every little detail was thought about and well put together. We were given so many good options when it comes to vendors, and they walked us through everything with great patience. Everything was made so easy for us. Fleur wedding is a team full of love. They really cared about us and we could truly feel it. Sometimes, it felt like they cared about every single detail of our wedding more than we did, lol. It was an unforgettable experience for Vivian and me. And we highly recommend Fleur Wedding to all who are looking to get married. Give them a call, they'll give you a wedding beyond your expectations.
Trust me, the best decision I have ever made (except for finding my husband) was having Fleur as my wedding planner. They have taken everything, I mean literally everything about my wedding. From coordinating vendors, to things to purchase, to every expense and payment, including who will do speech, where to stand and sit. I know from my past experience that to coordinate an event already takes so much time and effort, not mention an 8-hr wedding. I have to thank Jennifer, my wedding planner. Every time when I forgot something or not sure about anything, I buzz her for answer. And every time, she replied with the perfect answer that tells me the next five steps. Oh, and she replies in mid-nights! Can you imagine after a full work day and getting home late, she still replies my message???? That is my Jennifer, so responsible and reliable.Also Flora, who is like the chief, that you know someone is always there if things fall apart, which we didn't at all lol. Rose and other team members in Fleur, I may not know all of your names, but I owe a big thank you to you all and I have to explain the story behind:On my wedding day, not surprisingly it rained. Luckily we already had the photo taken outside, but it rained so heavily that Jennifer and Rose had to ask me if I am ready for plan B, which was having the ceremony inside the chapel. I really appreciate their gentleness because they know how much I love the garden but I agreed to have the ceremony inside. So while I was having my makeup and wedding gown ready, I saw those girls, who are about the same age as me, and probably the princess at home, were carrying the decorations in both their hands in that pouring rain. No umbrella at all. They were all wet when all the decor were taken inside, and set up in the chapel. All the family, friends and guest said the wedding was sweet and awesome thanks to Fleur and all the vendors. WITH LOVE, Annie & Peter
Welly Martinez
September 2019
I will recommend anyone to Fleur Weddings and Events, they will accommodate your budget to create wedding of your dreams. Candy (Wedding planner) was amazing, she was always there for us, she will find the best of the best for us. I don't know how to thank her. I love her so much . Jennifer helped design our wedding and it was beautiful. Everyone loved the venue. Thank you Fleur
We hired Fleur Weddings because the recommendation of my friend. I was really impressed by their design on my friend's wedding. We can feel their enthusiasm about this job and they really did good job. They are proactive to contact with us, setup meeting on site, or on the phone. Cauz our budget is not too much,they give us lots of advice, we are involved in every single ideal in this wedding plan. Fleur makes us a dreamy, unique wedding theme,because the theme is based on our daily life, and common interests.That is really amazing, because we don't want our wedding will look like as same as the others'.We really appreciate them. ,they help us display our ideal wedding, and within our budget.
Fleur Weddings has been mentioned inside these other vendor profiles:
Company Overview
Company Overview
Name: Flora Peng
Title:Certified Wedding Planner
Email:Send an Email
Four Seasons Hotel Toronto
Spencer's at the Waterfront
Deals & Packages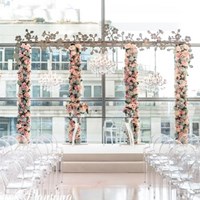 Full planning
Price $5,000
---
---
What services are included with this Package:
Start working with you from Day 1 of your wedding planning process
---
Here's the Fine Print:
This package is exclusive to EventSource.ca visitors. To redeem, you must mention you found this package on EventSource.ca.
VIP concierge service
Price $11,500
---
---
What services are included with this Package:
---
Here's the Fine Print:
This package is exclusive to EventSource.ca visitors. To redeem, you must mention you found this package on EventSource.ca.
Map
372 Hwy 7 Unit 125, Richmond Hill, ON L4B 1A7