Reviews
Weve had our wedding last year in October. Recently the wedding photos were finally ready, and they are amazing. To be honest, I was not so passionate about having a wedding when we started to plan it. I had no idea what kind of wedding I wanted. May was my wedding planner. She helped us get discounts from the vendors and inspired us in many different ways. On the wedding day, I was so busy changing hair, makeup and dresses. But nothing went wrong because May and her team was so professional and considerate. They thought of every possible accident way ahead of you to make sure nothing unplanned would happen. We truly thank May and Fleur team. The wedding was flawless and even better than we expected.
Weve had our wedding for over a year now. I finally got around to write a review for Fleur. I need to say Erin and Flora are so professional and creative. They pour their hearts in helping you achieving what you want within a budget. We had our wedding at Fermenting Cellar, which is not an easy venue to decorate due to its lighting. I had a really awesome experience working with both of them. You honestly cannot get better service in Toronto other than Fleur as someone who wants a tasteful wedding and needs to accommodate non-English speaking elderlies. The day-of execution was perfect. The decor was modern, simple, yet elegant. The coordination for vendors was seamless. It was truly a stress-free day. I would recommend them to everyone! Forgot to mention, they even managed to send us a little one-year anniversary gift recently. Its so sweet of them to do so! Thank you
Fleur Weddings took us through the entire process with amazing professionalism and patience. We were extremely impressed by the attention to detail that the entire team puts in. On our wedding day, they met every question, request, and discussion without ever making you feel like you're asking for too much. We didn't feel worried at all throughout the day knowing that Fleur Weddings was there to run everything. Throughout the planning process, they never gave us any pressure to do things in specific ways, and instead listened to all our inputs. What truly amazed us was the number of times that they were able to take our (at times very) vague descriptions (for flowers, decor, etc.) and make everything on our special day simply look perfect and way beyond our dreams and expectations. We would definitely recommend them to anyone looking to plan and execute a perfect wedding. You won't regret it!
Shengying Pan
January 2020
Had Flora and Erin as our wedding designer and planner and they did an unbelievable job. The decor was beautiful and fabulous and the whole event was well organized and the wedding day was hustle free and a blast. All of our family and guests had a great time and my wife and I had the most memorable day in our life. Moreover they took care of everything from the moment we had the initial meeting. Every step along the whole process was scheduled well in advance and in timely fashion, we were very involved but didnt need to worry about any of the chores. Let Fleur handle your wedding and I guarantee that you will not regret!
We have had an amazing wedding organized by Fleur Weddings. Everything was better than expected. The venue was spectacular, the guests were all amazed by how beautiful the whole wedding was. it was well organized from the get-go. Every little detail was thought about and well put together. We were given so many good options when it comes to vendors, and they walked us through everything with great patience. Everything was made so easy for us. Fleur wedding is a team full of love. They really cared about us and we could truly feel it. Sometimes, it felt like they cared about every single detail of our wedding more than we did, lol. It was an unforgettable experience for Vivian and me. And we highly recommend Fleur Wedding to all who are looking to get married. Give them a call, they'll give you a wedding beyond your expectations.
Fleur Weddings has been mentioned inside these other vendor profiles:
Company Overview
Company Overview
Name: Flora Peng
Title:Certified Wedding Planner
Email:Send an Email
Four Seasons Hotel Toronto
Spencer's at the Waterfront
Deals & Packages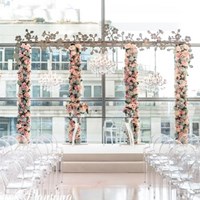 Full planning
Price $5,000
---
---
What services are included with this Package:
Start working with you from Day 1 of your wedding planning process
---
Here's the Fine Print:
This package is exclusive to EventSource.ca visitors. To redeem, you must mention you found this package on EventSource.ca.
VIP concierge service
Price $11,500
---
---
What services are included with this Package:
---
Here's the Fine Print:
This package is exclusive to EventSource.ca visitors. To redeem, you must mention you found this package on EventSource.ca.
Map
372 Hwy 7 Unit 125, Richmond Hill, ON L4B 1A7