Gallery
This content requires HTML5/CSS3, WebGL, or Adobe Flash Player Version 9 or higher.
Reviews
junior kabambi
September 2019
What a lovely place. I was there for recall onewalk event. It was beautiful venue with an amazing service.
Faisal Barbhuiya
September 2019
Stunning location for events. Great grounds, great indoors, lots of history. Lovely time to be had here as a guest or an attendee.
Beautiful hall, and great food and staff. As a photographer I'm at a hall every Saturday, this one stood out from the rest, also was nice to be by the water. It had a beautiful breeze at night.
Anita De Angelis
April 2019
Private event at this spectacular venue. The dining room was beautifully decorated, tables set impeccably. Buffet was simple but tasty. Seasoning was a bit off on the potatoes. Great sweet table. For the most part, the wait staff was attentive and prompt with fulfilling requests (milk for tea, coffee refills). The bathroom was clean.The meeting room (Artifacts Room?) was too narrow for the group. The chairs were uncomfortable, rickety, and set too close together. They needed another mike on the podium. The ambience is lovely though. Not sure who decides the layout...but needs to be reconsidered.
Luminous Weddings
March 2019
To say Liberty Grand is a beautiful venue would be an understatement. This historic building is one of Torontos leading venues for elegant, high-class weddings. The 4 different venues offer flexible and unique options for weddings. Their service was fabulous and made everything run so smoothly with state-of-the-art amenities. We love photographing weddings here because this space offers so many unique locations for photos including the grounds that feature beautiful gardens as well as the venue itself with elegant interior; the sweeping grand staircase and grand foyer all offer unique spaces for photos.
Liberty Grand Entertainment Complex has been mentioned inside these other vendor profiles:
Company Overview
Company Overview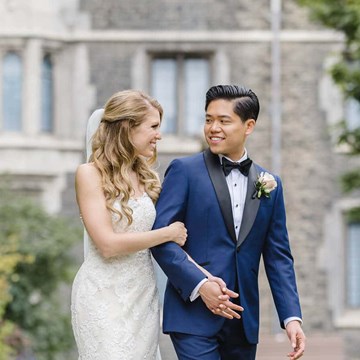 Nikki and Warren's Timelessly Elegant Wedding at Liberty Grand Entertainment Complex
5/28/2019
Read more
Map
25 British Columbia Rd, Toronto, ON M6K 3C3